The most popular destination for our population in the US has been Miami for many years. Therefore, it is unsurprising that many people want to buy property in this city.
In 2022, increased demand and price increases continued. Having studied the analytical data of statistics, consider whether it is advisable to buy apartments in Miami for foreigners stock right now.
Reasons for Buying an Apartment in Miami
Source: forbes.com
This is a chic resort town and the most significant investment center in the United States. Therefore, many residents of other continents dream of owning property here. You can highlight the main advantages of such a purchase.
Climatic conditions. Eternal summer reigns here with a warm ocean and picturesque nature.

Often expectant mothers prefer to give birth to babies in local clinics. The child automatically receives American citizenship and, in the future, will be able to study or work here.

In the United States, there are times when real estate prices are greatly reduced by almost 50%. During such downturns, even the middle class can make bargain purchases.

If you do not plan to move to Miami for permanent residence, the apartment can be rented on very good terms. Then the investment pays off very quickly.

There are very favorable conditions for doing business.

It is very beneficial buying real estate in Miami today.
The Attractiveness of Investing in Real Estate for Rent
Source: dienerproperties.com
Rents in Florida have risen substantially. The average increase was 16-19% statewide, but these figures crossed the 30% mark in Miami and Tampa. So far, only 34% of housing units in Florida are occupied by renters, indicating that the rental market has ample room for further development.
Buy a House or Apartment
Source: redfin.com
Buying any real estate has its advantages and disadvantages. For permanent residence or renting a private house is suitable. You can make any repairs, save utility bills, and keep pets.
Among the disadvantages is the mandatory registration of insurance. The owner must keep the territory near the house in perfect order, cut trees in time and clean the pool. In cases of non-compliance with the rules, penalties are provided.
If you need housing for temporary residence, it is worth buying an apartment. There is no need to take care of the site, hire security and insure the property. But you have to pay for utilities and parking. You can make repairs, get a pet, or rent out an apartment only with the permission of a particular condominium.
Also Read: When Should You Contact a Realtor About Selling Your House?
How Much Does an Apartment in Miami Cost?
Source: miamiherald.com
It is impossible to unequivocally note this question: real estate in Miami is diverse, and its cost depends on many factors. So, an apartment in Miami is evaluated according to such criteria as the age of the residential complex, location, distance from the ocean, and the main urban centers, whether it is a regular complex or a luxury one.
Thus, finding and buying an apartment in Miami for a specific budget is fine. If you do not give analytical calculations regarding fluctuations in housing prices and indicate the average cost values, then an ordinary apartment in Miami Beach per 100 sq.m. will cost $100,000, luxury – $1 million or more.
A $100,000 Miami apartment is typically located in a building built over 20 years ago, 20 minutes from the coast, and may not have an elevator. Still, the apartment will have parking, laundry, a communal pool and jacuzzi, a gym, a billiard room, and even a tennis court.
More expensive apartments in Miami are in residential complexes built on the first or second coastline. These apartments have a lobby, elevators, security, a parking space, a sauna, a business meeting room, a jacuzzi, a swimming pool, a gym, and much more, including landscaping around the house.
Potential Benefits of Investing in Florida Overseas Property
Source: corcoranlabs.com
Comfortable climatic conditions and favorable tax rates make Florida attractive. Other key investment points include:
Annual cost capitalization. Apartments can always be resold for more.

Demand for the state among both external and internal migrants. The population of Florida is increasing every year, and not all visitors are ready to invest immediately in real estate purchases. Many prefer the rental market.

Liquidity. The reduction in development due to the pandemic and rising prices for building materials leads to a shortage of supply, which will be felt more and more acutely. This is especially true for detached houses. Therefore, there are no difficulties with selling any housing in the state.
On the official website Florida.Realestate, you can find current sales offers for all popular Florida locations. Specialists will help choose housing stock for moving or as an investment. You can check prices in real-time.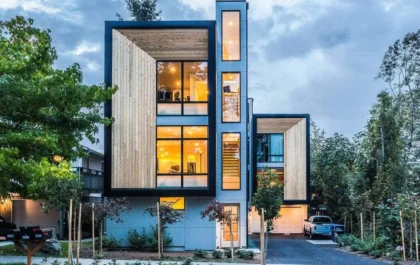 27+ Stylish & Modern Townhouse Designs for Urban Living.
The townhouse's first impression is normally too small, too compact, too narrower, and the list is endless. Well, let us…