As a homeowner, you might consider redesigning your bathroom in Essex to improve its appearance and functionality. Worktops should be taken into account while remodeling a bathroom, along with all other aspects of the room, as these are essential for giving the area a role of style and practicality. Bathroom worktops in Essex are available in a range of materials, colors, and finishes to match your tastes and financial constraints, whether you favor natural stone, engineered quartz, or solid surface materials.
Worktops offer a great opportunity to use the newest design ideas and building materials to create a classy bathroom while remodeling an existing bathroom in Essex.
Role of Worktops in Bathroom
Source: cdn-static-a.com
They offer a practical surface for storing bathroom essentials, including toiletries and cosmetics. You may carefully arrange your necessities on the worktop, making it simple to find what you need and when you need it, rather than clogging up your bathroom with bottles and jars.

Potential buyers are likely to be impressed with a well-designed and functional bathroom, and quality worktops can be a selling point. Even if you are not planning to sell your home anytime soon, buying quality bathroom worktops is an investment in your comfort and satisfaction with your living space.

A high-quality countertop will provide longevity regardless of exposure to heat, moisture, or humidity.
Top Reasons for Choosing Bathroom Remodeling Services
Source: website-files.com
Here are some popular reasons for having remodeling services for your bathroom.
Increased functionality.

Enhanced aesthetic appeal.

Better energy efficiency.

Boosted safety.

High-level comfort and relaxation.

Updated fixtures and finishes.

Extensive storage space.

Accessibility features for aging in place.

Fixing plumbing issues.

Expanding the bathroom size or layout.

Repairing water damage or leaks.

More customization to suit personal style and taste.

Creating a spa-like atmosphere.
Bathroom Remodeling Services | Step-By-Step
Source: alliedphs.com
Design Consultation:
Scheduling a design consultation with the remodeling contractor is the first step. You can explain your objectives, requirements, and preferences during this meeting. During the consultation, the contractor will evaluate the current bathroom and give you design suggestions that fit your goals and price range.
The builder might advise adding a frameless glass shower and a sleek, wall-mounted vanity, for instance, if you want to construct a contemporary bathroom with a minimalist aesthetic.
Planning and Design:
Once you have decided on the design concept, the contractor will produce a complete plan that includes the layout, materials, fittings, and finishes. You will clearly grasp the project's scope and completion date. The builder might advise adding heated floors, trendy worktops in Essex, a rainfall showerhead, and a freestanding soaking tub if you want to create a spa-like sanctuary.
Demolition and Removal:
The outdated bathroom fixtures, tiles, and other elements must be removed to create a place for the new structure. The length of the demolition process will depend on how challenging the task is. The contractor will clean up any waste and keep the area secure and organized.
The contractor might, for example, remove the outdated bathtub, toilet, and vanity to create space for the new fixtures.
Plumbing and Electrical Work:
The remodeling company will begin installing new fixtures such as worktops, sinks, toilets, and showers. Updates will also be made to the electrical wiring and lighting fixtures. The length of time it takes to do a project will depend on how laborious it is. The contractor might install new water-saving toilets or LED lighting fixtures to reduce energy use and utility expenses.
New Fixtures Installation:
If you prefer a retro appearance, the contractor might installput in a pedestal sink following the bathroom remodeling services and a traditional subway tile backsplash. This can apply to the brand-new bathtub, shower, vanity, and sink, among other things.
Floor Installation:
The contractor will now install the flooring and tiles. Hardwood floors or ceramic or porcelain tiles are examples of this. For example, the contractor can advise setting up large-format matte-finished tiles or porcelain tiles with a wood-look pattern that simulates hardwood flooring if you desire a modern design.
Final Touches:
The final step in bathroom remodeling is adding the finishing touches, such as paint, trim, and accessories. This can involve anything from hanging brand-new bath mats and towels to painting the walls. To create a spa-like atmosphere, the contractor might advise painting the walls a soothing shade of blue or green and adding a bamboo bath mat or a teak shower bench.
Tips for Hiring a Professional Bathroom Remodeling Company
Source: ecosremodeling.com
Before hiring a contractor to remodel your bathroom, take into account their credentials, reputation, and experience. A contractor with several years of expertise and a good track record is more likely to produce work of a high caliber and have quality

bathroom worktops in Essex.

Find out about the reputation of the contractor by reading internet reviews or getting referrals from friends or relatives who have had work done similarly.

To protect both you and the contractor in the event of accidents or damage during the job, confirm that the contractor is licensed and insured.

To avoid unpleasant surprises, ask the contractor about the anticipated project timeframe, including the start and finish dates.

Get a thorough summary of all project expenses, including materials, labor, and any other charges.
Also Read: How Often Should I Deep Clean My Bathroom?
Conclusion
Consider using high-quality worktops in your design, whether you are remodeling a modest guest bathroom or a huge master bath. You will be surprised at the impact they can make in making your bathroom into a stylish and useful area.
A knowledgeable bathroom remodeling contractor can assist you in realizing your vision and creating a stunning environment that you will love for years to come, whether you like a sleek, modern style or a more classic appearance.
At Solid Worktops, we take great pride in providing our clients with the best bathroom worktops in Essex. We have earned a great reputation for exceeding our client's expectations by delivering effective, high-caliber work over the past 20 years.
Not only are homeowners interested in our goods and services, but also a large number of showrooms in Essex, Kent, and Suffolk. The fact that independent installers, builders, and designers from all over the UK have come to rely on and respect us gives us tremendous pride.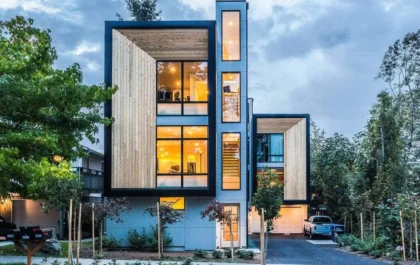 27+ Stylish & Modern Townhouse Designs for Urban Living.
The townhouse's first impression is normally too small, too compact, too narrower, and the list is endless. Well, let us…