Bathrooms are sometimes neglected as a necessary element of our houses, despite the fact that they are essential to our everyday life. Our days begin and end in it. Whether it be a short morning shower or a soothing dip in the tub, these routines might become less pleasurable in an old or poorly constructed bathroom.
Design and renovation services for bathrooms are available in this situation. You may make your bathroom opulent and practical while still meeting your needs and expressing your style with the assistance of a knowledgeable bathroom designer. Elevate your daily routine with a bathroom renovation that will make every moment a pampering experience!
6 Reasons to Investment in Bathroom Renovation
Source: bobvila.com
Your everyday life and the value of your property may be significantly affected by bathroom renovations, which are more than just an aesthetic improvement. The top advantages of bathroom renovations include the following:
Enhanced Functionality:
Using a restroom that is ancient or poorly constructed can be frustrating. A bathroom remodel may make the area more functional for you, increase storage, and optimize the layout.
Improved Visual Appeal:
The renovation of your bathroom may totally change the way it looked before. It will be transformed into a luxurious hideaway that raises the value of your house with a fresh design and modern fixtures.
Increased Energy Efficiency:
Upgrading your heating, lighting, and plumbing systems during a bathroom makeover can help you save money on your utility costs over time.
Improved Health and Cleanliness:
Remodeling your home can do more than just make it look beautiful. By upgrading your fixtures and replacing old, outdated elements, you can create a more hygienic space that is a breeze to clean. Plus, skilled bathroom designer services will address any leaks or water damage during the renovation process; in this way, you can safeguard your health and protect your home from potential hazards.
Improved Comfort:
One way to increase comfort is by installing a heated floor that which can provides warmth during colder months. Upgrading your shower or bathtub to a larger or more comfy option can also make a big difference. Additionally, adding a double sink or additional storage can create more space and reduce clutter, further improving the overall comfort of the room. To get a spa-like environment, you can add a music system.
The Feeling of Accomplishment:
Though remodeling a bathroom may be a major undertaking, the satisfaction you will get once you see the completed product is immeasurable. Also, getting to enjoy your stunning new place every day will make all the effort worthwhile.
How to Find the Perfect Designer for Your Renovation Project
Source: dallasarchitect.org
You must hire the proper designer to create the bathroom of your dreams. You can use these methods to select the ideal designer for your bathroom renovation process:
Select Your Design Style:
It is critical to fully understand your desired design style before you begin your search. You may focus your search on a designer who can realize your idea by being aware of your personal design preferences.
Examine Prospective Designers:
Search online for local designers and read testimonials from previous customers. See whether their websites and online portfolios reflect your aesthetic preferences. You can also get suggestions from friends and relatives.
Think About Their Qualifications and Experience:
Make sure the designer you select is knowledgeable about the space's unique problems and needs and has bathroom restoration expertise. You also want to ensure they have expertise in the materials and fixtures you are interested in using.
Talk About Your Budget:
Tell the designer upfront what you can afford and what you want. A professional designer will collaborate with you to develop a strategy that satisfies your goals and is affordable.
What Is the Process of Bathroom Design?
Source: thespruce.com
The bathroom designer services typically involve several steps, including:
Consultation:
During the initial consultation, the designer will discuss your needs, preferences, and budget.
Design Development:
The designer will create a design that incorporatinges your requirements and present it to you for approval afterwards.
Material Selection:
Once the design is finalized, he will help you select the materials and fixtures that will be used in the renovation.
Construction:
He will oversee the construction process, ensuring the project is timely.
Best Options of Materials and Fixtures
Source: decorilla.com
There are many choices to make when renovating a bathroom. Some popular options include:
Tile:
Tile is durable, versatile, and stylish for bathroom floors, walls, and showers.
Vanity:
A stylish and functional vanity can provide ample storage space and enhance the aesthetic appeal of your bathroom.
Lighting:
Proper lighting is essential for a functional and inviting bathroom. Consider installing a combination of overhead, task, and accent lighting to create the right ambiance.
Flush Toilet:
Dual-flush toilets provide a partial or full flush option, which can help save water and reduce utility bills. This bathroom renovation option offers you a choice of a partial or full flush, which can help save water and reduce utility bills.
Create a Bathroom Remodeling Budget
Source: fbcremodel.com
Setting a budget before beginning a bathroom makeover is crucial. It is important to create a realistic budget that accounts for the price of supplies, labor, and any unforeseen costs. You may achieve your renovation objectives by working with a professional bathroom designer.
DIY Vs. Hiring a Professional: Which Is the Best Approach for Your Bathroom Renovation Project?
Source: construction.com
Deciding whether to DIY or hire a professional when upgrading your bathroom might be difficult. What you need to know is as follows:
DIY can save you money, but it may take longer.
Professionals bring expertise and can help you avoid costly mistakes.
Consider your skills, budget, and timeline before making any decision.
Hence, whether you enjoy doing things yourself or would rather leave it to the professionals, select the ideal strategy for you and your bathroom makeover project.
Also Read: Trends in Shower Tiles That are Here to Stay
Wrap Up
From cozy to spacious, transform your bathroom into the perfect retreat that fits your lifestyle. A bathroom renovation will give you a memorable experience of comfort that you will cherish for years to come!
Are you sick of your worn-out, mediocre bathroom? It is time to update it with TeamMax, as it so well deserves! Our team of professionals is here to transform your bathroom into an exquisite haven of comfort and design.
We specialize in planning and building distinctive and lovely bathrooms that suit your particular needs and tastes, from modern to classic. Our designers collaborate with you Every step of the way, our designers collaborate with you to ensure your idea is executed with the highest care and precision.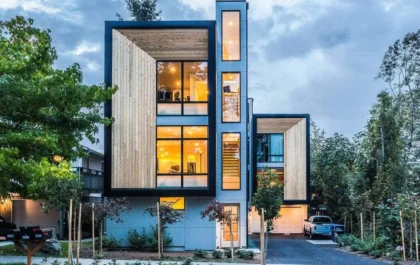 27+ Stylish & Modern Townhouse Designs for Urban Living.
The townhouse's first impression is normally too small, too compact, too narrower, and the list is endless. Well, let us…