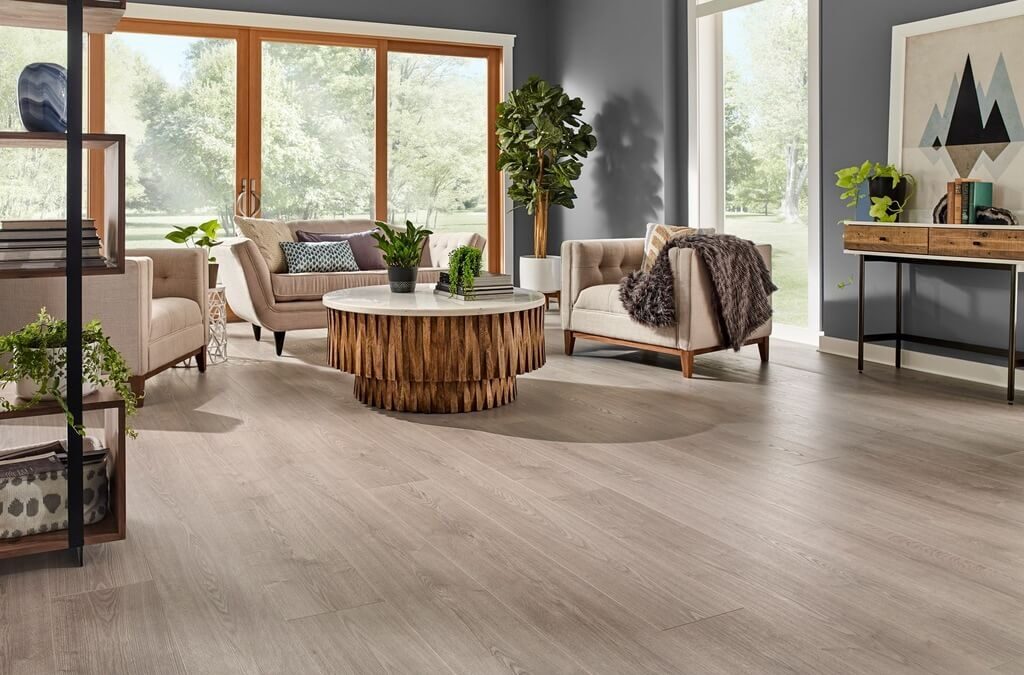 No interior decoration can start without flooring. Being of essentials to have flooring sets the base for all other interior designing assortments. Most of the time flooring ideas are not given the value that it deserves. The right choice of floor can make or break the look of your overall interior decoration. 
Deciding on the best flooring can be the most daunting task while setting up your interior decoration theme. You must opt for stylish, durable, and long-lasting flooring that adds value to your space and make it more appealing. 
Fixitdesign.ae deals with versatile flooring options that are incredibly luxurious to transform any space. You can check various high-end flooring projects on this site. 
If you are looking to find the most attractive, reliable & Durable flooring, then this article will help you. In the informative guide, I'll guide you about the most trending flooring options that will lead your way to the best underfoot. Check out the best flooring ideas & choose the one up to your significant needs!!
Top Trending Flooring Ideas for a Luxury Interior in 2023
Textures, colors, prints, and patterns, when it comes to deciding the best flooring, are the essentials to consider. Here I'm listing below the top trending flooring options that will create a huge difference in your interior design and will add value to your overall decor. 
1. Parquet Flooring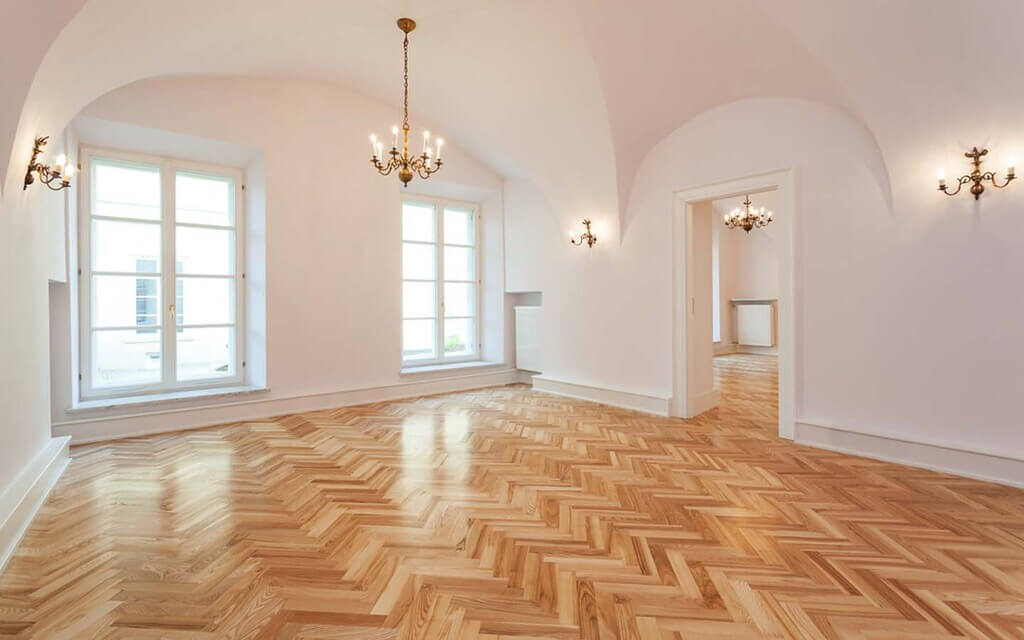 Source: bayut.com
Parquet flooring is the most luxurious flooring with multiple attractive patterns. This flooring is becoming the obsession for many residential and commercial property owners due to its outstanding patterns. Parquet flooring is different from other hardwood floors. In other hardwood floors, wooden slats are laid side by side, whereas parquet uses small pieces of wood that can be arranged in different geometric patterns to give a classic look to your place.
Easy to install and maintenance

Versatile in color texture and patterns

Can withstand heavy foot traffic

No initial preparation or finish required

Can be easily refinished 

Resistant to humidity and moisture

Can endure flexible temperature 

Stay durable and shiny for a longer period of time
2. Wooden Flooring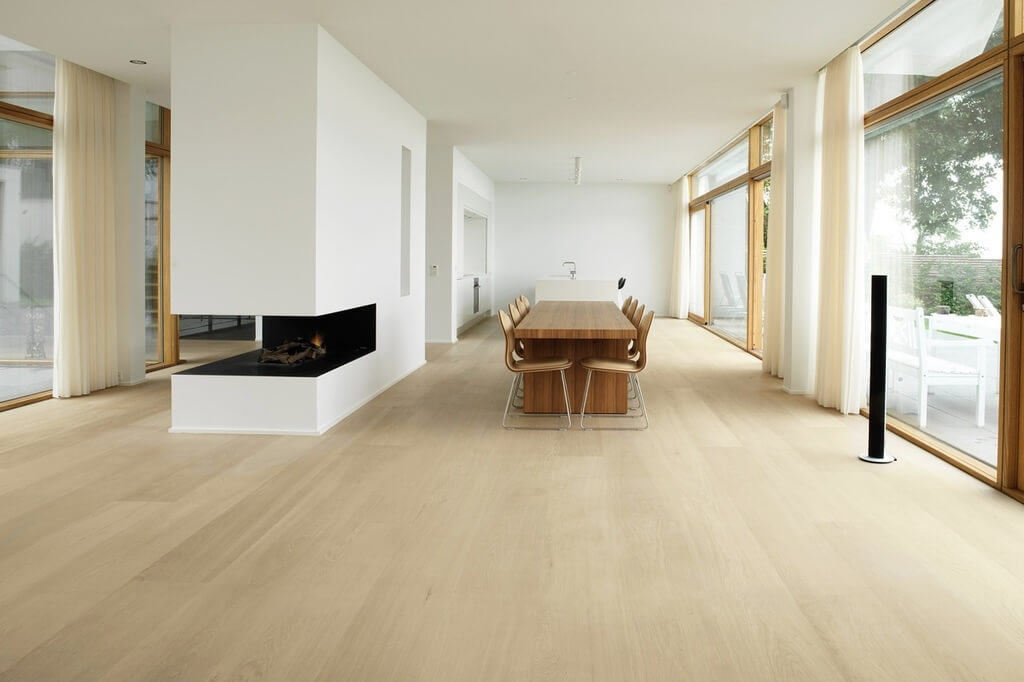 Source: home-designing.com
Wooden flooring is recently the top choice floor globally. Whether you are looking to renovate your commercial or residential space, wood flooring is the most suitable and attractive choice. 
This flooring comes with matchless natural beauty and can be complemented with any kind of interior decor. The laminated wooden flooring price is extremely affordable and you can economically renovate your space with this wooden flooring. For making an informed decision to choose which wooden flooring you choose, we bring you the most versatile types of wood floor.
Faux Wood Flooring

Wood Plank Flooring 

Wooden Flooring Tiles
3. Laminate Flooring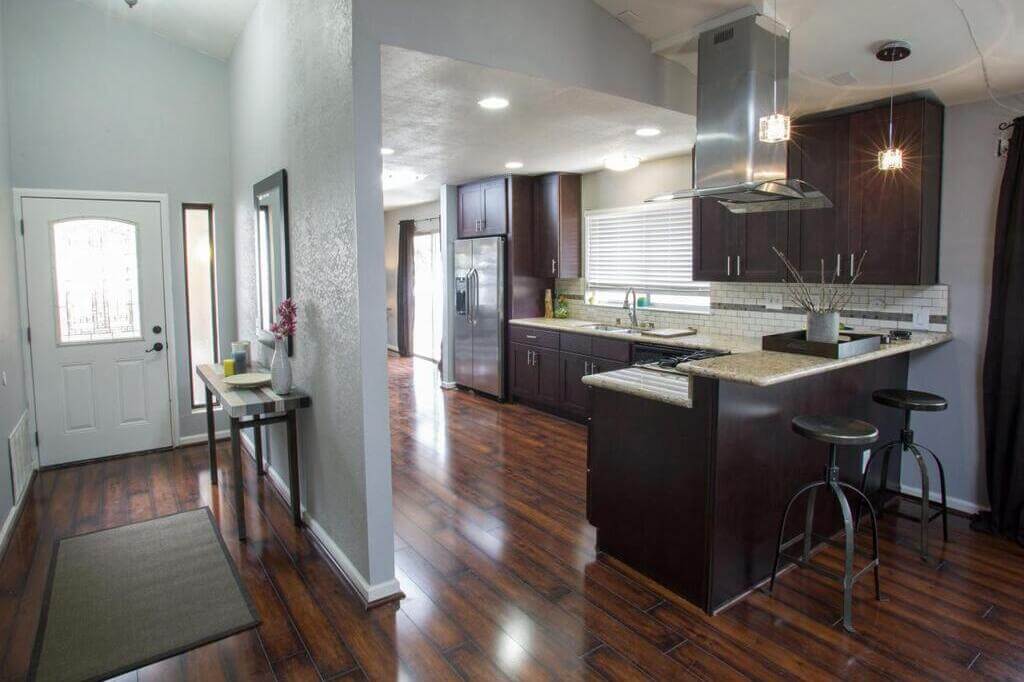 Source: sndimg.com
Laminate floors are a perfect flooring solution to showcase an attractive look, high-performing, and consistent floor. You can make it your best choice regarding your lifestyle and designing preferences. This type of flooring is highly easy to install and looks much more appealing than any other floor. Durability, versatility, and low-maintenance features made this flooring ideal for residential and commercial property owners. 
A laminate floor is highly constructed with a fusion of multiple layers ensuring the sturdiness of a floor and enhances the performance ability of this flooring. By installing this flooring you can instantly transform any space with classical attractive flooring.
No matter if you want to install this flooring in the bathroom or kitchen this type of flooring offers a variety of options that fits any place. This flooring option is perfect for creating an inspiring entrance with a natural wood-touch hallway entrance. Moreover, you can make any of your rooms stylish yet elegant just by installing this wonderful flooring. More favorable features of this flooring are:
Offers comfortable underfoot

Easy to install and keep maintained

Highly resistant to stains and moisture

Look like real wood
4. Spc Flooring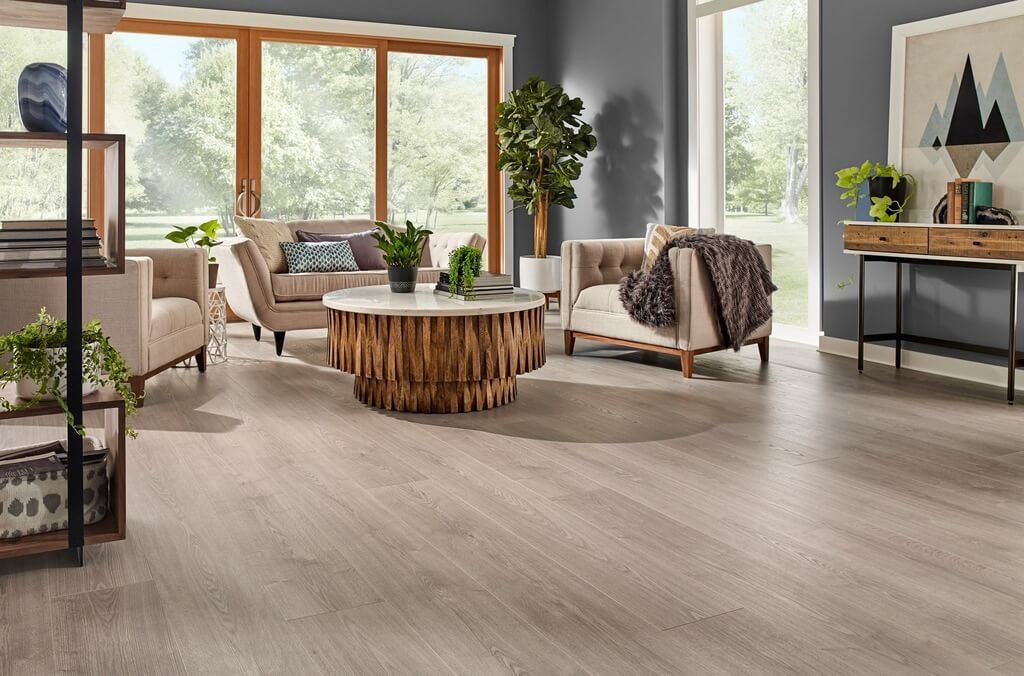 Source: bamboofamily.co.uk
SPC (Stone Plastic Composite) is the pro version of engineered vinyl floor. This flooring is uniquely identified in the list of durable, attractive, sturdy, and reliable flooring solutions. It is the most resilient flooring with the technical manufacturing of the best resilient core layer. The core layer is specially manufactured with the mixture of perfect stabilizers, polyvinyl chloride (PVC) & natural limestone for sturdiness. 
This is a new classic flooring with the most elegant textures and patterns. It is highly waterproof flooring. With the multiple layers of manufacturing, this flooring ensures warmth and comfort. You can easily move barefoot over this floor. 
100% Waterproof and highly retardant to swelling or cracking down or unconsciously come into contact with water. 

Directly installed on the surface, no need to prepare the subfloor with different adhesives. 

Highly resilient to stains & scuff. 

Easy to clean and maintain

Available in real wood textures with the best elegant look. 

Add value to your space. 

Offer a higher floor score with a perfect outlook and incredible functionality. 
5. Vinyl Flooring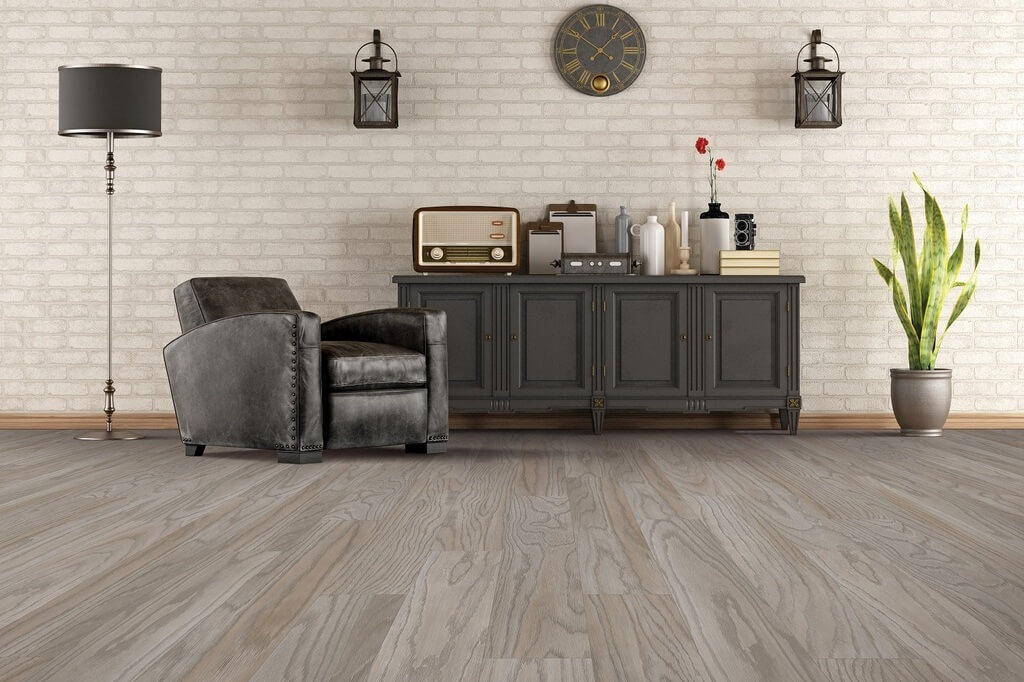 Source: wp.com
Vinyl is the most stylish & sophisticated flooring. This highly affordable flooring is capable of transforming spaces into outstanding oases. Along with the eye-catching designs, textures, and patterns, this flooring is very easy to install and affordable to have. 
This is one of the most classic, clean, and economical flooring options for those who want a luxurious look on a less budget. Available in multiple varieties this flooring showcases high-quality stylish designs that can enhance the look of your floor. There are a number of features that made this flooring so much popular globally. 
Most versatile flooring with hundreds of design options

Economical flooring solution

Comfortable to walk on and perfect for heavy traffic areas

Waterproof flooring perfect for kitchen & bathrooms

Easy to install with simple techniques

Matches with the real wood textures. 

Easy to repair and keep maintained

Variety in choosing the desired colors and textures
Conclusion!
Whether you are looking for commercial or residential flooring, the above-mentioned best flooring options allow you to get the best results. All these floorings ideas are the top choices in 2023 for modern homes and perfect for adding value to your property. Read about these flooring solutions and make an informed decision for your floor!
Related posts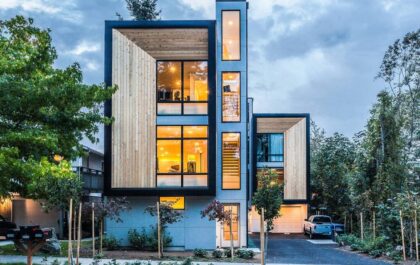 27+ Stylish & Modern Townhouse Designs for Urban Living.
The townhouse's first impression is normally too small, too compact, too narrower, and the list is endless. Well, let us…