Planning to renovate your bathroom space? If yes, there are so many things to think about!
Gone were the days when the bathrooms were just considered as the extra – not so important space. Over the years, this whole concept has been changed as today; bathrooms are counted as one of the factors that make or break the house aesthetics. A well-planned and designed bathroom space can increase functionality and enhance your overall experience.
So, if you've decided to renovate your bath area, it's actually good! From changing floor tiles to adding new wallpaper, there are so many ways to transform your bathroom. Today, in this post, I've gathered some of the best bathroom remodel ideas for you. These renovation ideas are budget-friendly and easy to implement, as you don't have to do anything major. With the small updates and some effort, you can transform and achieve your dream bathroom!
So, if you're ready to explore brilliant and creative bathroom renovation ideas, scroll down!
1. Warm Wood Paneling
One of the easiest ways to add warmth and inviting factor to any space is by adding wood elements. From wooden panels to wooden vanity, you can update your bathroom in several ways. Look at the above image; here, beautiful, modern wooden paneling is used to decorate the vanity. This makes the bathroom look clean by hiding all the storage containing clutter.
2. All Bright White Bathroom
Do you have a small bathroom, and you want to make it appear bigger? If yes, try this trick: paint all your walls white!
White is a versatile color that creates an illusion of making any space seem larger than its actual size. This time, swap your colorful tiles (floor and wall) with classic large white tiles. Also, remove any bulky furniture and dark-themed decor; instead, use neutral decorations and light-weight bathroom essentials, such as vanity, sink, and bathtub.
3. Try a Timeless Pedestal Sink
I know you can find sinks in numerous designs and styles; however, there is something so special about this classic pedestrian sink! It features a golden high-neck faucet paired with a gold vanity mirror. There is also beautiful patterned wallpaper on the walls and geometric tiles on the floor. This entire setup is giving the bathroom a classy and timeless look!
4. Chic Bathroom Remodel Ideas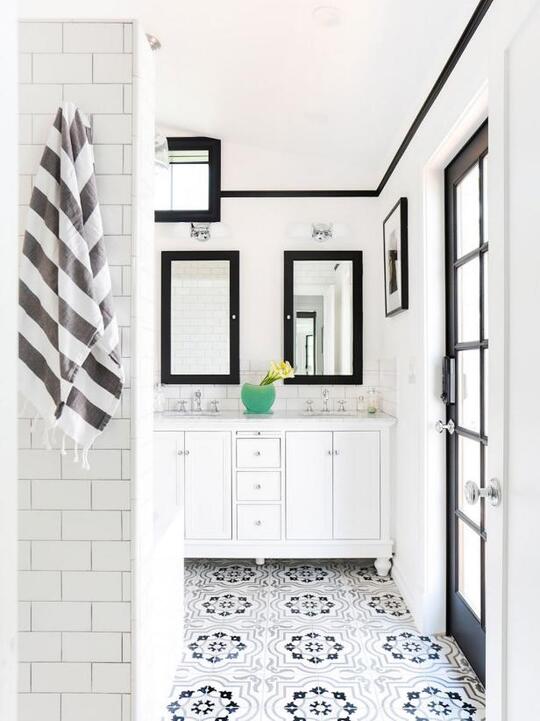 Here is how you can easily transform your boring-looking powder room into a chic space: add white subway tile on shower walls and include a white double vanity. Take inspiration from the above picture, where tuxedo-crisp black trim along with black and white patterned tiles are installed. These things are making the entire bath area look modern and upgraded.
5. Swap Laundry & Bathroom Places
If the location of your bathroom isn't satisfactory, consider switching it to your laundry room. Sometimes, the location of the bathroom is more important than its interiors. You can knock down walls to either merge or make it more spacious. You can also consult an interior designer for a proper floor plan and layout.
6. A Modern Freestanding Tub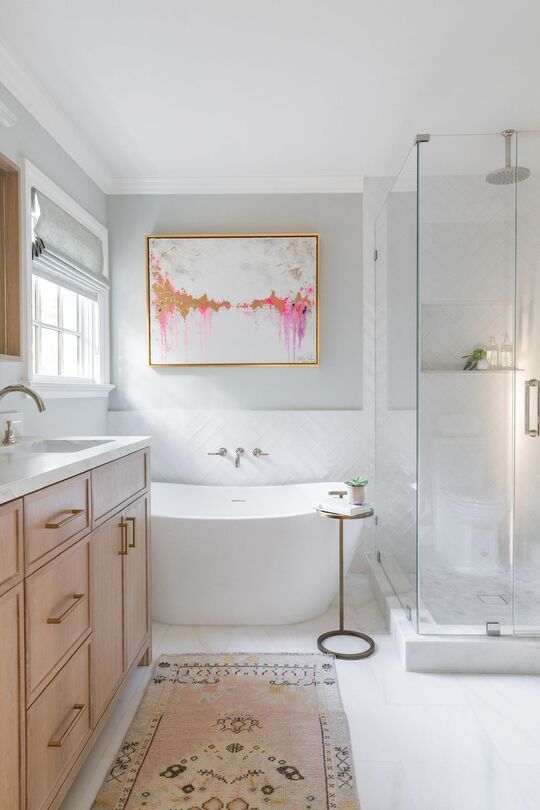 One of the popular master bathroom remodel ideas is to replace an old bathtub with a freestanding tub. Here, the homeowners decided to go with white marble flooring and gray walls. They have also added a large artwork above the vanity and a runner in an earthy tone! These small changes are creating a fresh and welcoming space.
7. Small Hexagon Shower Tiles
Another great bathroom remodel idea for small bathrooms is to use small shaped tiles. For example, in the above picture, gray shower tiles in hexagon shape are used on the walls and floors. One of the best things about this bathroom is that it looks aesthetically pleasing and super easy to clean. Another benefit of these tiles is that they're resistant to mold, moisture, and stains.
8. Crisp White Countertop
If you're looking for budget-friendly small bathroom remodel ideas, check out this one!
Instead of changing your entire bathroom vanity, replace only its counter and get this white one. When paired with wooden cabinets and sleek hardware, they look extremely mesmerizing. To complete the look, hang a large round vanity mirror. This will help to put together everything while creating a cohesive vibe.
9. Include Gold Accents
You don't have to spend hundreds of dollars on renovating your bathroom; sometimes, something as simple as adding a few accent elements can change the entire ambiance of a space. For example, the above bathroom has a tiny sink, but it still looks attractive because of gold detailing like gold faucets and gold wall sconces. The warm lighting and modern vanity mirror are setting the whole mood!
10. Floating Wood Vanity
Here is another fantastic bathroom transformation! Originally, this powder room had plain white walls and a dark wooden black vanity, which looked dull. When there is no source of natural light in a space, it's important to keep everything bright to create a natural flow. So, the designer has swapped the old vanity with a floating warm wood vanity and wall-mounted faucet. This immediately elevates the entire space and makes the room feel larger.
11. Eye-Catching Color Combo
The key to making any part of the house attractive is to use a striking color combination. Just like the above bathroom design, which features three bold colors: Kelly green, black, and white! This combo creates an eye-catching and dramatic look that screams attention. Don't think much and try these bathroom remodel ideas on a budget!
12. Small Bathroom Remodel Ideas
The main issue in the smaller spaces is storage. This is why designing the tiny spaces is challenging. Choose multi-functional furniture pieces such as this white built-in storage unit. It provides enough space for storing all the bathroom supplies and essentials.
13. Get Plenty of Natural Light
If you're planning to completely renovate your bathroom, try new, trendy designs instead of sticking with the traditional bath space. Rethink about the natural lighting sources. You can add glass doors and windows or use translucent corrugated sheets of polycarbonate plastic so that your dull powder room will get bright sunlight and fresh air without compromising on privacy.
14. A Serene Bathtub Setting
To change the outlook of this space, here owners have changed the outdated built-in tub design with a modern freestanding tub. They also added open shelving to keep towels and bathing essentials like shampoo and conditioner.
15. Paint Your Wooden Floor
People who aren't into time-consuming DIY projects will surely love these types of bathroom remodel ideas. If your bathroom has wooden floors, you can paint them to create a fabulous visual effect. There are various flooring options available in the market, such as tile, sheet vinyl, or luxury vinyl plank.
16. Sleek Vanity Mirrors
Mirrors are used to create an illusion of bigger spaces; however, sometimes having one large single full wall mirror can make your bathroom area look stuffy and congested like the above bathroom image.
So, here's a thumb rule: your vanity mirror should never be bigger than your vanity!
So, instead of using one large mirror, use two symmetrical mirrors for a single vanity to create a perfectly balanced look.
17. Divide Your Bathroom Space
Another one of the best bathroom renovation ideas is to separate the space! You can either physically divide the space by using partitions or decor items such as mirrors or furniture to create a distinct zone.
18. Follow The Arch Trend
If you have been following the interior design trends, you know that this year is full of archways and curves. So, this time, instead of ordinary rectangular doors, go with Moroccan-style additions, such as broad archways with unusual patterns.
19. Colorful Powder Room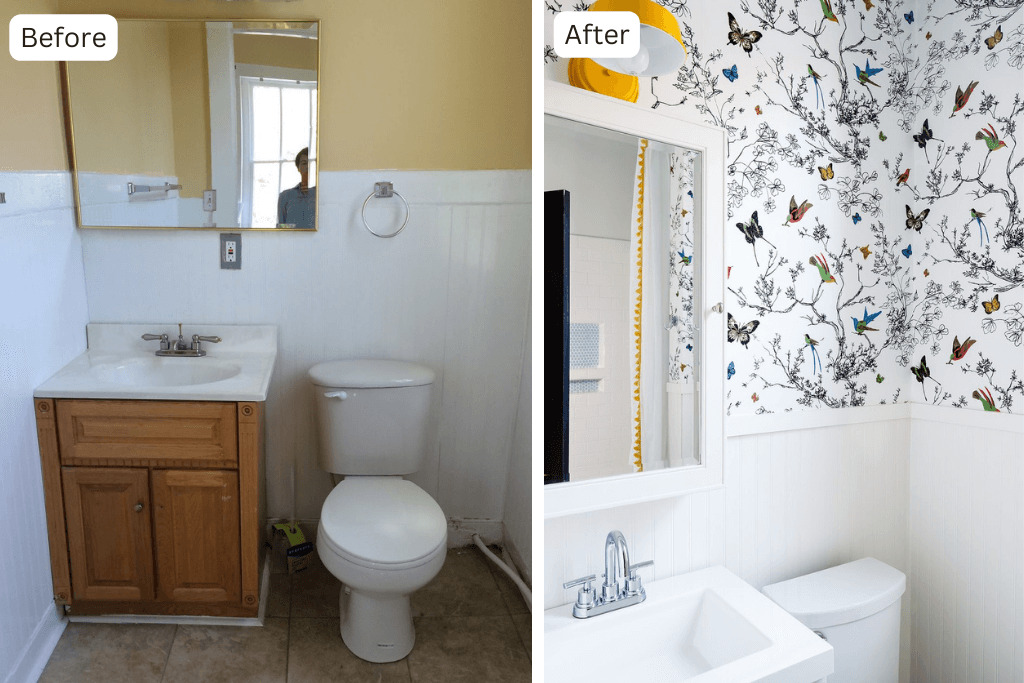 Look at the before and after pictures of this bathroom. Who would have guessed that a plain and boring bathroom could be transformed into something so unique and luxurious? The white walls with butterfly wallpaper, bright yellow lighting, and metal faucets make this space vibrant.
20. Reuse Bathroom Materials
After remodeling one of your bathrooms, what do you do with the leftover materials? Have you thought about this?
Reuse the materials from your first bathroom renovation project in your other bathroom remodeling. This will save you time, materials, and money! Of course, you can't use every single material, but you can use a few things, such as shower curtains, water pipes, and photo frames.
21. Airy & Flowy Bathroom Renovation Ideas
If you have your bathroom space as narrow as the above one, you have to try this trick! Here, the vanity and vanity mirror is specifically designed as per the dimension of the space. The color palette is also kept neutral to create a light and bright ambiance. A large mirror is placed exactly opposite the window, which helps to make the bathroom seem bigger than its actual size.
22. Small Single Vanity
This time, skip the double vanity!
I know double vanity or his & her vanity is a popular trend, but sometimes you don't even need it! Put one sink on the right or left side but not in the middle. A single vanity with a full countertop offers enough space to put all your toiletries, towels, makeup, skincare products, or other bathroom essentials.
23. Small Bathroom Remodel Ideas
Even if you have a tiny bathroom space, that doesn't stop you from getting the bathroom of your dreams. Yes, it is possible! Take a look at the above powder room. It may seem small, but you can find everything from bathtubs to vanities here. It's all about planning and designing. Try to match your decor with faucets to create a cohesive appearance.
24. Open Bathroom Layout
If you feel that your bathroom is dark and narrow, it's time to break the walls to open up the area. These types of bathrooms can make you feel claustrophobic. The homeowners of the above bath are also facing the same issue. They decided to replace the old vanity with a long vanity with more storage and counter space. They've also added a glass-walled walk-in shower. These small bathroom remodel ideas with shower make the space more light, and it feels much more spacious.
25. Install Wainscot on Walls
Here is another simple renovation idea that can instantly elevate your bathroom: add Wainscoting or beadboard on your walls. But wait, there's a twist: only add it to the lower part of the walls! Use contrasting and striking color combinations, like navy and white, as they can make any powder room look attractive.
26. Modern Black & White Bath
The before and after pictures of this bathroom can pretty much shock anyone! This is a great transformation that is also affordable and functional. Here, the old 1948 pink tub is replaced by a standing shower with a glass partition. These types of 5 x 8 bathroom remodel ideas are focused on functional design to make the space more aesthetically pleasing while offering several benefits.
27. Add Interesting Wallpaper
Who would've guessed that a simple blue intricate patterned wallpaper could change the entire vibe of this bathroom?
If your budget is around $1500 for renovating your bathroom, you can try this idea! This boring powder room is part of a 1920s bungalow, which has a stained pedestal sink and outdated fixtures. During the remodeling process, the plain gray walls with printed wallpaper and amazing results are in front of your eyes.
28. Bold Bathroom Design
Looking for something different? If yes, try these types of bold bathroom remodel ideas.
The bright blue wallpaper is the main focus of this room, and the delicate gold faucet and lighting make the space feel complete. You can also try something like this to get a bold and daring bathroom space.
29. Install Window in Bathroom
Windows can make any space look bright and big, whether it's a kitchen or bathroom! It will also keep your shower dry by removing moisture and humidity. You'll also get plenty of natural light, which helps you to save on your energy bills. However, make sure it is not invading your privacy. For that, you can use frosted glass or a curtain.
30. Edgy Dark Elements
If you want to make your bathroom stand out, use black details such as black fixtures, a mirror with a black frame, or black wall lighting. These things will help to create a statement look without spending too much money.
31. Add Natural Elements
Including natural elements and organic materials like plants and jute rugs in the bathroom can elevate the entire space. Whether you use real plants or artificial ones, bringing some green elements into this space can help you to create a subtle connection between indoors and outdoors.
FAQs
What should be included in a bathroom remodel?
A bathroom remodel can include simple updates to bigger luxurious renovations such as updating fixtures flooring, and installing wallpapers and tiles. These bathroom renovation ideas help to enhance aesthetics, functionality, and overall experience.
How do I redesign my bathroom?
While redesigning your powder room, consider things like floor layout, theme, color palette, materials, and fixture types. These things will help you to build your dream bathroom on a budget. You can also hire an interior designer or architect for your bathroom remodel project. 
How to design a luxurious bathroom?
If you want to create a luxurious bathroom, focus on an open layout and high-quality decor and materials such as marble countertops, gold fixtures, walk-in shows, and standalone bathtubs. You can also add other amenities and decorative elements, such as underfloor heating, statement lighting, and floating shelves. 
Renovate Your Bathroom Now!:-
So, these are some of the best bathroom remodel ideas. If you feel your bathroom looks boring, dark, and stuffy, renovate it now! Add windows, large mirrors, and elegant fixtures to change the overall appearance of your powder room, and that too on a budget. You can also either paint your walls or install wallpaper of your choice with the right lighting. These simple things can easily make your bathroom reflect your creative personality and lifestyle.
Explore Further:-