Today Barndominiums have become one of the popular choices among home buyers across the country. People prefer to live in these tiny homes for several reasons: affordability, durability, and low maintenance. Barndominiums are available in various architectural styles, designs, and colors. However, black barndominiums have become a huge trend in the housing industry. Black barndominiums are versatile, quite spacious, and highly functional. These homes might look modern but still give the comfort of traditional houses.
So, if you're looking for some trendy and styling black barndominium ideas, keep reading!
Today in this blog, we have made a list of the best black barndominium ideas for you. From a modern black barndominium with metal roofs to a contemporary black barndominium with white trim, we've included different styles to choose from.
What is a Barndominium?
A barndominium, sometimes referred to as a barndo, is a type of house with architectural elements of both a barn and a condominium.
Barndominium buildings are usually made of metal and wood with an open floor layout. Most of the time, these buildings are used for residential use, but there are several black barndominium plans that can also be used for commercial or agricultural purposes.
Here are some of the black barndominium ideas for you:
1. Black Barndominium with Metal Roof
Are you looking for a durable and low-maintenance barndominium?
If yes, a black barndominium with a metal roof will be an excellent option for you! Take a glance at the above modern, industrial-looking house; doesn't it look so gorgeous? The black exterior and solid metal roof make this black metal barndominium look both sleek and attractive.
This home features a 3 bedroom, 2 bathrooms, a spacious kitchen, and an outdoor space. Metal roofs are a great choice for barndominiums located in the woods. This material is non-flammable and non-combustible, so that it will not catch fire during a lightning strike or wildfire.
2. Black Barndominium with Copper Roof
Like metal roofs, copper roofs are another great option for your black barndominium. This is completely unique and different, so not everyone chooses this option. Adding a copper roof may sound so traditional to you, but this one small change can make a huge difference in the overall appearance of your home.
This combination has a beautiful contrast of black exterior with shiny copper roofs, which immediately draws attention. So, to make your barndominium stand out in your neighborhood, you can go with a barndominium black color with a copper roof.
3. Black Barndominium with Wood Accents
Wood – a material that can be used both in a traditional and modern way!
Adding some wood accents is another excellent way to enhance your barndominium exteriors. Use wood in various parts, such as siding, trim, or home flooring. This will add warmth and an inviting factor to your home.
You can also add different materials like metal and stone with wood to create something unique and more personal. This way, you can get a perfect blend of modern elements with natural aesthetics.
4. Black Barndominium with Wrap Around Porch
If you like to host parties or enjoy the outdoors, here is a wonderful idea: add a wrap-around porch!
Imagine enjoying an alfresco dinner with your friends and family on your open or covered wrap around porch. Wouldn't that sound so fantastic?
A wrap around porch usually covers the sides and front part of a house. It offers a place to relax and enjoy the outdoors and can also be used as an extra living space. You can also add other elements, like a grilling oven and a fireplace, to make your outdoor experience more cozy and enjoyable.
5. Black Barndominium with Cedar Accent
Black & cedar is a great way to add a rustic touch to your barndominium!
The black siding of the barndominium is a bold move, but you can soften it by adding cedar accent details on your porch, roof, and window trim.
Cedar is a gorgeous and durable wood that can take your house exteriors to a whole new level. There are many ways to add this material to your small black barndominium, including cedar siding, trim, or roofing. You can either paint it entirely black or just stain them.
6. Black Barndominium with Stone
You'll be surprised to know that stones will act as a fantastic backdrop for black exteriors.
Take a look at the above picture for reference. This is a 4-car garage with a second-story family black barndominium. This house features an open-concept living room with stone cladding and a fireplace with high ceilings. The black barndominium features stone cladding around the home, adding a distinctive touch to the space.
There are several options in stone, and you can use them in many different ways. From using stone on the facade and exteriors to the fireplace and walkways, you can use the stone to create a stunning and timeless look. To create a contrasting visual appeal, you can also mix stone with other organic materials, such as bricks and bamboo.
7. Black Barndominium with White Roof
All black barndominiums look amazing, but if you want to take it to the next level, add another contrasting color, such as white!
This time, try a white roof instead of a black on black barndominium, and you'll see so many benefits. A white roof not only helps to brighten up a black barndominium but also makes it look more spacious. It can also help reflect sunlight and reduce heat gain, saving you money on your energy bills.
Here is the perfect example, this modern home features black exteriors with a shining white roof, balanced windows, and wood accents. If you like this combination, construct a white and black barndominium for your family!
8. Black Barndominium with White Trim
Another way to add a staggering factor to your black barndominium exterior is to use contrasting trims. Here white trims have been added to the black barndo. This will create a sense of balance and harmony while highlighting the architectural features of your home.
Choosing black as your main home color doesn't mean you have to paint everything black. This actually gives you an excellent opportunity to be creative in the home exterior, like the trim and doors. Black and white is a classic combo that creates a fabulous contrasting design for a modern barndominium black color.
Add white trim as an accent if you want to make your home stand out among all the barndominium homes. A black backdrop with white accents will immediately attract attention and add a symmetrical feel to the exterior.
9. Black Barndominium with Copper Trim
This black barndominium uses its space and color fantastically. As you can see in the above picture, this modern barndominium features 2 bedrooms, 2 baths, and burnished slate walls with copper trim. This space has a large wrap around porch with big windows and a sloped roof.
A black barndominium with minimal copper trim offers a modern aesthetic look and perfectly blends dark tones with copper accents. This small addition to your exteriors will bring a cohesive feel. So, if you want to add a touch of luxury to your black barndominium and make it look more upscale, consider copper trims.
10. Black Barndominium with Cedar Trim
Choosing the right trim for the barndominium is one of the crucial elements of designing beautiful exteriors. Several wood trim options are available, and one of the popular wood trim is cedar. This natural and rustic option can instantly add warmth and inviting touch to any black barndominium.
Like a black and white combination, a black barndominium with cedar trim will also offer a striking contrast. This wonderful visual aesthetic between the dark exterior and natural cedar accents creates a modern exterior.
Pros and Cons of Black Barndominium
Here are the key benefits and drawbacks of black barndominium:
| | |
| --- | --- |
| Advantages | Disadvantages |
| Versatile and stylish | High-maintenance |
| Affordable & Energy-efficient | Heat-absorption issues |
| Highly practical and functional | |
| Customizable | |
| Extremely durable | |
| It can be used in numerous ways: workshop, home office, residential, and commercial. | |
Black Barndominium FAQs
1. Is a barndominium a good idea?
Barndominiums are a great living option for homeowners who want a spacious, durable, energy-efficient, and affordable house. These homes are also low-maintenance and can be customized in many ways.
2. How much does the best barndominium cost?
A barndominium can cost anywhere between $100,000 to $500,000. However, remember that the overall cost to build a barndominium varies based on size, design, materials, location, and customization.
3. What is the life expectancy of a barndominium?
Barndominiums are built in a way to remain durable and functional for years to come. They can withstand extreme weather conditions and could last hundreds of years. However, the exact life expectancy will depend on the materials, maintenance, and environment you live in.
4. How sustainable are barndominiums?
Compared to traditional houses, barndominiums are more affordable and sustainable as they're constructed with eco-friendly materials such as wood and steel. These homes are durable, energy-efficient, and withstand heavy rain, snow, and wind.
Final Thoughts
Today, the black barndominium is one of the most popular housing options globally. These homes are unique and stylish and offer various benefits, including spaciousness, affordability, durability, and energy efficiency. With their modern looks and minimal aesthetics, these black barndominium homes are luxurious.
So, if you're looking for a low-maintenance and budget-friendly home, a black barndominium will be a great choice!
Explore Further:-
Himadri Shakya
Himadri Shakya is an enthusiastic Content Writer and Editor. She loves to create creative, engaging, and SEO-friendly content. Through her extensive research skills and practice, she has been generating high-quality and informative articles, and blog posts for over 4 years.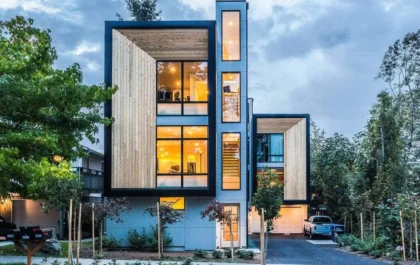 27+ Stylish & Modern Townhouse Designs for Urban Living.
The townhouse's first impression is normally too small, too compact, too narrower, and the list is endless. Well, let us…