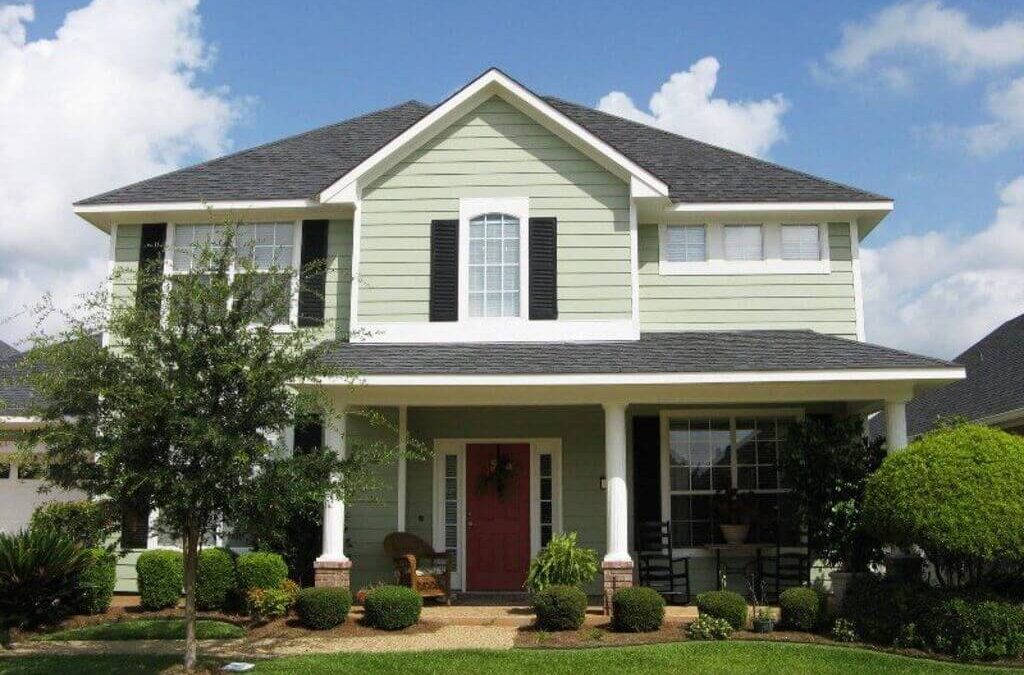 Imagine going to your friend's home for the first time; what will you notice first about their place? According to architects and designers, the one thing most people notice is the home exteriors! 
The house facade or outdoors and exteriors are something that immediately catches the attention of the people even from far. After all, you may also hear of the famous saying that "the first impression is the last." That's why experts advise selecting outdoor colors and decorations carefully. It should always match the neighborhood and the environment that your house is set in. 
Do you want to transform the house facade? Or are you planning to paint the exteriors of your home? Whether you're painting your interiors or exteriors, it's always been a big and important decision to make. From selecting the right shade of paint to the quality, there are so many things to keep in mind when you want to paint your exteriors.
Are you ready to paint your home's exterior? When you are selecting a color, consider how your siding, trim, front door, and other exterior elements all work together. Find the perfect exterior color combination with these tip on choosing house paint colors.
Let us help you in selecting the color for your home's exteriors. A one-color trend that can be seen everywhere is Sage Green! This color is one of the soothing colors that can instantly create a calming, refreshing, and relaxing feel to any space. The best part is that this color is so versatile that it can be used in both interiors and exteriors.    
Today in this blog, we've rounded up some of the best sage green house exterior ideas of 2022. We will tell you cool ways and colors to pair with sage green. So if you want to give a stunning makeover to your house exterior, keep reading till the end. 
17+ Latest & Modern Green House Exterior Ideas
Are you ready to follow the latest color trend of 2022? Below is teh list of best sage green color combinations that you can try and give a completely new look to the exteriors of your home. Let's start with the list. 
1. Sage Green Stucco Exterior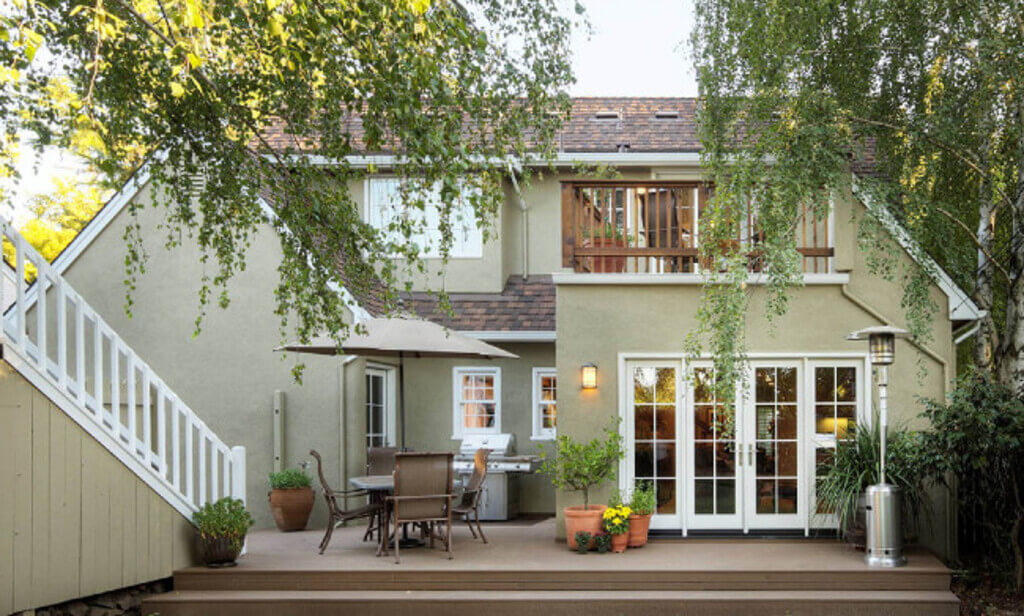 Source: thestuccoguy.com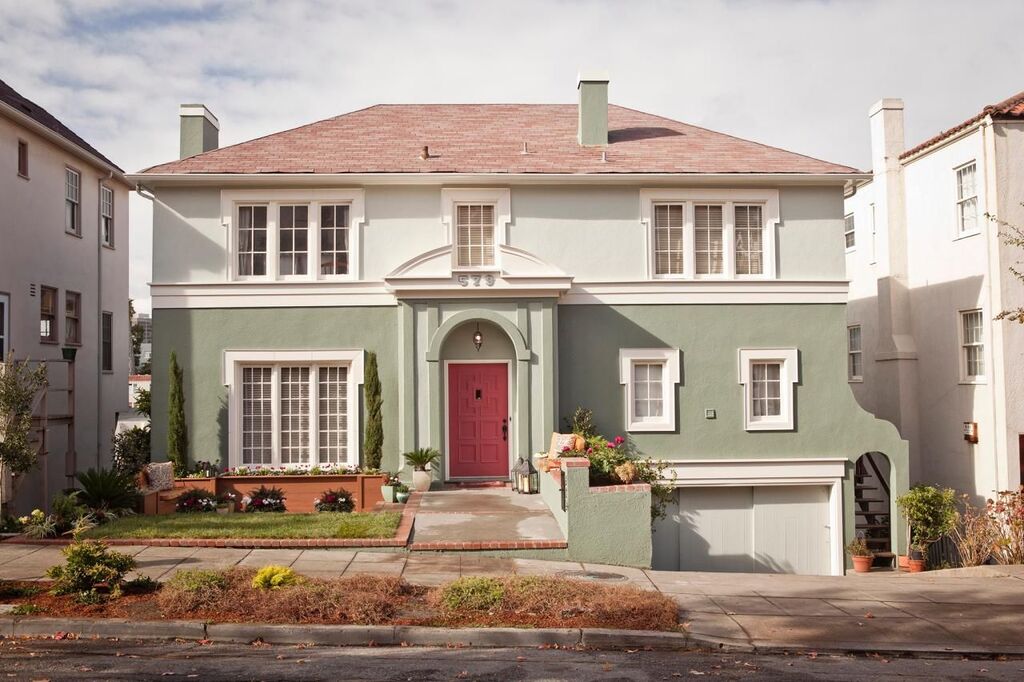 Source: pinimg.com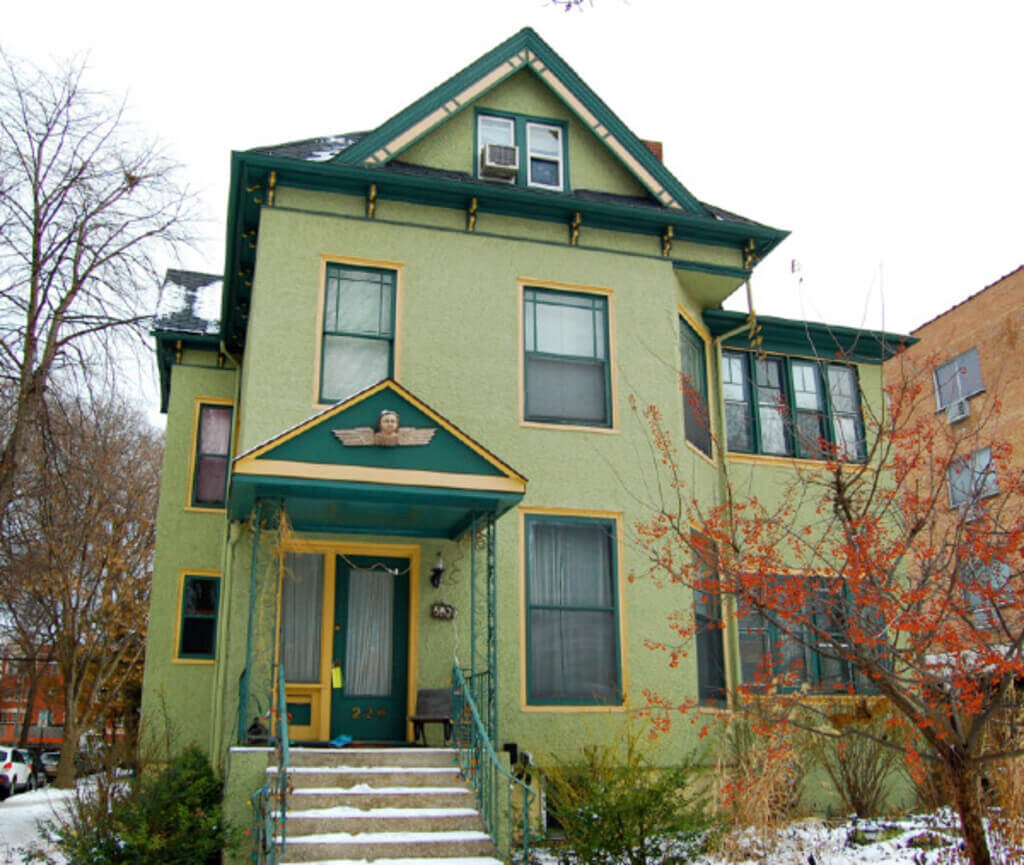 Source: thestuccoguy.com
When it comes to exteriors, stucco is one of the materials that are still quite popular these days. The reason is that they work well on many different houses and buildings. All you need is to select the "right sage green shade" for your home. 
Look at the above houses; here, the green stucco has been used in three different ways on three different houses. You can add other elements such as wood, metal, or other materials. You can also paint the trims in the same shade or a little darker shade or completely opposite shade for a contrasting effect.  
2. Dark & Light Combo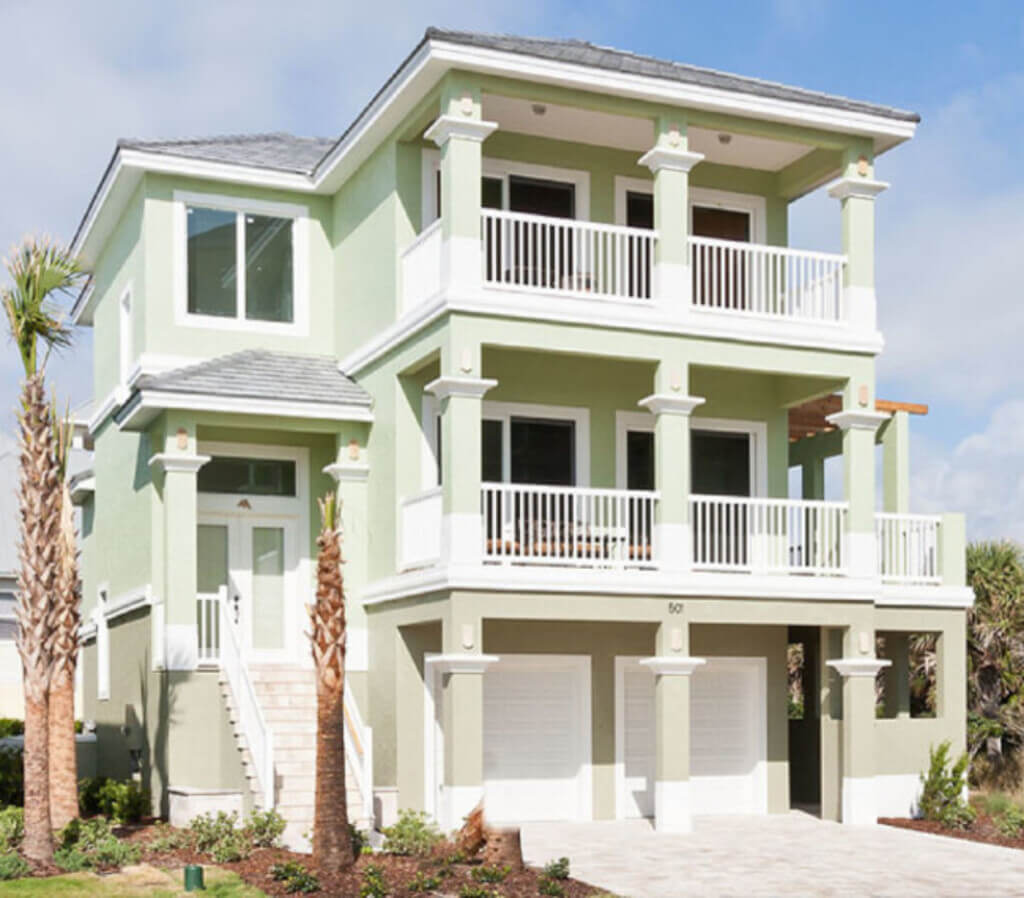 Source: thestuccoguy.com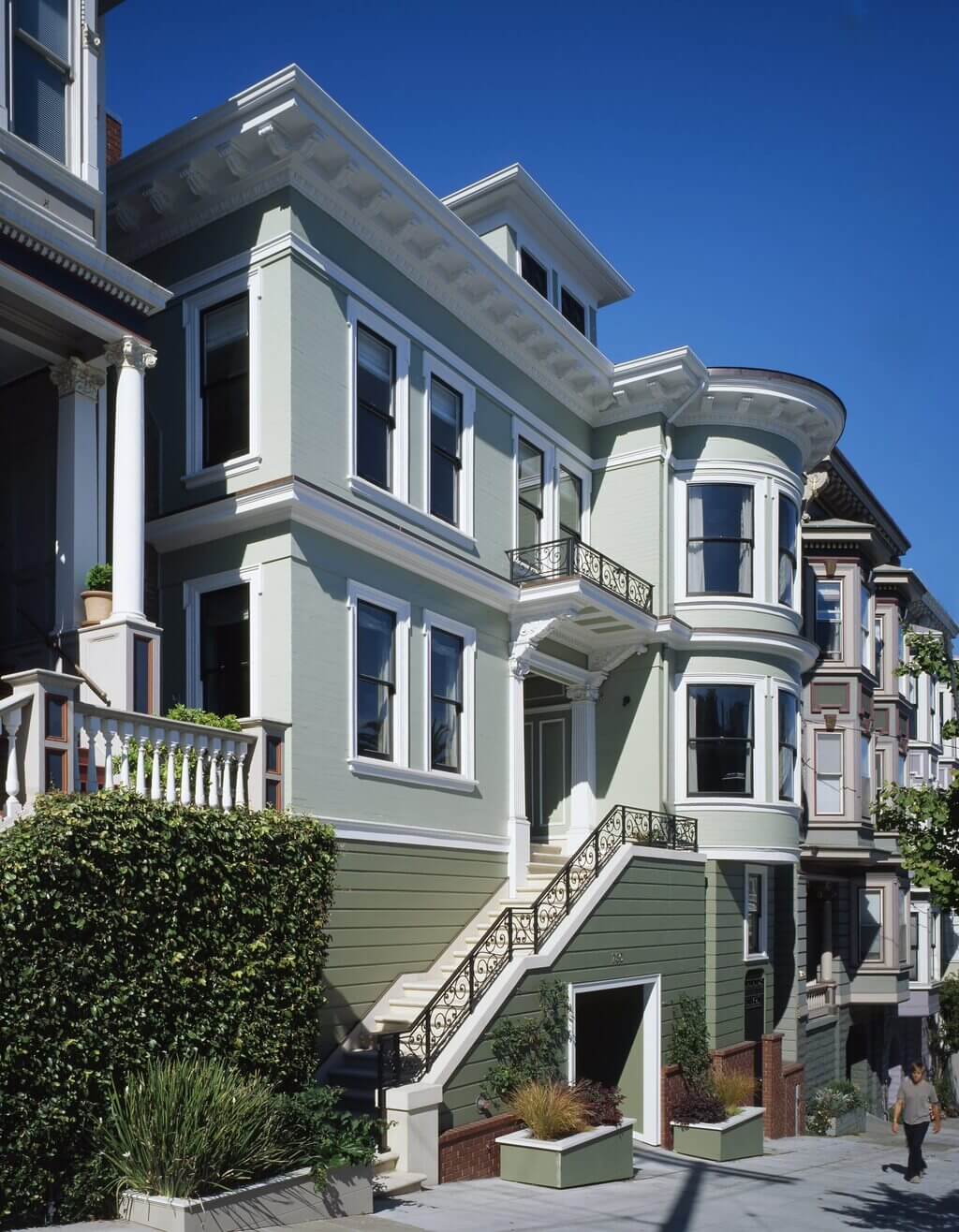 Source: hzcdn.com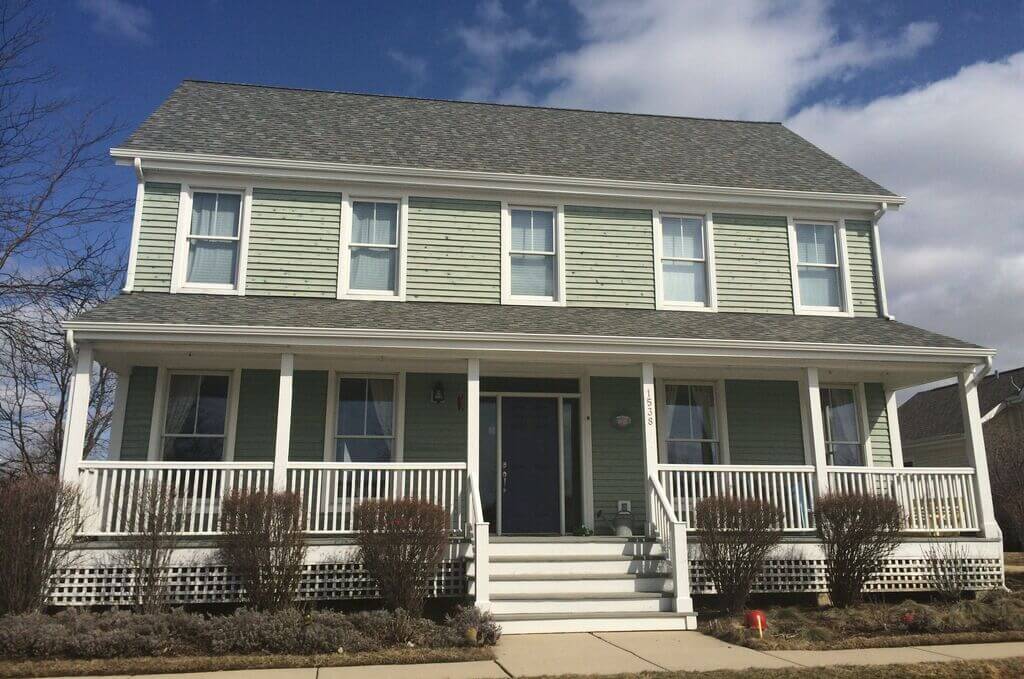 Source: thespruce.com
One of the best ways to highlight the gorgeous sage green color is to use a contrasting color with it. And for that, there is nothing better than White! It looks beautiful and is one of the safest options to go with. Yes, you can use this beautiful color combination in so many different ways. 
This two-tone scheme will work with almost every architectural style. So whether you have traditional exteriors or modern, you can try this green and white combination or sage green house with black trim without any doubts!  
3. Sage + Dark Blue Exterior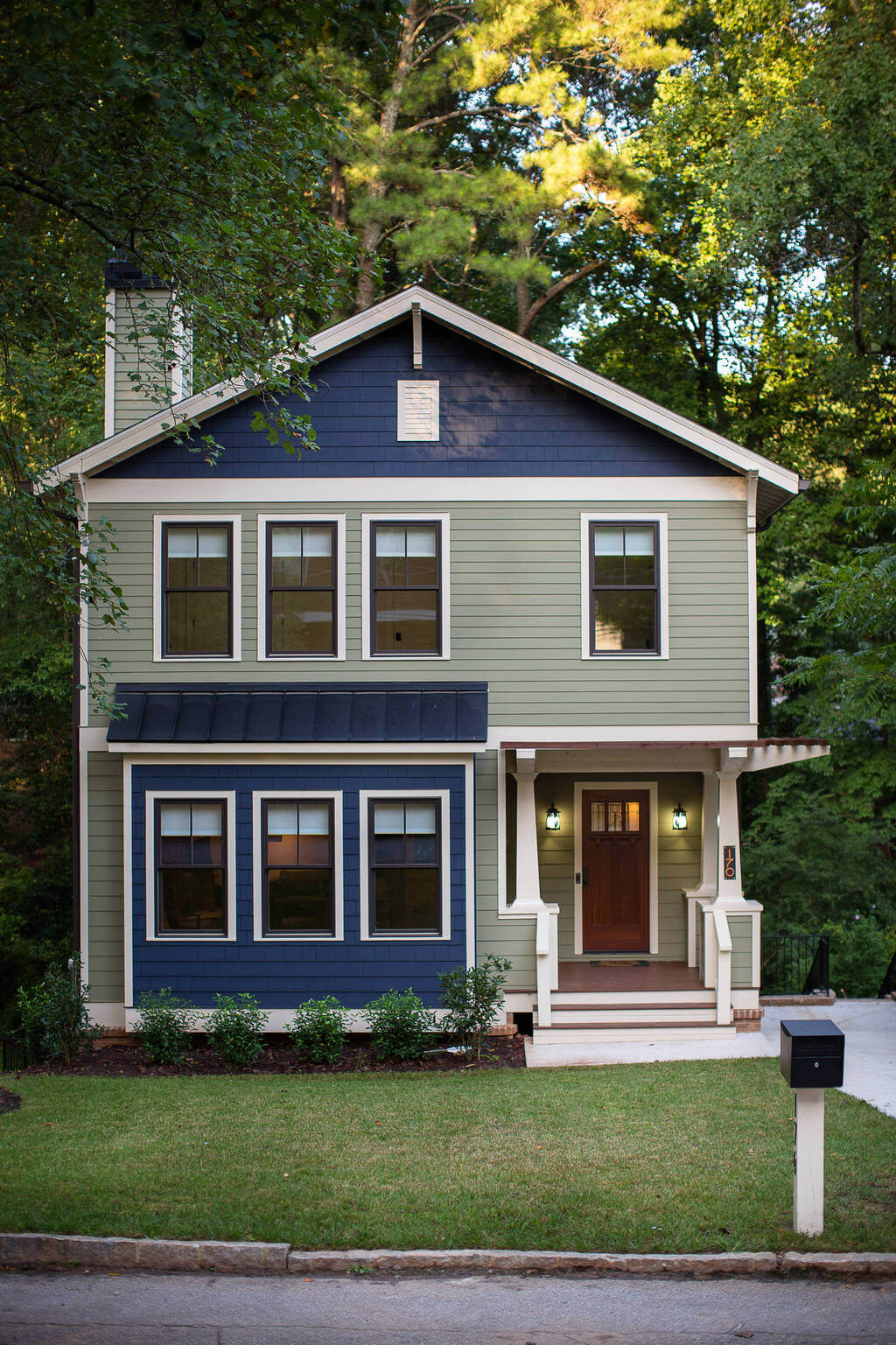 Source: hzcdn.com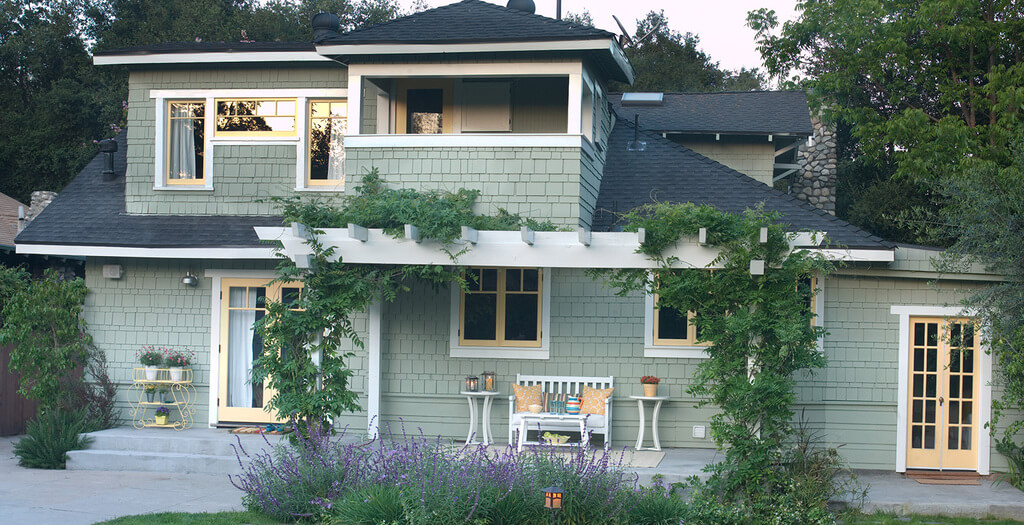 Source: behr.com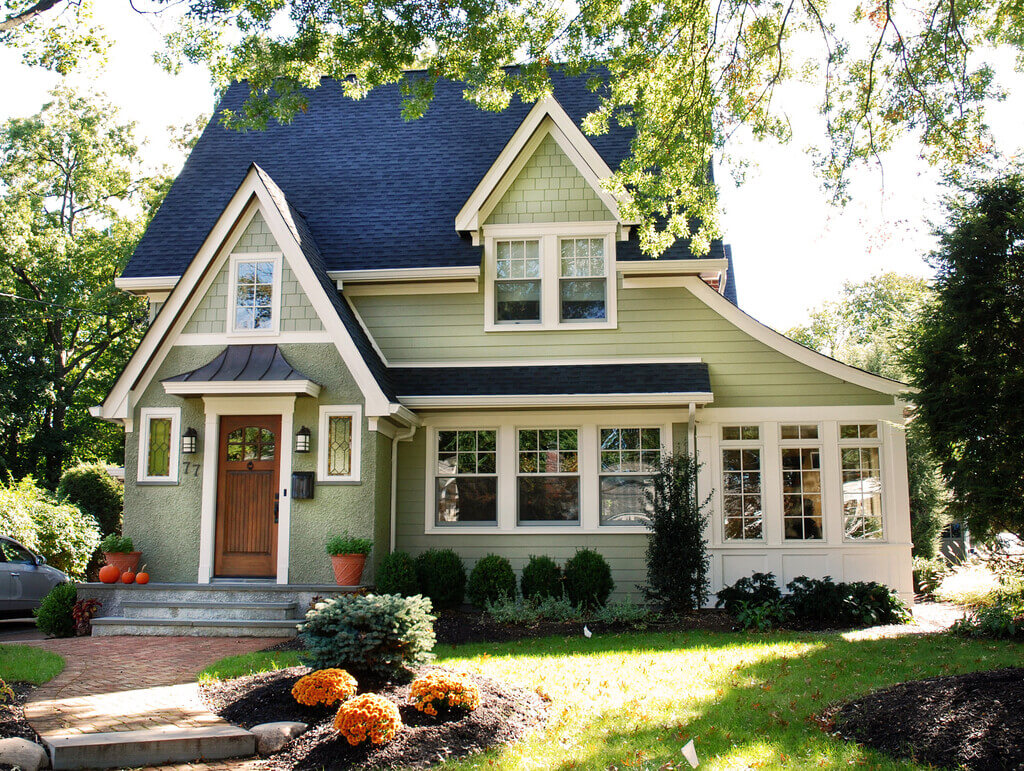 Source: hzcdn.com
Add some drama to your house exteriors with the help of beautiful blue color. Perfect choice for a large building as you can use these dark or deep blues to break up the monotonous sage green color look. 
This is important because painting a large or tall wall in just a single color can make the exteriors look too plain and repetitive. From navy blue to midnight blue and royal blue. This trick even works on homes with less trim and fewer ornate details. 
4. Red + Sage Green House Exterior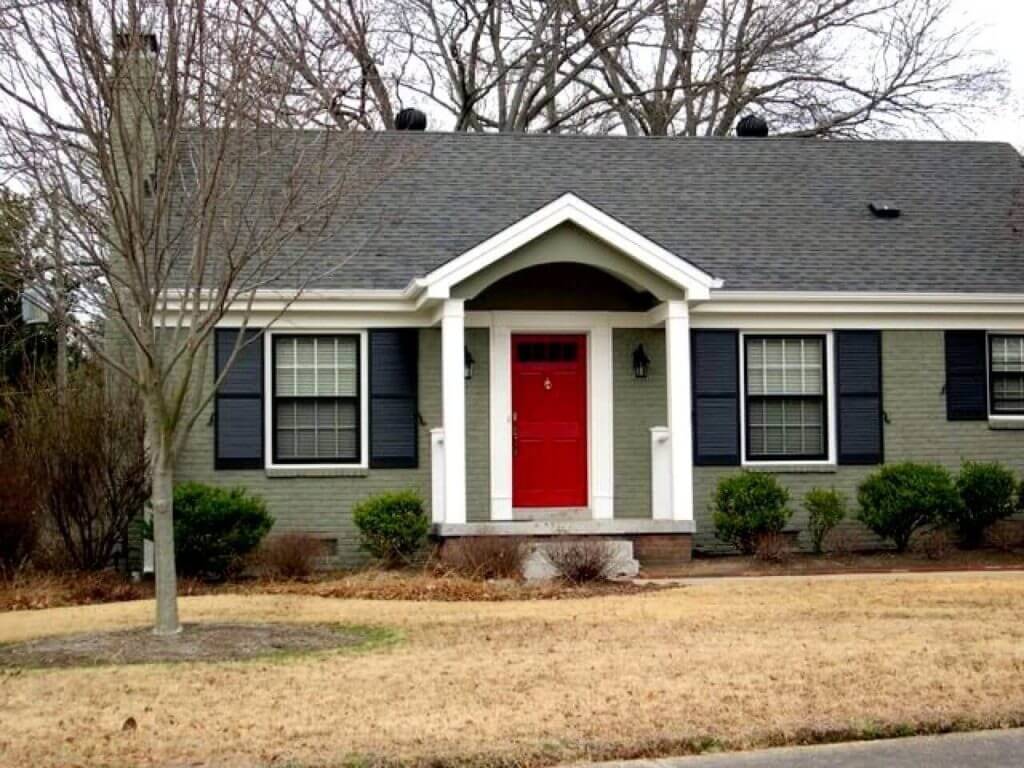 Source: thearchitecturedesigns.com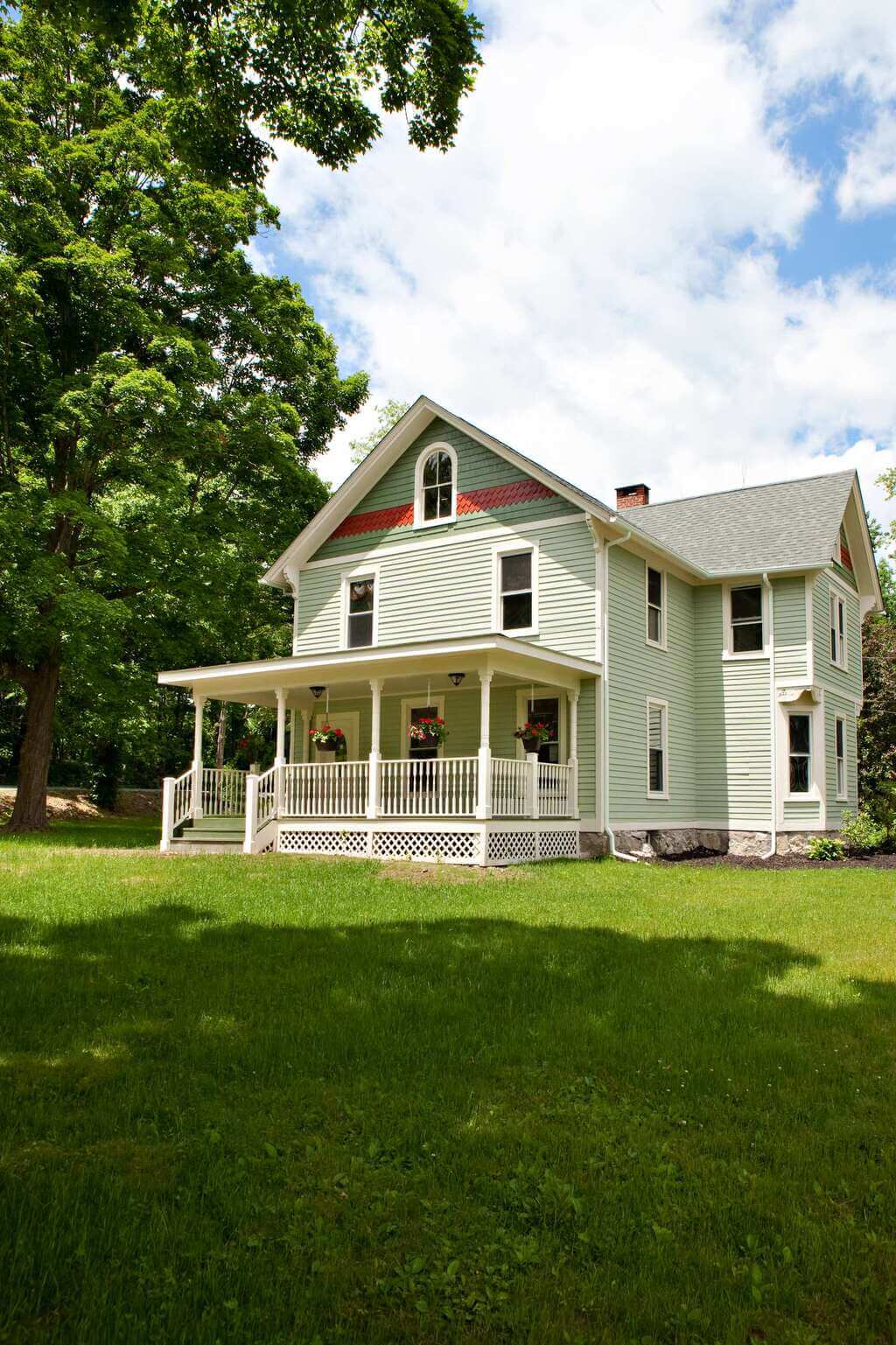 Source: hzcdn.com
Another way to add some pop of color to the sage green exteriors is the RED! From adding small strips of reds to painting your door in bright red or orange, there are many ways to introduce this vibrant shade in your home.
You can experiment with various shades of red and as per the shade of sage green you're using. This bright color instantly makes your exteriors more inviting and different from the rest of the neighborhood houses (in a positive way!). For reference, look at the images of the above homes. 
The above homeowners use red strips, which is brilliant because it creates a visual illusion. It draws the eye upward and highlights the charming arched attic window.    
5. Tropical Sage Green Exterior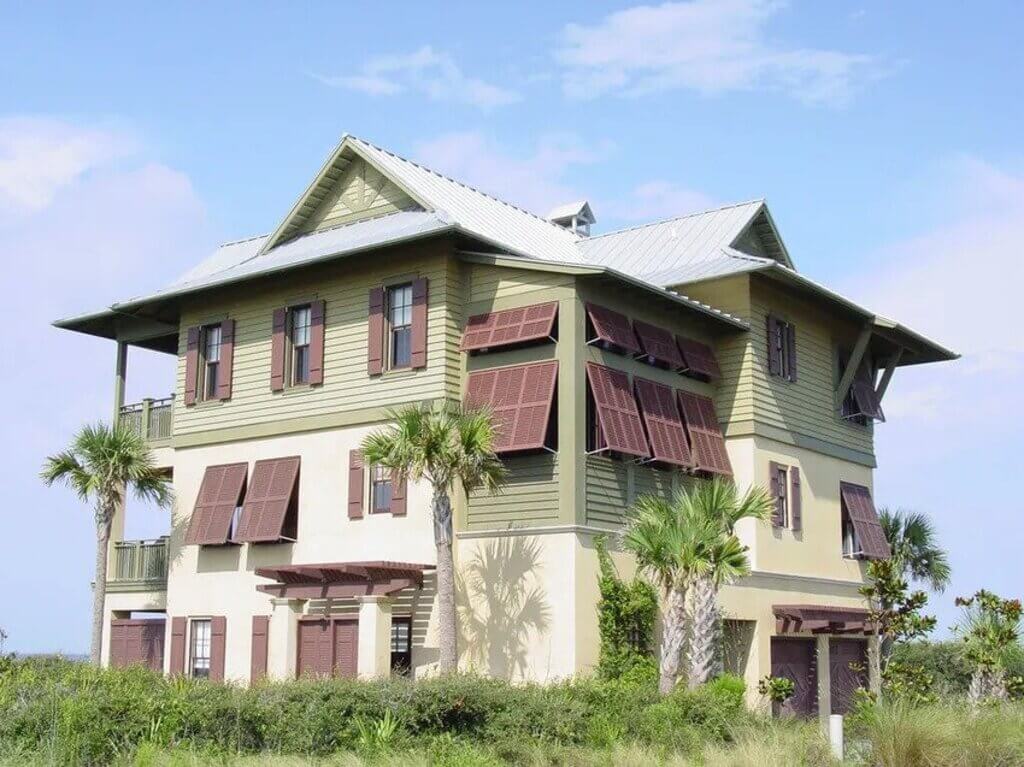 Source: deco-idea.net
Does your home have unique architecture and exteriors? If yes, you'll surely like the exteriors of this house. This large tropical home has a gorgeous sage green exterior with really uniquely designed windows. Just look at the windows! 
The lower half part of the building is cream, and the rest is sage green. The windows are painted in the mauve shade. You can also apply the same technique in vacation homes or seaside houses. 
This two-tone siding idea will help break up the mass of the home. On top of that, the shutters with a light rum-raisin hue are also one of the eye-catching elements of the exteriors. You can try this sage green-soft yellow-Rum raisin color combination and make your exteriors look extremely beautiful.
6. Traditional House with Sage Green Exteriors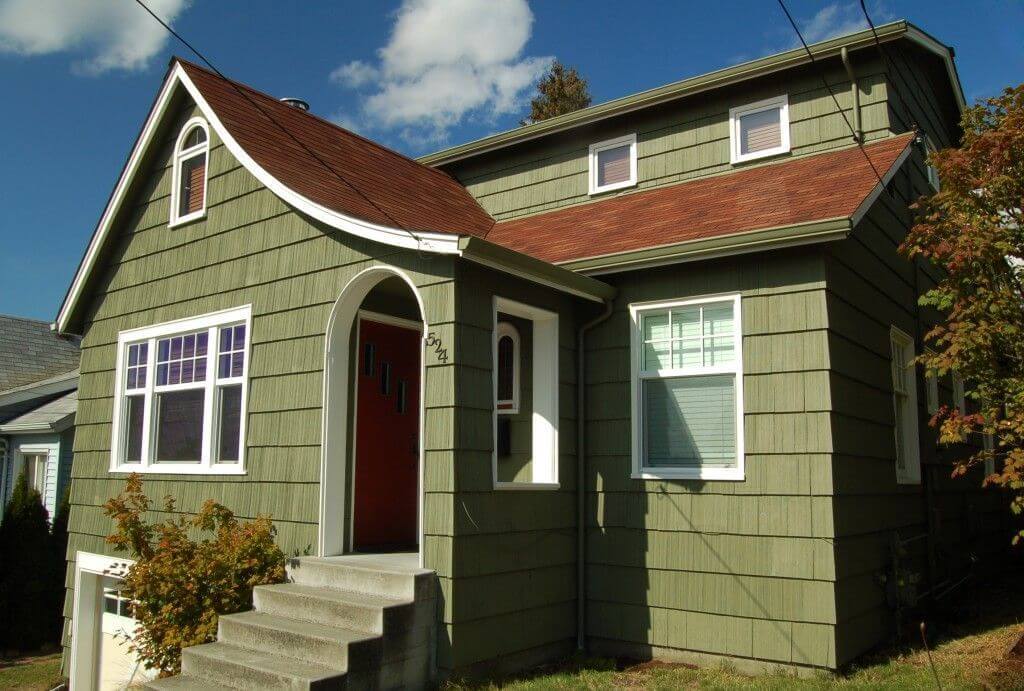 Source: pinimg.com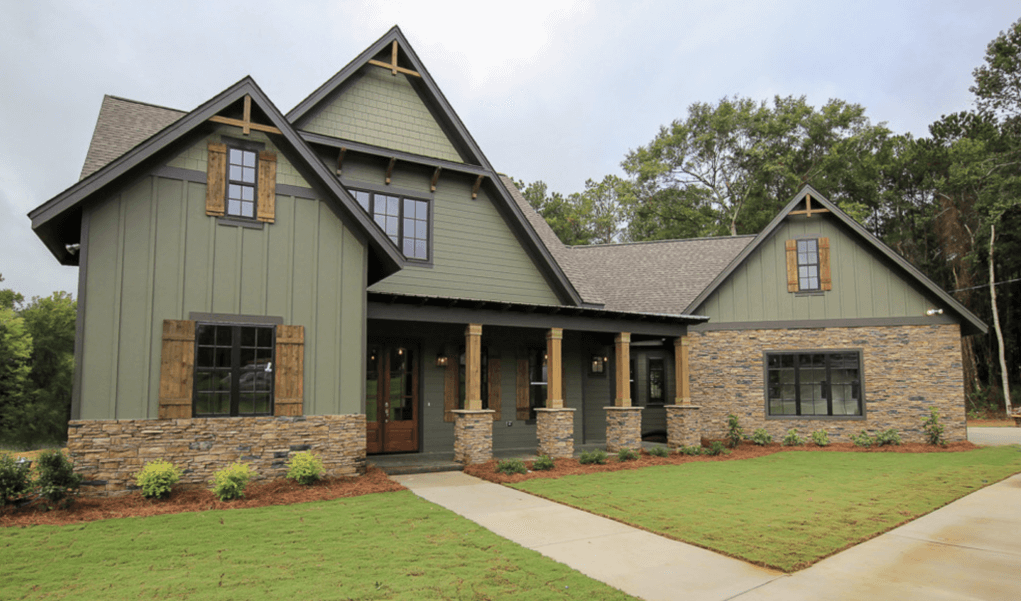 Source: pursuitdecor.com
If you think that sage green looks best on modern or contemporary buildings, however, that's not true at all! Look at the above sage houses, don't they look gorgeous? They're the best example of how you can use different tones of sage green in your house exteriors. 
Here, three homes have used three different materials to create a fantastic look. For example, the first home has wooden accents like wooden window shutters, posts, and pillars, and others homes have used white trims with a different shade of green. You can also use the same technique and transform the outdoor look of your building.
7. Sage Green + Cream + Yellow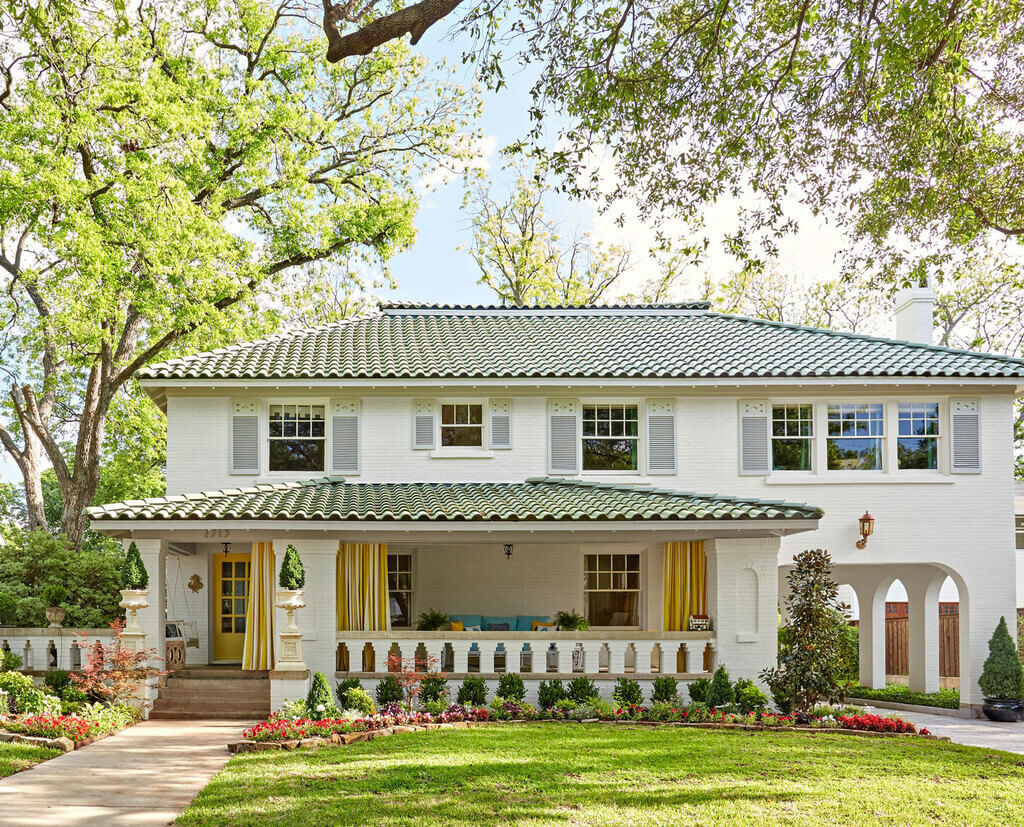 Source: meredithcorp.io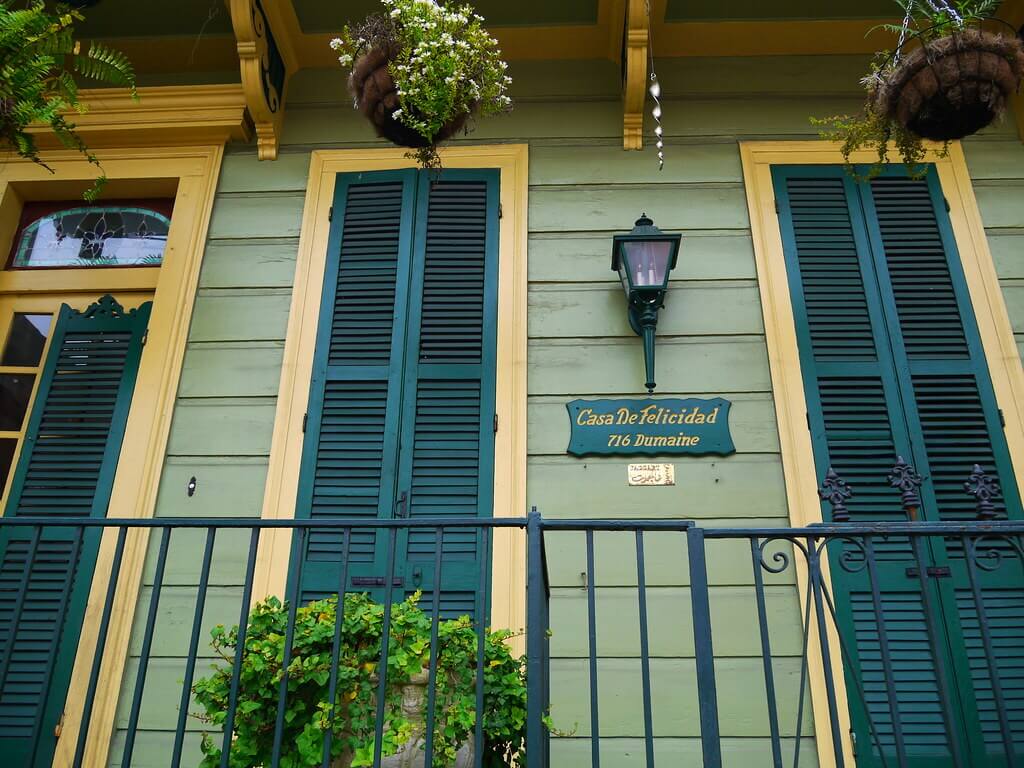 Source: staticflickr.com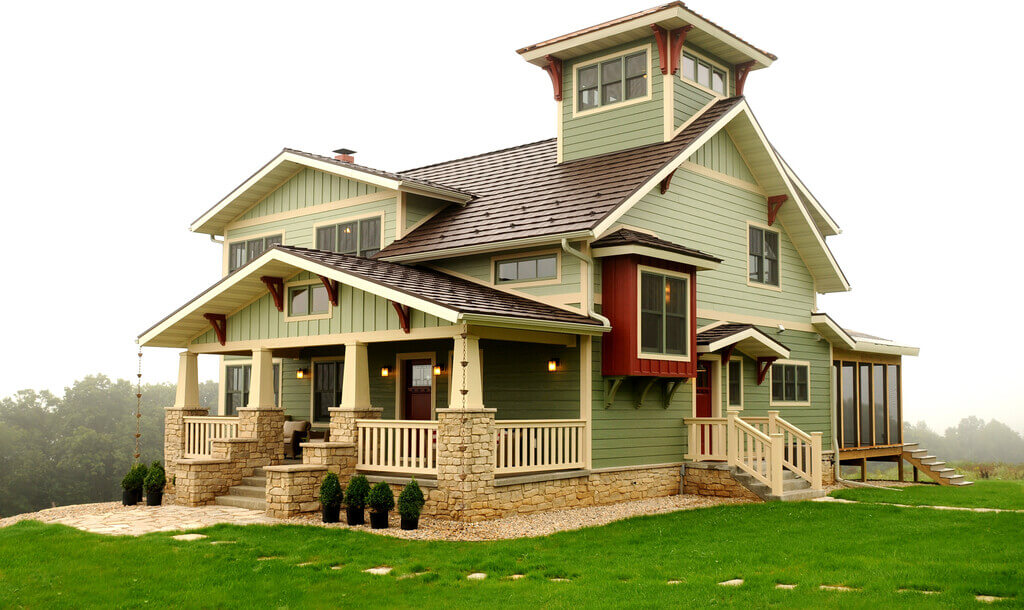 Source: hzcdn.com
Here's another way to use a three-color combination: sage, cream, and yellow! This is the perfect option for those who are looking for a pretty muted color scheme for their house. There are many ways to incorporate these three colors into the building. For example, you can go with green roofing or shutters or trims as these are the main features of the exterior.  
On the other hand, you can go with soft yellow doors and matching curtains on the front porch, and you can use either cream shade in wall tiles or in another form. Make sure that the color combination also matches your surroundings and neighborhood.     
8. Sage Green Exteriors For a Contemporary House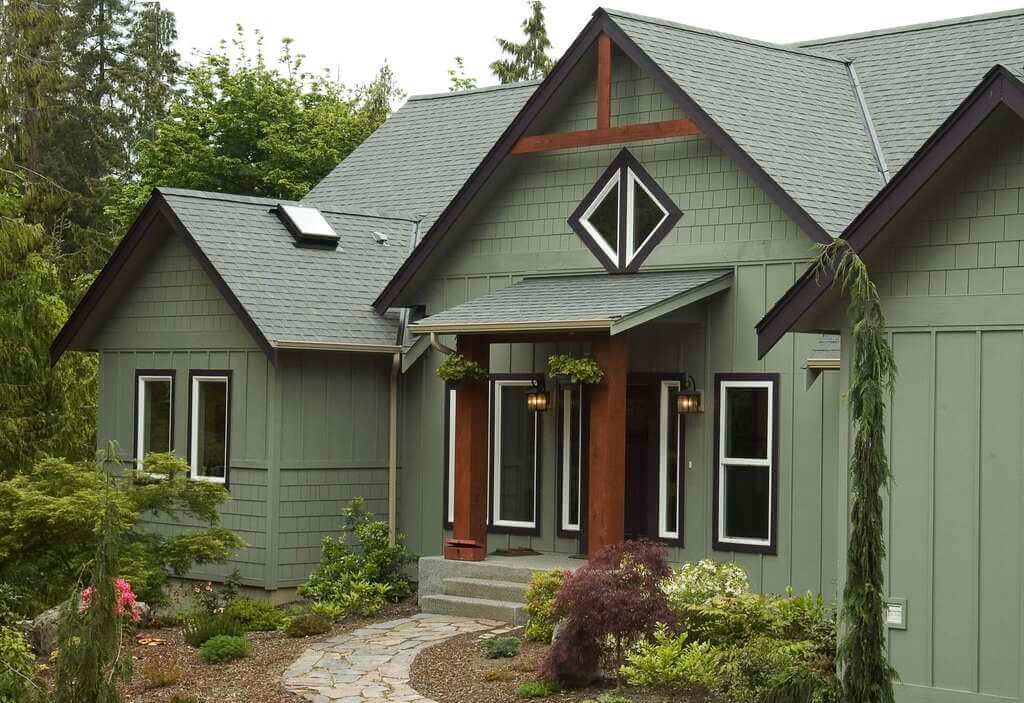 Source: hzcdn.com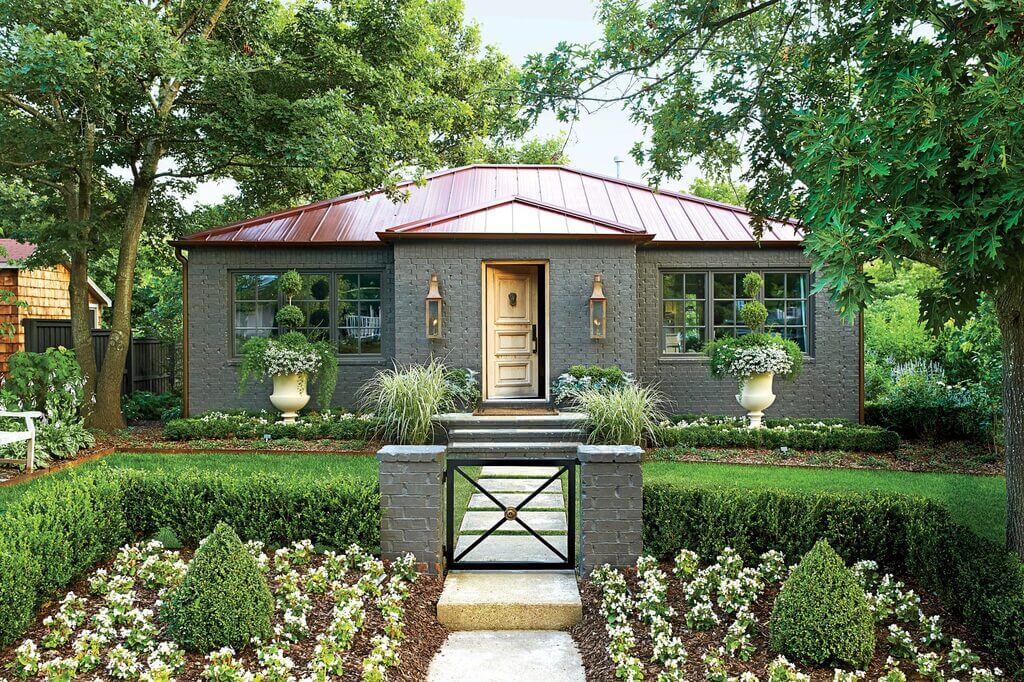 Source: meredithcorp.io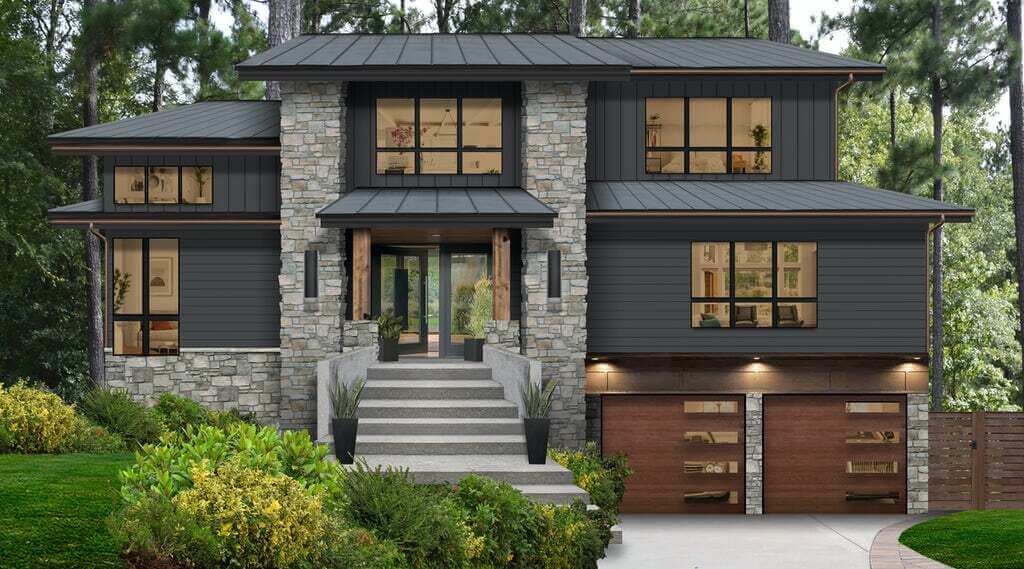 Source: brickandbatten.imgix.net
Here is another example of using sage green in modern homes. These types of extremely famous not only in the US but also in many locations worldwide. Whether your house is of one floor or multi-level, you can use charming light sage green house exterior color ideas without any doubt.
9. Sage + Hunter Green + White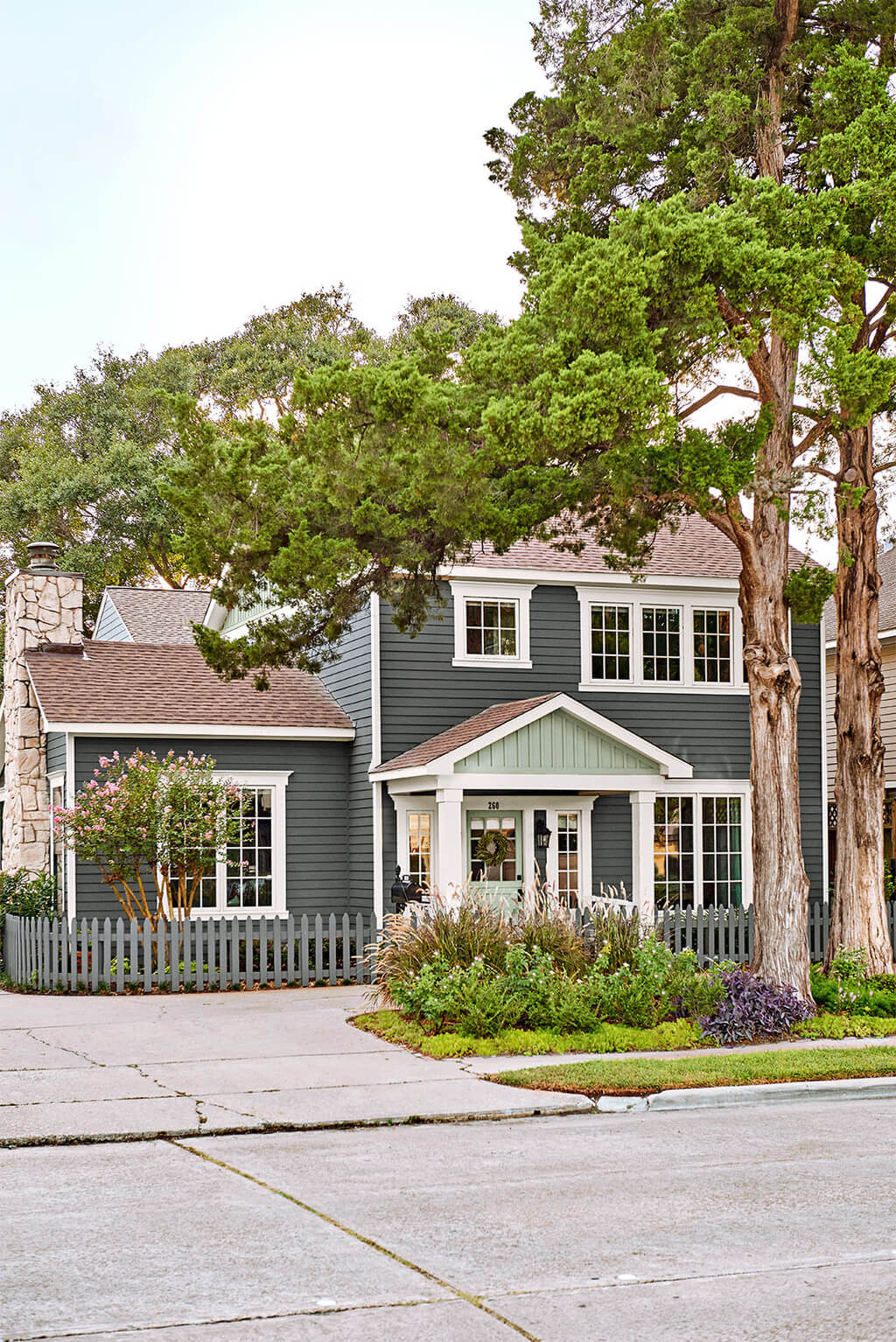 Source: meredithcorp.io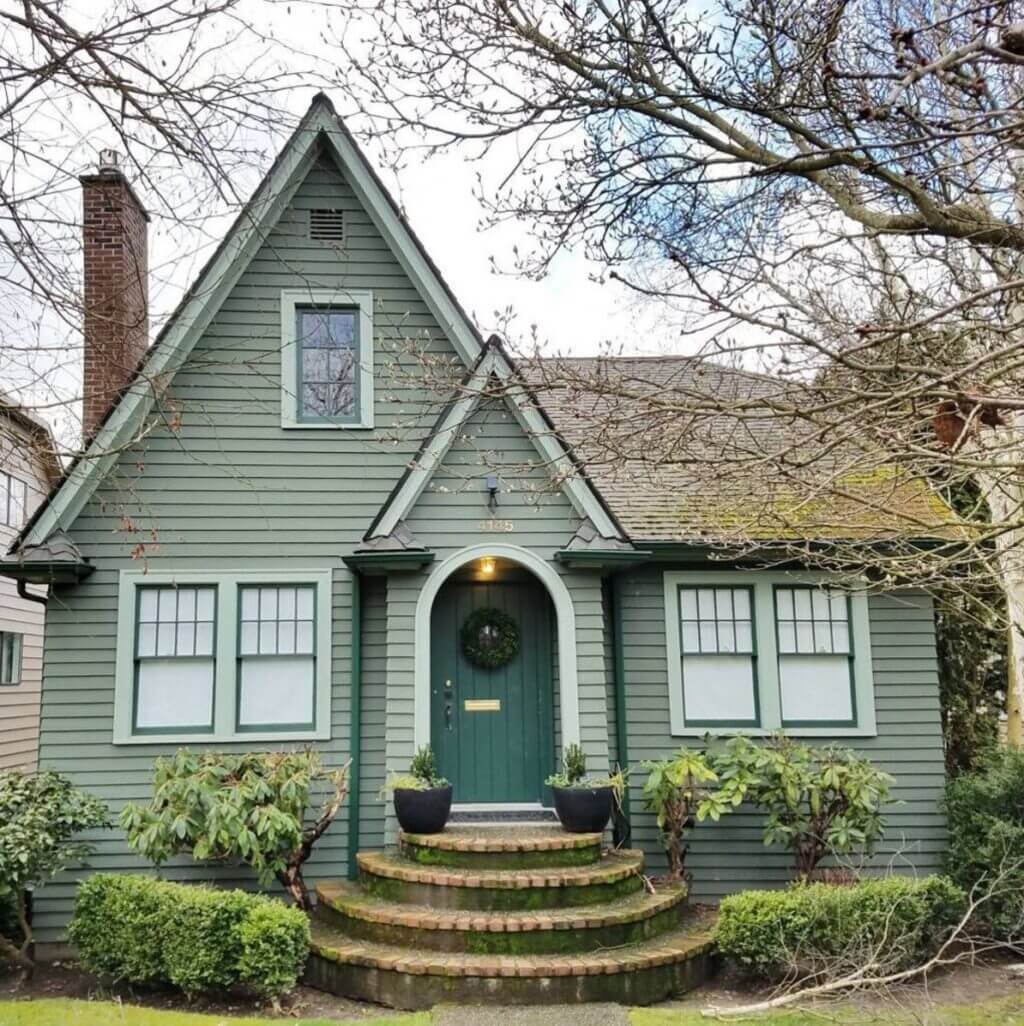 Source: cloudfront.net
Want to make your home more inviting? Try this combo! Look at the above house where a lighter green gable and door is used with sage green. When you add white trim to this exterior, you can surely feel an instant change in the house's overall appearance. The owners decided to paint their picket fence hunter green to make the building look more interesting. 
10. Sage + Powder Blue + White Exteriors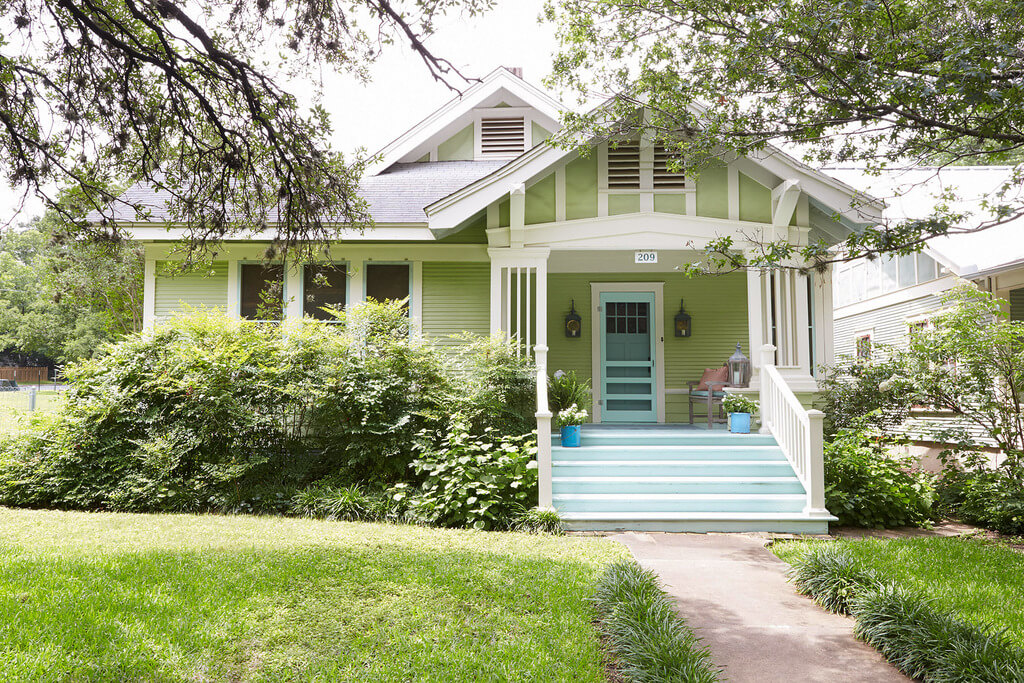 Source: meredithcorp.io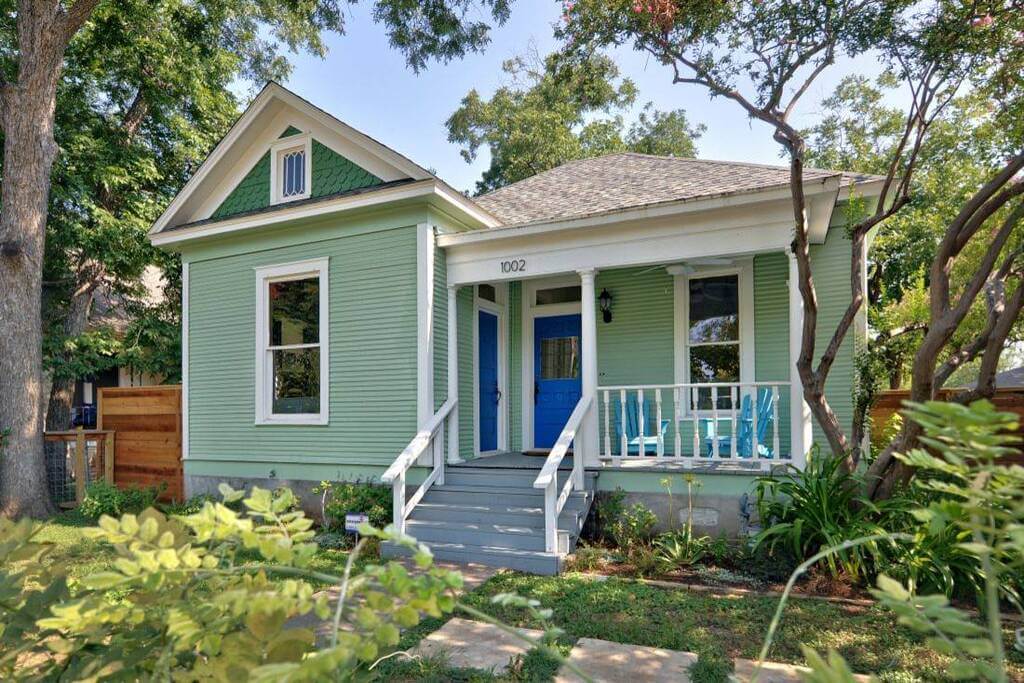 Source: hzcdn.com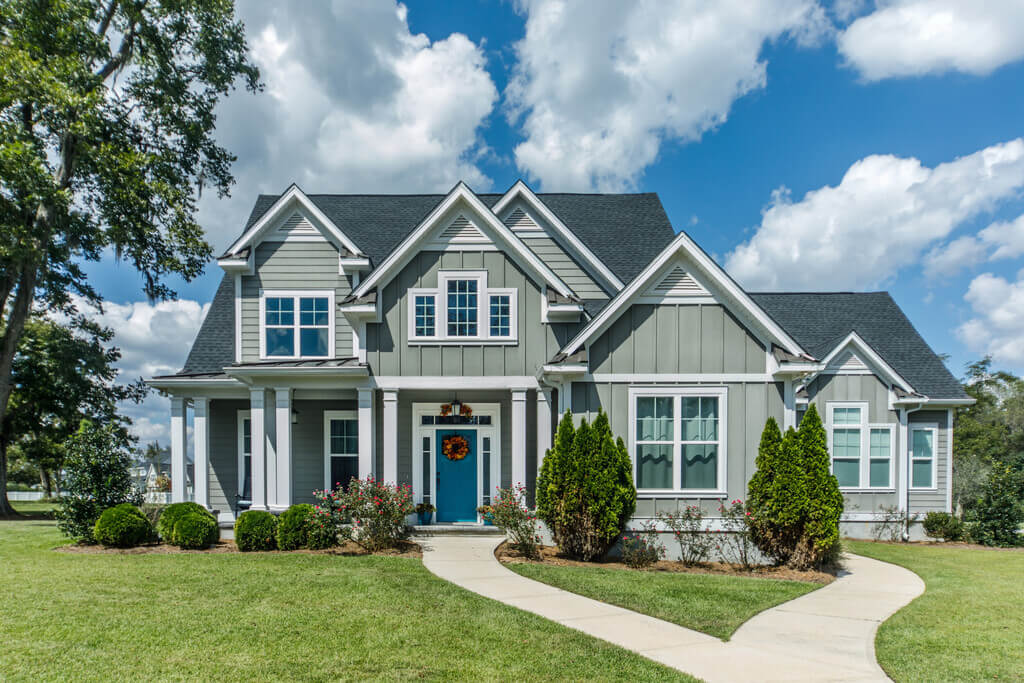 Source: decoraid.com
Set a whimsical tone that every passer can't resist to take a glimpse of your fabulous home exteriors! For that, use this color scheme that includes pastel hues. The sage green color also complements the surrounding landscaping, and on the other hand, the powder blue doors and stairs create playful vibes at the entrance.            
Also Read: White House Black Trim: A Classic Color Combination For Exteriors

11. Sage + Brick Facade Exteriors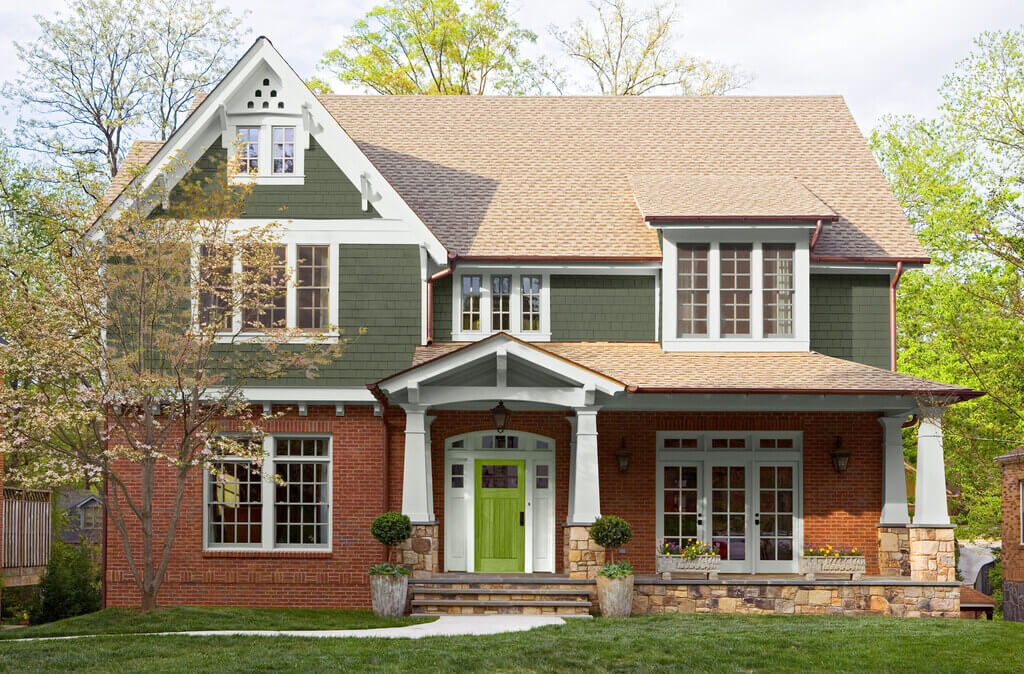 Source: meredithcorp.io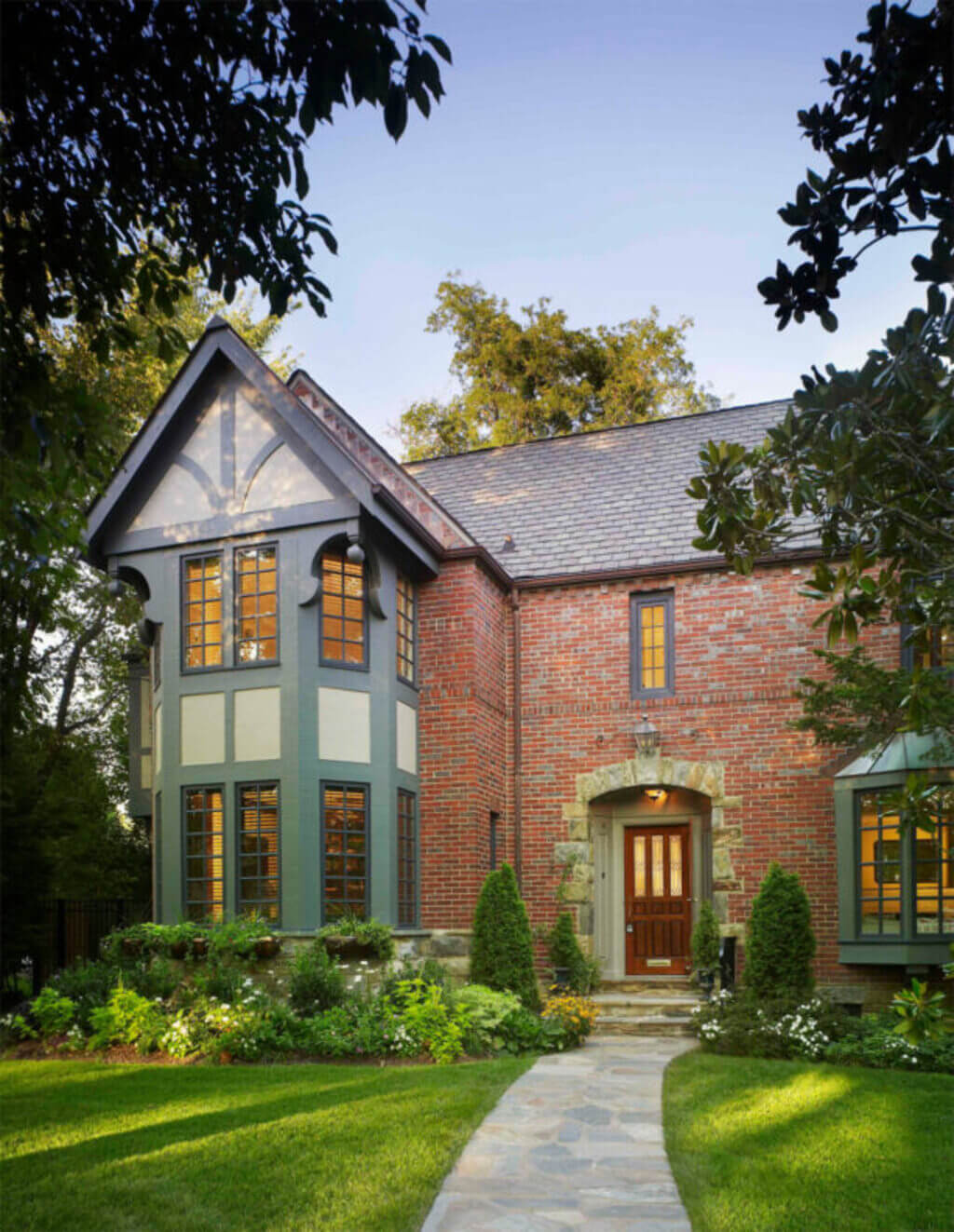 Source: aprylann.com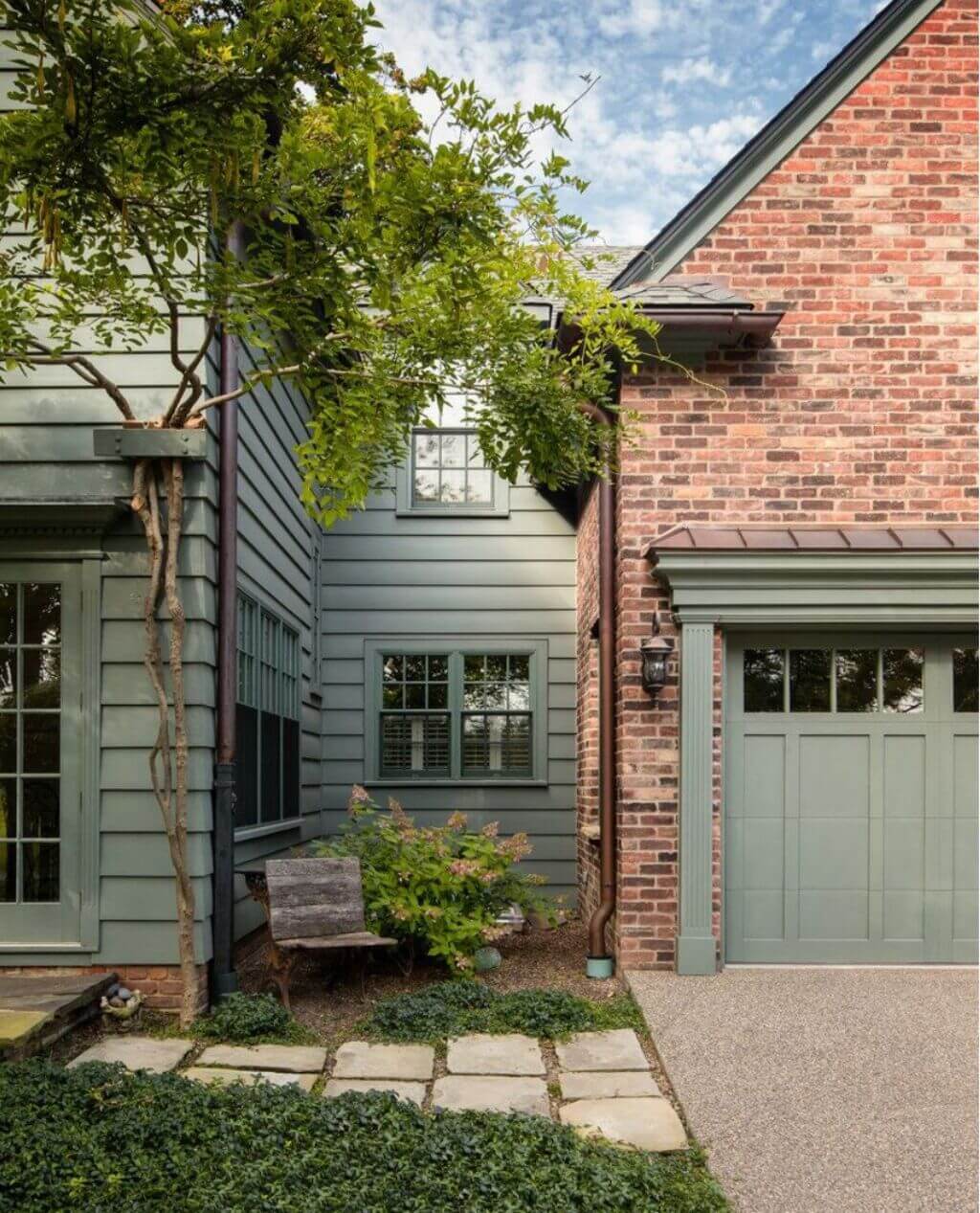 Source: pinimg.com
Here's something that you can try if you like to add a contrasting effect and texture to your home. Though it's on the more expensive side as bricks cost more than other materials. 
With sage green, these red bricks look so good, and for a contrasting effect, you can add white trims. If your house has a more traditional appearance, you can add a bright lime green door for a modern twist.  
13. Sage Green Exteriors with Sage Green Trim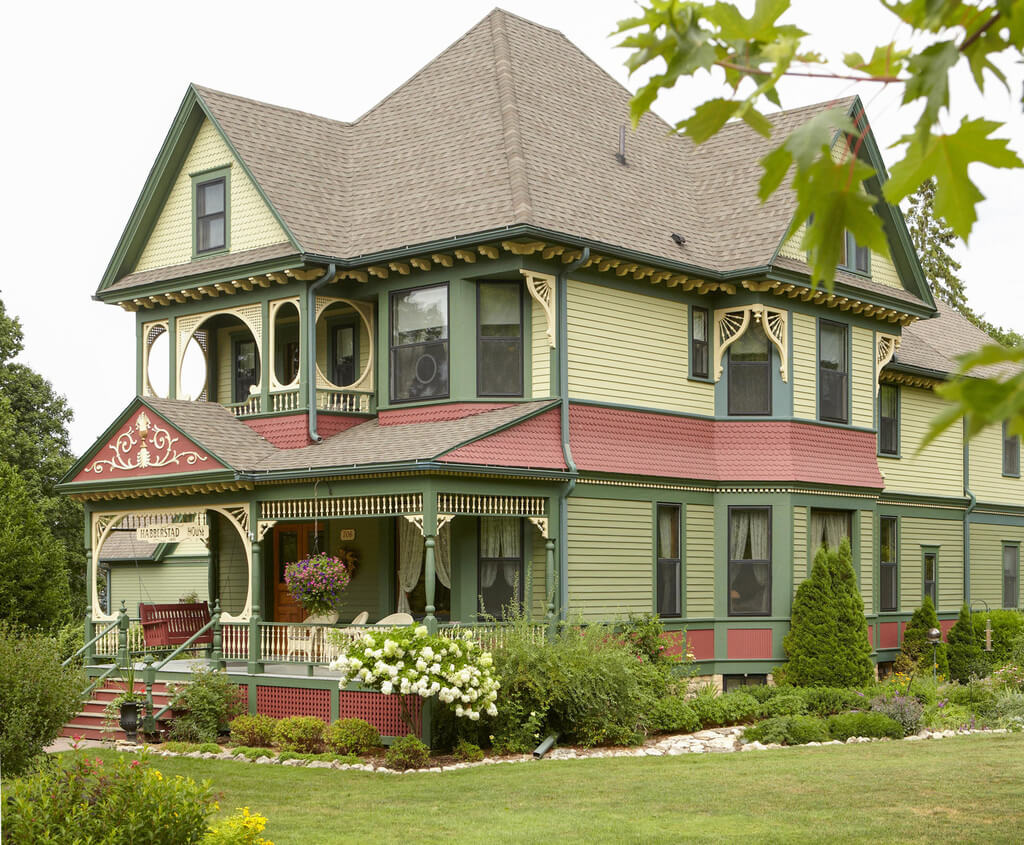 Source: meredithcorp.io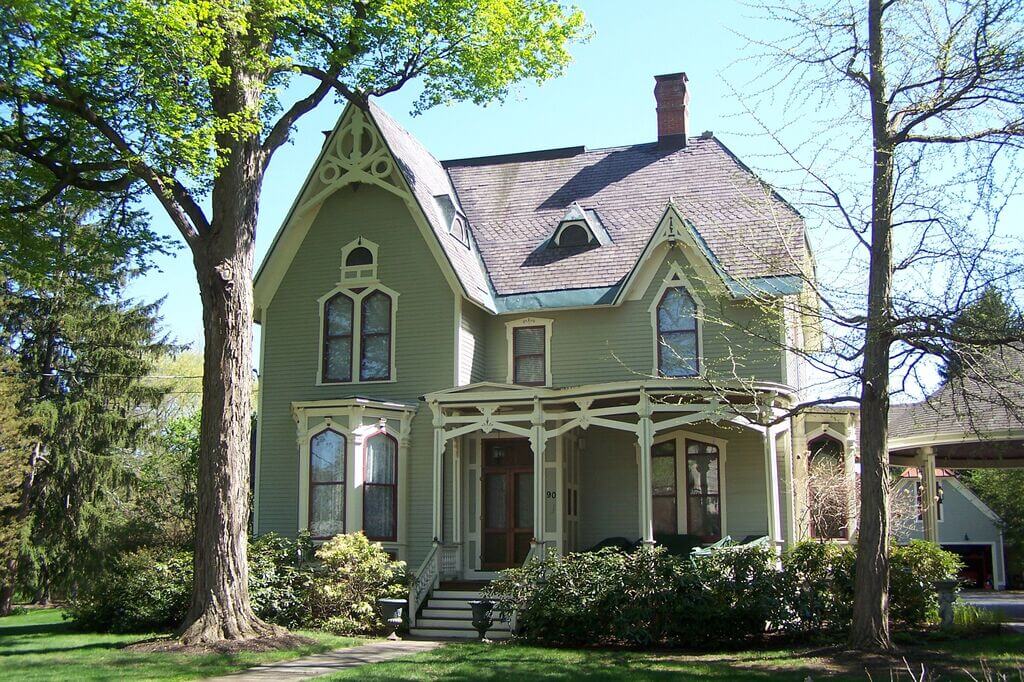 Source: thespruce.com
Many people have a dream of living in traditional-style homes, especially Victorian Styles. So if you're living in one of these types of houses, consider yourself a lucky person. Though the architecture of these residences is unique, the color scheme of the exterior is a little too plain and boring. So give it a makeover by painting them in soothing sage green colors. 
Look at the above two houses. One of them has a gorgeous combination of three shades of green. Sage green has been used on main-level siding, celery on the upper-level siding and dark sage green accents have been used on trim, windows, and gables. 
These colors make an easy-going yet multifaceted backdrop for the other architectural details. As Victorian homes have a lot of architectural elements, that's why you can also go with a monochromatic sage green theme. To give some definition, you can use various tones or shades of the sage green and use it on the different parts of the exterior. 
14. Sage Green Windows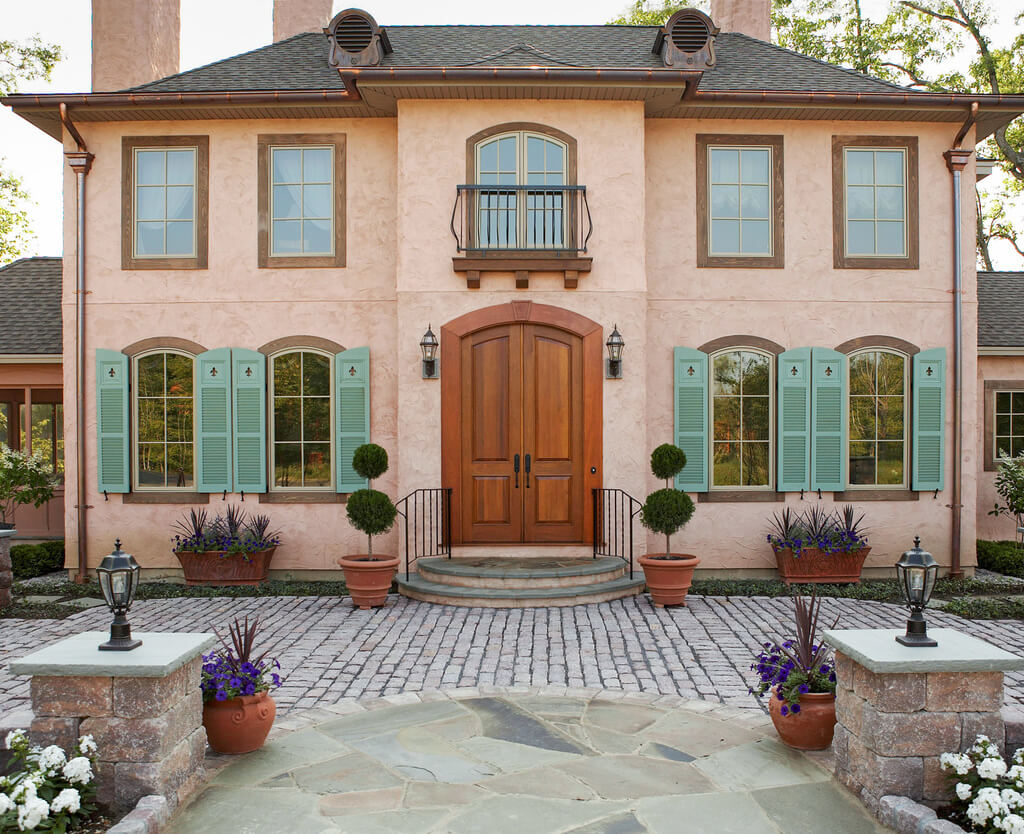 Source: meredithcorp.io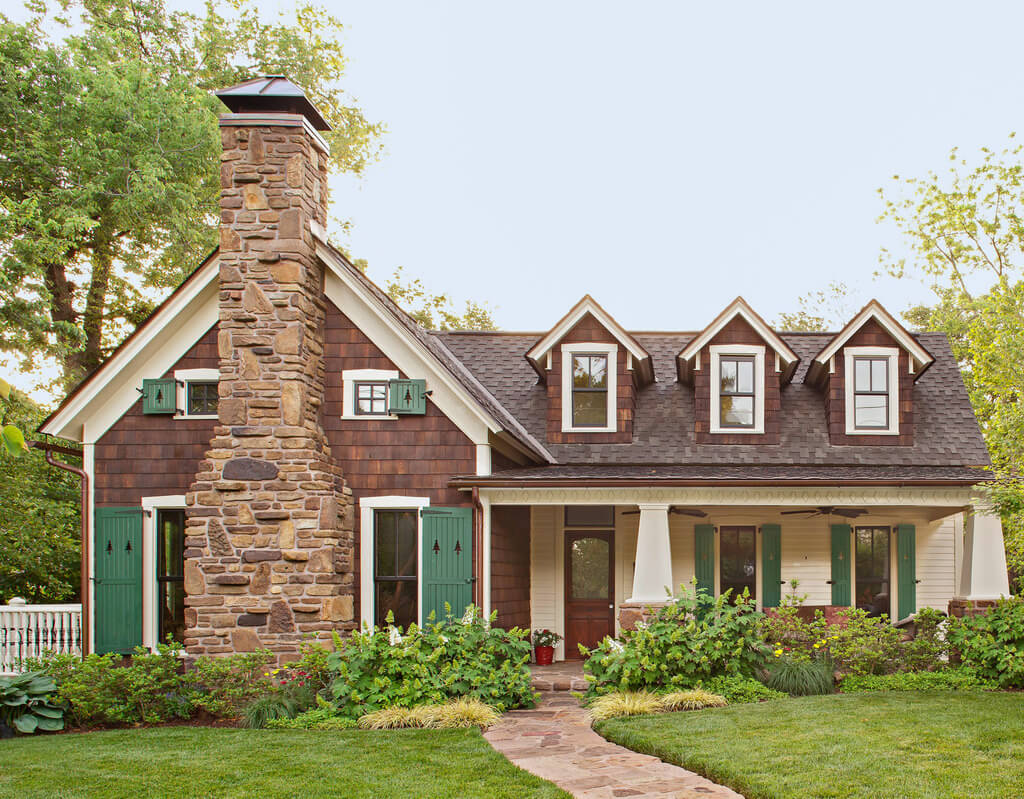 Source: meredithcorp.io
Don't want to paint your exteriors entirely green? People who aren't sure whether sage green looks good or not, here's a better way to include sage green in your exteriors. Look at the above house. Here the homeowners have used sage window shutters, and they look so good with the rest of the exteriors. What do you think about this idea? 
Here's another example, here the owners have decided to paint both windows and doors sage green. Though one of the homes has a salmon exterior with a rough surface, the sage green shutters punctuate the elegant facade and uplift the house's overall appeal. 
Here are some more sage green house exterior ideas and inspiration for you: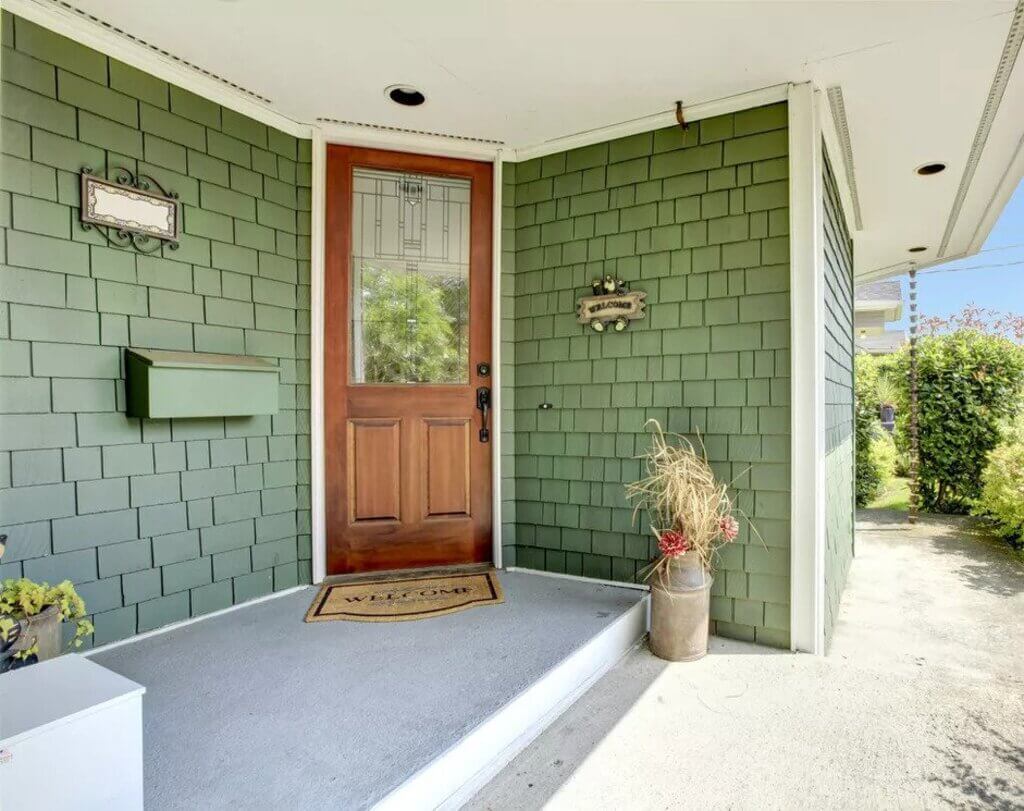 Source: thespruce.com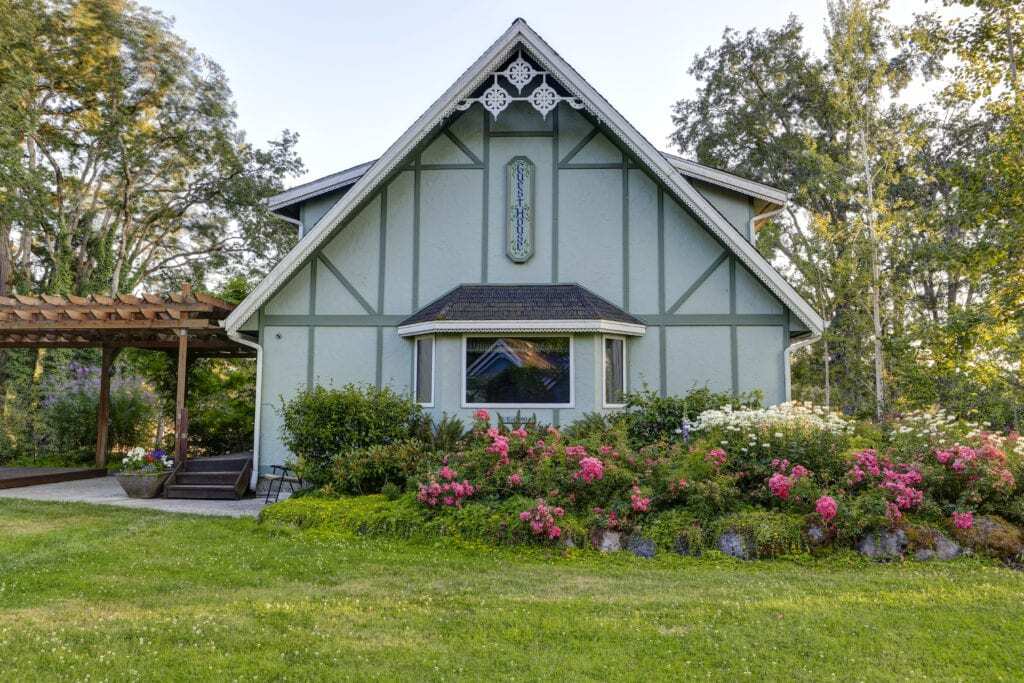 Source: mymove.com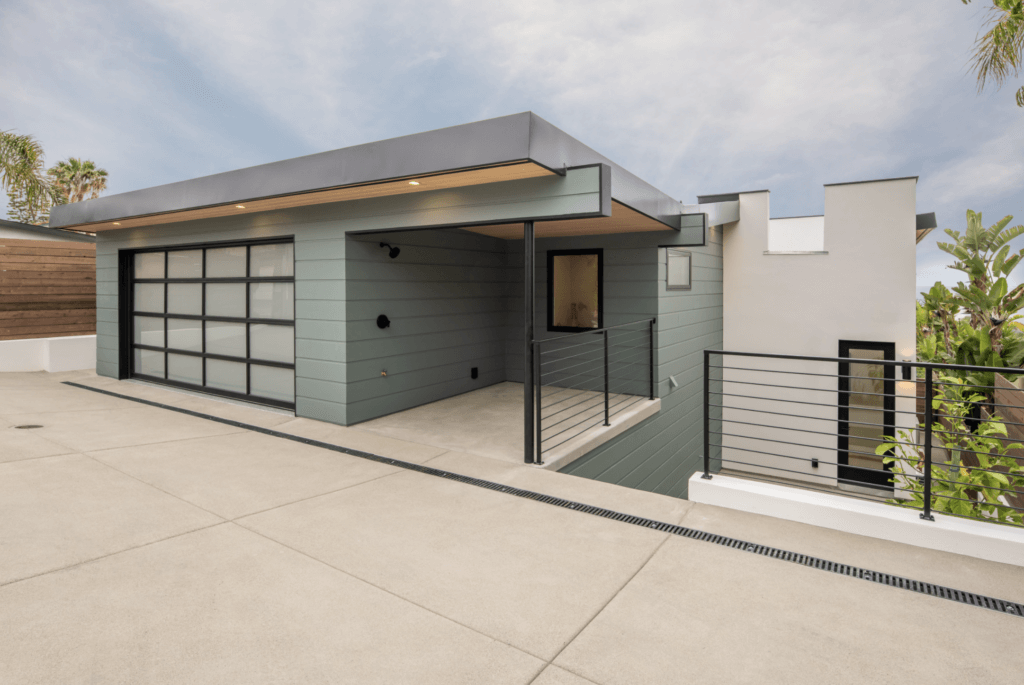 Source: pursuitdecor.com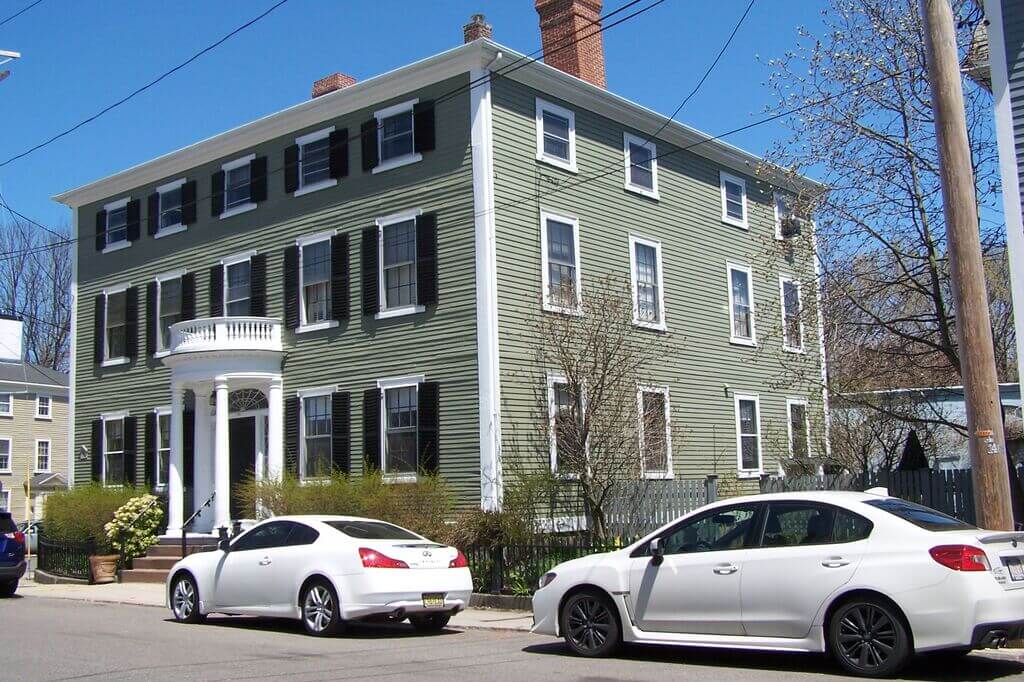 Source: thespruce.com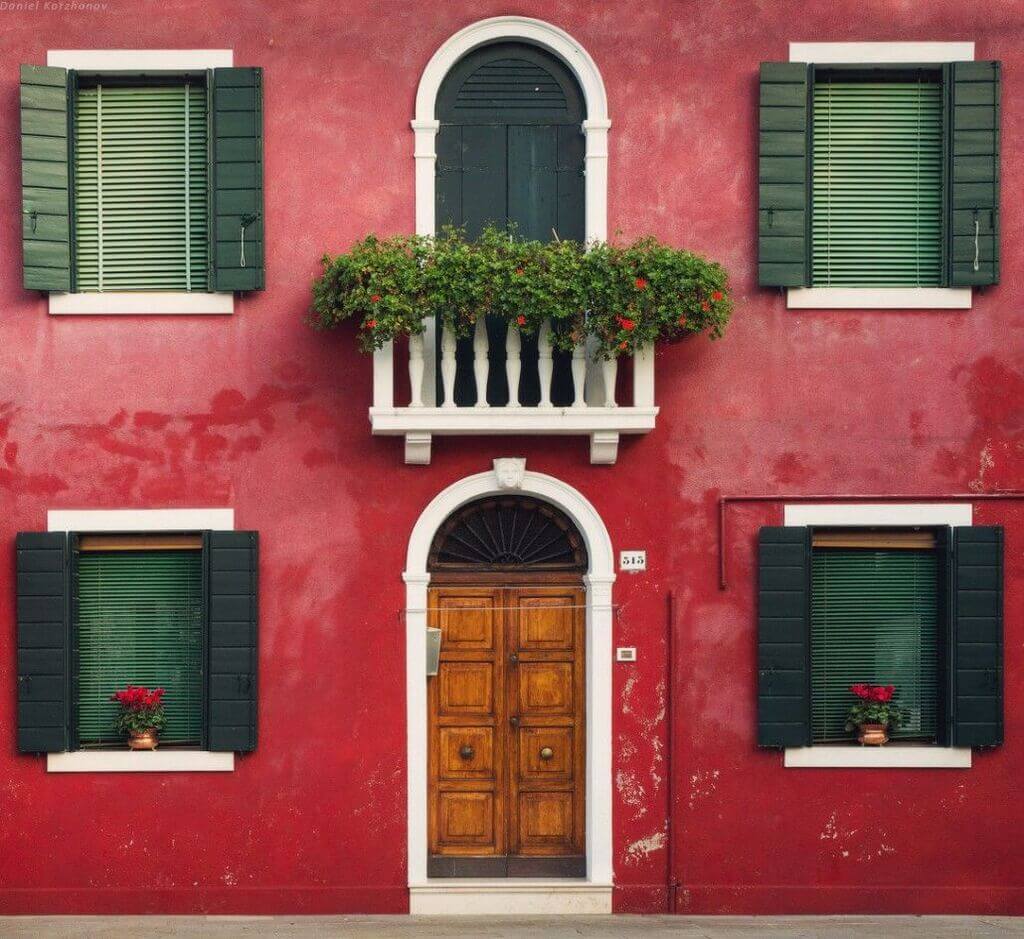 Source: pinimg.com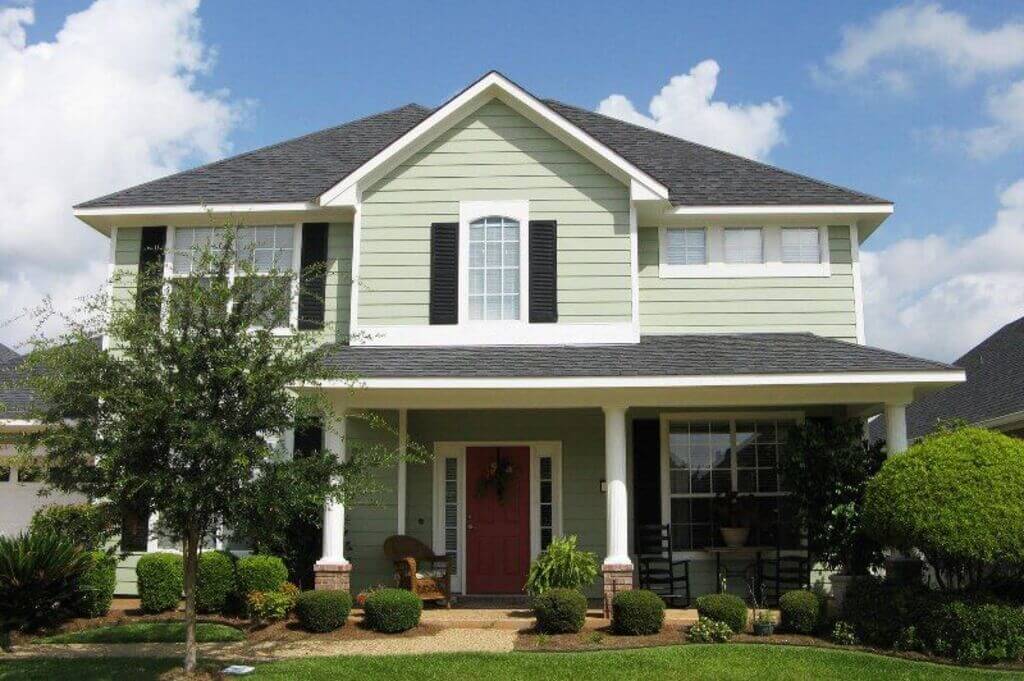 Source: pinimg.com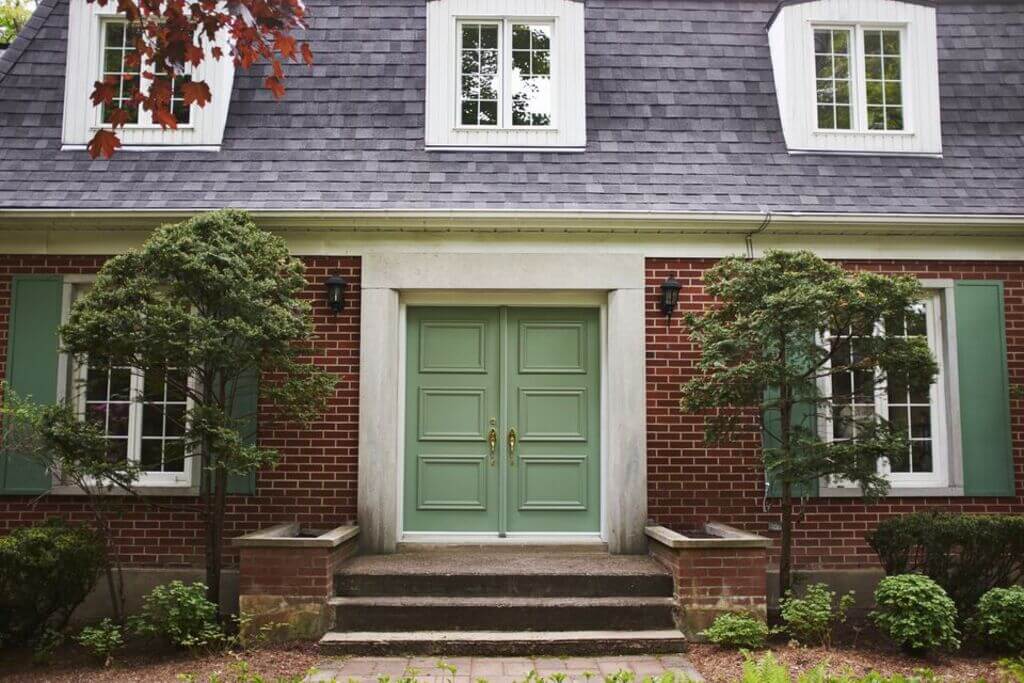 Source: thespruce.com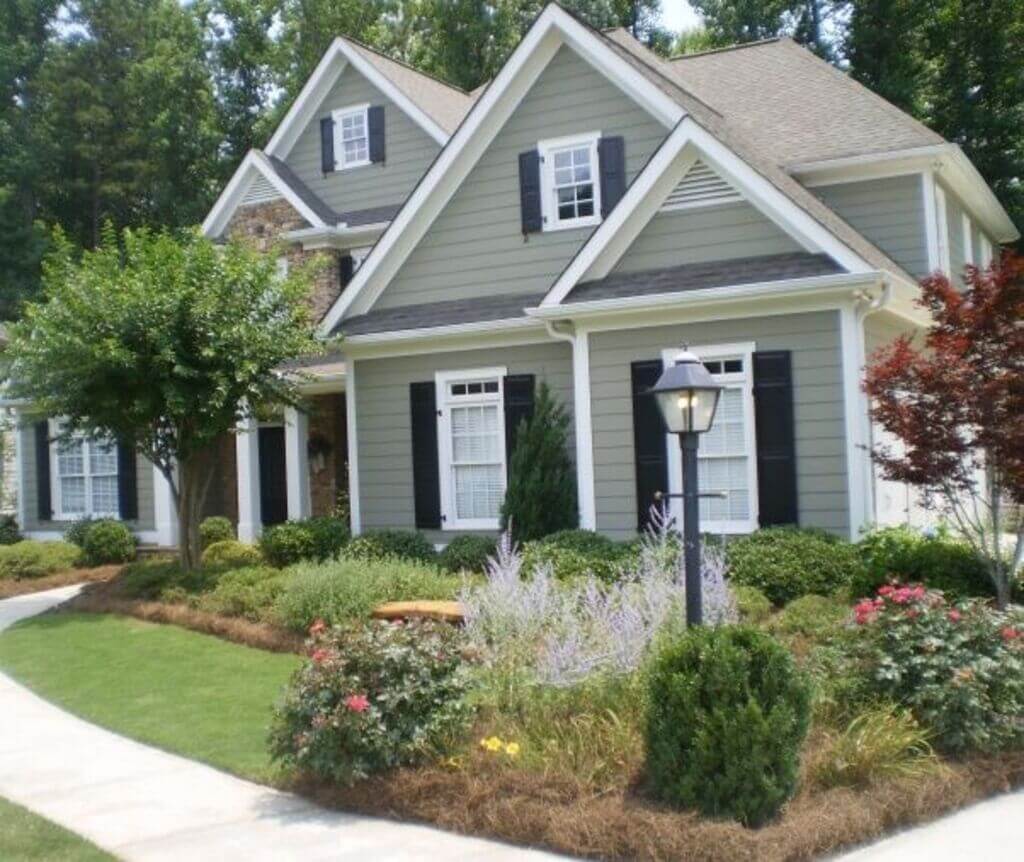 Source: pinimg.com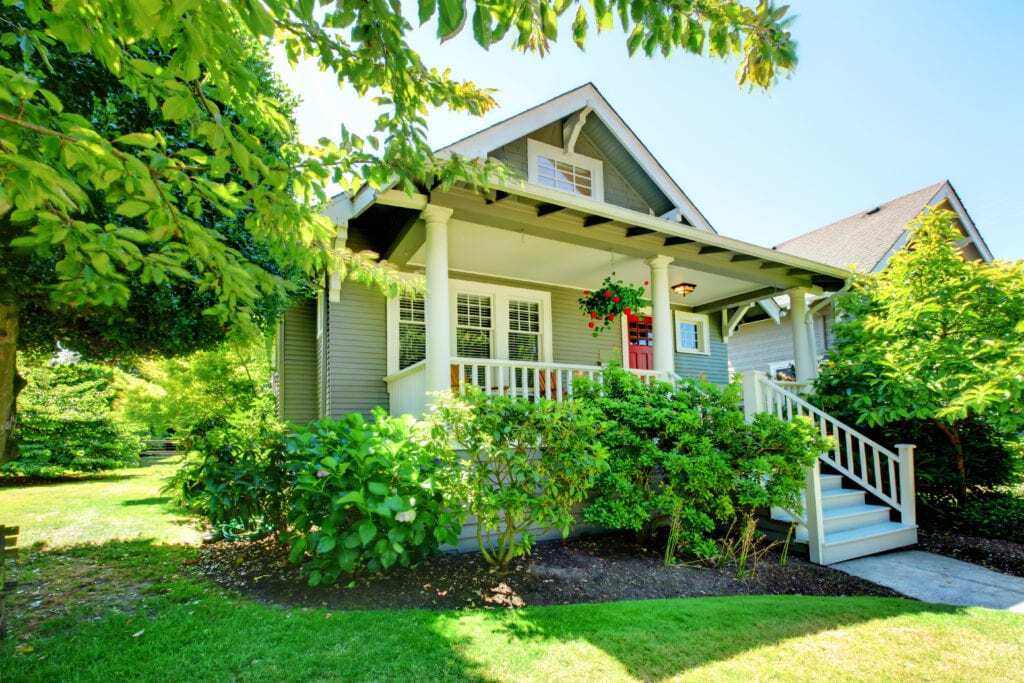 Source: mymove.com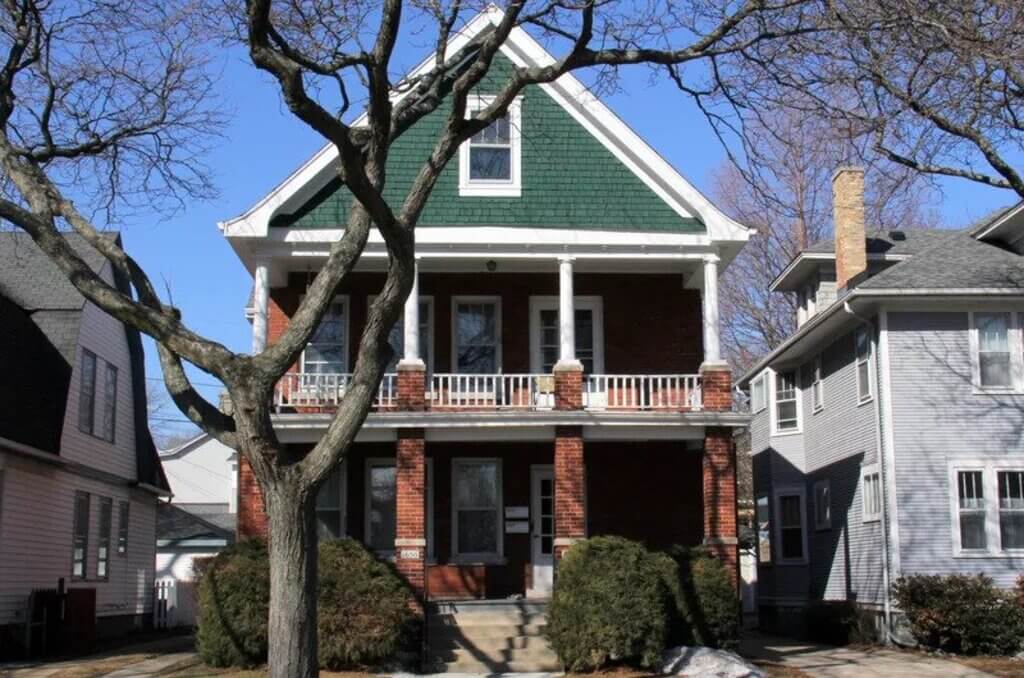 Source: design-jornal.com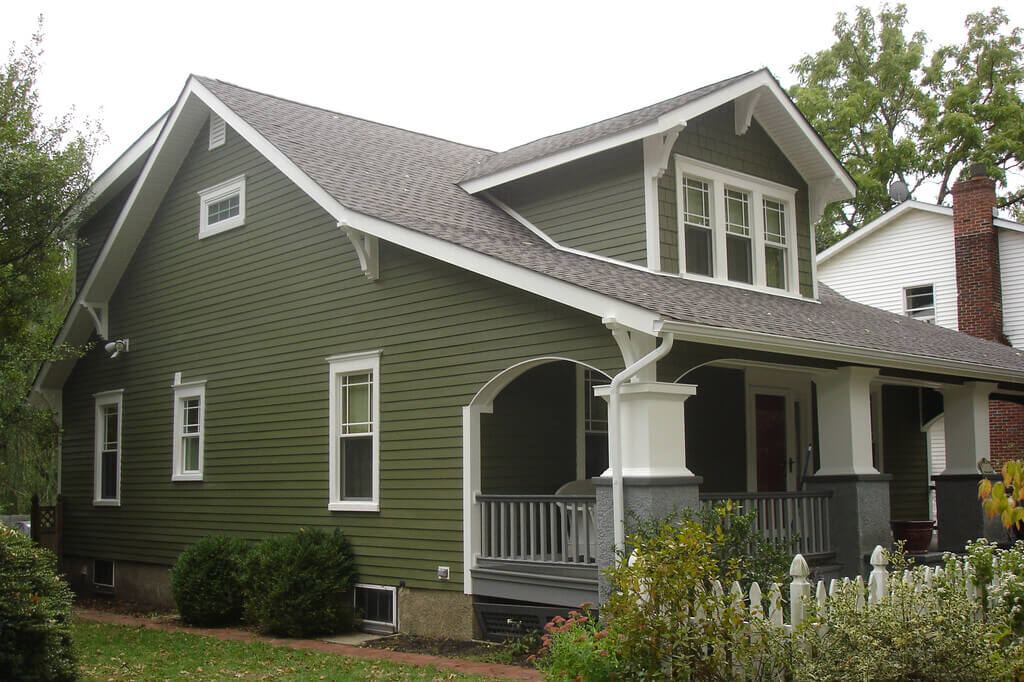 Source: hzcdn.com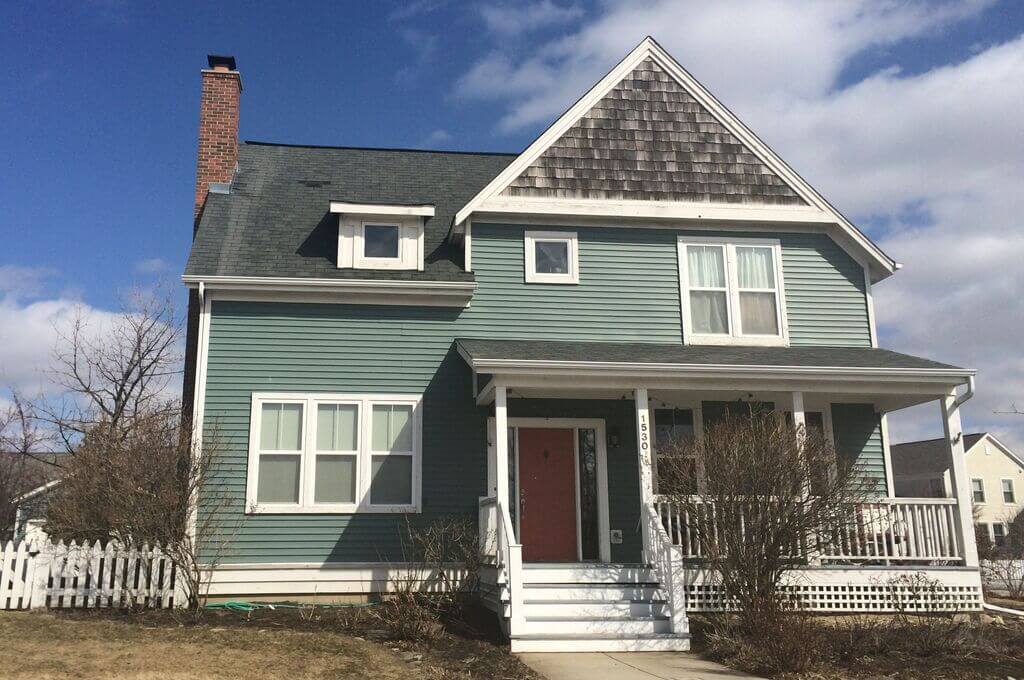 Source: thespruce.com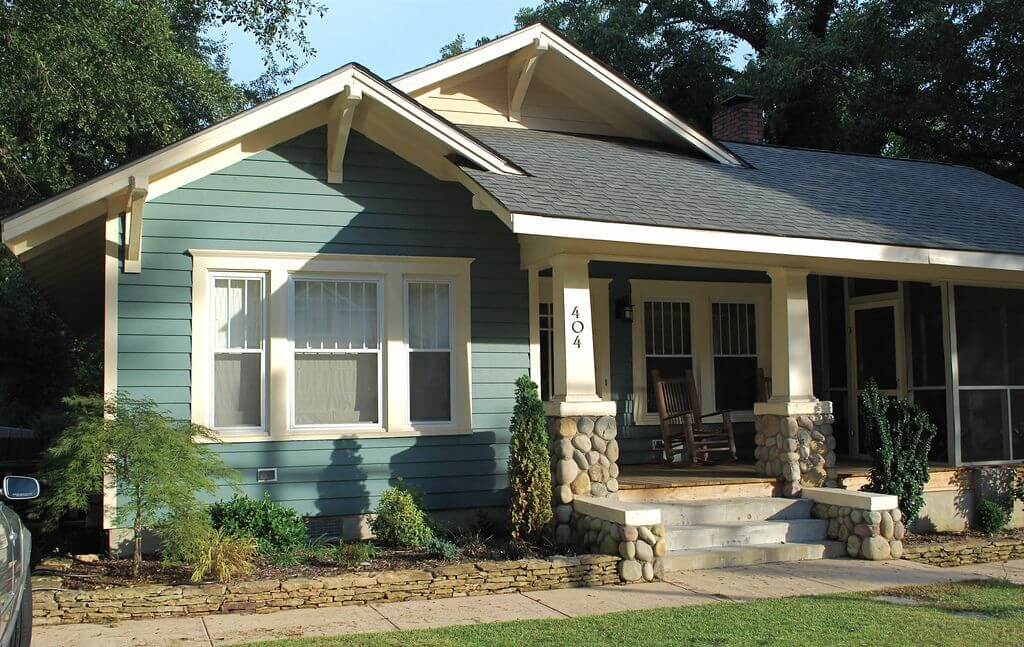 Source: pinimg.com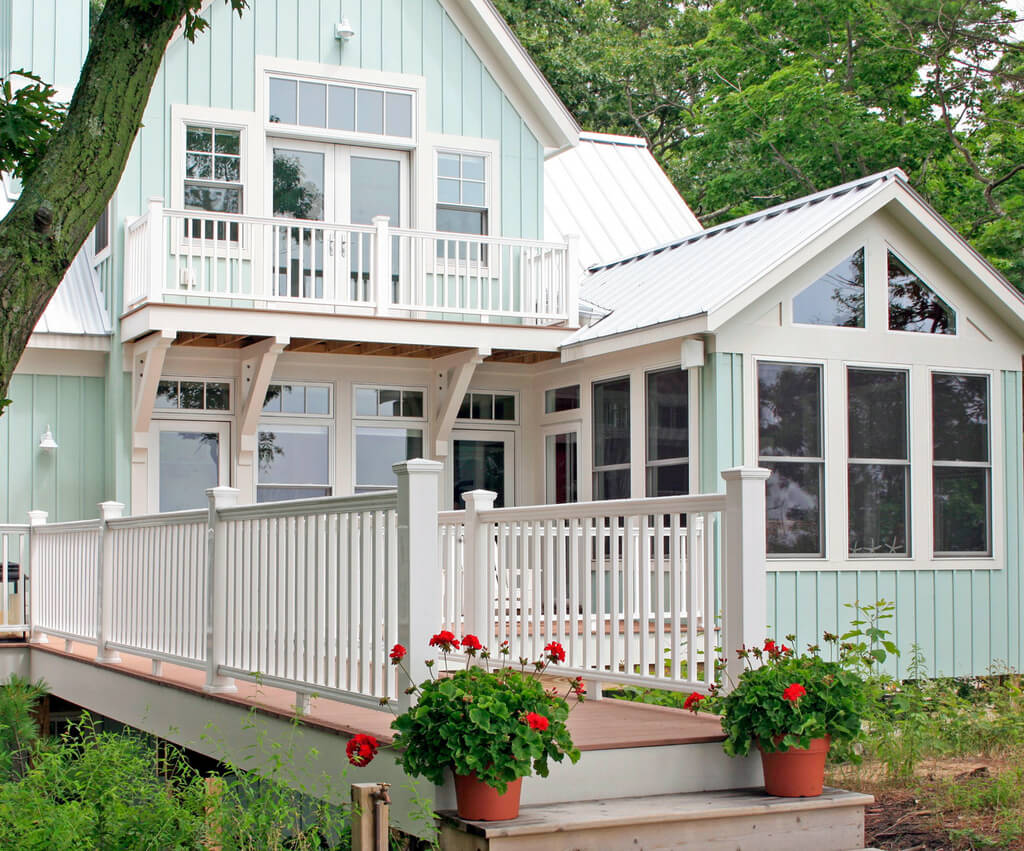 Source: meredithcorp.io
The Bottom Line
Which one do you like the best from the above sage green exterior ideas? Sage green is one of the emerging color trends of the year 2022. Sage green is a classic and timeless color that you can use in interiors, exteriors, decors, and many more things. You can easily create a modern or minimalist look with the help of this single sage green color!  
The choice of painting the exterior of your house is a very personal thing. While selecting a specific color, you should also consider siding, trim, front door, and other exterior elements. This way, you'll be able to find the perfect exterior color combination for your home. One more thing, paint experts advise not to use bright colors, bright yellows, blues, or reds on the exteriors as they fade pretty fast as compared to muted colors like sage green. 
So this is all about sage green house exterior. If you find this blog on sage green exterior house paint colors helpful and informative, share it with your family and friends who also want to change the outlook of their homes. 
For more information about the various types of architecture & home construction techniques and styles or decoration ideas, explore Architecturesstyle.
Himadri Shakya
Himadri Shakya is an enthusiastic Content Writer and Editor. She loves to create creative, engaging, and SEO-friendly content. Through her extensive research skills and practice, she has been generating high-quality and informative articles, and blog posts for over 4 years.
Related posts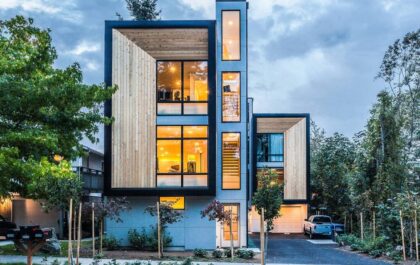 27+ Stylish & Modern Townhouse Designs for Urban Living.
The townhouse's first impression is normally too small, too compact, too narrower, and the list is endless. Well, let us…