If you fancy living in a farmhouse surrounding animals, barndominiums might be a perfect match for you. For generations, farmers have combined their living quarters with barns. But in recent years, it's no wonder that many homeowners have gone all-in on barndominium homes, given the growth of the rustic aesthetic in recent years. Barndominiums are also popular for people wishing to add an extra dwelling unit to their constructed property.
What is a Barndominium?
A barndominium, also known as a barndo, is a versatile and trendy hybrid of a barn and a condominium. It features a spacious steel structure that encompasses not only comfortable living quarters but also multifunctional spaces such as a shop, a garage area, or other flexible areas.
Barndominiums have gained immense popularity as an appealing alternative to traditional houses. Originally conceived as homes near horses, barndominiums foster a sense of community between residents and their animals. They offer remarkable design flexibility, ranging from one-story traditional layouts to modern and contemporary styles.
So, if you are looking to renovate your old barndominium house or thinking of constructing new barndominiums, this article might come in handy.
13 Features of Barndominium Houses
Source: twimg.com
Barndominiums, which have their origins in agriculture and farming, reflect the same through their features and architectural styles.
Key features of a Barndominium House Plan include:
Exceptionally tall ceilings

Exteriors that are easily identifiable from the rest of the houses in a landscape.

Evident entrance doors.

Porches that wrap around the house

Surrounded by agricultural landscapes or lush green lawns.

Lofts.

Beams and outside wall framing are made of wood.

Steelwork and stonework dominate the design.

Windows and doors are mostly rectangular shapes.

Exterior wooden support beams are a key feature of the facade.

Open and free-flowing floor plans.

Roofs with gambrels.
These features combine to create a barndominium house style that is both visually appealing and functional. However, living in barndominium houses with today's more modern features and materials allows you to alter any of these features and elements as per your requirements.
Easy Construction Techniques
Source: mymodernmet.com
Barndominium homes are generally constructed from a kit that is conveniently available in the market or the style of metal building. They are much faster to build than traditional brick-and-mortar houses. What's a barndominium without using commercial construction principles? The design incorporates these principles with a minimal and rustic material palette. The construction technique of barndominiums emphasizes more on easy maintenance and spaciousness over luxury and maximalism.
The use of steel poles and girders to erect the walls and roof strengthens a barndominiums framework and offers greater flexibility and adaptability depending upon the design. The construction of exterior of the barndominiums, rustic or reclaimed wood finishes, post and beam construction/timber framing, and masonry are used for the construction to enhance the warmth and character of the facade. Insulation and interior finishes are the finishing touches that make barndominiums feel like a home.
Cost-Efficient Barndominiums
Source: pinimg.com
Building a barndominium is less expensive than building a standard dwelling. A typical home costs around $150 per square foot to build, however, barndominiums can cost as little as $80 to $90 per square foot. Barndominiums have the advantage of being highly customizable as they're built from metal construction. Metals are typically less expensive to build than traditional structures. Barndominium houses can be built in a matter of days with the ease of construction which also saves on labor costs.
Barndominiums also increase the design's flexibility by allowing interior walls and partitions to be placed almost anywhere, reducing the cost that comes with a construction of a fixed wall. Compared to a standard house, the initial purchase price and upkeep costs are significantly lower. You can spend more money on personalizing the area if you save money on the necessities.
Additionally, The cost also depends on the style, fixtures, and design. While some barndominiums are basic, others might include luxury features like large swimming pools and patios.
The durability of Barndominium Houses
Source: pinimg.com
If durability is one of your preferences while hunting for house style, barndominium houses are a good choice with few repair and maintenance requirements. Barndominiums have a one-of-a-kind design that ensures their longevity. Barndominiums offer great protection from environmental agencies. Mold and moisture are two things that come with traditional timber constructions.
As barndominiums are fairly made of metal and steel, mold, dampness, rust, fire, and extreme weather are all the extremities that a barndominiums can easily withstand, the result is a barndominium house with a longer lifespan. Additionally, there is absolutely no need for repainting for barndominiums
Versatile Styles: Ranch, Contemporary, or Farmhouse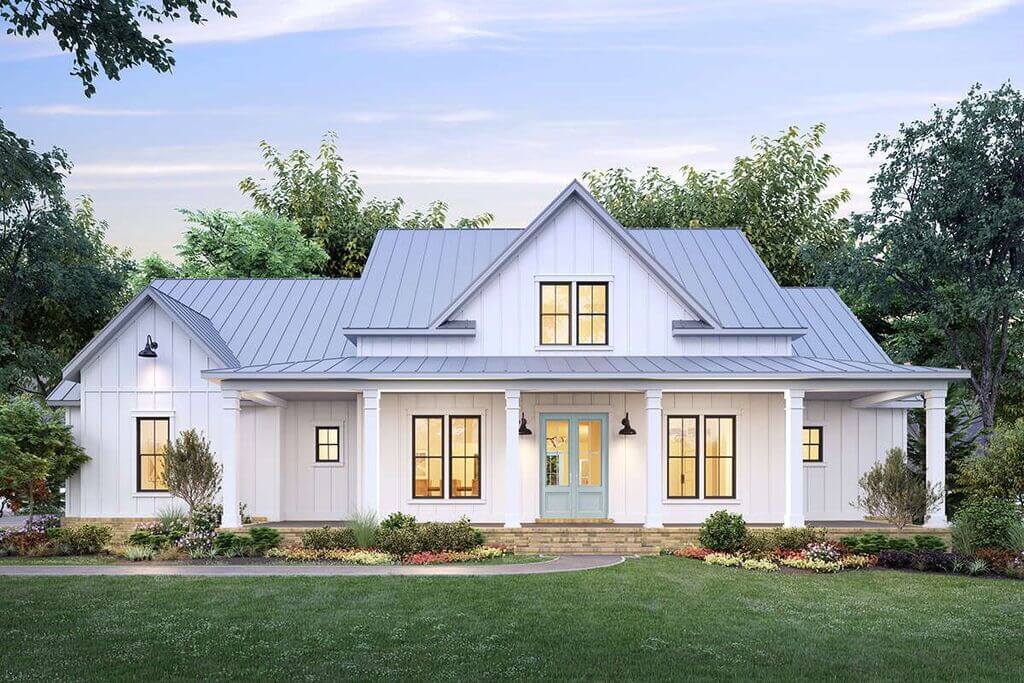 Source: pinimg.com
Barndominium homes are designed to complement individual lives, personalities, and preferences. Barndominiums' construction technique is extremely adaptable and versatile that can fit into any type of style. The barndominium home plans are usually one-story dwellings that align with craftsman's house style or rustic style. While the use of steel and modern-shaped windows gives a hint of a more contemporary-looking house.
The open layout allows the occupants to experiment with any architectural style they wish to incorporate. You are also allowed to use the open layout concept for restaurants, stores, bars, or even community centers. Additionally, barndominiums allow for a variety of housing styles to be included in both the exterior and inside of the house.
Optimal for Additional Spaces
Source: cdn-a.prisma.de
One of the best qualities of barndominiums is the ability to expand and create your habitat area as per your need and requirement. The floor plan of a barndominium can be quite adaptable. For instance, a living room can be easily extended for socializing as the number of guests increases without revamping the entire furniture system.
The design of barndominiums allows you to even add some walls to the room to make it more private and cozy, or you can leave it open if that is what you desire. The myriad of customizations can be advantageous for the ones who always want more space, you have the freedom to choose which layout is perfect for you!
Energy Efficient
Source: pinimg.com
From cheaper heating and cooling expenditures to lower overall electrical bills the design of barndominiums offers it all. A "thermal envelope" is constructed to make a structure more energy-efficient, "thermal envelope" simply refers to the space that will be heated and cooled. Barndominiums use the same insulation techniques to create a thermal envelope with a variety of heating systems.
Fiberglass batting, expanding spray foam, house wrap, and thermal tape all work together to slow the movement of heat from one room to another. Furthermore, the design like large windows and the planning allows better air circulation, fewer moisture levels, and controlled temperatures making barndominium houses extremely energy efficient.
11 Advantages of Barndominium Houses
Source: shopify.com
Barndominiums are popular because they provide several advantages:
Building a barndominiums is less expensive and takes less time than building a traditional house.

With the immediate and long-term carbon footprint, most barndominium employees are ecologically friendly and sustainable.

Reduced maintenance requirements due to flexibility in space management and construction techniques

Existing barndominiums can be renovated.

Insurance premiums and taxes will be lower.

Less manpower and labor costs during the construction stage.

Building barndominiums requires less time.

With barndominiums, you can have a home that serves multiple purposes.

Barndominium houses come with a lot of design freedom. The level of personalization of the house is nearly limitless, depending on the owner's interests and vision.

The concept of Barndominiums allows animal and human relationships to dwell.

Reusable construction materials.
6 Disadvantages of Barndominium Houses
Source: pinimg.com
You might not be able to create a barndominium in some cities due to laws and regulations. Though they can be designed in rural areas, you'll also have to pay more for the trip fees to construct or live.

If you opt to sell, you'll have a smaller pool of purchasers due to the high level of customization and personalization of design.

Exteriors of barndominiums style homes aren't for everyone

The majority of barndominiums are single-story residences. You can expand the space of the house horizontally but verticality becomes one of the limitations in barndominiums.

Since most barndominium houses are made with metal – including the roof. Barndominiums are capable of transferring a significant amount of sound from the outside.

Steel members used in barndominium houses are prone to fatigue over time. Variations in tensile strength can sometimes occur, generating more tension and compression in the structure. This can ultimately lead to diminishing the overall strength of the design.
5 Tips for Barndominiums
Source: thespruce.com
1. Right Size of Windows and Doors are Required
The right size of windows and doors is extremely crucial to achieving the perfect barndominium-style house facade. Consider adding window film or coverings to the large windows of barndominiums to reduce glare and protect the hardwood floors, rugs, and furniture of your house. A minimum of four feet wide by four feet tall is required for the windows. For single and double-hung windows the size must be at least three feet wide and five feet tall.
2. Think About the Zoning
As the concept of barndominiums is open layouts the whole interiors might become too confusing and cluttered with multiple functions. Hence draw a rough zoning plan according to the purpose you want to fit in. For macro zoning, you have to consider the classification of a piece of land before purchasing it that majorly deals with residential, business, agricultural, or other types of functions before you start constructing your barndominium house.
3. Ensure That Public Utilities Are Accessible
Check the accessibility of drinking water.

Network for wifi and TV satellite should also be noted.

Study that you can connect to the region's septic tank system. If not, you'll have to construct one yourself.

Research the power grid you can connect to or else the alternative can be with solar panels.
4. Choose the Right Barndominium Floor Plans
Choosing the right plan for your barndominium house can spruce up the entire game, the following questions will help fixate on the right layout.
Should the kitchen and the dining area be separate in your barndominium home?

How would you like your overall barndominium to look?

How small or big do you want your barndominium to be?"

Would you like your barndominium to have any special features that should be incorporated into the plan?

How many bedrooms does your barndominium house need?
5. Can Tailor as Per Requirements
One of the greatest tips for designing barndominiums is to experiment and tailor every design element as per your requirement. As the barndominium house allows all kinds of alterations without burning holes in your pockets.
Source: pinimg.com
8+ Barndominiums House Ideas
1. Timber-Frame Airbnb

Source: hips.hearstapps.com
2. Connecticut Charmer

Source: assets.architecturaldesigns.com
3. Silo Staircase

Source: barndominium.org
4. Vintage Contemporary Mix

Source: panda-windows.com
5. Interior Balcony

Source: storables.com
6. Custom Construction

Source: quarryviewbuildinggroup.com
7. Eco-Friendly New Build

Source: claytonconstructionus.com
8. Single-Level Layout

Source: lovehomedesigns.com
9. Creative Corrugated Steel

Source: bridgersteel.com
10. Industrial Cement Floors

Source: barndominiumlife.com
Final Thoughts
Barndominiums have been a part of several cities' landscapes for generations. The barndominiums house speaks of simpler times when families worked together with animals to provide shelter, food, and care for family members and neighbors forming a cohesive community. These notions and beliefs are very well reflected in design features and architectural style, making these iconic structures too unique to simply fade away.
Their functions are redefined as housing choices for occupants who demand newer, flexible, and unique needs. People admire the appearance of barndominium houses, the design has a romantic feel about it. There is something so comfortable about barndominiums homes and their interiors that makes them a site to celebrate the farmhouse culture. These multiple potentials of barndominium houses make them timeless.
FAQ's
1. What Does a Barndominium Cost?
Market conditions can influence the design and the cost of materials used to construct barndominiums. If a large number of individuals are repairing or constructing their houses at the same time as you're building your barndominium house, demand for building materials and costs will rise. The same goes for the labor and manpower costs
But to give you a fair idea, a barndominium house will cost you between $180,000 and $360,000. A barndominium may be a more affordable choice than building a regular home, which can cost anywhere from $165,000 to $480,000.
2. Can You Just Use a Barndominium Kit?
A lot of manufacturing companies offer a lot of barndominium kits that make building a barndominium house easier and quicker. A Barndominium kit is a lot less expensive than hiring someone to build from the scratch. Many companies assist in arranging for construction crews to visit your property and assist you in putting everything together. These are delivered on a pallet and you can assemble them after pouring a concrete foundation. to save money, the barndominium kit option is highly recommended.
3. Is It Safe for My Family and Me to Live in a Barndominium?
Yes, here's why:
Barndominiums help you form a good and cohesive community.

Barndominiums provide better fire protection, as the construction material involves mainly steel.

Barndominium houses' construction technique and the nature of it being one-story make them earthquake resistant.

They are safe in lighting-prone regions as the metal has a lower electrical resistance when compared to its counterparts.

When constructing any house, the first consideration is unquestionably safety. The bottom line is that barndominiums are a good choice to create safe living conditions for your family.
For more information about the latest architectural development, keep coming to Architecturesstyle.
Also, do follow us on our Instagram page, Architecturesstyleideas, to get daily updates.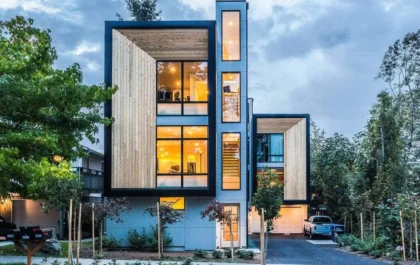 27+ Stylish & Modern Townhouse Designs for Urban Living.
The townhouse's first impression is normally too small, too compact, too narrower, and the list is endless. Well, let us…