Custom homes might be some of the most beautiful and creative homes you are ever likely to see but their uniqueness means they cost quite a bit more and are a lot more work. If you are embarking on the journey of building the custom home of your dreams
you need to have many aspects of building and construction under control, not least of which is a gifted contractor who will instantly understand your vision and work night and day to give it shape.
The Importance of Budgeting
Source: azureedge.net
While a custom home may be the ultimate dream for some, there are many practical aspects to bear in mind such as the immense cost that can be expected. Some homeowners-to-be may have to secure sources of external funding or ensure that they have enough money in savings to cover the bulk of the project before it begins.
Cost forecasting is also vital because inflation, import duties, changes in the wage rate, etc can all impact what the cost of human resources and building materials will be once you begin or are halfway through the project.
You will need to access online resources such as a mortgage calculator or consult a financial expert to ensure you are not hit with unforeseen costs later on although a fair assumption is that the house will cost quite a bit more than your most accurate forecast. Planning the build around a time when financial institutions or banks are offering better interest rates (cost of borrowing) can be a lifesaver in the long run.
Design the Dream
Source: baylesscustomhomes.com
Hiring a designer and/or architect is one of the main preliminary steps of building a custom home. As a layman, you may have a vision of a modern, contemporary house with features like a black roof and black doors but the practical reality of building the house falls on the experts.
Having an idea of what you like such as colonial Spanish villas, for example, can put you on the right track to creating a design concept, layout, and blueprint that the contractor and his team will use later on to make day-to-day decisions about the build.
Apart from the design concept that you want should dominate the construction of your custom home, you also need to think about and jot down features that strike your fancy. Would you like a hot pool or a room for billiards or maybe a basement home theatre?
It is hard to incorporate major structural changes later down the line so be sure at the beginning about the features that are a make-or-break addition in your mind.
A Contractor You Love
Source: ctfassets.net
Hire local when it comes to contractors because he/she needs to be very available and also slightly in proximity to the site of construction. Contractors have a very hands-on job from directing the quality of work to securing and ordering building materials and giving progress reports to the client.
Hire someone with good communication skills who has a kind personality so you can easily talk to them daily if need be about how the build is progressing. A great contractor is not a substitute for doing your own leg work and visiting the site as often as possible though.
Apart from being nearby, custom home builders need to have a range of skills, qualifications, and preferably licenses that enable them to expertly make decisions about the build. If you're building a countryside-style home, for example, you should hire a contractor who has worked on similar design concepts before and knows all the best vendors to source materials from.
Hiring someone passionate but less experienced may work for smaller passion projects but with a custom home, you are better off going with someone who has plenty of experience and expertise, such as luxury home builders in Miami
Also Read: 45+ Kitchen Backsplash Ideas to Spruce Up Your Kitchen
Invest in Materials
Source: cloudfront.net
Custom homes by distinction need to go a step further when it comes to luxury, visual allure, and aesthetic impact therefore it is vital to invest in good quality materials that might even fall inside a particular niche.
You can always dial back the expenditure in areas of the home where you don't need to go all out like the laundry room or the garage but the main foyer, living areas, kitchen, and bedrooms need to have specialty materials like marble, beautiful lighting fixtures, wallpaper and so forth. Custom homes are all about details so don't forget those classic moldings, the fine tiles for the kitchen backsplash, and the shower and the hardwood floors where applicable.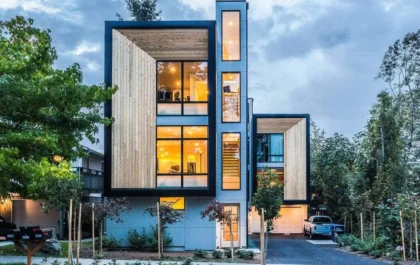 27+ Stylish & Modern Townhouse Designs for Urban Living.
The townhouse's first impression is normally too small, too compact, too narrower, and the list is endless. Well, let us…