Selling a house is not easy especially if you have lived in it for a long time because it is virtually impossible to meet the demands of every potential buyer out there. If your home is a custom home, you might even have a much harder time selling than with a regular suburban home.
Here are some fun home makeover tips for decorating your house and making it fit to sell to the highest bidder.
1. Whitewash for a Clean Canvas
Source: furbishdesigner.com
Potential buyers of a house do not want to be confronted with the current owner's very specific tastes when they are looking around. It helps if the house has been repainted with a fresh coat of neutral white paint as this helps showcase all the innate possibilities of the structure.
With a white canvas or backdrop, potential buyers can imagine where they can put shelves or how to arrange their furniture. Having a statement red wall for example will distract someone who does not have positive associations with the color. When in doubt, paint the interior with an understated creamy white color.
2. Remove the Personal Element
Source: thespruce.com
Declutter the house to prepare it for a lucrative sale by putting away your personal belongings and clearing out cabinets and cupboards so buyers can see all the storage options. Personal photographs, wall art, or other decorative items should also be put away into storage and if any furniture is left for the open house, it should be in a neutral color and ideally not attract too much attention.
Breaking out the vacuum cleaner, duster, and carpet sweeper and keeping up to date with the weekly house cleaning is vital, but you could also consider hiring a professional cleaning company. Experienced domestic cleaners can reach that spot behind your stove that is caked in dust or food since they will clean from a third-person perspective without being used to how a space looks.
3. The Lighting Speaks
Source: mcpheeassociatesinc.com
The lighting fixtures and solutions in a house completely affect the vibe, ambiance, and mood. If you have poor lighting inside your home that was installed well over a decade ago you should update it to give your house a better chance of selling well. Update the lighting fixtures and make small changes like updating switchboards and so forth so the house looks newer than it is.
During the open house turn on all the lights even if it is the daytime so buyers know all the lighting options available be sure to open the blinds and curtains as well to let the natural light stream in. Wherever possible invest in picture lights, spotlights, and different types of lamps to light up the space and set the mood.
4. Pop in the Homely Touches
Source: ashwinshethgroup.com
During an open house or any day when multiple buyers will be visiting and looking around the property, put in some homely touches to make your house seem more attractive to them. Whether it is lots of home-baked cookies, fresh flowers, an essential oils diffuser, or a collection of cushions, you want to impart a cozy, pleasing, homely vibe without putting too much of your own personality and style into it.
In certain cases like if you were trying to sell your home to cash home buyers, you wouldn't need to stage the house or even make any changes as the latter will be buying the home purely for investment purposes and not for residence in the property.
For other types of buyers that come through a traditional real estate agent, certain tweaks can enhance your chances of landing a good offer. If possible set the dining table in your home with some candles, a white dinner set, and even some napkin rings!
5. The Drapes
Source: bhg.com
Old curtains especially if they are in a bright, eccentric color or are dated can affect the clean canvas look that every buyer loves to see. Change out the drapes for some beige or grey blinds or plain curtains so the space appears larger and you can easily show off the natural light in the house during the day.
Installing floor-length curtains with a rod that is purposely installed much higher than the window can give the illusion of a taller room since it draws the eye up.
Also Read: 13 Ways to Backyard Makeover on Budget
6. Pay Attention to the Kitchen Above All
Source: mishry.com
Most people especially a father or mother looking for a house for the family will be most concerned with the kitchen. Do a special deep clean in there such as cleaning the tile grout, polishing the steel appliances, and washing the windows. The kitchen needs to be a warm, inviting place as it is often also called the 'heart of the home!'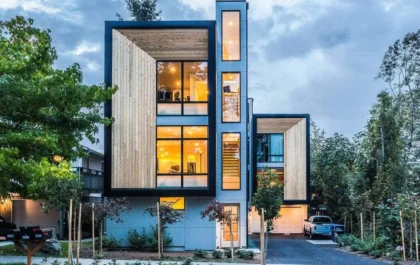 27+ Stylish & Modern Townhouse Designs for Urban Living.
The townhouse's first impression is normally too small, too compact, too narrower, and the list is endless. Well, let us…