Whenever we walk into a restaurant or cafe, we always get mesmerized by two things – the rich, buttery aroma that lingers in the air and the unique, mood-lifting ambiance!
This is why most people prefer to invest in high-quality food supplies and enchanting interior design elements. From having clean and sleek designs to bold and colorful interiors, there are several ways to enhance and elevate your cooking space. These days, butcher block countertops can be seen everywhere, from Instagram feeds to multi-millionaire house tours!
So, why is the butcher block countertop so popular? And why has it become a significant part of professional and personal settings?
The answer is simple: These countertops are durable, easy to clean, and resistant to heat and stains. But most importantly, they're the ultimate symbol of luxury and the soul of the kitchen!
So, if you are wondering about butcher block countertops and have questions like whether they are expensive or how to install them, you've landed on the right page! Today, in this blog, I will be sharing everything about butcher block kitchen countertops. From its types and designs to the installation process and where to buy the best butcher block countertops, I've covered all the important details that you need to know. So, keep reading till the end and buy your favorite butcher block to transform your kitchen.
Let's get started!
What is a Butcher Block Countertop?
Butcher block countertops, also known as wood countertops, are made from straight cuts of strips or blocks of wood glued together to create thick slabs. These countertops are usually made from hardwoods like maple, oak, cherry, and walnut. This is why they're extremely durable, stable, and visually appealing.
Traditionally, they were commonly used in butcher shops for cutting and prepping meat, that's how they got the name 'butcher block countertop.' However, these days, they're popularly used in commercial and residential kitchens as a cutting board, tabletop, or counter. These butcher block worktops offer a natural and warm aesthetic to the kitchen and can be used for multiple purposes, including chopping, slicing, and serving.
Types Of Butcher Block Countertop
These days, butcher block countertops are available in three types of grain versions. Each one comes with its advantages and disadvantages, so according to your requirements and budget, you can select one.
Here are three-grain variations of butcher block:
1. Edge Grain Butcher Block
One of the most famous butcher block countertops is the edge grain one. These types of butcher blocks have immense strength and great stability. They're constructed with a special technique where long pieces of timber are lined up in a way that their edges face the countertop, which means the edges create the top surface. These worktops are also resistant to scratches and knife marks.
2. End Grain Butcher Block
This type of countertop is the most expensive one, but it has excellent durability. The end grain butcher block countertops are made from the ends of wood planks. This creates a beautiful checkerboard pattern that looks attractive. As this pattern is hard to create, they're usually available at a higher price than the other wood countertops.
3. Face Grain Butcher Block
If you want the most beautiful countertop in your kitchen, go with face grain butcher block worktops! They're made of long wooden planks assembled in a side-by-side manner. This is done to get a gorgeous full-grain look on the surface. However, they're not quite durable and sturdy.
How to Install Butcher Block Countertops
There are numerous ways to install a butcher block countertop backsplash in your kitchen. The installation process requires careful planning and attention to detail. The most common method is to place them over a plywood substrate, but you can also install them directly on top of cabinets or a concrete slab.
Here is how to make a butcher block countertop in 5 simple steps:
Step 1: Measure and Plan
First, measure your existing countertops, backsplash, or the place where you want to install the butcher block. Carefully look for the sinks, appliances, and other details before measuring the dimensions.
Step 2: Pick Your Butcher Block
Select the butcher block in your favorite wood and grain type that also goes well with your kitchen interiors and your budget.
Step 3: Prepare the Base
Now, after you purchase the block, it's time to prepare the substrate. First, make sure all the cabinets are level. You can also create a sturdy base made of plywood or MDF.
Step 4: Cut and Attach the Butcher Block
Now, cut the block as per the required dimensions. Don't forget to create cutouts for sinks, faucets, and cooktops. Now, apply a good amount of adhesive to the base and slowly place the butcher block countertop. You can also drill holes and screw the countertop for more sturdiness and stability.
Step 5: Seal, Finish, and Install Appliances
How to seal butcher block countertop?
The last step is to seal and apply the finishing of your choice. You can go with a food-safe finish, such as mineral oil or a specialized butcher block conditioner. This will protect the worktop from knife marks and make it appear shiny. After this, you can finally install the sinks, faucets, and appliances, and your butcher block countertop is ready for use!
Butcher Block Countertop Maintenance and Care
How to clean butcher block countertop?
If you want your butcher block countertops to look clean and shiny all the time, you have to maintain them. Yes, sealing butcher block countertops is important to protect them from water damage and stains.
Here are a few tips to keep your butcher block countertops looking their best:
Wipe the surface with a damp cloth (you can also add mild dish soap) and gently clean it.
Avoid leaving water on the surface, as it can damage the butcher block countertop.
Do the deep cleaning every week or two to remove stains. For this, create a mixture of vinegar and water and clean the board. Don't forget to dry the surface afterward.
Try to keep your butcher block away from any direct heat or moisture. So, never put hot utensils on it; use trivets or hot pads, and also immediately clean up spills.
To keep your butcher block countertop looking shiny and lustrous, apply food-grade mineral oil or butcher block conditioner once in a while.
Types of Design Options for Butcher Block
Are you looking for ways to style your butcher block countertops? No worries, we've got you covered! Here are 3 trendy ways to transform your ordinary-looking kitchen into a modern culinary wonder that is practical and looks great.
1. Blue & White Breezy Kitchen
In this all-white kitchen, the blue island with a sandy-blonde butcher block island creates a fantastic focal point. The mid-tone blue with warm wood worktop is perfectly complementing the rest of the kitchen decor. You can also try the butcher block countertop backsplash or gray butcher block countertop to create a welcoming kitchen.
2. Simple Boho Shiplap Kitchen
Here is another way to style your butcher block countertop in a simple yet attractive way. This cooking space has an inviting modern farmhouse vibe and also features acacia wood butcher block countertops. Here, open shelves are used to make the space both functional and aesthetically pleasing. Other notable features are a black dishwasher and white shiplap walls that create a wonderful contrasting effect.
3. Walnut Wood Butcher Block Countertops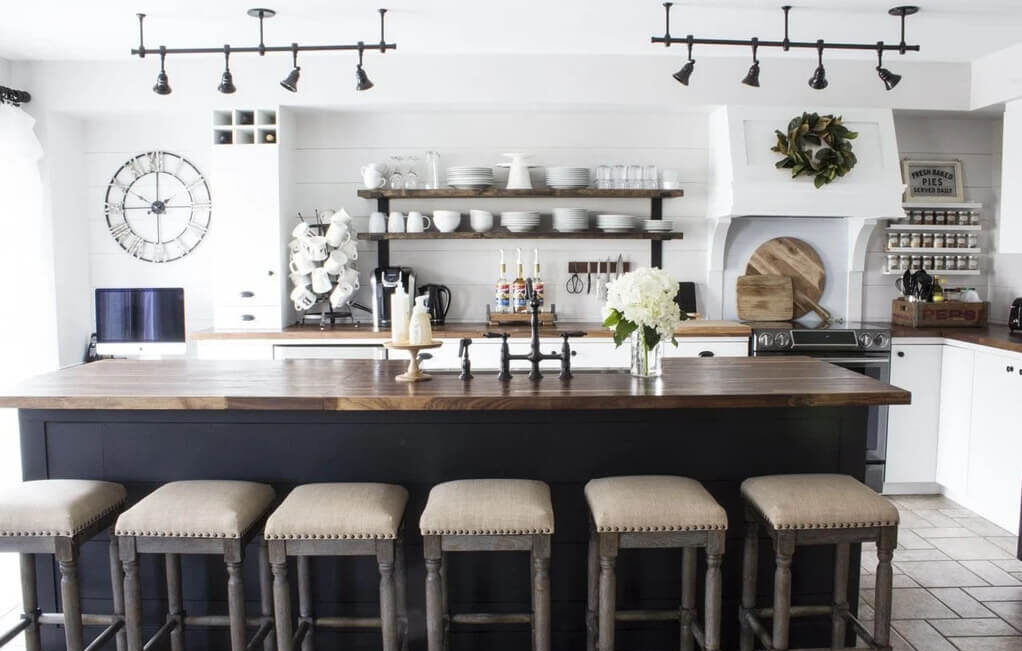 The best thing about the butcher block countertops is that they look great in both light and dark tones. For example, take a look at the above kitchen, where a butcher block made from walnut wood is used as an island top, countertops, and even open shelving. You can also have this type of 10 ft butcher block countertop in your cooking area!
Butcher Block Countertops Pros and Cons
Here are the advantages and disadvantages of a butcher block:
| | |
| --- | --- |
| Pros | Cons |
| Looks attractive & versatile | Prone to stains & scratches |
| Available in woods like cherry, oak, maple, cherry, and walnut. | They can collect dust & are not heat-resistant. |
| Durable & Affordable | |
| It can last up to 20-30 years. | |
| Easy to clean & refinish. | |
Where to Buy the Best Butcher Block Countertop?
Now that you know about butcher block countertops, their types, how to build a butcher block countertop, and how to style them, it's finally time to buy one! You can easily get these types of kitchen countertops at Amazon or other online stores. However, an IKEA butcher block countertop or a Lowes butcher block countertop is also a great choice for budget-minded homeowners who want a stylish and durable countertop.
Here are my top 3 picks from Amazon for you:
1. John Boos & Co.
This brand is well known for making cutting boards for kitchen carts. This is a 5-inch kitchen island made from thick maple wood with an end grain top. If you need extra space to prep meals, it will be a great option. It also has extra shelves to store your kitchen essentials. It is available in 13 colors, so select your favorite one!
2. WoodForChef Rectangular Reversible Butcher Block
Now, chop all your vegetables and meat with ease with this medium reversible butcher block countertop. It has a dark walnut color, which goes with every type of kitchen style. These beautiful and sturdy cutting boards also come with handles, which will enhance your cooking experience.
3. TJ POP End Grain Cutting Board
Buy this heavy-duty acacia/rubber wood cutting board for your kitchen! It is perfect for cutting bread, fruits, meat, and vegetables. It is a rectangle board with an eye-catching checkerboard pattern with dimensions of 4.5 x 10 x 0.8 in.
FAQs
How durable are butcher block countertops?
Compared to other wood worktops, butcher block countertops are more sturdy and durable. With proper care and maintenance, along with sealing and oiling, they can last for many years. However, they can be damaged by water and stains. This is why these butcher blocks need regular maintenance, like wiping them down with a damp cloth after every use.
How often should you replace countertops?
The lifespan of a butcher block countertop usually depends on the material and maintenance. However, on average, a butcher block can last up to 20 to 30 years if properly maintained. So, if they show significant damage signs like cracks, they should be replaced as soon as possible.
Are butcher block countertops good for kitchens?
Butcher block countertops are excellent options for the kitchen because they're extremely durable, strong, and look absolutely gorgeous. From kitchen island top countertops, you can use butcher blocks in several ways and create a warm and inviting vibe without spending too much. However, they do need high maintenance. 
Final Thoughts
So, this is all about butcher block kitchen countertops. These wood worktops are a great addition to any type of kitchen, whether it is a farmhouse, modern, or traditional. Available in various grain types and sizes, you can buy the one that will match perfectly with the rest of your kitchen decor. They will not only make your kitchen more aesthetically pleasing but also more functional. However, keep in mind that butcher block countertops require regular care and maintenance, such as oiling, cleaning, and sealing to keep them in top condition.
So, buy your favorite butcher block countertop and elevate your kitchen space.
Explore Further:-