Drawers below and cabinets above, the kitchen backsplash is a relatively small canvas. And yet it is big enough to paint the full picture of the kitchen, and of yourself. There is only so much you can do with your cabinetry and hardware, but the kitchen backsplash presents endless possibilities to try out new ideas and experiments. Kitchen backsplash ideas are the best to add personality and coordinate with cabinetry, appliances, hardware, and lighting.
Sometimes the backsplash even gets the whole wall, but usually, it's a small breather between all the kitchen storage. This makes it relatively easy and cheap to renovate or repair.
Although the surface might be of a small area, designing a kitchen backsplash is an important task, and hence can often be confusing.
Here Are the Top 50 of the List of Best Kitchen Backsplash Trends of 2023 for All Styles and Budgets.
1. The Trending Terrazo
Source: thespruce.com
We are more familiar with this pattern on the floor, but Terrazo tiles are one of the best kitchen backsplash ideas of 2023. A light blend with a sprinkle of little bits of color, why not? One of the best kitchen backsplash tile ideas, it works well with light-colored or all-white cabinetry.
2. Backsplash with a Splash of Color
Source: pinimg.com
Having glossy teal as your kitchen wall tiles gives your space a wavy surface that bounces light in. In a kitchen otherwise the shades of white cabinetry or wooden shades, a colorful tile backsplash provides it with a perfect touch of accent and personality.
3. Once in a Belgian Blue for Kitchen Backsplash Ideas
Source: inlavka.ru
If you play your tiles right, Belgian Blue tiles are one the best kitchen backsplash ideas. They give the depth and character that your kitchen needs, especially with the right shade of cabinetry. Unless you want your kitchen to be dull and gloomy, something light for furniture, like knotty white oak is a good pair with the tiles.
4. Modern Makeup for Kitchen Backsplash Ideas
Source: lifestyleasia.com
If modern and trendy is your cup of tea, then why not try soft geometric patterns? These kinds of modern backsplash graphics are trending on the 'best kitchen backsplash ideas' list. This will especially suit if the shades of your kitchen cabinetry and furniture are on the darker side.
5. Make a Statement with Kitchen Backsplash Ideas
Source: bhg.com
If the kitchen is the heart of your home, the backsplash is its focal point. To make it striking, you can have a statement tile backsplash. It adds a contemporary character to the otherwise woody kitchen environment. Using shimmering shades, different shapes, and sizes you can create a kitchen backsplash that stands apart and forms the identity of your home.
6. Check Out the Checkerboard!
Source: inlavka.ru
Checkerboards kitchen backsplashes give a chic feel to your kitchen. Glazed terracotta tiles arranged like a chessboard running in the background of premium-looking countertops and hardware fills the kitchen with an air of energy and sophistication.
7. Go Timeless, in Less Time
Source: casaegiardino.it
Patterns like this blue-and-white decorative tiling on the kitchen backsplash go with almost all styles and times. With the right balance of light and color, this kitchen backsplash idea can spruce up your space with a perfect balance of minimalism and detail.
8. Storage, Storage, and More Storage!
Source: pinimg.com
The kitchen backsplash is also designed as a storage niche because, despite all that storage, we sometimes want things to be…well, handier. A recessed storage niche can give that contrasting element that balances its surroundings with an accent.
9. Kitchen Backsplash Ideas to Stretch your Arches
Source: googleusercontent.com
Sometimes the kitchen backsplashes turn out to be windows or openings. You can turn that into an arched opening to give your kitchen that classic appeal. Arches look graceful and make for interesting patterns on the cabinetry as well if you want to go all the way.
10. Backsplash Metallica
Source: shopify.com
It might sound weird at first, but even you might know how much you need a metallic backsplash for your kitchen. It is rustic and chic, and it can contrast with dark surroundings. And despite all the talk of metals being cold, bright-colored copper sheets actually bring about a warm vibe with them.
11. Make a Mozaic with Kitchen Backsplash Ideas
Source: pinimg.com
A Mozaic of colors across the kitchen backsplash, even going all the way to the ceiling? Mozaic tiling creates a balance, especially when the cabinets and accessories are taking all the attention. You can choose the glass tiles to repeat tones from the cabinetry, or even go completely contrasting!
12. Painted Paper
Source: inlavka.ru
Despite the seemingly obvious uselessness of it, wallpapers are trending on the list of the best kitchen backsplash ideas in 2023. These wallpapers adapt to your liking and are even themed as per your desires. The trick is to cover the backsplash with a thin protective layer, like glass.
13. Bling-Watch
Source: st.hzcdn.com
Your mid-century modern home is screaming for a patterned tiling as the modern kitchen backsplash. Using cement tiles can be one option, as it allows for customization- like the warm metallic touches and gold-colored grouting. But remember, this is not the only option!
14. Kitchen Backsplash Ideas Worth the Penny
Source: pinimg.com
Round penny tiles on your kitchen backsplash give your space the vintage look that they need. If your house is in themes of the classic old, like a farmhouse or an estate, these tiled patterns are what you need for your kitchen. The penny tiles would pop up if you use a contrasting color for the grout.
15. Go Morocco!
Source: googleusercontent.com
Blue-and-white glazed Moroccan tiling can give your kitchen a far-flung, vacation feel. It makes your kitchen airy and light while giving it an exotic ambiance.
16. Be Bespoke
Source: fireclaytile.com
A collage of repurposed tiling from an earlier job or custom designs to suit your liking that matches your house theme or roof pattern. Coupling it with a minimal-themed cooktop with accented fittings spruces up your kitchen space the way you like it.
17. Surf the Subway for Kitchen Backsplash Ideas
Source: pinimg.com
The classic, casual and trendy- subway kitchen backsplash tile has it all. Light-colored subway tiles lined with dark-shaded grouts bring out the best in this idea. And of course, it's not just aesthetic; dark-colored grouts are helpful when it comes to stains.
18. Mirror On the Wall
Source: pinimg.com
Subway tiles don't just come in colors. It is also available in the smoky mirror variant, which gives your kitchen an accented jitter. Pair it with some lightweight furniture like woven barstools or cool-shaded cabinetry, and your space gets glammed up, but just the right amount.
19. Marble is Forever
Source: pinimg.com
Nothing matches the look and feel of marble at your home, nor its price. But kitchen backsplashes allow you that opportunity as well! Right behind your stove, you can have a piece of marble stone as your kitchen backsplash! The soft grey tones create a soothing backdrop that is elegant and timeless.
20. Beading and Boarding Kitchen Backsplash Ideas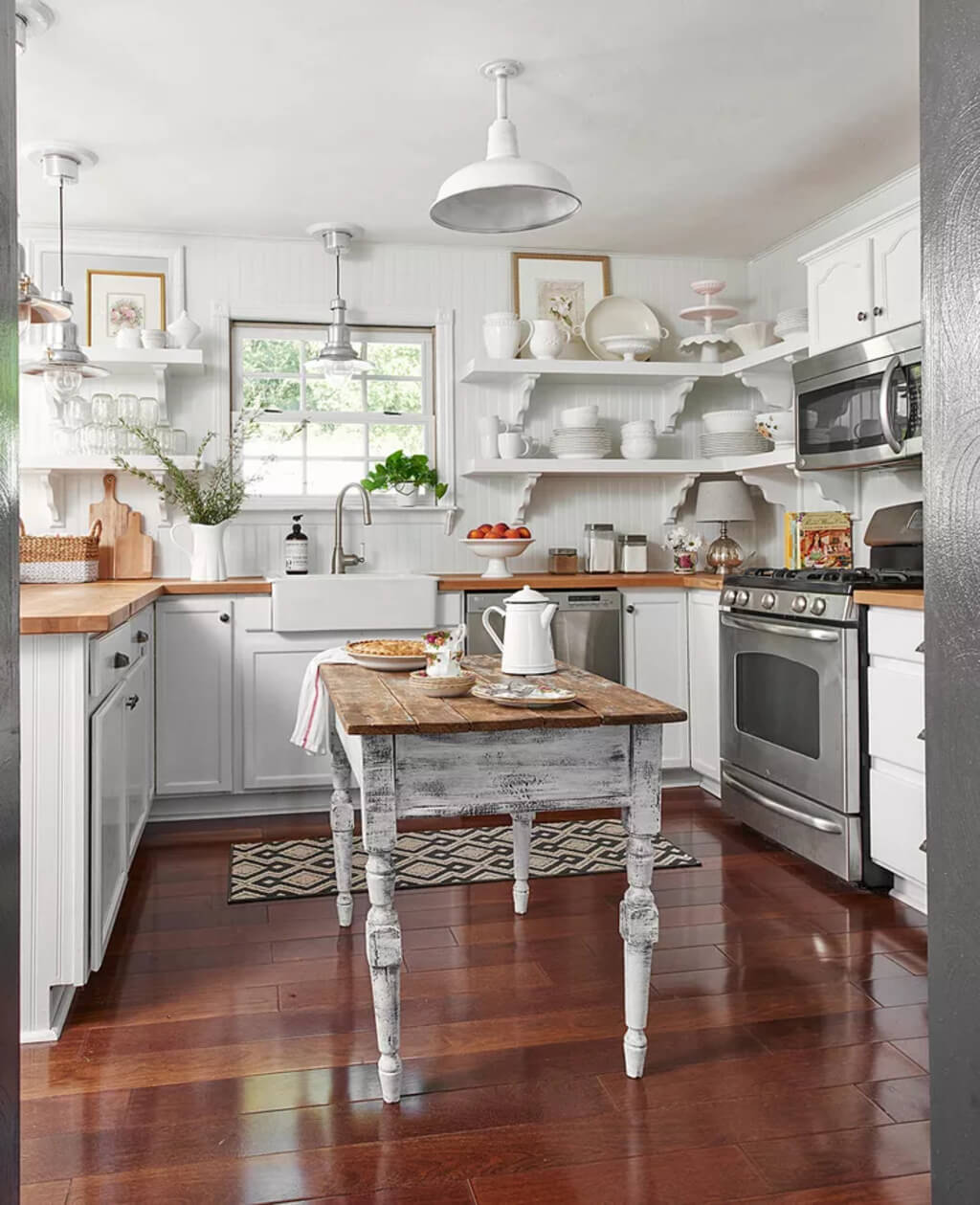 Source: bhg.com
A beaded board is a perfect option for those on a budget and looking for the best kitchen backsplash tile ideas. It accompanies a similarly shaded beaded board that covers the kitchen backsplash and goes all the way up to the ceiling. It is classy, and perfect for small homes and cottage kitchens.
21. Black and White Chevron
Source: homedit.com
If you have a small home or a small kitchen, using the black-and-white chevron pattern might just be the thing you have been looking for. It is punchy, sleek, and works like a charm with dark-shaded, glossy carpentry.
22. Keep Calm and Stay Neutral
Source: pinimg.com
Not everything is a statement, and you can also decide to keep your kitchen backsplash a neutral space in the background. Two complimentary tones of light intensity can couple to create a subtle backsplash that is also not boring, while still being the focal point of your kitchen space.
23. The Fresh Subway Green
Source: pinimg.com
Keeping the whole kitchen very neutral, with a backsplash of gray-green subway tiles is a great blend of color and texture. Ceramic subway tiles are affordable and often available in many colors, so it is budget-friendly as well! You can even keep it limited to a partial space on the wall, and keep the party going without spending a lot.
24. Zig-Zag Kitchen Backsplash Ideas
Source: hearstapps.com
A zig-zag wallpaper pattern is the best match to keep the vibe groovy and vibrant. It not only cuts down the heaviness of cabinetry but also its verticality through its zigging and zagging, making it ideal for small, seemingly vertical kitchens. Which is why it is trending on the best kitchen backsplash ideas list!
25. Surf a Little More
Source: thespruce.com
Imagine a blue-tiled backsplash, falling down from your ceiling into your cooktop like a waterfall, or perhaps flowing into it like the ocean! It is just the right kitchen backsplash you need in vacation homes, or maybe it can even turn your home into one! Contrasting it with wood paneling and cabinetry can bring out its best.
26. Recycle the Shiny Bits: Kitchen Backsplash Ideas
Source: pinimg.com
Topping the sustainability list is this kitchen backsplash made of recycled pieces of glass tiles. You can choose to make it such that it blends with your cabinets, or you can create a complete contrast if that suits your style better, there are many possibilities! The variegated glass tiles can create a warm ambiance, and can even match up with pieces of your appliances and hardware!
27. Moroccan, But Glazed
Source: villaphuket.live
Glazed Moroccan tiles blend seemingly modern spaces with a hand-crafted texture. Complimented with countertops finished with materials such as blown glass and furniture with dark shades of leather, this kitchen backsplash idea can give your kitchen a premium, sophisticated look.
28. Fifty Shades of Green, and More
Source: pinimg.com
Green often creates an earthy, calming atmosphere. In a kitchen, a backsplash with shades of green used with terracotta pots and crockery and rich accents of wood and grass is just perfect to give it a tropical, earthy feel.
29. Antique Kitchen Backsplash Ideas
Source: pinimg.com
Kitchen backsplashes can give your kitchen that historical feel. A centerpiece with hand-made tiles, in light tones fading away at the edges, can be a statement piece of its own. A kitchen backsplash idea in the memory of a bygone era.
30. Rustic Painted Tile
Source: faiantagresie.com
It is not only the wallpaper but the tiles are also painted with interesting patterns to give your kitchen a hand-crafted appeal. A kitchen backsplash made of rustic tiles gives your kitchen a color contrast especially when paired with minimalist cabinetry and furniture.
31. Go Tactile with Textures
Source: pinimg.com
Just because it's white doesn't mean it has nothing. Textured tiles like white Moroccan Zellige clay tiles provide a texture and contrast with warm tones of the furniture finishes and cabinetry. You can explore different textured kitchen backsplash ideas for your space with its shade matching the fittings and appliances and the textures suiting your liking.
32. Warming up
Source: bhg.com
Your kitchen backsplash can go along to add more warmth to your space. A kitchen backsplash of relief pattern tiles coupled with warm shaded finishes of furniture and cabinetry can give your kitchen a cozy and welcoming character. You can even use a combination of these tiles to make a raised relief border with a stone kitchen backsplash to give your space a luxurious appeal.
33. Kitchen Backsplash Ideas of Stars
Source: hearstapps.com
Painting starts all over is another trending kitchen backsplash idea. Tiles with diamond and star patterns in (literally) heavenly palettes are just what you need to create the charm. This kitchen backsplash idea gives your space a magical and exotic look. Get some grainy wooden cabinetry and pastel shaded island top to go with the backsplash, and voilà!
34. Subtle Patterns
Source: squarespace-cdn.com
Sometimes, whites can mean nothing. If you have a contemporary kitchen and like to keep it minimal, you might want to use white tiles in geometric patterns with white grouts, making it almost invisible. Just a subtle backdrop to the magic you will brew (or roast) yourself in the kitchen!
35. Industrial Brick Backsplash
Source: bhg.com
When you think of concrete and brick, does a kitchen backsplash come to mind? Well it should, because they are one of the top kitchen backsplash ideas of 2023. Pick out some aged bricks and dress them in some extra mortar, and you have a nostalgic old-house kitchen backsplash, right in front of you!
36. Mirror, But Painted
Source: googleusercontent.com
Antiquity isn't only limited to tiles and grouts. You can use premium-looking painted mirrors as well, to create an antique kitchen backsplash. Insert the painted glass in a stone case to give a luxurious appeal to your kitchen.
37. Kitchen Backsplash Ideas of illusions
Source: abeautifulmess.com
A vinyl Trompe l'oil tile backsplash fits the budget while giving your kitchen a fresh, quirky appeal. It will transform your kitchen into a personal and special space.
38. Glassy Gloss
Source: pinimg.com
You can choose a simple, clean, and contemporary look for your kitchen by using a thin sheet of painted glass for the back. It forms a clean and easy-clean protective layer to save your wall from stains and splashes.
39. Not-Glassy Gloss
Source: pinimg.com
Your kitchen backsplash will turn into a feature wall if you decide to use square high-gloss glaze tiles. Maybe take it all the way to the ceiling! The gloss of the tiles adds dynamism, especially if paired with textured fabric upholstery and light-shaded cabinetry.
40. All the Way Up!
Source: pinimg.com
For you, the sky is the limit, but a kitchen backsplash can only go as high as the ceiling. But if it can, pray, take the chance! A backsplash design that goes all the way up to the ceiling of the kitchen looks best when paired with contrasting shades in appliances and cabinetry.
41. Kitchen Backsplash Ideas That Keep Up with the Time
Source: bhg.com
Contemporary and modern backsplash tile designs are topping the list of best kitchen backsplash ideas of 2023. Cabinet finishes reflecting modernism, combined with a sleek-looking kitchen backsplash make your space energetic and fresh.
42. Quilt Motifs, on the Wall
Source: pinimg.com
Another trending pattern tiles used for kitchen backsplashes are the ones with quilt motifs. They add a dash of color to your kitchen, giving the warm, holiday season look.
43. Black is the Best
Source: mydomaine.com
Isn't black the best feature?
A black kitchen backsplash adds the drama you need in the kitchen. It is the perfect choice to make a transition between different shades and elements and to create contrasts against light-colored kitchen shades. Mixing soft neutrals and matte black surfaces makes a relaxing, grounded ambiance.
44. Kitchen Backsplash Ideas: Modern Mosaics
Source: bhg.com
Using slender glass tiles in hues of cream with stone tiles of coppery shades lends a translucent beauty to the kitchen. A trendy Mozaic backsplash in a neutral, contemporary palette with warm shades lends your kitchen a warm, modern look.
45. Black With a Texture
Source: yimg.com
Charcoal-shaded tiles in a herringbone pattern add depth to your kitchen space. Match the cabinetry and furniture with the dark shades for a moody, monochromatic appeal, or contrast them with the backsplash to create a chic, modern look.
46. Grouting in Different Shades
Source: thespruce.com
Neutral tiles can have different effects with different shades of grout. Using a completely contrasting color like black grout with white tiles helps in popping out the whole look while using similar shades gives it an elegant, rustic feel.
47. Kitchen Backsplash Ideas with a Vintage look
Source: pinimg.com
Victorian homes or classic villas, using marble or tiles in patterns of the vintage era never ceases to create charm. If you want to blend a little contemporary character you can choose to go for a simpler form.
48. The Daily Soapstone
Source: ideas-for-home.net
The game of contrasting/complementing remains the same. What can add more drama to this affair is using soapstone as your kitchen backsplash! Remember to pair up your appliances with the shades of the backsplash to make your kitchen spaces cozy and eclectic.
49. New Verticals
Source: pinimg.com
Featuring textured tiling in the form of vertical stacking, as opposed to the usual horizontal layout, is one of the trending kitchen backsplash ideas of 2023. Using shades of blue or violet can create drama while adding a personality to your backsplash as well as your kitchen space.
50. Kitchen Backsplash Ideas for the Smaller Ones
Source: pinimg.com
Smaller kitchen spaces turn out to be slightly tricky to tackle, but there are some thumb rules you can keep in mind. Using dark, clean-lined tiles for your kitchen backsplash contrasting with light shades on your cabinetry and furniture not only gives your space new dimensions but also a certain depth, making it feel more airy but cozy at the same time.
Kitchen Backsplash Ideas That Stay Timeless
Designing a perfect kitchen backsplash might seem to be a daunting task as even a little change can convert the aura of the whole space. But it is not a complicated task. All you need is a basic understanding of your space and a list of different ideas to help you brainstorm.
The understanding you will get by one look at your space, and your list of ideas is right here. Then what are you waiting for? Chose the best backsplash idea for your kitchen that makes it stunning, outstanding, and a pleasure to work on at the same time.
FAQs: Kitchen Backsplash Ideas
1. What Is the Current Trend in Kitchen Backsplashes?
Classic subway tiles arranged in a grid, or geometrical patterns made of hexagons or triangles are trending in the world of kitchen backsplashes currently!
2. What Is the Most Popular Backsplash for a Kitchen?
Ceramic tile is one of the most popular kitchen backsplash ideas. It is available in many different shapes, sizes, and colors and arranged in many patterns to achieve the desired look.
3. What Backsplash Does Not Go Out of Style?
Subway tiles are here to stay. It is one of the most trending kitchen backsplash ideas and comes in many colors ranging from bold to trendy ones. What's more, they are also easy to replace!
4. What Is the Most Timeless Kitchen Backsplash?
A white kitchen backsplash is a classic and the most timeless option for any kitchen. Yes, you might be brimming with concerns about stains of white, but the right material can deal with that issue. The most dominating advantage of white is that it goes with any color, and style of the theme.
5. What Is the Easiest Backsplash to Maintain?
Metal, Glass, Ceramic, and porcelain are all easy-to-maintain backsplash options as they all resist stains due to the nature of their materials. They don't even need a lot of special maintenance or special cleaning.
For more information about the latest architectural development, keep coming to Architecturesstyle.
Also, do follow us on our Instagram page, Architecturesstyleideas, to get daily updates.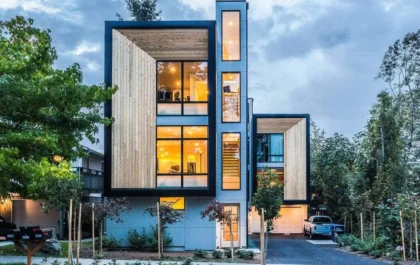 27+ Stylish & Modern Townhouse Designs for Urban Living.
The townhouse's first impression is normally too small, too compact, too narrower, and the list is endless. Well, let us…