Located in an incredible site in front of the Pacific Coast in Puerto Escondido, Oaxaca, Mexico, this structure is remarkably built. It is designed by Mexican architect Alberto Kalach. Want to know more about this amazing Holiday destination and about its architecture? Keep on reading to know Sforza hotel.
Casona Sforza Hotel
Project Name:

Casona Sforza

Architects:

Taller de Arquitectura X / Alberto Kalach

Location:

Zicatela, Oaxaca, Mexico

Project Year:

2020

Status:

Built (2021)
Situated in a beautiful location in Oaxaca, Mexico, Casona Sforza is actually a boutique hotel. It embraces and nourishes the hospitality concept of comfort and elegance. It is combined with a setting where nature and design stimulate the senses. Your mind and body both will feel relaxed after staying in this luxurious hotel.
The architects described this place as "A place on the Oaxacan coast –where the delta of the Colotepec River converges with the sea– the Sabines, the mangroves, the tulles, and the oaks embrace this exuberant refuge to privilege a reunion with the essential and natural beauty without artifice."
The entire project was built while keeping three things in mind: Commitment to environmental care, Reevaluation of roots, and The Development of the local community. These are also the key elements of the architecture which also reflects in every corner of the building.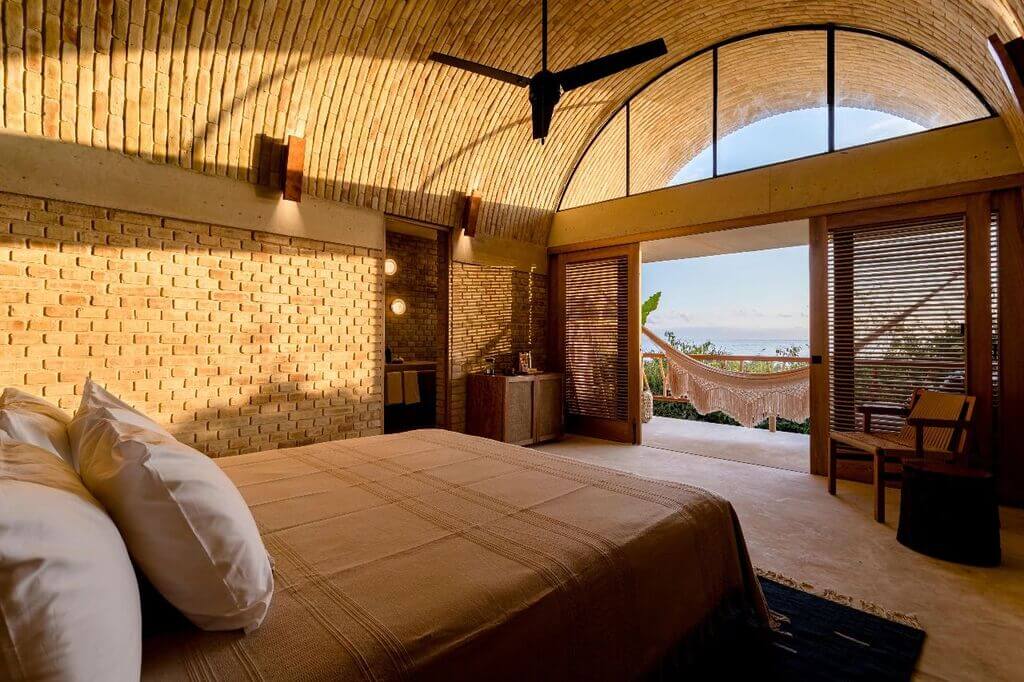 The site project was conceived and designed by entrepreneur Ezequiel Ayarza Sforza and renowned Mexican architect Alberto Kalach. Just at one glance, you can tell that this project is a result of many years of inspiration, planning, sketches, and successive modifications.
Architects have combined modern technology and architect style with ancient styles. You can see the arched vaults are the main structure style in the project. These vernacular details are highly inspire by the ancient techniques which are quite popular for creating arched vaults.
Structure & Design
The structure has three volumes in total, and all are connect with a common corridor where a thin concave line passes. All these volumes and asymmetries are create with clean lines. So that they can harmoniously be integrated into the landscape and establish a serene connection with the natural surroundings.
The long corridor will take you towards a moon of turquoise water that descends four steps. It is one of the main notable features of the building. Apart from this, there is also an impressive terrace and an eye-catching pool design with concentric circles.
All these volumes consist of ten vaults in total, and all of them are facing the Pacific Ocean so that visitors can enjoy the spectacular sunsets in reddish tones. These vaults are high in height, so they'll also provide good air circulation. The average temperature at the coast of Oaxaca oscillates at about 20ºC annually.
Apart from providing visual interest, these arches also provide many benefits to the architecture. They are earthquake-proof, improve air circulation, and their curves help positive energy flow to the suites.
Bricks have been specifically use to create the vaults because they help in good ventilation and keep the rooms cool in the hot climate without wasting energy on air conditioning.
Layout of Casona Sforza Hotel
Hotel Casona Sforza consists of various areas, including eleven staying rooms and suites, bar-restaurant, lounge area, reception, and beach.
The long, lean corridor with a linear water pool down its center will lead you to the entertainment and social areas. The bar-restaurant and rooms are located near the circular pool. The final vault has a kitchen, wine cellar, and chef's table. All these areas have a sense of peace and tranquillity.
Materials and Finishes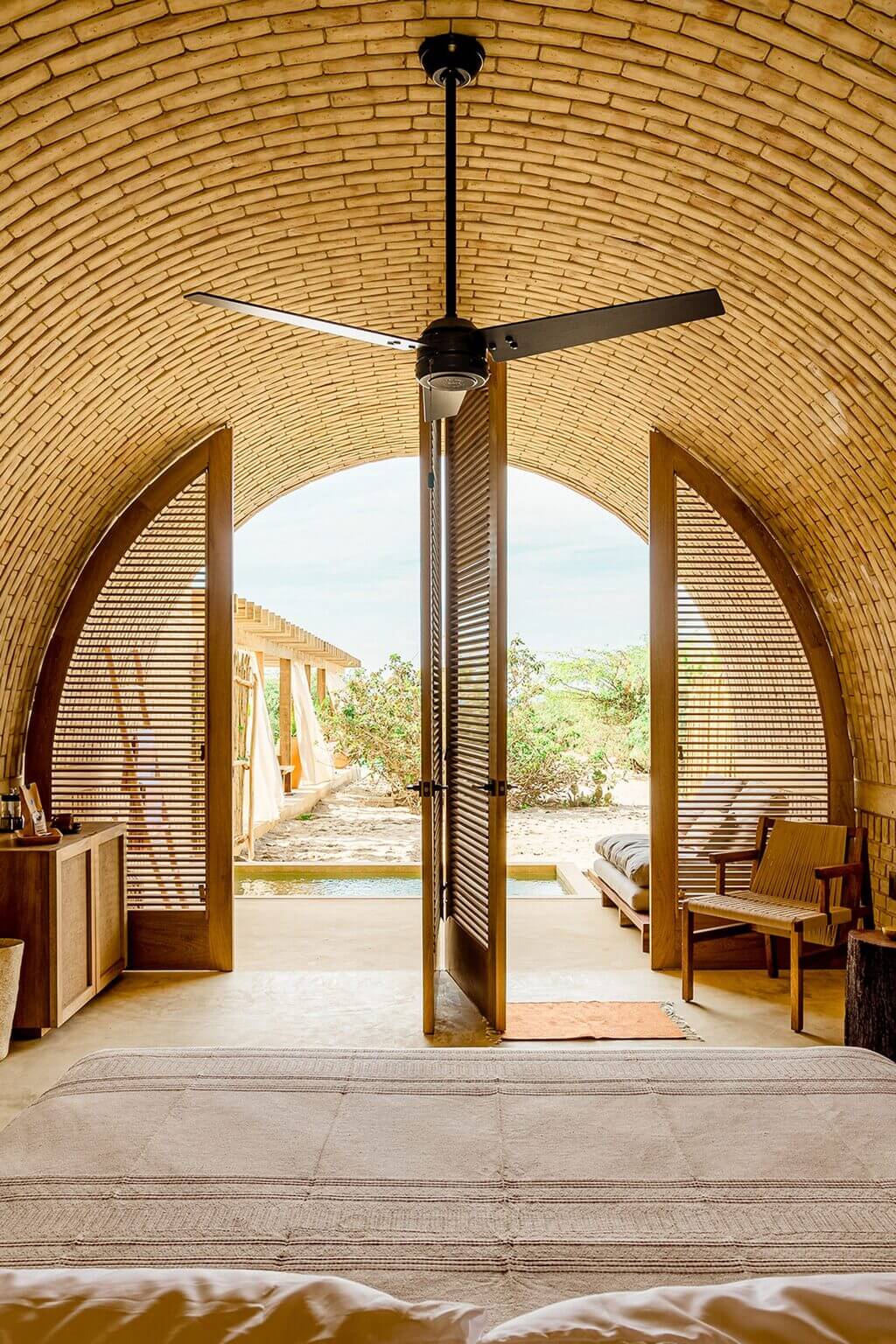 The construction of Sforza House is start in 2020, and in 2021 it all get complete. The contractor and interior designers for this site were Efraín Salinas, Ezequiel Ayarza Sforza, and MOB Studio.
Architects have been locally produce materials such as sand-yellow bricks that receive and reflect the sun's rays. Other building materials include
Natural Macuilli and Parota Wood

Palm Leaves

Traditional Regional Cotton Textiles, and

Raw Linen Details
Luxurious Rooms
There are 11 suites in total, from which five are on the ground floor, and six more are on the upper floor. Ground floor suites have a terrace and private pool, and upper floor rooms come with private balconies and an indoor tub.
There are also three categories of rooms: junior, senior, and master. Each room features vaulted ceilings and sea views. The interior has a cozy ambiance with a bohemian style. They all are decorate with neutral colors, tropical wood, and natural textures.
Breathtaking Panoramic Sea Views
Located on the coast of Oaxaca, where the delta of the Colotepec River flows into the ocean. And the cypresses, mangroves, and oaks embrace this exuberant refuge, and Sforza House offers an authentic and eye-pleasing essence of natural beauty.
Thanks to the sandy hues of its sun-caressed walls, the hotel irradiates a constant luminosity. At the same time, the movement of the sea breeze offers an invitation to discover the grand corridor.
Gorgeous Interior Design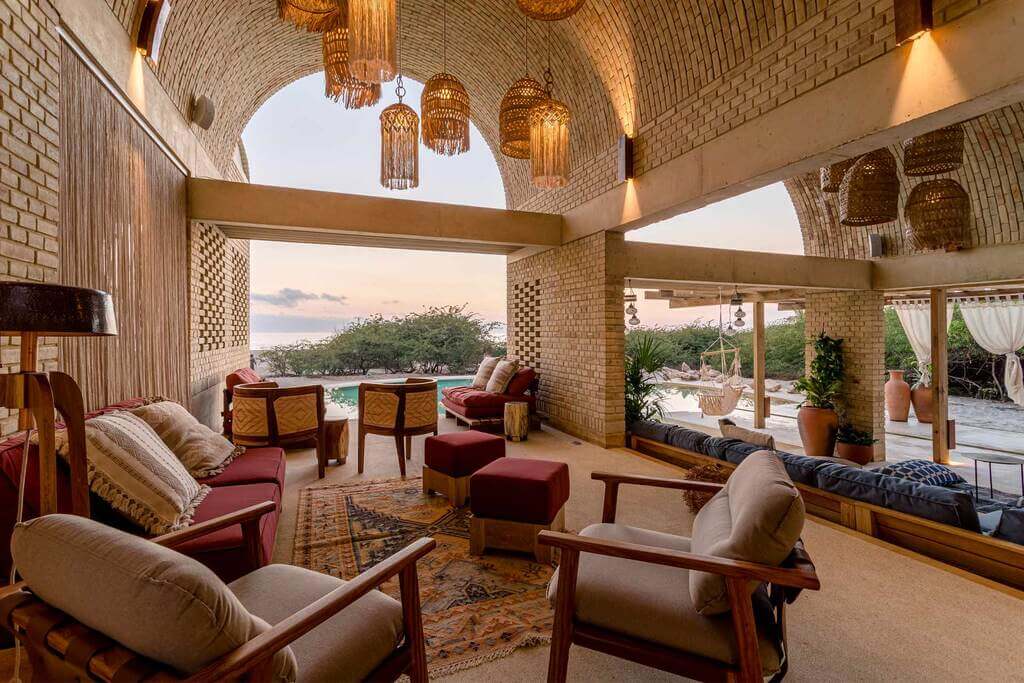 Now let's talk about the interior design of this interesting hotel. To enhance the space's natural beauty, the MOB Studio has created a contemporary concept with a significant aesthetic preference.
They have included specific elements that highlight the site's attributes and surroundings, such as the sound of the ocean, the sunset, and the movement of the breeze. Therefore they have combined the textures and colors of the architecture.
The whole space is adorn with unique items of furniture. They all are from regions well-known for their quality craft and traditions, such as Teotitlán del Valle, textiles from the Valley of Oaxaca, chairs, and curtains from Yucatán, palm-leaf lamps from Veracruz, and hammocks.
All these items are combine with other decorative elements from the Oaxacan Sierra, such as ceramists, cabinetmakers, cushions, and glassware manufacture by potters, farmers, and beekeepers from the Pueblo del Sol workshops. By doing this, they have support various sustainable production projects.
Sustainability
Architects wanted to create a structure that promotes eco-friendly and sustainable living. Casona Sforza house is situated in the serene landscape of La Barra de Colotepec, facing the Pacific Coast's golden sands, which makes it a perfect staying destination for tourists and visitors.
The entire design of this hotel is inspire by the vernacular tradition and an experience of sustainable luxury, offering personal attention, exclusivity, and privacy. It has many remarkable details and elements that are amenable, including:
The entire construction has been mainly built by local, natural materials, and there has been no use of any type of synthetic materials.

All the cleaning products in the rooms are biodegradable.

Saltwater has been use in the pool.

Sforza house has a wastewater treatment plant.

This place offers many handmade products that are locally make, such as coffee, honey, soap, and shampoo.

Food is also prepare by the fresh vegetables and fruits which are locally grown and pick.
You'll get many memorable experiences in Casona Sforza because it offers various types of body and mind-pleasing activities such as private yoga sessions, holistic massages, and private surfing lessons.
Besides these, you can also enjoy many other things such as you can get to know about the destination and its natural treasures and a range of sea activities, including the release of sea turtles, dolphin and whale watching, and several different walks and expeditions.
The Bottom Line
So this is all about the Casona Sforza hotel, designed by Alberto Kalach / TAX & Ezequiel Ayarza Sforza. I hope you like this blog, and if you do, please share it with your family and friends.
If you want to know more about these types of unique and unusual houses, read our previous blogs such as POP-UP House by FIGR Architecture Studio, Little House Big Shed, and many more.
Discover More: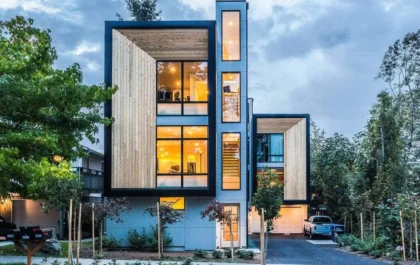 27+ Stylish & Modern Townhouse Designs for Urban Living.
The townhouse's first impression is normally too small, too compact, too narrower, and the list is endless. Well, let us…