Official Name:

Hotel 12 on Ummahat Alshaykh Islands / Southern Dunes Hotel

Location:

Saudi Arabia

Architect:

Foster + partners

Project Name:

The Red Sea Project
Recently, foster + partners have announced their plans for another hotel additionally to the Coral Bloom resort on Shurayrah island. The name of this new hotel is 'Southern Dunes Hotel.' This is another part of phase one of "The Red Sea Project Tourist Development" on the country's western coast. This project is not an ordinary hotel construction; it has been designed to be as lightweight as possible.
This Southern Dunes hotel project will consist of 40 villas, and all of them have asymmetric timber roofs. Pretty bizarre, right? It will be situated around 100 kilometers northeast of the town of Umluj (A beach town on Saudi Arabia's Red Sea coast). The whole hotel complex will be surrounded by a remote desert landscape, which is the main highlight of this project.
Senior Partner and Head of Studio at Foster + Partners, Gerard Evenden, explains, " From our work previously in the desert, one of the most important things is to avoid using what we call high thermal mass materials." He further added, " If you use stone or concrete in the desert, the problem is that over time it heats up and it becomes a thermal mass. They radiate heat, and they hold the heat. and because in the desert they are being baked every day, they never get cooled."
Foster and Partners are an award-winning British architectural design and engineering firm that has recently completed four high-speed-railway stations in the Saudi Arabian cities of Mecca, Medina, Jeddah, and King Abdullah Economic City. This is a huge infrastructure project that is currently being undertaken in the country.
As we already told you that this hotel is a part of one of two inland hotel projects, "The Red Sea Project," and this will have a chain of around 90 uninhabited islands and the Red Sea developed into a tourist resort!
The first phase of the master project includes the development of five islands, two inland sites, and 16 hotels with 3,000 rooms. It is currently under construction on the coast of Saudi Arabia. With this, the architects Foster + Partners is also designing the hub island of the development — 'Coral Bloom.'
As the Southern Dunes hotel villas will be surrounded by a remote desert landscape, they will be arranged in two lines so that inhabitants can enjoy the view of the surrounding dunes.
Architects have designed the hotel in such a way that it will be constructed using materials that are appropriate for the desert location so that it'll reduce its dependence on artificial cooling. This also means that many parts or components of the project are able to be directly transported to the site.
Evenden explains, "They radiate heat, and they hold the heat. And because in the desert they are being baked every day, they never get cooled." He continued, "This means that in order to reduce temperatures, you have to pump in systems to lower temperatures internally within these buildings because these buildings are just getting hotter and hotter."
Apart from the luxurious villas, the project also involves reception buildings, a spa, a large pool, and several restaurants. To manage everything, 700 employees or Staff accommodation is also a part of the project.
After Evenden released some of the Southern Dunes hotel project's visuals, we can see some details like asymmetric timber roofs topped with fabric supported on timber frames.
With that, all the communal buildings and spaces will be sheltered by groups of curved umbrella-like forms that are supported on timber columns.
The TRSDC project will not only be one of the luxurious tourist constructions, but it also has a policy of 100 percent renewable energy. It will also implement a range of policies, including zero-waste-to-landfill, 100 percent carbon neutrality, and a total ban on single-use plastics.
It is clear that integrating smart technology within masterplans is the key to these projects.
The architect explains, "So the physical makeup of your buildings needs to be lightweight. Lightweight materials. Simple materials that construct together." He also added, "They can then be transported as finished items. The more transportable finished items we can bring, the better, and that will lead not only to fast reactive buildings but will also lead to incredibly energy-efficient construction."
Final Thoughts!
There is no doubt that this project designed by Foster + Partners as part of the tourist development will be the "world's most ambitious tourism development." Another mind-boggling construction is the ring-shaped hotel on stilts is also under Foster + Partners, and they are also turning the dolphin-shaped island of Shurayrah into a holiday resort.
Discover More:
Himadri Shakya
Himadri Shakya is an enthusiastic Content Writer and Editor. She loves to create creative, engaging, and SEO-friendly content. Through her extensive research skills and practice, she has been generating high-quality and informative articles, and blog posts for over 4 years.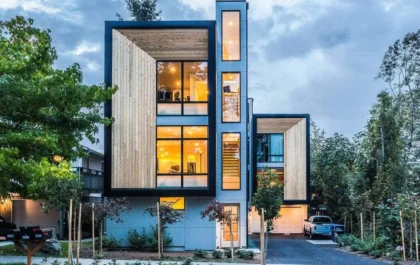 27+ Stylish & Modern Townhouse Designs for Urban Living.
The townhouse's first impression is normally too small, too compact, too narrower, and the list is endless. Well, let us…