Noways, mid century modern interior designs are widely popular but mid-century movement starts in the early to middle of the 20th century. Mid century interior has a timeless quality and is very appealing. Exploration of traditional and as well as non-traditional materials. Materials like the plastic used repeatedly in mid-century style homes because it is an excellent alternative to wood. Wood is a traditional material that has been used for years. But nowadays, materials like metal, glass, vinyl, plywood, plexiglass, and lucite are also widely used.
Modern design or contemporary design is all about the new and futuristic designs. You'll see mid-century modern interior designs everywhere. It has both traditional and contemporary elements. This style first grows in America. It is based on the Bauhaus style, which is an international style. People love this style, and they modernly apply mid century interior to their homes.
Here we provide some elements by which you can create a right mid century modern look.
Characteristics And Style of Mid-Century
Mid-century houses are basically of two types: Ranch and Split level. Ranch houses are made close to the ground, and they have low pitched and gable roofs. Split level houses are designed similar to ranch houses but in split levels. They have more than three separate levels, and stairs link these levels.
The mid-century style has an understated look and Clean lines with minimal fuss. All types of Mid century interior designs have some things in common like clean lines, gentle organic curves and use of different materials. Architects constructs homes in simple forms and designs are for everyone. The main focus is on functionality and as well as on looks. They provide luxury and comfort at the same time.
How To Achieve A Mid-Century Modern Look
You can easily achieve a mid-century modern home by applying these things in your existing home interior. Here are four ways:
1. Color Combination
There is a vast range of color combinations in mid-century style. From neutral tones to bold colors. The use of graphic patterns is also very trendy. Colors speak their language, and you can add these colors in fabrics or in another way to achieve a fantastic mid-century look.
Here are a few color combinations:
This color combination is vibrant and earthy at the same time. The bold orange highlights the dramatic Wood ceilings and windows. Wood tones down the intensity of orange. This combination looks very stylish and inviting.
White is such a classic color that you can use to achieve a mid-century yet modern look. Give some little dose of teal color that will add some pop of color in your room. This color palette is very sophisticated and gives the room more visual interest.
Yellow and green are delighted and cheerful colors. They instantly change the vibe of any room. Go for a yellow accent wall and green fabrics to create a modern look. Look for smaller accent elements to make big mid-century statements.
2. Furniture Pieces
The main point in mid-century look is less is more. They have subtlely craftsmanship in their interior designs. A neutral color wall with soft-hued fabrics on the furniture will give you that perfect mid-century modern look. Low slung furniture with brass helix style chandelier will become the focal piece in your home.
Danish-inspired mid century modern chairs will add a chic factor to your house. A mid-century table with contemporary chairs with steel legs will look perfect with mid century modern interior. You'll feel luxe in real life with these luxury velvet chairs. They came in various colors like dusty rose, moss green and teal. Avoid too many patterns; they block the overall look. Stay within the color range, when you are specifically going to use more wood elements.
3. Mid Century Interior Design Elements
A vintage wood armchair with a wood mid century media stand in your living room provides you with the perfect feel of a mid-century home. Teak Wood pieces are naturally beautiful. Place a round wooden table with some dining chairs. Have a joint family then add a large L-shaped sofa with a wooden base. From wooden cabinets to stairs, you can use wood in any form.
Use focused light with bold shapes in your house. These will add a surprising visual look to your home. Try different shapes like branch chandelier above your dining table. Pendant lights, wall lights, and ceiling lights make the place warmer and cozy.
Place a leather ottoman in your living area. It provides you with extra seating and space. Round white marble table or a metal accent table with some molded white chairs are perfect for your work area. Use of gold and silver accents in elements in the house. Try Using the molded plastic and marble items in the interior design.
Thrill your wall with spectacular artworks. You can choose from thousands of mid-century arts to create the vibe. The mid-century look isn't all about just placing the furniture. You have to include some expressive artworks to get the perfect look
4. Get Inspiration
You can get inspiration from famous architects and designers. Their work is immense and can't be described in words. The concept of the family room and Storage wall are given by George nelson. Whereas Edward Wormley is famous for creating unique table designs. They work mainly in modern mid-century furniture designs. Architects like Arne Jacobsen and Herman Miller, people remembered them for architectural functionalism and mid-century modern house designs.
The authentic pieces of mid-century modern furniture could be expensive. You don't need to spend much on furniture. Find the pieces that will fit in style and budget. You can go to a flea market and shop there. You can find awesome vintage furniture. These vintage pieces are easy to find in these flea markets. Use elements like metals, wood, and leather in your interior to create a mid-century look. Add a solid brass or copper finished table lamp on your desk. Use a leather couch in your living room.
For Additional Insight: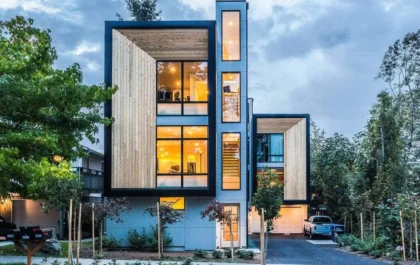 27+ Stylish & Modern Townhouse Designs for Urban Living.
The townhouse's first impression is normally too small, too compact, too narrower, and the list is endless. Well, let us…