Official Name:

50% Cloud Artists Lounge

Architect:

Cheng Chung Design (CCD)

Architecture: Luo Xu
Location:

Mile City, Yunnan Province, China

Year of Completion:

2020

Area:

550 sqm
Once in a while, a project comes that baffles the people's minds for a long time. We're talking about a structure that is strange as well as fantastical at the same time – 50%Cloud.Artists Lounge!
Designed by Hong Kong architecture studio Cheng Chung Design, this project has been recently built, and since then, it is a global topic of the talk. So why is it so popular? Are you excited to know more about this unique building?
Located in Mile City, Yunnan Province, China, 50%Cloud.Artists Lounge is actually a restaurant and exhibition space. This building has the most bizarre cavernous interiors of a brick art installation. After looking at the pictures, you might be wondering what this structure is? What does it represent?
This is one of several distinctive structures in Dongfengyun Town that evoke a giant cluster of termite mounds. Yes, you read it right, termite mounds!
The creator of this unusual cluster of buildings is Luo Xu, who is a local Chinese artist. He manifests as red brick mounds that mushroom within Dongfengyun Town in China's Yunnan Province. Cheng Chung Design (CCD) Conceptualized everything and has placed arrays of sweeping, exposed brick arches inside these structures.
These buildings are shaped just like bottles of different heights and widths, and honestly, it appears like a village for otherworldly beings. The architects and designers design '50% cloud' restaurant in such a way that it follows the distinct design language of the area and, at the same time, establishes its own unique identity. With modern art deco elements, this megalithic building appears like a mega art installation in the city.
Do you know this building is constructed without any steel or metal materials? Yes, the entire structure is built without a single steel bar or nail. Only and only local red bricks have been used so that it also blends into nature harmoniously just like termite mounds. This isn't it; there are a lot more things that'll surprise you.
The Mega Brick Structure
The whole structure is a cavernous brick building, and we already told you that it resembles a giant cluster of termite mounds.
The building interior includes solid facades, curved contours, and different volumes set at staggering heights. All the interiors spaces complement the natural curves of the exteriors, characterized by large-span arches and lofty ceilings.
The CCD's founder, Joe Cheng, said, " It was to be not only a restaurant but also an art space with an exhibition area." He also added, "It aims to serve as an exhibition hall for various cultures and arts, providing a space for the public to get close to and enjoy art, and you can see original art throughout the entire space."
The Grand Entrance
The building's entrance is not a normal, traditional entrance; it's a grand entrance that is marked by a curving steel doorway.
Designed by CCD, this structure includes other buildings in the cluster, and some of them are formed into a multi-functional hall, an art gallery, and a hotel.
Steel Panels
The entrance to the 50% cloud' restaurant is marked by a trail of curving steps. They further lead to an arched door and a series of curving steel panels.
This design is inspired by the "Honghe Hani Rice Terraces," which is a system of historic terraces used to grow rice.
It is included in the design to add an "artistic touch" that complements the building's colors and sinuous form.
Look at the pictures. Are you thinking about the weirdly shaped furniture? The layout of the restaurant's bar, chairs, and tables are intentionally kept in this design so that they complement the curves of the structure and the positions of round openings carved into its roof.
Unique Lighting System
There are many round openings in the roof that are specifically carved out to get light. These openings are everywhere in the building so that visitors can experience the interplay of daylight and cloud shadows. The pattern of light on the brick walls looks really fascinating!
CCD said, "All design elements are arranged based on light and under skylights. Natural light tells the passage of time throughout the day and creates diversified spatial experiences."
As here, the light plays a focal role in the concept; all the elements have been arranged in the position of the skylights. Natural lighting, artificial lighting, and tasteful furnishings are also added, and all together, they produce a mesmerizing environment.
Furnishings & Woven Lampshades
Another piece of decor that attracts attention is the woven lampshade. All the furniture is kept simple with cool colors and curved bodies. With that, there are large woven lampshades.  
They beautifully and softly light the room, and alongside them, there are art-deco style partitions that have been used to divide the space loosely.
A Featured Artwork
From bespoke furniture to larger sculptures, all the restaurant artwork is designed by CCD and produced by an artist called Qi Songtao. It includes an abstract, cloud-like piece and a metallic, woven artwork that mimics a human head.
The CCD team has designed every section of the interior while keeping the curved lines of the building. And, because of this, it is right to say that "every article in this space is considered to be an artwork."
The most talkative art piece in the restaurant is the woven art piece. It attracts many people because it looks like a human head, and it also symbolizes the wisdom of local people.
Also, there is an abstract 'cloud' sculpture that implies infinite combinations and possibilities.
Are you interested in reading about another incredible structure? Read our previous blog on Southern Dunes Hotel by Foster + Partners.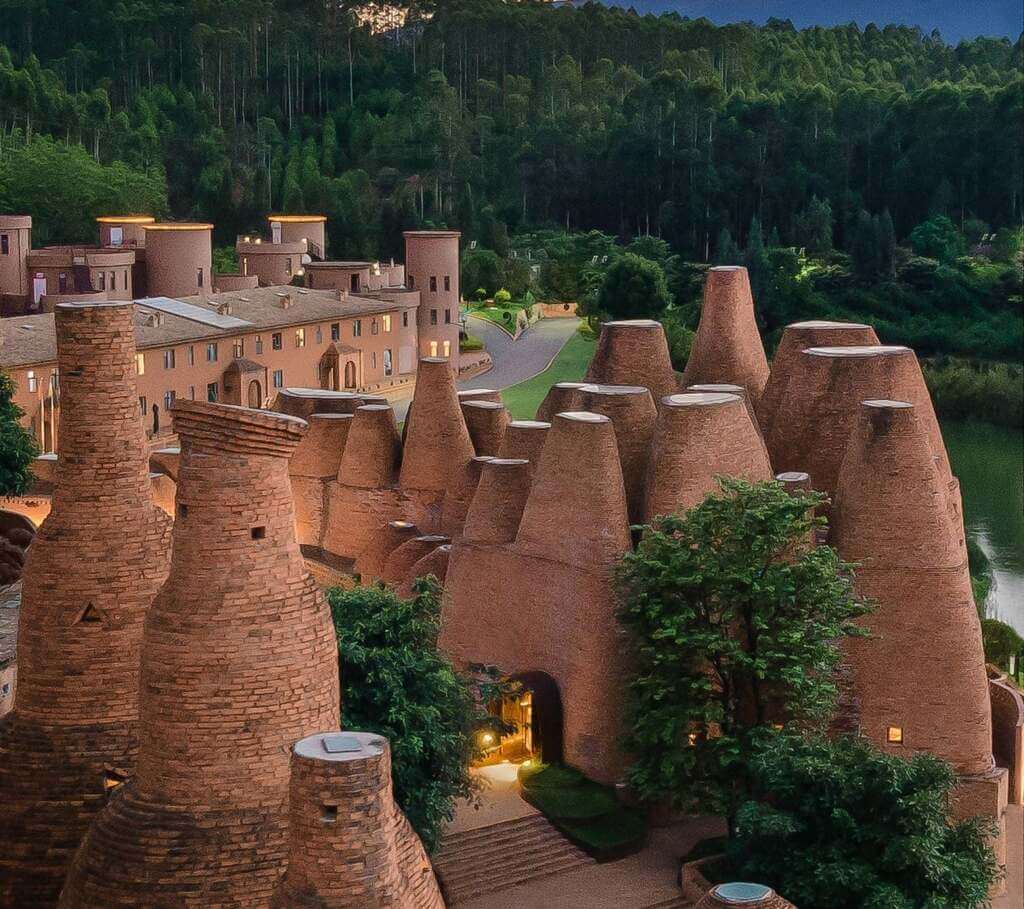 Final Thoughts!
From an extraordinary entrance which is a beautiful artistic touch to evoke imagination to the thriving greenery inside enlivens the dining atmosphere, everything in Cheng Chung Design restaurant is a point of attraction and amazement.
To Find Out More: