So what do wall panels remind you of? Ornate Victorian dwellings? A rustic country house? Or any other period homes?
Yes, wall panels do fit in perfectly there. And wall panels are equally "at home" in a modern apartment.
Does that sound surprising?
Wall panels are a great way to add some style and character to any room. Be it decorative wall panels or more basic ones, they seem to rejuvenate your apartment walls. Especially if the walls are slightly worn out.
Wall panels today need not be the heavy-duty, full oak variant only. Admittedly, they bring a period feel to the home. But a modern apartment might not be the most suitable place for this type of wall panel. More sustainable and budget-friendly options are available out there.
You can choose to add a contemporary-looking wall panel. Or opt for a classic style. You also have the option of choosing between MDF (Medium Density Fiberboard) or wood as the paneling material. But every way, wall panels add to the attraction quotient of the apartment.
There are various reasons why wall panels are a perfect fit for the shipshape modern apartments.
The panels are lightweight

You can color the pre-primed panels in any way that you want

More affordable and easier to install as compared to tiles

Makes the walls more durable and also act as space-enhancers
Various options are available as far as wall panel designs for apartments are concerned. However, there are certain parameters to keep in mind before selecting one. The size of the apartment, available lighting, and of course your budget, are some of them.
Considering all these factors, let me suggest to you some suitable wall paneling design options for your modern apartment.
1. Shiplap Wall Paneling
Source: metrie.com
The term shiplap dates back to the days of wood-paneled ships. In fact, the days of the Vikings. They used to construct their boats by overlapping the wood planks with each other. The objective was to keep moisture out.
Today, shiplap is an important aspect of wall paneling. It lends a crisp look to the room. It lends a minimalist yet attractive look to the room. Just what you need for your modern apartment. You can paint it plain white. Or you can opt for colors that match or contrast with the furnishings. Shiplap wall panels are easy to install. And they are also pocket friendly.
2. Raspberry Board Wall Paneling
Intricate wood paneling is something that has always caught your fancy. But a full-fledged wood paneling might not be the best fit for a modern apartment. More so if the apartment is of medium size.
But you have an equally attractive alternative. And that is raspberry board wall paneling. Instead of floor to ceiling, these panels usually reach up to 20% of the room's height. This measure is known as the dado rail height.
Go for the "board and batten" style by alternating the wider raspberry boards with the narrower wooden strips, called "batten." Color the panels in some softer shade. And watch your apartment walls come to life.
3. Wooden Wall Paneling
Source: laurameroni.com
Traditional style is always welcome. Provided, you can maintain it the way it should be. So, if your resources allow you, then traditional wood paneling can be a great interior wall paneling design idea. Of course, there are scopes of modifications and adjustments.
Floor-to-ceiling wood paneling might look a bit too imposing. So, you can stick to the dado rail height measure. For added effect, make a fusion of the traditional wood panel with a more contemporary and chic design option. This would add a balanced look to your apartment.
4. Gray Wall Paneling
Source: targwall.co.uk
Gray is not always about dullness or sadness. In the right perspective, it can lend a stark yet attractive look to your apartment. Especially if you love being minimalist. A grey wall paneling will make the apartment look soothing and relaxed. So, your bedroom can be a nice choice for the grey paneling.
The wall décor items and furniture can be of gently contrasting hues. And what you got in your hands is a soothing and attractive room.
5. Shaker Wall Paneling
Source: futurecdn.net
From the minimalist to the bright and colorful. Are you willing to experiment with color and style for your apartment's wall paneling? Then opt for the Shaker style of wall paneling. It's all about creating rectangular spaces on the wall panels with strips of MDF.
You can add a riot of colors to this wall paneling. It will bring the apartment alive without being gaudy. Shaker panels also create an illusion of a larger space. So smaller-sized rooms can be more suitable for such paneling.
6. Tongue and Groove Wall Paneling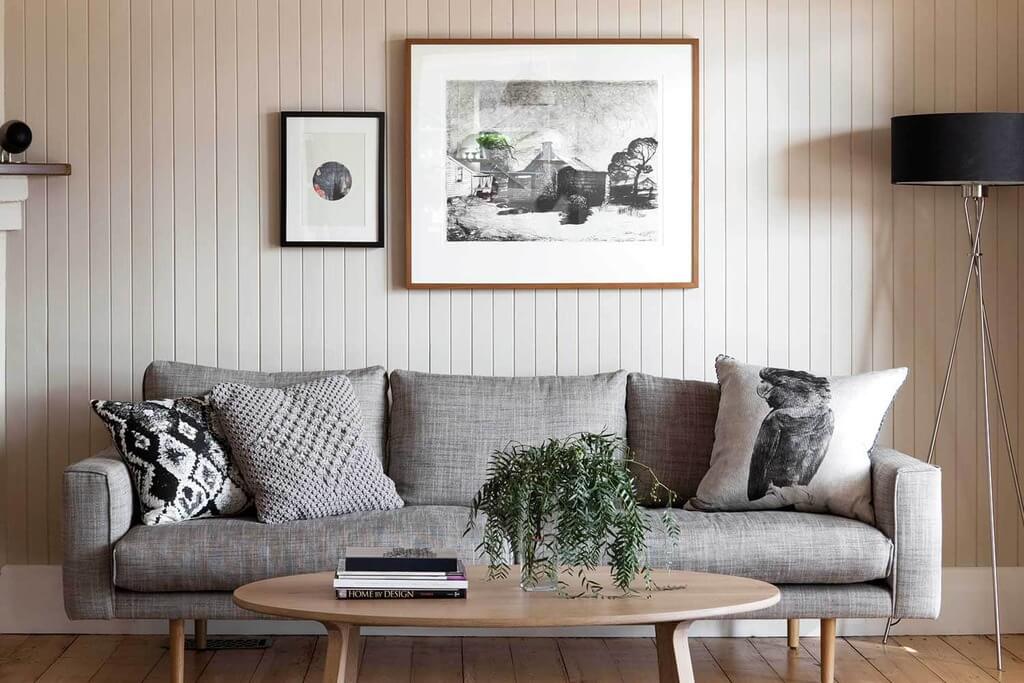 Source: tlcinteriors.com.au
Tongue and groove wall panels are all about creating a well-milled and sleek appearance. The uniformity of the panels allows for proper spacing of the planks. They also create a structured look. There's no need to chip off the edges of the panels or do any other such adjustments.
You can keep this paneling up to the dado rail height. Paint it in colors that match the soft furnishings in the room. And your apartment will have a relaxed look and feel to it.
7. White Wall Paneling
Source: homedecorbliss.com
The eternal favorite for that squeaky clean look. White has never been out of fashion. Yes, a white wall panel would need more maintenance. Especially when it comes to keep them clean.
A white wall panel allows you to experiment with various design options. Placing mirrors of various shapes on the walls, for example. White wall paneling works perfectly when you are aiming to create a clean-cut look for your modern apartment.
8. Oak Wall Paneling
Source: netdna-ssl.com
Gothic enthusiasts are going to love this. Oak wall paneling creates a dramatic feel and takes you back in time. For added effect, you may choose floor-to-ceiling paneling. It might strain your purse strings. But it will add immense charisma to your apartment.
9. Combination Wall Paneling
Want to display those exotic artworks and wall hangings in your apartment? Then opt for a neutral-colored wall panel. The color should complement your apartment's interior furnishings. And then put up the wall hangings. Your modern apartment would look even more modern with this wall paneling idea.
10. Wall Paneling and Wallpapers Combination
This is a quick-fix solution if the existing wall paneling is worn out and you are unable to replace them completely due to some constraints. Choose a wallpaper that best complements the look of the wall panel. With minimal effort, you can restore the lost beauty of the room. At least for the time being!
By now, you have got a more than fair idea of the wall panel options for your modern apartment. Now it's all about selecting a suitable wall panels vendor who would do the job for you.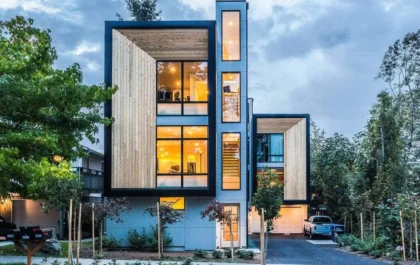 27+ Stylish & Modern Townhouse Designs for Urban Living.
The townhouse's first impression is normally too small, too compact, too narrower, and the list is endless. Well, let us…