It's easy to see why decks are so popular. There is nothing better than spending time with loved ones in the great outdoors at these locations. With so many options, it might be challenging to choose the ideal material for your house and the area in which you live.
For decks, it is all about personal preference and considerations. For some, it's all about the money, while for others, it's all about the look.
If you ever decide to put your house on the market, a large, well-built deck railing is an excellent selling point. On the other hand, Wood decks have an ROI of approximately 80%, which is much higher than competitive composite decks.
Because of the lower construction costs and increased market value of wood decks, a traditional wood furniture deck for your house is a must-have for every homeowner.
Although wood may be more costly than composites, vinyl, and other decking options, great attention should be given to the wood you pick. The wood you choose has a significant impact when it comes to upkeep, lifespan, and total lifetime expenses.
In order to create a deck, you must use the correct timber. This article will show you how to choose decking timber, look at its quality, and more.
Considerations to keep in mind while deciding on wood decking materials
Look and Feel
Source: thespruce.com
The appearance and feel of many kinds of wood vary widely.
Pine is your best bet if you're looking for an organic aesthetic with noticeable grain. On the other hand, Cedar has a more detestable structure but is still soft compared to oak or Iroko. You'll notice a unique scent as soon as you slice into it.
A sturdy, solid wood that may be colored or sealed, oak will endure a long time. Iroko is the thickest and oiliest of the three, with the deepest shade of brown.
Thermo wood is manufactured material rather than natural wood. It's simpler to clean than other softwoods.
Lightweight, silver-colored Siberian larch is often used for decking, cladding, and fences.
The grain, luster, and design of each kind of wood decking are unique. Check to see whether it matches the rest of your garden's wooden buildings before making a final decision.
Maintenance
Source: bobvila.com
It's important to pick wisely when it comes to maintaining your wooden deck since certain decking requires frequent upkeep.
Softwoods, such as pine, should be treated with decking oil once a year to keep their look and their suppleness.
More thick woods need less treatment but may only work with particular kinds of oil. Certain hardwoods need special treatment to avoid fungal degradation, such as pressure treatment.
Traditional wood sealers and stains are not suitable for hardwood since they damage the lovely wood's surface.
Cost
Source: sndimg.com
To acquire an accurate picture of costs, many factors must be taken into account. Wooden decking is often only considered in terms of the initial purchase price, but additional long-term expenditures are to consider.
Taking into account the cost of the wood and how many years it will endure is important.
Woods like Iroko and Balau, which are tougher and denser than softwoods like pine, may persist for more than 50 years before disintegrating.
There are additional costs for installation depending on how difficult the wood is to work with and whether or not there are local experts who can do the job.
Even while softwoods like pine and cedar are the most affordable decking alternatives, their yearly maintenance costs are somewhat higher than those of hardwoods.
Due to their scarcity and complexity of installation, hardwoods will become more costly with time.
Weather Appropriate
Source: sunset02.com
Choosing the perfect wood decking for your house might be difficult because of unpredictable weather. To keep them from rotting, softwoods should be treated every one to three years.
This means that the more weather-resistant woods such as Iroko, Balau, and Siberian Larch will endure longer in harsh situations.
Even though Balau or Iroko are more costly, their hardwood fibers make them less susceptible to splitting when subjected to stress. They can withstand high temperatures and strong wind, making them more durable than pine.
Over time, splinters and other abnormalities may form in the decking when the boards are damaged and bent by the elements.
Splintering is possible with softwoods like pine because of the lengthy grain length. But these woods are excellent at regulating the amount of moisture absorbed by your decking material. This is good if you want to prevent drying out too rapidly during the colder months.
If you live in a warmer climate, you might want to look into cooler decking materials, such as ipe, cedar, and mahogany.
Texture
Source: mywindowwashing.com
What kind of texture do you prefer?
Hardwoods may be buffed to a mirror finish by sanding and polishing them. They will retain their smooth textures for a more extended period of time because of their increased oil content and greater resilience to weathering.
Softwoods may be nice, but they can become rough if they aren't regularly buffed.
Slippery Surfaces
There is a risk that wooden decking may become slippery due to corrosion by water.
Moisture on the wood is the primary culprit. However, moss and algae development is the primary cause of slippery decking, even if moisture plays a role.
The idea that particular woods, such as Cedar, are more slip-resistant than others is a misconception. In reality, all woods must be treated in order to maintain their slip resistance.
ThermoWood decking is an excellent option because of its ability to resist slippage even when wet.
As long as it isn't cleaned and maintained, all types of wood decking will become slippery.
Composite decking, which does not absorb water or allow for algae growth, is the best option for long-term non-slip features.
Availability
Source: sunset02.com
Hardwoods are notoriously hard to come by, and those that are accessible do not come in a large variety of sorts and designs.
Because there's no certainty that new boards will be available and that they'll match your present deck, this may be a concern both at the time of purchase and later on.
Softwood decking will likely be accessible in the future since it is readily available and manufactured from the same kind of wood as most of the timber used in the building.
Because of a scarcity of Cedar in recent years, prices are skyrocketing, and supplies are scarce.
Conclusion
Several wood species may be utilized for outdoor decks. But not all provide the same advantages and care needs, and pricing and availability vary by area.
When it comes to choosing the timber for your deck, it's important to strike a balance between price, aesthetics, and durability.
It's a good idea to familiarize yourself with the many kinds of decking materials before you start making one. This includes both domestic and foreign species.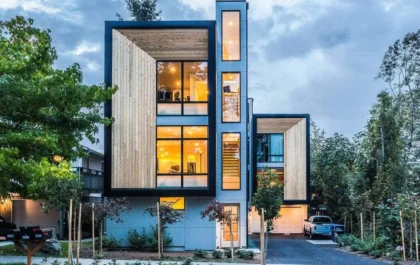 27+ Stylish & Modern Townhouse Designs for Urban Living.
The townhouse's first impression is normally too small, too compact, too narrower, and the list is endless. Well, let us…