Wall paneling ideas have a long history associated with traditional homes and designs. Their prime purpose is to provide insulation and durability, but they are also used as decorative elements.
You can choose from wall paneling ideas to achieve a classic or contemporary look. They will add depth, design, and architectural character to your space. The best decorative veneers available now are often more affordable, environmentally friendly, and simple to DIY.
Read along to know more about the wall paneling ideas and choose one for yourself!
Do You Know The History of Wall Paneling Ideas?
Source: pinimg.com
Wall panels were originally used for practical needs rather than decorative ones. They served as insulation by applying timber and wood paneling to help keep the cold stone walls warm and cover the damp patches.
During the early 13th century, plain vertical boards were used, but gradually, wood paneling became an expression of an art form. And around the 14th century, framed paneling became popular, with oak being used extensively.
Paneling developed a more traditional look during the Georgian era, with bigger, simpler painted softwood panels. Dado-level paneling started to replace full-height types as wall paneling underwent a transition during this time.
While paneling did decline in popularity until the Arts and Crafts movement, when simple oak designs fitting up to head height were preferred, the Victorians retained this trend for shorter sections. These days, the traditional polished wood and painted MDF boards are best for home decor.
Wanna Stylize Your Space? Try These Top 30 Wall Paneling Ideas
1. Board-and-Batten Type Wall Paneling
Source: pinimg.com
For board and batten-type wall paneling ideas, narrow strips called battens are installed over large, flat boards. They are often used in cottage-, craftsman-, and farmhouse-style homes, but they can go with a variety of design styles. Board-and-batten is generally laid on the bottom half of walls. But in this bedroom, it reaches the vaulted ceiling, giving it an unexpected twist.
2. Rustic Look With Acoustic Wood Veneer Paneling
Source: pinimg.com
Choose a striking wood strip decorative panel in a light, Scandi-inspired shade or a rich, dark color for a dramatic tango with tactility for modern styling personified in every manner. This trendy wall paneling idea is a must-have style for 2023. Let's see wall panels ideas here.
Each slat goes through a unique process to emboss the veneer face, giving it the incredibly popular rustic aesthetic in addition to the fact that it appears and feels like solid wood. You can easily remodel any space with simple and quick installation.
3. Mix Medium Type Wall Paneling Ideas
Source: futurecdn.net
"Wallpapering is a great way to stop bathrooms feeling too sterile and for creating truly happy spaces," says Nicola Harding, owner of Nicola Harding & Co.
Here, the bath is placed far enough away from the walls to protect the exquisite wallpaper. Apply Polyvine's Decorator's Varnish on the wallpaper to stop moisture infiltration if you're still worried.
4. Painted Wood Paneling Ideas
Source: bhg.com
Vertical wood paneling gives walls a natural texture, but too much of it may make a room look dark and antiquated. Try painting it to give it a new look. This mudroom features a contemporary two-tone appearance thanks to the use of bright white and rich hunter green.
5. Regencycore Styled Wall Paneling Ideas
Source: pinimg.com
"To transform your living space into a regal room, you should install traditional square wall paneling, which is a common feature in Bridgerton's 19th-century-style homes. For DIY wall paneling, you will need some wooden panels, a pencil, a tape measure, a laser level for measuring, and a saw and miter box for cutting. You will also need to use a pipe and cable detector before you start drilling as well as some strong adhesive and sturdy nails to secure the paneling in place." says, Ryan McDonough on the Bridgerton-inspired wall paneling idea diy.
6. Classic Wall Paneling With Modern Look
Source: pinimg.com
A great approach to blending old and new is using wall paneling ideas that fit or enhance the property's original design and architecture. Classic board and batten paneling are given a modern touch by being painted from floor to ceiling in the same mild color.
Alternately, adding a paneled area is a brilliant approach to adding individuality to a dull zone in a simple room that lacks ornamental accents or any unique architecture of its own.
7. Horizontal Wood Wall Paneling Ideas
Source: futurecdn.net
On one hand, you get the illusion of added height with vertical paneling, while on the other, horizontal panels make the space look wider. Horizontal wall paneling ideas are a great choice for small rooms. Having fresh white horizontal panels over a light gray wall with a chic layer of texture will enhance the aesthetics of your room.
8. Practical Wall Paneling Ideas In High-Traffic Areas
Source: futurecdn.net
Along with their decorative appeal, stair wall paneling ideas also have a useful aspect. Plasterwork will be protected from scratches and scrapes by lower wall paneling, and fingerprints and other stains that are unavoidable in such a busy location may be easily cleaned thanks to the use of wipe-clean paint.
9. Farmhouse-Style Shiplap Wall Paneling
Source: bhg.com
Shiplap is an incredibly popular wall paneling idea that gives any room flair and personality. Although it is most often linked with farmhouse design, shiplap walls can be used in other styles as well. Normally, the boards are about 6 inches wide, but you can change that size to give a space a new aesthetic, like with the extra-wide boards in this bedroom.
10. Artistic Wall Paneling Ideas
Source: futurecdn.net
"To make your wall paneling ideas really stand out, use bright color choices. Traditional paneling is given an edgier vibe by bold and vibrant tones." says Robin Antill, director at Leisure Buildings.
This wildly unique and pleasant DIY wall painting concept knows no limitations and is an interesting and engaging alternative to wallpaper ideas for the home.
11. Decorative Paintwork Wall Paneling
Source: futurecdn.net
Incorporating a repetitive design in a striking contrast color may give simple white wall paneling a stylish touch. When applied to plain wall surfaces, a simple Moghul-style block stencil adds an aesthetic touch and produces a decorative backdrop that is easier on the eyes than a busy wallpaper print.
12. Reclaimed Wood Plank Wall Paneling
Source: bhg.com
Install recycled wood boards in a shiplap pattern to create a rustic look for your wall paneling. A living room or bedroom accent wall is given a one-of-a-kind appeal by the wood's various textures and tones. The character is enhanced by exposed nailheads, knots, fractures, scuffs, and other imperfections.
13. Half Wall Paneling Ideas
Source: futurecdn.net
By using a half-wall DIY board and batten design for an added level of muted appeal and texture, you can elevate the appearance of your living room and give it a sprinkle of Edwardian grandeur. Choose paneling with a clean, neutral finish for something classy and fashionable, and contrast it with a cheery color for the walls to add some variety to a two-tone decor.
14. Low-Key Country-Style Cladding
Source: futurecdn.net
Choose basic tongue-and-groove paneling to give the room a more laid-back, country-style feel. Tongue-and-groove paneling is a simple alternative for an expert DIYer. It only needs a batten framework on the wall as a fastening point, and the wooden panels simply slot together and are fastened in place.
15. Raised Trimwork Wall Paneling Ideas
Source: bhg.com
The raised trim and beveled edges in your living room help to maintain its traditional style. The rectangles provide depth and flair to the otherwise plain white walls. Choose trim with flat edges for a more modern appearance, or go with a neat grid pattern consisting of squares rather than rectangles.
16. Wood Wall Paneling
Source: bhg.com
This bedroom's dramatic herringbone accent wall was made using narrow wood strips that were put at an angle. For extra precision, the strips were fitted with a tiny gap, and contrasting wood tones provided an eye-catching texture. The wall shines out as the focal point because the rest of the bedroom's furniture and decor were kept quite neutral and straightforward.
17. Match The Space With Panels and Cabinets
Source: futurecdn.net
Combine DIY Shaker-style paneling with matching Shaker-style cabinets to create a seamless feeling of continuity and harmony in open-plan kitchens where one place stops and another begins. The difference in scale between the wall paneling and paneled cabinets will add a dynamic element for added effect, making your space feel bigger as a whole.
18. Problem-Solving Wall Paneling For Small Spaces
Source: futurecdn.net
Wall paneling ideas provide a simple fix for plumbing and unsightly piping issues in bathrooms and the downstairs powder room. A built-in structure that may be clad or paneled to provide a decorative top treatment can be used to conceal plumbing that is in an awkward location.
19. Panels Over Tiles
Source: futurecdn.net
"Using bathroom wall paneling ideas, large wall areas can be covered in a fraction of the time it takes to apply individual ceramic tiles. You can easily fit panels directly to existing surfaces, including plasterboard and tiling, which means you don't have to worry about preparing the wall beneath. Removing the need for grout also makes the surfaces easy to clean – a real benefit for those with a busy lifestyle." says Helen Dennett, the UK marketing communications manager for Nuance.
20. Modern Beaded-Board Wainscoting Ideas
Source: bhg.com
Beaded-board wainscoting panels fit very well with comfortable cottage and country-style decor, either painted white or left with their natural wood finish. With a striking black paint job, this bathroom gives the traditional wood paneling notion a bold twist. Dark paneling creates a distinctive blend of modern and vintage elegance with white flooring and polished brass accessories.
21. Picture Frame Molding Wall Paneling
Source: bhg.com
Picture frame molding can be used to accentuate wall art or provide the appearance of higher ceilings. To get this look, molding is added to the walls to form a series of boxes that resemble frames and may be altered to highlight different characteristics. The picture frame molding in this bedroom is sized to draw attention to the headboard, and smaller rectangles of molding are used on either side to frame the complementary nightstand mirrors.
22. Colored Panels for Bold Personality
Source: futurecdn.net
"Be brave with color! Paneling doesn't mean you can't experiment with textured or fun paints. Horizontal wood-paneled walls can also help balance out bolder reds, oranges, and bright blues." say Hillarys' interior experts.
23. Paint On Architectural Details For Paneling
Source: futurecdn.net
Walls can be covered in anomalous planks and painted with decorative accents to give them a rustic, homey vibe. It unifies the room by using the same mustard yellow for the stenciled frieze and the faux dado rail border.
24. Treat Wall Paneling Ideas Like A Piece Of Art
Source: futurecdn.net
Modern interiors can be lifeless without a focal point, like a fireplace. Making a beautiful paneled feature wall is one way to approach this. The wooden theme is continued here in the choice of furnishings, which elevate the panels into artwork.
25. Geometric DIY Wall Paneling Ideas
Source: bhg.com
Use 3D wall paneling ideas to create a geometric pattern that stands out against the wall. Compose your design first, then use skinny wood boards to install it. To make the boards stand out from the wall and give them dimension, choose a glossy paint finish.
26. Lattice Wall Paneling Ideas
Source: bhg.com
The intricate wall decor in this entrance is built of trim and lattice. To replicate the appearance of wood paneling, the DIY design alternates diagonal and straight grids. The lattice panels' various sizes also produce a lovely variety of textures.
27. Natural Tactile Wall Paneling Ideas
Source: futurecdn.net
"Spring decorating trends will bring more woven textures and natural materials into the mix. Clients recognize the importance of biophilic design – think muted colors, ship-lap walls, bleached woods in paneling and walls, and nature-inspired colorways for a warm and contemporary look," says Shoshanna Shapiro, owner, and principal designer of Sho and Co.
28. Super-Sized Headboard With Paneling
Source: futurecdn.net
A three-quarter-height wall of fabric-backed panels behind the headboard, as in this Helen Green Design plan, will add depth and delicacy to an opulent bedroom. The soundproofing it provides against outside noise is an added benefit.
29. Fluted Wall Paneling Ideas For Contemporary Feel
Source: futurecdn.net
It is often used in architecture to offer texture and appeal, and in this instance, it has been utilized as a partition wall to infuse personality into a contemporary dining room with few architectural details. The warmth of the wood used for the paneling also quickly increases the coziness of a minimalist design style.
30. Earthy-Themed Wall Paneling Ideas For Bedroom
Source: futurecdn.net
Use thick fabrics in warm colors and wood wall panels, or a busy pattern on an accent wall, to create an even cozier master bedroom design. Shades of mustard and ochre in particular will add warmth to any space.
Time to Choose From These Wall Paneling Ideas!
Source: ytimg.com
There are many different wall paneling ideas to choose from, depending on your preferences and the age of your home. Some have a more ornate look, like hand-carved friezes and pilasters, while others have a more traditional, aged, and polished finish. Still others, like the Tudor linenfold, are very ornamental.
It is completely up to you, but a common strategy, just like with other wall décor ideas, would be to match the paneling style to the age of the house. So, consider your preferences and select wall paneling ideas accordingly.
Also Read: 50 Amazing Man Cave Ideas That You'll Love
FAQs: Wall Panelling Ideas
1. What Is the Right Wall Panel for Your Home?
There are a lot of wall paneling ideas available on the market. But it depends totally on your personal preference regarding which diy wall paneling ideas will suit your space. Just make sure that your paneling matches your room theme, is budget-friendly, and is easy to fix.
2. Which Is Cheaper – Paneling or Drywall?
As wall paneling requires careful trimming of wood, drywall is cheaper than wall paneling. Moreover, paneling isn't always made to be soundproof, unlike drywall. Instead, wall paneling is often only decorative, which is where its value rests.
3. Is Wood Paneling Still Relevant?
Traditional dark wood wall paneling ideas were popular in historic buildings, but it's not that they are outdated. Wood wall paneling is still used to create modern, contemporary, and timeless wall decor.
4. Does the Room Look Small with Wall Paneling?
It's not that the room looks small with wall paneling; instead, it depends on –
The quantity of daylight that enters the space

Wall paneling height

The color and texture of wood, and the color palette, in case, painted.

Color of wall, ceiling, and flooring
We can prevent making a room feel smaller by using lighter wood wall paneling, like ash or oak (or a light color palette if painted).
5. How Much Does It Cost for Wall Paneling?
Depending on the model you select, wall paneling prices can vary significantly. While real wood shiplap can cost upwards of $30/sq.ft., a basic picture frame molding kit can be purchased for just $10 per set.
More from The Architecturesstyle
For more information about the latest architectural development, keep coming to Architecturesstyle.
Also, do follow us on our Instagram page, Architecturesstyleideas, to get daily updates.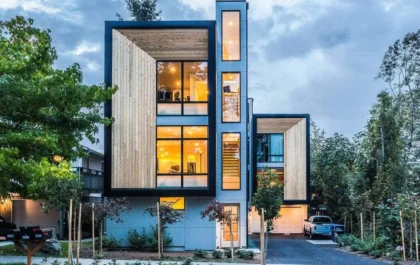 27+ Stylish & Modern Townhouse Designs for Urban Living.
The townhouse's first impression is normally too small, too compact, too narrower, and the list is endless. Well, let us…