Many people love to create amazing things out of scrapes and place them in their homes as a part of interior design. There is no scrape in this world that can't be turned into beautifully crafted pieces. So is the case with wooden crates that can be transformed into the most useful furniture accessories. Today we will give you outstanding DIY wood crate furniture ideas that will blow your mind, and you will also apply them to craft the most amazing things out of a scrape. You didn't even need special skills or tools for creating this DIY.
20 Remarkable DIY Furniture Ideas With The Wooden Crate
Source: homedit.com
In today's article, you will learn quick, affordable, and easy DIY ideas with the help of wood crate furniture. We will tell you how you can recycle them into adorning design furniture elements like storage solutions, benches, bookcases, tables, and much more. So, without wasting time, let's look at each idea one by one:
1. Comfortable Sleeping Crate for Pets
If you have a small cat or dog at home, you can make a soft/comfortable sleeping area for them. Simply paint the wooden crate to give it a one-of-a-kind appearance and then place a cushion inside to create a cozy, soft space for your pet to sleep.
2. Amazing TV and Storage Stand
Source: mrkate.com
If you are thinking about the temporary placement of your TV until you decide on a permanent solution, then think about a storage stand made up of wooden crates. You need to get only 4 crates and join them in such a way that their storage spaces are at the front and the back, at the side of the wall.
You can easily place your TV on the top of the stand and other necessary items in the storage boxes.
3. Outstanding Stool with Having Storage Box
You can transform a wooden crate into a stool by having a storage box. To create a storage box, take a solid wooden crate and cover its top with a plywood board. Then take a piece of foam that is covered with fabric and place it on top of the plasterboard. This will not only give a sitting area but also a storage box with it.
4. Creative Bookshelves
Source: sndimg.com
You can place the created items in a different order on an empty wall and make a collage to keep the books in it. Paint the crates with decent colors to match the interior of your room. This will be an affordable and durable solution for keeping your books organized.
5. Moveable Storage Stand for Keeping Different Things
If you are a book lover and also love to place plants near you, then you can create a storage stand that fulfills these needs. You need only two wooden crates and moveable wheels to craft this beautiful stand. You can place books, notes, magazines, and other things into the storage boxes, and at the top, you can also place amazing plants that will give you a natural feeling.
6. Customized Shoe Rack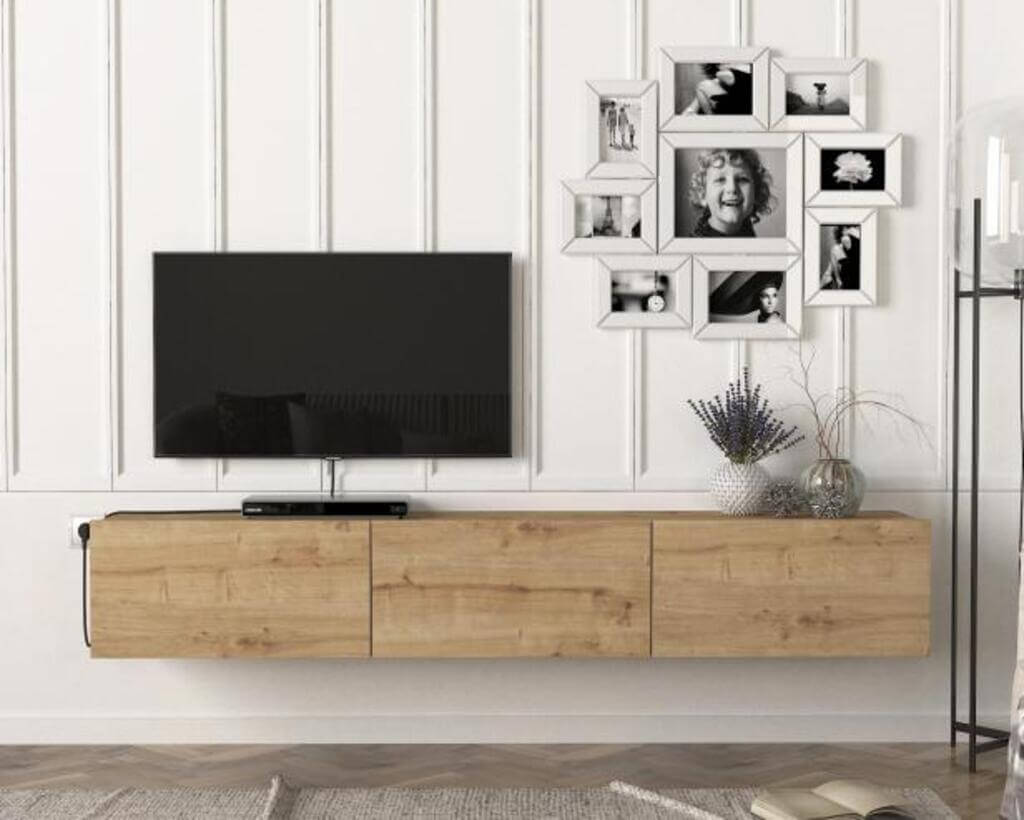 Source: makeanddocrew.com
Every woman needs a large storage space for placing and organizing her shoes. You can easily complete your dream with the help of wooden crates. Take the crates and align them in a different order and create an amazing collage. Apply the paint that matches the interior of your home. By doing this, you will easily get large storage for keeping your shoes organized and clean.
7. Painting Crate Organizer
A painter needs different boxes for organizing the painting items. For that purpose, you can take the old bottle crate that has many boxes in it. You can easily place all the painting items and organize them perfectly.
8. Crate Cabinet with Sliding Drawers
Source: architectureartdesigns.com
Transform the useless wooden crates into a unique cabinet featuring sliding drawers. This modern DIY will blow your mind when you craft it and will become an inspiration for everyone who looks at it.
In the cabinet, the crates are placed on the sliding bars that make it easy for you to put in and take out the items from the drawers. You can place anything you want into these storage boxes.
9. Unique Side Table
The wooden crates can be crafted into a stunning side table that you can use to keep various things, like books, magazines, and other items that you need. By adding the wheels, you can turn it into a moveable table that you can place in any room of your home wherever you need it.
10. Customized Toy Crates
As we all know, children need a lot of storage space for placing their toys. Get large containers for them, and that will be costly for you to get. But don't worry, you can create unique toy boxes out of wooden crates. Paint them with elegant colors as per the choices of your kids.
11. Remarkable Snack Box for Kids
Source: architecturaldigest.com
If you are worried about storing snacks for your kids, then wooden crates are the best solution. You can make an amazing snack box by using only a single crate, painting it with unique colors, and adding funny words to make it more appealing.
12. Stunning Console Table
You can craft a rolling console table out of a wooden crate scrape. It will give you the nine storage boxes as well, which you can use to put your necessary things in them. You will need 9 wooden crates and a solid wooden beam to cover the gaps and make it more durable. You can also place various items on the top of the table.
13. Wooden Night Stand
Yes, you can easily create a nightstand with these crates investing no money. You only need two crates to get your nightstand. It will also allow you to keep the things on the storage side, and at the top of the stand, you can place the night lamp and other things you want.
You can also paint it with a color that matches the interior of your room to get more effective results or make it from furniture-quality plywood board for a more natural, bohemian look.
14. Durable Wooden Crate Bench
Source: woodenstreet.com
With the crates, you can build a strong/durable bench that will last for many years without being damaged. You need only three wooden crates to make this bench, and you have to apply the boards on the top and downside of the bench to strengthen it.
15. Enduring Wooden Crate Plant Box
If you love gardening and want to create an amazing box for placing your plants, that will enhance the beauty of your garden. You must think about making it with the help of wooden crates. Apply the paint like a garden theme on the outer sides of the box to make it more attractive. Or you can use artificial grass to increase the beauty of your garden.
16. Complete Shelf Statement
Source: woodenstreet.de
If you want to turn an empty wall into a complete shelf with a cheap and affordable method, then wooden crates would be the perfect choice for you. You can get an amazing shelf statement by attaching the creations in different alignments and painting them with the best contrasting colors.
This will create a collage of wooden crates that will give an aesthetic and appealing look to the interior of your home that can attract anyone who takes a glimpse.
17. Multifunctional Storage Boxes
By creating these boxes for placing multiple things, and by attaching the wheels, you can easily move and place them in any area of your home. You can also apply amazing paints to make them look more beautiful.
18. Moveable Outdoor Coffee Table with Storage Boxes
Source: hayneedle.com
You can also create a coffee table for your porch with the storage boxes too, with the help of wood crates. You can put on drinks, snacks, flower pots, books, and whatever else you want. You can also attach the wheels to the tables and make the tables easily move from one place to another.
19. Bedroom Crate Storage
Many people face problems with storage in their mini bedrooms because they don't have space to even stand the cupboards in their room. This fantastic solution will blow your mind because the wooden crates will be placed under your bed and you can easily put the things into them.
It will give comfort, style, and functionality as per your requirements. You can place them under the hollow area of your bed, and you can place various necessary items in them.
20. Fantastic Wooden Crate Desk
Source: woodenstreet.de
Home offices have been a trend nowadays after the pandemic of COVID-19. You can easily do your work in a corner of your home by making a wooden desk out of wooden crates and placing it in your home.
This cheap DIY will be helpful for you, and you won't have to spend a lot of money on purchasing luxurious furniture. It is also highly durable and comfortable for you to sit and work for hours and hours without getting tired.
You will need only 8 wooden crates to create the entire desk, from which four boxes will be used as storage cases and the other 4 will be part of the shelves at the top of the desk.
Conclusion
These are the top 20 furniture DIYs that you can craft with the help of wooden crates. I hope all the ideas mentioned above will be helpful to you. If you have other amazing ideas like these, then you can share them with us by posting a comment.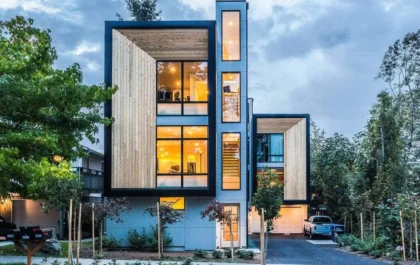 27+ Stylish & Modern Townhouse Designs for Urban Living.
The townhouse's first impression is normally too small, too compact, too narrower, and the list is endless. Well, let us…