There's a wide variety of materials you can use when it comes to interior walls and ceilings. From traditional walls of brick and mortar or lath and plaster to wooden planks, plywood, and veneer boards, or one of the most common materials used today, plasterboard. All these can be utilized for many building scenarios, from repairing or remodeling individual rooms to large-scale renovations and complete interior solutions when building from the ground up. Some materials are preferred for their insulative properties, while others are chosen exclusively for the look they give to the room. Since plasterboard is the preferred choice for many, here, I'll take a look at the different types, and the reasons to go for plasterboard over many other interior offerings.
What Is Plasterboard?
Plasterboard is a wall panel consisting of calcium sulfate dihydrate, also known as gypsum, sandwiched between thick pieces of hardened paper backer and facer. It became popular at the turn of the 20th century and was particularly used in the building boom after the Second World War.
Its design and qualities have been perfected throughout the years, by the use of different additives that lend it specific insulative qualities. This allows for different types of plasterboard to be better suited to different rooms.
Types of Plasterboard
Whether you need to deaden sound from adjacent rooms or floors, provide for better insulation of heat and moisture, or need to install walls where there is a significant risk of fire, different varieties of plasterboard are available. They'll have a combination of gypsum and additives for the specific task, and modified backer and facer paper to better withstand exposure.
The plasterboard is color-coded, making it easier for builders to differentiate during installation. In addition, the way plasterboard is cut and packaged varies, with square-edged plasterboard used mostly in textured surfaces, and tapered edge plasterboard used in creating seamless joints. Boards are sold in different sizes, including thickness and density.
Fire-Resistant Plasterboard
Fire resistant plasterboard consists of gypsum and a mixture of glass fibers to stand up to potential fires. The gypsum and glass fiber mix is non-combustible and the lining paper may consist of metallic particles for additional fire resistance. It is recognizable by its pinkish color.
Fire-resistant plasterboard is rated against British building standards regulating fire safety. The plasterboard must last at least 30 minutes of exposure to flames, leaving enough time for occupants to safely exit the premises. There are also boards rated at 60, 90, and 120 minutes. The most expensive variants may be entirely fireproof.
Generally, the higher the fire rating – the thicker and heavier the board. Thickness comes in at 12.5mm or 15mm. Different sizes will fit walls and ceilings of varying height and width from 1800mm, 2400mm, 2700mm, and 3000mm, and widths of 900 or 1200mm.
Fire-resistant boards can be found separately, or sold in pallets. In residential buildings, fire-resistant boards are used where there is more generated heat, like kitchens. Large, dense boards are legally required in most commercial and industrial buildings.  
Water-Resistant Plasterboard
Water-resistant plasterboard contains a mixture of gypsum and water-repellent additives to repel liquids and moisture. Water-resistant plasterboard is typically green in color and is usually left unplastered after installation. Like the fire-resistant variant, it comes in different heights, widths, and thicknesses.
It is used in rooms with exposure to water and humidity, such as bathrooms, where other types of plasterboard may be damaged and crumble over longer periods. There are variants that can also be installed over tiles. Individual boards or pallets are sold.
Vapour-Resistant Plasterboard
Vapor-resistant plasterboard prevents vapor and warm air from penetrating walls and ceilings, which may cause mold and mildew, or even rot to supporting wooden frames. These boards are similar to water-resistant variants, except for the metalized polyester linings. They come in a whitish-grey color and in standard sizes.
Sound/ Acoustic Plasterboard
Acoustic plasterboard mainly consists of a mineral-wool core and additional layers, and an outer lining capable of absorbing sound waves. Thickness varies, from the standard 12.5 and 15mm boards to thicker 19mm plasterboard used in especially loud places, or where there is a need to insulate interiors from outside noise, like studios.
Denser boards of multiple layers will absorb sound better. Other areas include recreational rooms, family rooms and basements, and in-between floors in buildings. Most acoustic boards also have some form of moisture resistance. They are often sold in a blue or blue/green color, either separately or in pallets.
Impact Plasterboard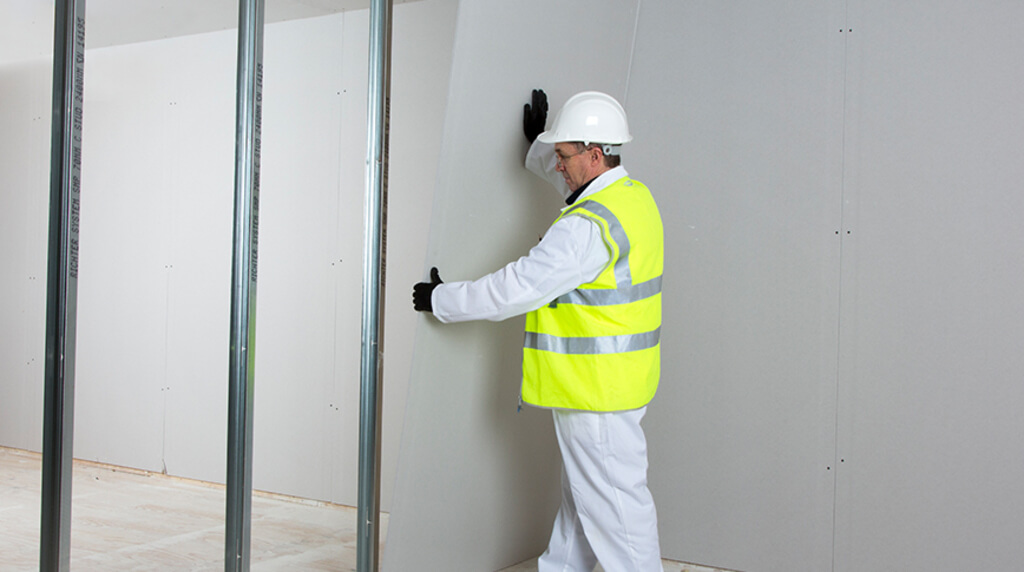 Impact Plasterboard has a denser inner core and thicker outer linings able to withstand up to double the force of other plasterboard types. It is installed in busy places with a high frequency of people, like corridors and hallways, and schools and hospitals. Most impact boards are also sound and water-resistant. Impact plasterboard is typically yellow.
Insulated Plasterboard
Insulated or thermal plasterboard is designed to keep warm air inside. It consists of a piece of general plasterboard sandwiched between thick layers of insulation glass wool. This is the thickest board sold, with thickness ranging from 20mm to over 100mm.
It is used to line interior walls of brick or other materials for better thermal insulation. Insulated plasterboard is generally an orange/brown color.  
Other plasterboard types include general white plasterboard, often white and thinner than the variants above, and plasterboard used in sheathing and weatherproofing external walls.
Advantages of Plasterboard
Plasterboard is relatively light compared to other building materials, is easy and quick to install, and has insulative properties suited for different types of rooms. It is cheaper than other materials; making it an easy option to replace if damaged or when you decide to renovate.
Fewer people and materials are needed during installation, meaning it is also time-effective. It can be combined in existing structures and rooms easily and seamlessly; with boards that can be painted to suit their surroundings.
Plasterboard comes in varying thickness and pre-cut sizes to suit different ceiling heights and room widths. When buying, consider the application and the type of room. Plasterboard is sold across the UK in stores specializing in interior insulation solutions, and general building materials stores. Most are also online, meaning you can pre-plan your next building project.
Discover More: