Whether you're trying to enhance your home for your benefit or that of future buyers, you've likely wondered what exterior improvements you can make on a limited budget. While it's true that you can achieve a great deal with no financial limitations, you might be surprised by how many positive changes you can make with minimal money. If you're stuck for ideas but are ready to begin your exterior renovation journey in earnest, here are a few ideas to help you get started.
A New Mailbox
Source: pcdn.co
Mailboxes are typically one of the last things you consider when renovating your home. After all, they're just a mail-holding receptacle. However, if your property is in excellent condition and your mailbox isn't, it can attract people's attention for all the wrong reasons.
Fortunately, there are many unique mailboxes for sale from leading suppliers like Hardie Boys that can work in harmony with your home's overall design. If you're unsure what's available and what would suit your home, you can choose from multiple options, such as:
Wooden

Metal

Plastic or PVC

Interlocking

Anti-pry

Newspaper

Rear-access

Locking

Wall-mounted

Post-mounted

Pedestal-mounted
General Maintenance
Source: unsplash.com
If you're in the process of putting your house on the market, it's important to view your property with a judgmental eye. Any maintenance tasks you've been putting off will likely be viewed critically by prospective buyers.
General maintenance is easily a cost-effective exterior improvement that won't break the bank. Something as simple as cleaning grass out of the spouts, pulling weeds out of the garden, and fixing broken fence palings might make a significant difference. Such tasks also generally only require basic home improvement tools. When the time comes to put your property on the market, you might then not need to worry about minor imperfections putting prospective purchasers off.
Fresh Paint
Source: nashvillesmls.com
Whether you have peeling paint on your fence or paint that looks less than perfect on your front door or entire home, a fresh coat might be all it takes to give your property a new lease on life. Peeling paint can make a property appear tired and worn, which might not give visitors the impression you want. hence, it is best to hire exterior painters to refresh your house
Fortunately, painting is typically a cost-effective exterior improvement, whether you do it yourself or hire the experts. Deciding to paint your home might also be the perfect time to consider new, fresher colors to make your home appear more contemporary or vibrant.
Landscaping
Source: home-designing.com
Your home might be tidy, well-maintained, and fresh, but poorly maintained grounds can detract from your property's overall beauty. While life gets busy, it can be worth setting time aside to focus on your yard when you want to improve the overall aesthetics of your property. Simple changes might make a difference, such as:
Pulling weeds

Raking leaves

Edging gardens and pathways

Waterblasting hardscapes

Adding mulch to garden beds

Planting new shrubs and flowers
If your gardens currently require much more maintenance than your schedule allows, consider enlisting the services of a gardener. Alternatively, ask a landscaper to design more low-maintenance grounds to suit your busy family's needs. The best landscapers can share a range of innovative garden design ideas to help you transform your property on a budget.
Exterior Lighting
Source: cnet.com
Fumbling around in the dark with your house keys when you return home can be frustrating, especially when you just want to get inside where it's warm and comfortable. This scenario might not be a problem if you invest in exterior lighting.
Simple pathway solar lights and hard-wired timer lights by your front door can both be ideal options for aesthetic and functional purposes. They can illuminate your property and show off its greatest features while possibly even helping you feel safer while venturing from your vehicle to your front door.
Also Read: 25 Types of Exterior House Stone That You'll Love
A New Front Door
Source: thespruce.com
The front door is typically the main entrance to your home, and one that visitors use before you welcome them inside. Generally, the front door is also visible from the street and can be one of the first things passers-by notice about a property. Don't let yours stand out for the wrong reasons.
If your door is old, worn, outdated, or no longer fit for purpose, consider upgrading it to a more modern, fresh, and functional door. Replacing your door also allows you to upgrade to more sustainable and energy-efficient options, such as glass panes with insulation and wood doors with sustainably-sourced materials.
Pot Plants
Source: thespruce.com
If your home's main entrance is looking a little bare, bland, or colorless, pot plants might be the solution you've been seeking. Vibrant plants in beautiful, large pots positioned by the door could transform your entrance from drab to fab.
If you're on a tight budget, look for clearance plants that need a little bit of extra love to bounce back to full health. You might also be able to purchase used garden pots from your local thrift store or social media users online.
A full property exterior transformation can seem like an arduous and expensive undertaking, but it doesn't have to be. A few small changes and general maintenance might be all it takes to restore your home's exterior to its former glory, making you proud to call it home.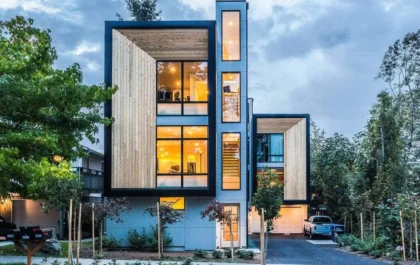 27+ Stylish & Modern Townhouse Designs for Urban Living.
The townhouse's first impression is normally too small, too compact, too narrower, and the list is endless. Well, let us…