When you're about to let out a property, you'll need to decide whether you're going to furnish it or not. This can hold significant sway over a potential tenant's decision to rent your place. So how do you decide which option is better for you? Read this blog to find out the difference between Furnished vs unfurnished units
What Is a Furnished Unit?
Source: globalluxurysuites.com
A furnished unit refers to a living space, typically an apartment, house, or condominium, that comes equipped with furniture and essential household items. It is ready for immediate occupancy and provides all the necessary items for comfortable living without the need for the tenant to bring their own furniture.
A furnished unit typically includes basic furniture such as beds, sofas, dining tables and chairs, dressers, and storage units. It may also include appliances like a refrigerator, stove, microwave, dishwasher, and washing machine. Additionally, essential items such as kitchenware, linens, curtains or blinds, and sometimes electronics like a television and a sound system may be provided.
The specific furnishings and items included in a furnished unit can vary depending on the landlord or property owner. Some furnished units may offer a fully equipped kitchen with cookware, utensils, and small appliances, while others may provide a more basic setup.
What Is an Unfurnished Unit?
Source: sterlingpropertysolutions.com
An unfurnished unit, also known as an unfurnished unit, refers to a living space, such as an apartment, house, or condominium, that does not come equipped with furniture or essential household items. It is a blank canvas, providing only the basic structure and fixtures without any additional furnishings or decorations.
Unfinished units offer a flexible and customizable living option. Tenants or owners have the freedom to choose and arrange their own furniture and décor according to their personal tastes and needs. It allows for a more personalized living space where individuals can create a home that reflects their style and preferences.
While the initial cost of furnishing an unfinished unit may be higher compared to renting or purchasing a furnished unit, it also provides the opportunity to select furniture and items that align with one's specific requirements and budget. It allows for the freedom to design the space to suit individual preferences and lifestyles.
The Benefits of a Furnished Rental
Source: squarespace-cdn.com
One of the main benefits of furnishing your rental is that you will appeal to a growing market of short-term and mid-term renters. The student and young professional markets are huge. They are typified by individuals who like to rent for a short period and then move on. For this reason, the idea of renting an empty apartment and having to fill it with furniture of their own isn't always practical.
And if you are renting a business property out, a furnished property is often very attractive to companies because it allows them to get the ball rolling in a new venue as soon as possible.
From a practical perspective, if your tenants don't need to bring the furniture, you minimize the risk of getting scratches on the walls from moving and shifting.
The Benefits of an Unfurnished Rental
Source: squarespace-cdn.com
On the flip side, renting out an unfurnished home has a unique set of benefits. If you're targeting long-term tenants, then leaving it to them to fill the property is a good incentive for them to stick around for at least a few years.
The onus will also be on them to insure the furniture, rather than you. You won't have to spend any time picking out new beds, tables, and chairs in IKEA, nor will you have to set aside time to install them or replace them when it gets broken. With a furnished property, also, extra care must be taken to ensure all your furnishings meet certain requirements.
Insurance Matters
As a landlord, there are a few different types of landlord insurance you need to know about.
Legally, you must get building insurance, no matter whether you furnish your property or not. This can cover you against any surprise disasters that could hit your property and leave you out of pocket otherwise. These typically include fires, floods, vehicle collisions, and falling trees.
There's no obligation for you to get contents insurance, but it's strongly advised that you do this if your property is furnished. Check the specifics of your policy carefully, as the protection can vary between providers. Commonly, items such as kitchen appliances, sofas, carpets, and lighting fixtures are protected.
If you're renting out to multiple tenants in a house share or flat share, your policy will probably cover the communal areas but won't cover tenants' items. It would be their responsibility to purchase their own cover for that.
The Financial Considerations
Decking out a property with new furniture yourself is, of course, an up-front cost. It's a balancing act of pros and cons because, on the other hand, a furnished property also gives you the leeway to charge a higher rent. If you gauge this right, you may be able to earn back the expenses with a profit too, in the long run.
If in doubt, try and put yourself in the mindset of the type of tenants you want to attract. There's no doubt that furnished properties are in high demand, so sometimes the cost of furniture is an expense that turns out to be an investment over time.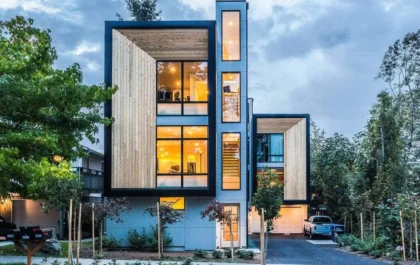 27+ Stylish & Modern Townhouse Designs for Urban Living.
The townhouse's first impression is normally too small, too compact, too narrower, and the list is endless. Well, let us…