A frame house is a unique house with spectacular triangular silhouettes made of steep roofs. These types of homes have existed for centuries and are now making a comeback as cozy cabin-style vacation homes. A frame homes have a rustic vibe and are minimal yet striking.
The steep roof doubles up as walls, and thus these houses are relatively inexpensive to build. Their high ceilings with sometimes double or triple floors combine to create unique spatial angles uncommon in homes.
If you own or plan to own an A frame house, it's essential to ensure that your electrical systems are safe and up to code. Professional electrical services for your home can help with installations, repairs, and maintenance, ensuring that your electrical systems function optimally and safely within the unique structure of an A frame house.
Below, we've curated a detailed guide on A frame house design ideas that includes everything you need to know from the pros and cons to tips and hacks on how to design A frame house interiors.
5 Pros and Cons of A Frame House
Pros:
A frame home all

ows ample light to flood the interiors. This makes the house seem larger and open.

The sloping roofs have additional seasonal benefits, it doesn't accumulate excess snow and can be cleaned easily.

They look pretty aesthetic and are 100% Instagram-worthy.

A frame homes t

ake up less space and generally have open layouts. This gives open, cozy, elegant, and appropriately functional spaces.

The spatial configuration is unique and the kind of space formed is remarkably unique, unlike the ones we see regularly.
Cons:
Adequate ventilation and airflow can be challenging to achieve.

It may be difficult to strategically place furniture in A frame homes.

The space on the upper floors cannot be used optimally, resulting in a loss of footage.

Incorporating a staircase can be a complex endeavor. M

ost A frame house interiors us

e spiral staircases that have access limitations.

They are difficult to insulate and thus may feel less thermally comfortable.
17 Ideas for A Frame House Interiors
1. Opt for Full-length Glass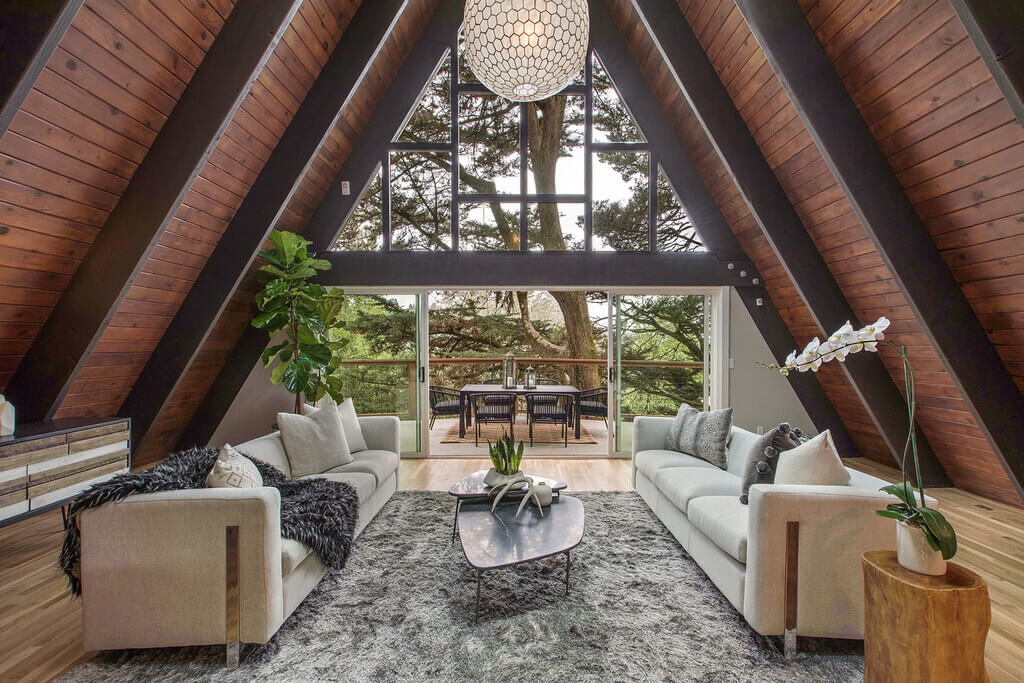 Full-length glass walls when used in A frame houses elevate the quality of interiors by flooding the interior spaces with ample light. It gives a sense of openness to the space while giving great views and vistas of the exterior landscape. This feature is a must-have for creating cozy yet open A frame homes and can be used irrespective of the interior style of the home.
2. Make a Statement
The modern A frame house has strong distinctive spatial features because of its form. But, this should be no reason for you to stop jazzing up your interiors. You can go bold and use statement pieces in your house. Dark contrasting colors that stand out against the subtle walls or patterned rugs and statement chandeliers can be very well used to create bold interior language.
3. Keep it Simple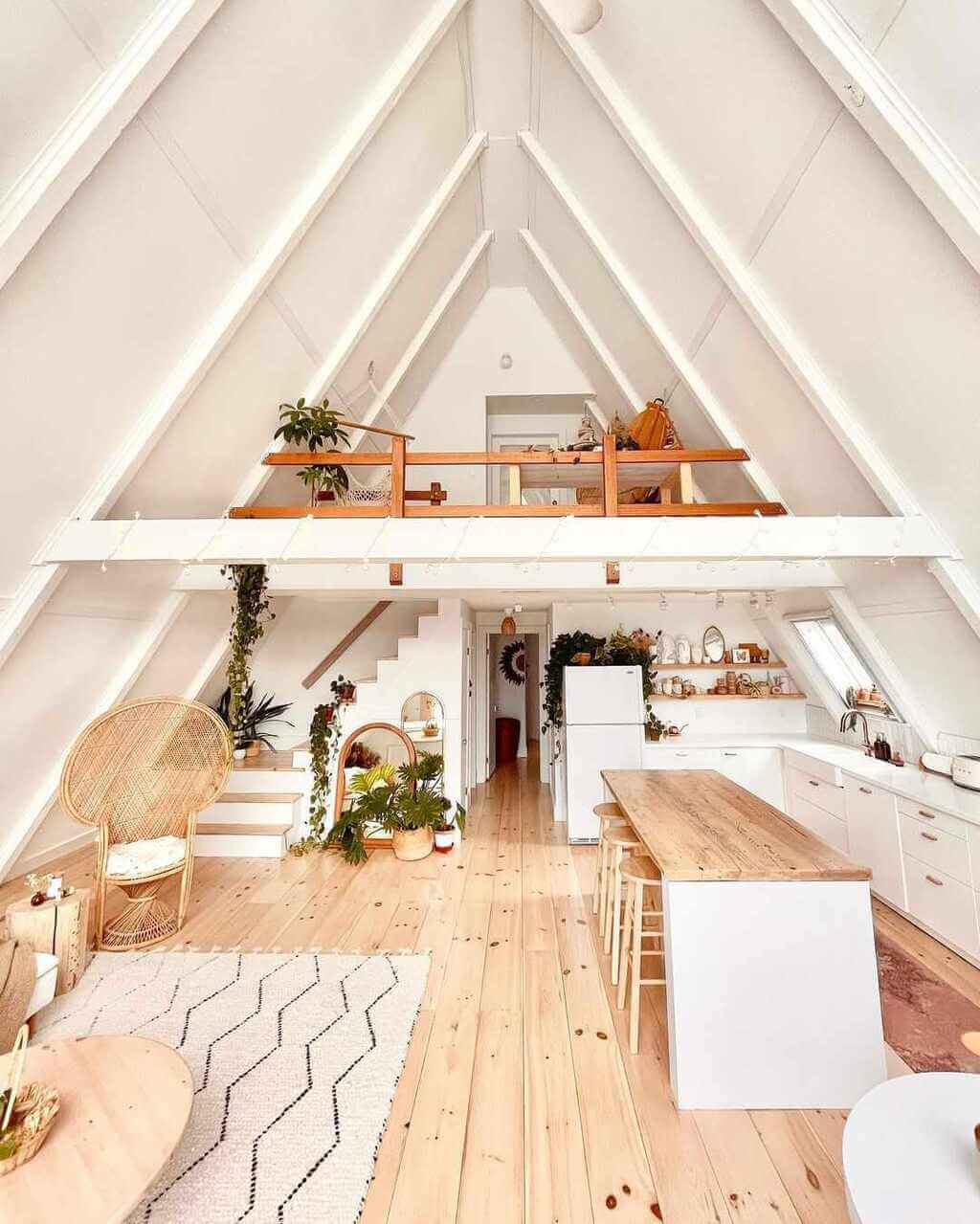 If you want to make the most of the space available or make your A frame house look larger than it is, keep it simple and minimal. Light-toned or all-white interiors with ample light flooding in, subtle furnishings, and indoor plants make the interior look soft and spacious while giving a calming composed vibe. This interior design style is perfect for making the most out of limited space and taking advantage of the striking modern A frame house form.
4. Go for Open Plans
Because of their form, demand space-saving solutions. Open A frame house interior plans are ideal for retaining the unique spatiality of the form and using the space optimally. The living, dining, and kitchen could all be coagulated in one large space. These spaces then act as the locus of family life in these homes. Using open plans also avoids awkward corners and redundant non-functional spaces.
5. Harmonizing with Sections
The modern A frame house kits have structural members that are the beams. These beams have to be repeated at a certain interval. They visually divide the house into sections and act as a grid. Planning zones in accordance with these structural members creates a sense of harmony in the interior spaces.
Aligning elements like built-in furniture, segregation of spaces, coordination of furniture layouts, etc. can follow the grid layouts.
6. Naturally Rugged
A frame cabins have a natural cozy vibe. They are spaces that are close to nature, and to continue this theme in the interiors goes for a naturally rugged look. Exposed rough wooden textures, stone floorings, and the use of other natural materials in the space give the sense of being at par with nature. Incorporate large windows to balance the dark tones of natural materials.
7. A Play of Sleek Geometries
Whether you want to make your A frame homes playful or your go-to design style is modern, consider using sleek geometrical elements. The already sharp prism-like form of the modern A frame house ideas complemented by sharp furnishings creates a structured aesthetic.
Using contrasting colors materials and colors further adds to the sophisticated appeal of the space.
8. Layer with Tonal Wooden Accents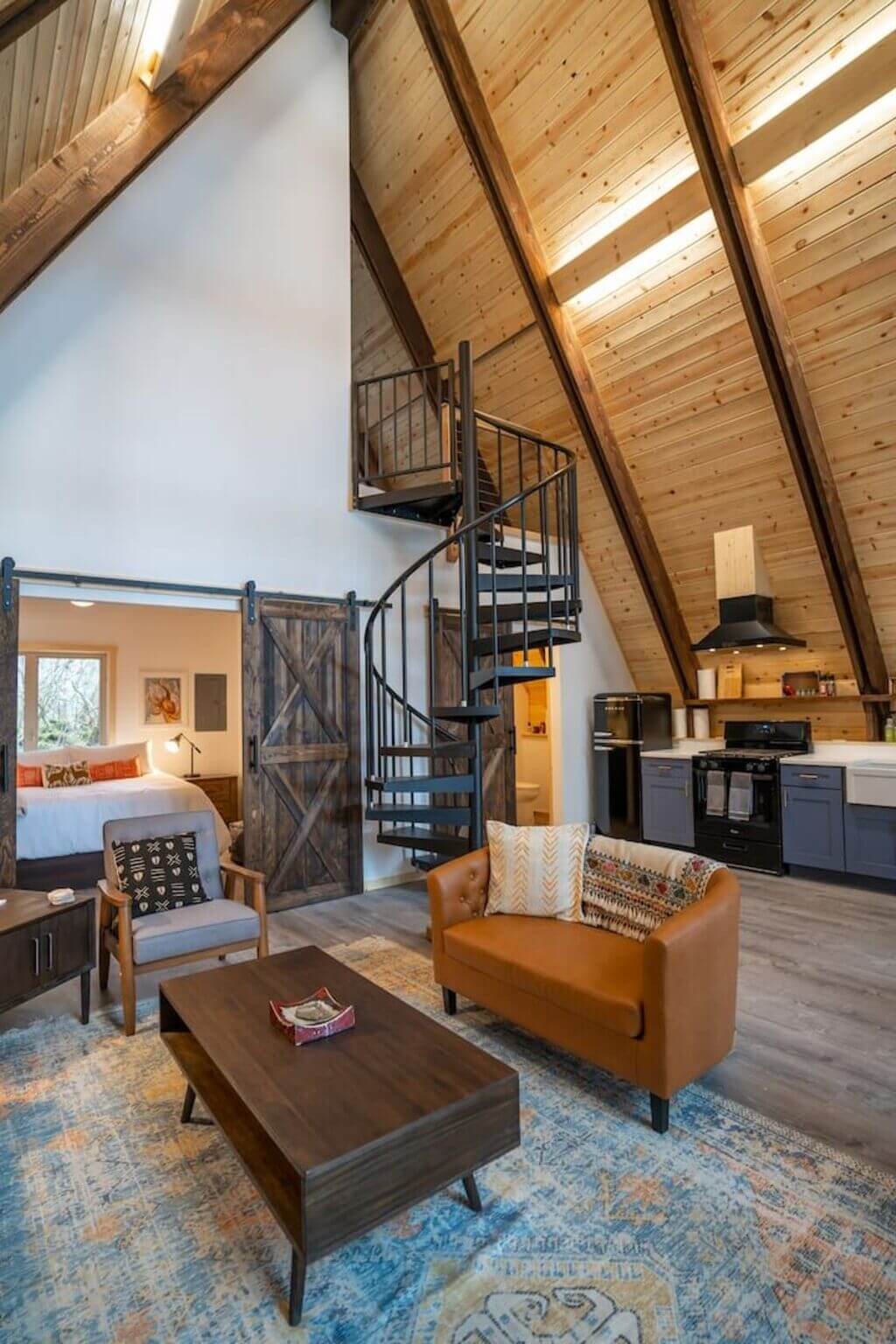 Want variation in the space without letting go of the rustic wooden appeal, try layering with different tones and types of wood. This layering makes the space look different yet holistically bound by wood as the focal element. Additionally, you can either complement or contrast this rustic theme with the use of warm or cool soft furnishings.
9. Bring Nature Inside
The best way to make the most of A frame vacation cabins is to bring nature indoors. Let the amazing exterior flow inside the space, you can do this using several different ways. Incorporate large windows, and skylights and make several punctures to capture the mesmerizing views.
Windows along the triangular facade look particularly striking as they perfectly frame the outdoor view. Add plants to your space and use natural materials to give a natural look to the space.
10. Stick to Monochromes
If you want the form and spatial quality to be the focal feature of the space, stick to a monochromatic palette. This will blend the space forming a holistic unified aesthetic. To further maintain the space as a whole, don't fill the space up with too many statement elements. When going monochrome, you can use tones and hues of the same color like beiges, browns or blacks, greys, etc.
11. Dare to Contrast
If you're planning on building a large modern A frame house, choosing a bold contrasting style is the way to go. This creates drama within the space, which may be lost in most parts of the home as the scale of the A frame interior increases.
Utilize a good mix of complementing materials in their exposed form to maintain a rustic theme in the interiors. Exposed concrete finishes, wooden elements, and stonework, alongside clean sharp lines, makes a modern rustic interior aesthetic.
12. Strategic Space Planning
These A frame house plans have a few restrictions when it comes to the usability of spaces. The nooks and corners created by the slanting walls are in most cases left empty as they're hard to reach and use.
A frame interior design should be created strategically avoiding clutter and placing furniture optimally. Space-saving solutions like built-in furniture or furniture that doubles up as storage are ideal for these homes.
13. Play Safe with Neutrals
Playing safe with neutrals is always a good idea. Browns, beiges, greys, and whites create a subtle sophisticated interior appeal. An interesting way of using neutrals is to use contrasting colors for different interior elements like in the image above.
The soft furnishings are made using grey tones while the hard furnishings, walls, and members are made using warm browns and ochres. This creates a subtle and slightly dramatic interior aesthetic.
14. Make it Chic and Minimal
You can never go wrong with a minimal design aesthetic. Simple white chic spaces with earthy accents and hints of tropical touches in the furnishings make an elegant interior space.
Minimalism in A frame house interiors creates openness and directs the eye toward the exterior view. Keep the shell minimal, let the accents create interest, and add character to the blank slate.
15. Go Boho
If you're looking for inspiration to spruce up your A frame cabin in a stylistic and artistic style, consider going bohemian. Tribal prints, earthy tones, and organic forms for accents are common features of the bohemian style. This style is best for giving a creative touch to cozy vacation homes in the woods.
16. Mix Styles and Materials
Cannot decide on a singular theme for your home, mix and match different styles to create a unique blend of styles. Follow the crafted style throughout your A frame house to make the space look holistic.
You can blend styles like modern with bohemian, or rustic with modern like in the image above. Be mindful about binding the elements well using a common thread, this could be a material or color or even a pattern for that matter. Mix but blend the different styles well.
17. Add a Pop of Color
Use colorful elements to create an element of interest in the monochromatic interior space. Colorful furniture or artwork that adds a sense of drama and depth to the interior and elevates the overall appeal of the space. Bright reds, cool blues, or warm yellows act as highlighting elements bringing attention to the space.
The Final Verdict
The A frame homes are dreamy cozy havens that look incredibly aesthetic. These uniquely stylized forms of vacation homes and residences are highly adaptable to different interior styles and at the same time are versatile on their own. Moreover, they are relatively inexpensive and easy to construct making them perfect options for complex landscapes.
FAQs:
1. What Are A Frame Homes?
A frame homes typically have a steep roof that acts as walls and looks like a triangular prism or the letter A. They may be single, double, or triple-story homes depending on the scale of the house.
2. What Are the Pros and Cons of an A Frame House?
The pros of A frame homes include the possibility of allowing ample light into the interiors, weather-related benefits like less snow accumulation, fewer material requirements, and are thus inexpensive, etc. The cons include the formation of weird nooks and corners, reduced area footage, difficulty in insulation, etc.
3. What Is Another Name for an A Frame House?
They are also referred to as Chalet-style homes. Both the house styles look similar, however, there's a difference between the two, A frame homes have steep roofs starting from the ground, whereas, in Chalet-style homes, the steep roof rests on straight walls.
4. Are A Frame Houses Hard to Heat?
The A frame houses are difficult to heat as heat rises above accumulating in the lost space whereas the ground floor remains cooler and thus uncomfortable in winter.
5. How Long Do A Frame Houses Last?
The durability of A frame homes depends on the quality of the materials used. If they're built using good quality wood, they may last for 50 to several hundred years.
6. Why Do They Build A Frame Houses?
These homes have been around for a few centuries. They have many upsides like fewer materials required for building a home, inexpensive, striking form and light flooded interiors, etc. The latest model of A frame homes has become popular as vacation cabins.
7. Are A Frame Houses Worth It?
These are totally worth it as they're inexpensive, aesthetic, and easily adaptable to the desired configurations.
In Case you Missed it: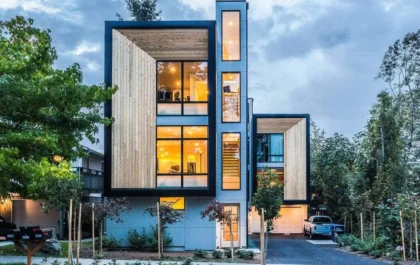 27+ Stylish & Modern Townhouse Designs for Urban Living.
The townhouse's first impression is normally too small, too compact, too narrower, and the list is endless. Well, let us…