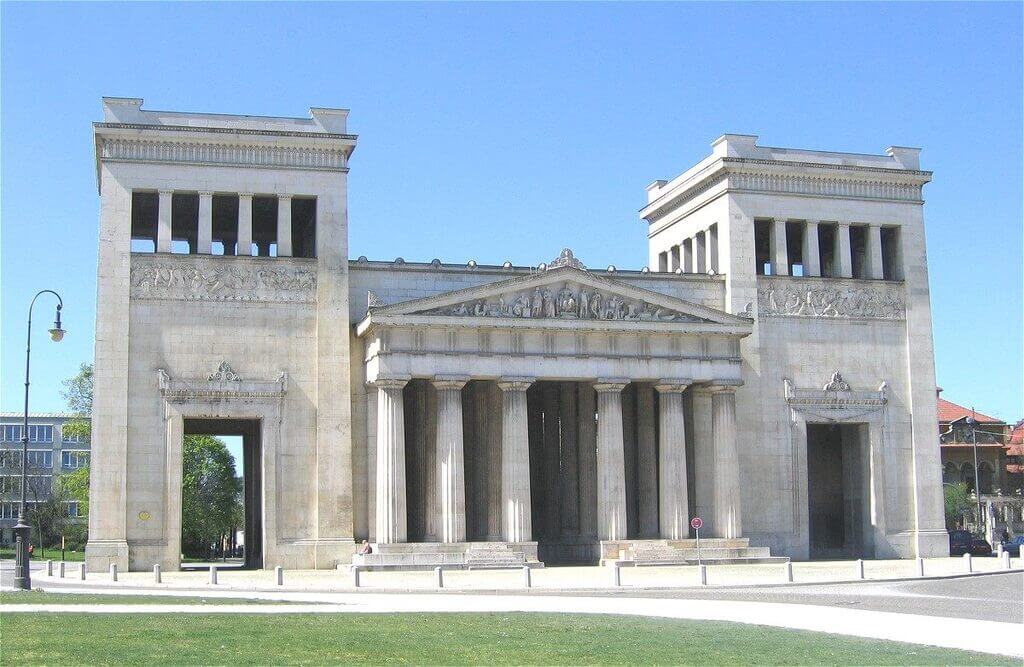 Greek Revival Architecture – America's First Architectural Style!
archistyladmin, 3 months ago
0
7 min

read
483
After seeing a church or courthouse with large white columns, are you wondering what kind of architecture is that? What is this architecture style called? This is a famous architectural style, which is globally known as Greek Revival Architecture!
This architectural style is basically based on 5th-century-BC Greek temples. During the early 19th century, this style had spread widely throughout Europe and the United States. If you don't know anything about Greek architecture, read our previous blog on famous examples of Greek architecture. Today in this blog, we're going to tell you everything about the Greek Revival Architecture Style. These structures feature a symmetrical façade with a low-pitched gable roof and rows of remarkable columns. 
Not only this, there are many interesting things about this unique architecture style, such as who developed Greek Revival Architecture? Where is Greek Revival Architecture most common? Answers to all your questions are here. From its unique history to its characteristics and materials, we've covered everything. So grab a tea or snack and get ready to know about the most fascinating architecture in history.     
What is Greek Revival Architecture?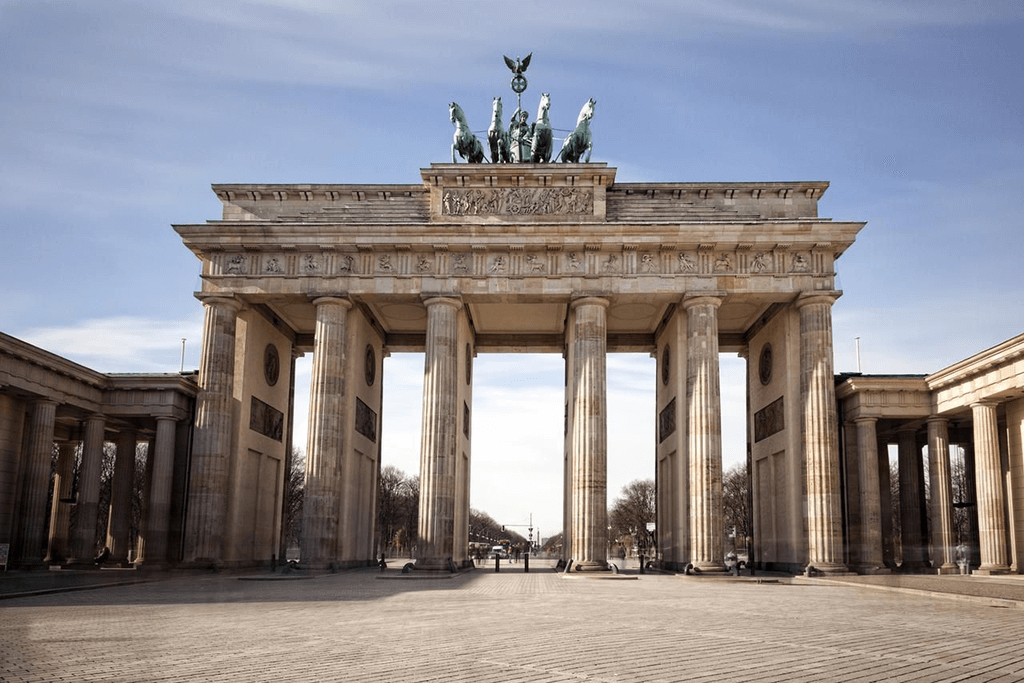 Source: googleusercontent.com
Greek Revival architecture style was a building style that appeared in the United States and Europe in the late eighteen and early nineteenth centuries. It has various elements of classical Greek architecture, but they are all used in different ways. Later, this style gained massive popularity around 1820 in America.  
We all know the symmetry, proportion, simplicity, and elegance of the ancient Greek temples, and you'll be surprised to know that the Greek Revival architecture style is highly inspired by classic ancient Greek temples of the 5th century B.C. During the Civil war period (1825 to 1860), this architecture gained tremendous popularity in the United States. Later, it spread from the East Coast across the country to the West Coast, and then it became the first dominant national style of architecture in the U.S. 
History of Greek Revival Architecture (1825-1860)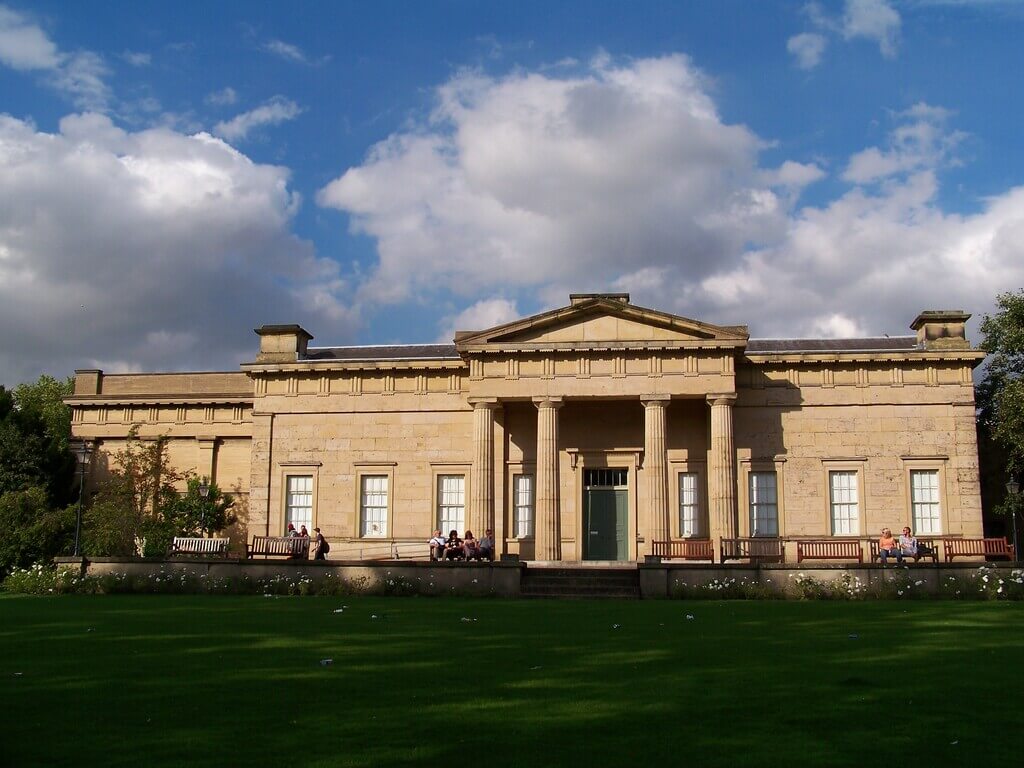 Source: enacademic.com
Do you know who had first introduced the Greek Revival to Britain? It was introduced by James "Athenian" Stuart, who was a British architect. In 1758, he took a trip to Greece, and he was completely amazed by the classical beauty of Greek architecture. He started documenting his discoveries, and later it got published as Antiquities of Athens in 1762. This was the first reference book detailing Classical Greek architecture in the world!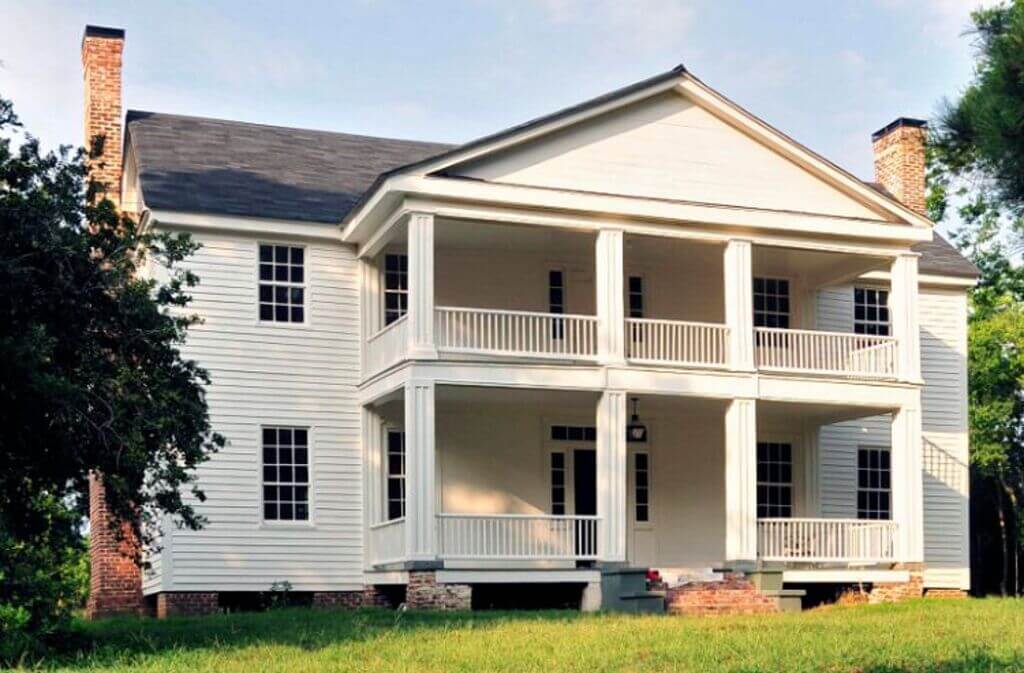 Source: nimvo.com
Stuart died in 1788, but before that, this style had already become a full-blown trend in England and Europe in the 1820s and 30s. All the credit goes to him as he first took the initiative and spread the Greek Revival style outside of its country of origin. 
Later it became the architectural movement, and in the late 18th and early 19th centuries, it spread predominantly in Northern Europe and the United States. It mainly revived the style of ancient Greek architecture ( in particular, the Greek temple). Charles Robert Cockerell first used this term in a lecture he gave as Professor of Architecture to the Royal Academy of Arts, London, in 1842.
But the most important thing is how did the Greek architectural style, which was thousands of years old, influence the builders so many centuries later? Keep on reading to find the answer.
Key Elements
Let's talk about some of the key Greek Revival Architecture characteristics:
Tall Columns and Pediments
One of the most visible characteristics of a Greek Revival home is the columns. Even all the Greek temples had a row of tall columns topped by a pediment. This is the style that makes it stand out from other architectural styles, even those styles which have some similar characteristics. 
Painted Plaster Exterior 
If you look in ancient buildings and ruins in ruins, you'll find that they were completely made from stone, but in America, the revival homes were crafted in wood. Later they were covered in plaster. Some people also painted them white to create the illusion of stone.
Horizontal Transom 
Greek Revival style homes have a horizontal transom that sits over the main entrance door. There are also small-paned sidelights. 
Moldings 
All the homes have Bold but simple moldings in their exteriors and as well in the interiors. 
Embellishment 
Not all homes but luxurious and expensive homes have special details such as framed dormer windows on the second story, with pilasters and pediments.  
Main Characteristics of Greek Revival Architecture Style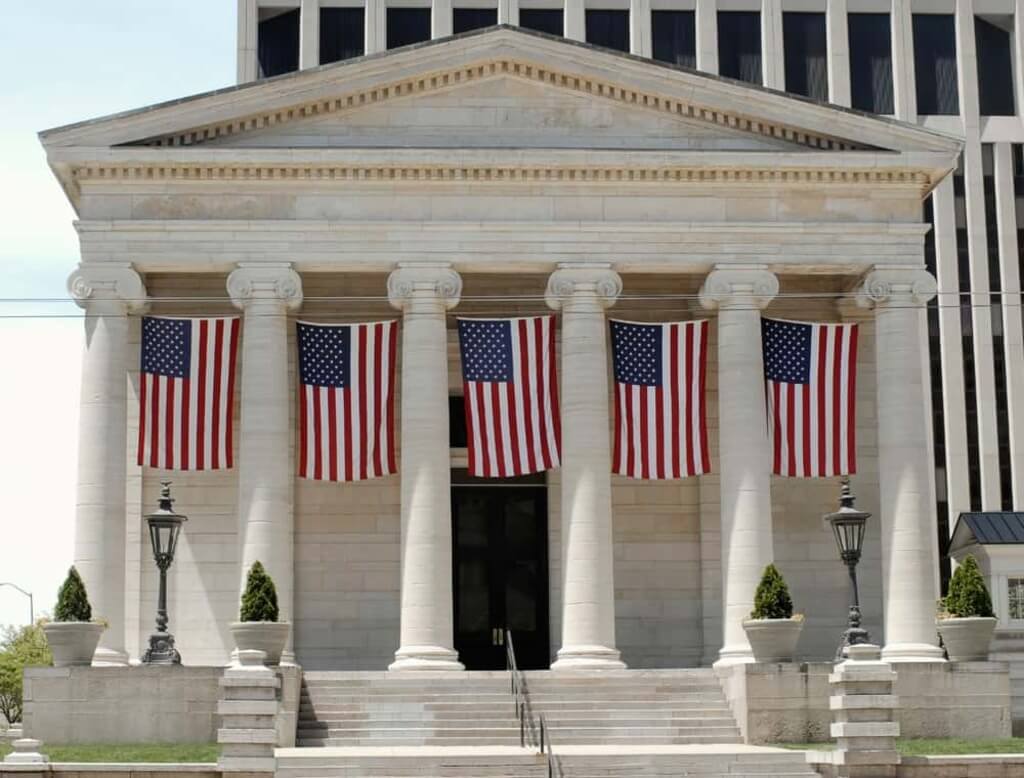 Source: netdna-ssl.com
Let's talk about the key elemental Greek revival characteristics and other things in detail. As we already told you that houses in this style were usually painted white so that they look similar to the costly buildings. Why? Let's know more about it:
Greek Revival Architecture Materials
The basic building materials are stucco and wood, but sometimes stones were also used. 

They all are painted in white so that they resemble stone or marble temples or buildings.
Greek Revival Exterior Characteristics
Greek revival houses have bold round, square, or sometimes even octagonal columns in wood or stucco.

All buildings were generally crafted in wood, stucco, brick, or brownstone.

They have Doric, Ionic, or Corinthian details.

Homes built in this style have a low-pitched gable and hip roof with gable fronts.

This architecture has elaborate door surrounds and entablatures trims between the roof and columns.

Pilasters

Front porch or covered portico entrances.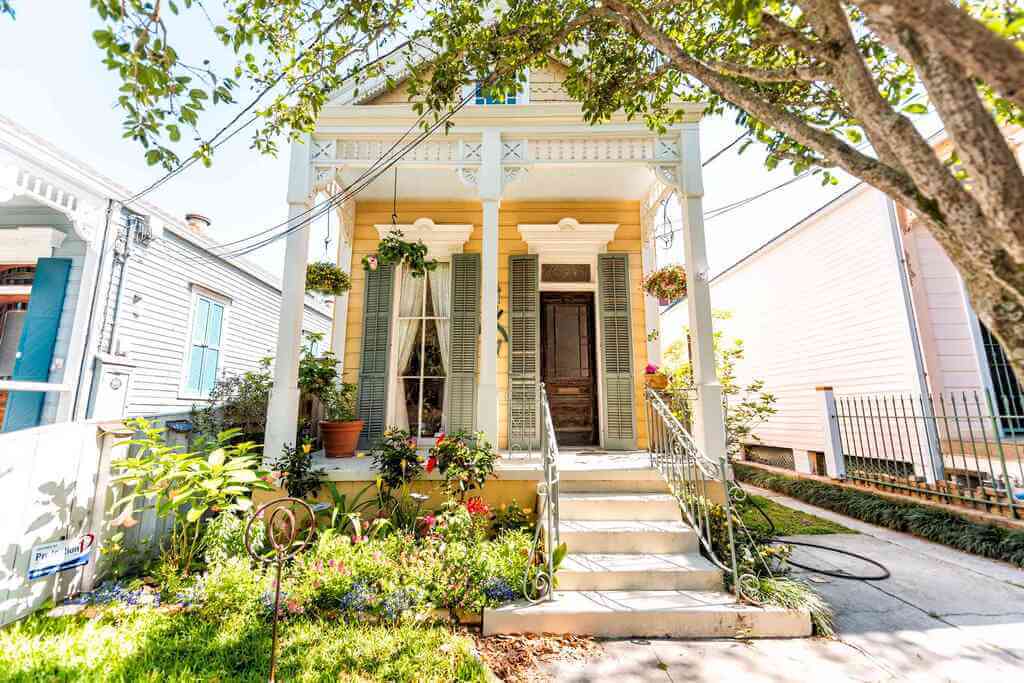 Source: thespruce.com
Greek Revival Interior Characteristics
Greek revival house plans have simple and open layouts.

There are symmetry and graceful proportions.

Tall parlor floor windows and doors

They have Plain plaster walls and ornate plasterwork ceilings.

Wide planks are used to cover the floors.

Mantels are often made from light gray or more expensive black and gold marble. 
All the details in Greek Revival interiors were simple but are really eye-catchy. Heavy cornices, gables with pediments, and unadorned friezes are some of the most common things in revival architecture. 
Famous Examples Of Greek Revival Architecture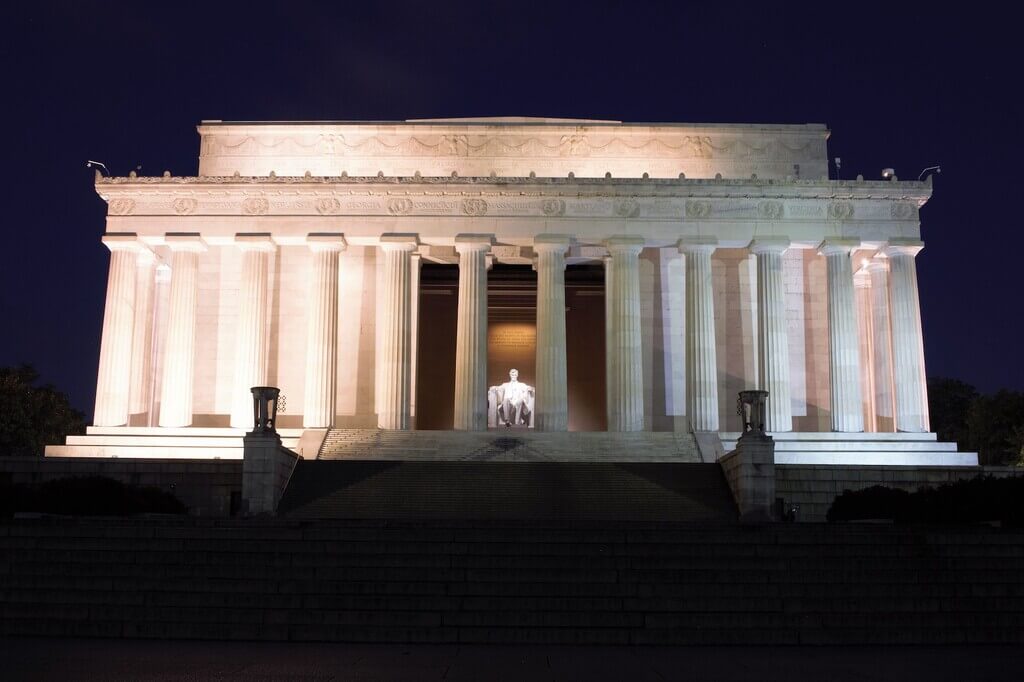 Source: touringplans.com
Now you must be thinking what do buildings look like with this architectural style? Below are some of the popular buildings with the same architecture style:
Andalusia 
This is one of the world-famous Greek Revival Architecture examples. It is designed by Thomas U. Walter, which is located near Philadelphia.  
Mansions along the Gulf Coast
These homes are painted into a nice smooth finish, which is again quite similar to stone.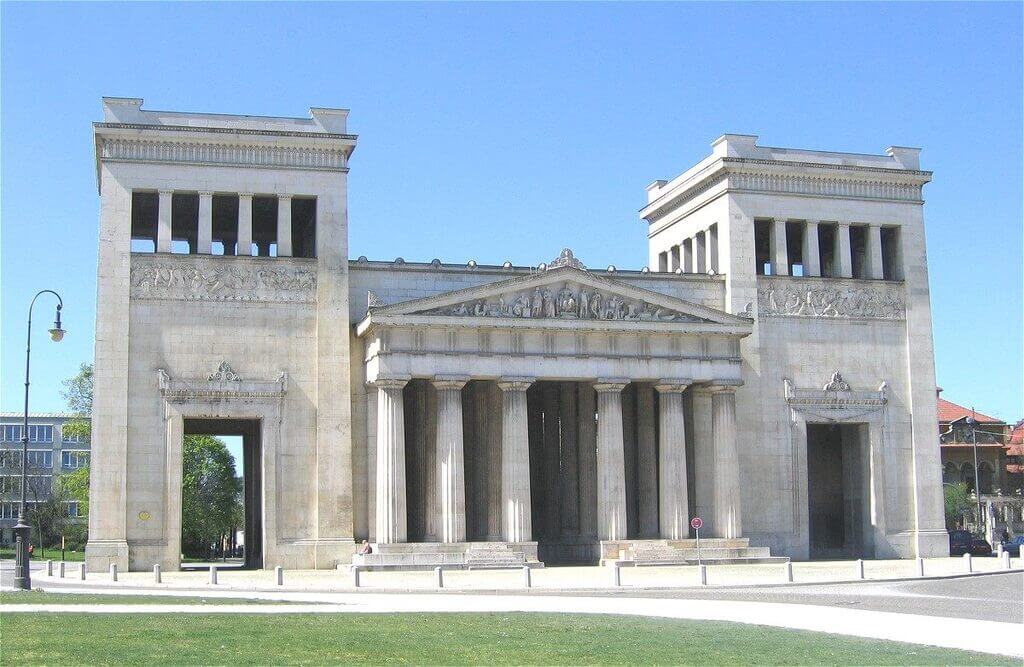 Source: twimg.com
The Temple of Hephaestus, The Parthenon, and the buildings of the Acropolis are inspirational structures of Greek Revival Style. Other remarkable buildings in this style are Glyptothek and Propylaea in Munich, Tennessee State Capitol, St Pancras New Church in London, the Altes Museum in Berlin, the Ruhmeshalle, and of course, the Lincoln Memorial.  
Interesting Facts About Greek Revival Architecture
Let's know some fascinating facts about this remarkable architecture:
Painted white columns are originally inspired by the white marble used in ancient Greece's temples, such as the Parthenon, and later they had become one of the signature elements of Greek Revival architecture.

The British architect "James Stuart" is the first person who brought this style to the US. 

Still today, these columns can be widely seen all across America, but they're made from more accessible materials such as wood or stucco and painted white. 

The best example of this style is The White House. It was built in 1792-1800 in neoclassical Federal Style. Some parts of the building show the incredible details of classical Greek Ionic architecture.

Later the famous Greek Revival style was followed by the Italianate style, and many transitional buildings are a mash-up of classical Revival that combine elements of these three styles.

Sometimes people refer to this style as "Neo-Grec," which includes all things Greek revival furniture an

d greek Revival interior design.

In the 19th century, designs by Thomas Hope got really famous, and it had also influenced many decorative styles such as Neoclassical, Empire, Russian Empire, and Regency architecture in Britain.
The Bottom Line 
In this blog, we've tried to give you all the information about Greek Revival Architecture. From tall white columns to elaborate door surrounds and entablatures trims, there are many things in this house style that are incredible and noticeable from far. If you're thinking of living in a Greek revival style house or a residence inspired by Greek revival architecture, you can find many options. Today, many old Greek traditional homes are present not only in the United States but all over the world. Another option is to include some of the details in your house's exterior or interiors. 
I hope you've found this blog helpful and informative. Please share it with your friends and family, and don't forget to follow us on Instagram at architecturesstyleideas. 
For more architectural guidance and home improvement ideas, keep coming to Architecturesstyle. 
Related posts
The Straw Pavilion: An Evocative, Abstract Straw Garden Pavilion in Vietnam!
Recently, Vietnamese architecture firm MIA Design Studio has created a unique structure with pieces of the straw pavilion. Yes, you…