While you might wonder how the house styles evolved, the first thing you should do is look at the architectural events that followed. The US has a long history of architecture, so it has a variety of house styles. Starting from colonial to postmodern, you will find a descriptive style in the types of houses.
So without further ado, let's delve deep into the history of architecture and its styles of houses this time!
Pre-Columbian Era (c. 13,000 BCE – 1500 CE)
Source: dawn.com
The Ancient Pueblo People of the Four Corners region built the oldest surviving non-imported house styles on the land that is now known as the United States. Early buildings showcase Hawaii's sophisticated culture and Polynesian history.
The Victorian, Georgian, and early 20th-century Spanish Colonial Revival styles are only a few examples of the foreign influences visible in late 19th-century post-contact Hawaiian architecture.
Pre-Columbian House Styles
Source: pinimg.com
This "pre-Columbian" or "Mesoamerican" architecture consists of a wide range of intriguing and complex house styles built by incredibly diverse groups of people for a wide range of functions. Mesoamerican architects usually aligned their buildings with celestial and cosmic aspects.
The majority types of houses were adorned with ornamental iconography that showed animals, gods, and powerful monarchs, especially those made of stone. Ancient Central and South American societies had skilled stone cutters and carvers, as well as builders who used local resources more often than timber.
The American pyramids are usually stepped as opposed to flat-sided, and they don't appear to have served as tombs. Instead, significant religious spots were situated at the top of the structures, which served as symbols for ancient cultures to display their power and wealth.
Colonial Era (1600s – 1700s)
Source: pinimg.com
European immigrants brought architectural traditions and methods with them when they came to North America. The resources available determined what different house styles could be achieved. The most prevalent elements of English structures in New England, the Mid-Atlantic, and the coastal South are wood and brick.
Colonial House Styles
Source: pinimg.com
Original designs featured two simple rooms—one upstairs, one downstairs—each with a central fireplace that kept the house warm during chilly winters before electricity was invented. Early houses were often built in a streamlined British Colonial style.
Over the years, new house styles, materials, and technologies have been used to adapt and recreate the Colonial home. It gradually developed into the "Colonial Revival" style in the late 1800s, which is still popular today.
The entrance door, which is placed smack in the middle of the house and is flanked by windows, immediately highlights the Colonial-style home's emphasis on symmetry. These homes are designed with the front door in the center, flanked on either side by tall windows, and topped with a modest pediment or columned portico.
Features of the exterior of colonial house styles-
Gabled roof.

Rectangular shape.

Symmetry.

Local materials like wood, brick, and vinyl siding.
Features of the interior of the colonial house styles-
Central fireplace.

Four square layouts.

Flooring made of natural hardwood.
Early American Colonial House Styles
Source: pinimg.com
Large central fireplaces, steep roofs to withstand harsh winters, and exterior wood shingles or plank siding are characteristics of this house. These were the initial house types that were used to build the first Saltbox houses, and the designs of those homes served as a foundation for Cape Cods.
Georgian Colonial House Styles (1714 – 1830)
Source: pinimg.com
Four British monarchs—King George I–IV—are the namesakes of Georgian colonial house styles. While these homes have a lot in common with other Colonial styles, they also often have a modest, covered front porch over the porch with columns protruding from the main building.
On the exterior, they are often supported by white columns and framed in brick. Furthermore, second-story balconies, which may be small and circular or large and rectangular, are a common element of Georgian Colonial homes. Twin chimneys with dormer windows are also common characteristics of the Georgian style.
French Colonial House Styles
Source: pinimg.com
Most often found in the south of the US, French Colonial houses are iconic examples of the style in places like New Orleans. They have porches with two stories and colorful exteriors. Dormer windows on the roof can be found in French Colonial houses.
Dutch Colonial House Styles
Source: pinimg.com
Dormer windows, matching chimneys on both ends of the house, and a rounded gambrel roof shape with a center point are all elements of the house style. Some Dutch Colonial homes have columns and round windows on the side facing the street, though these features aren't always present.
Colonial Revival House Styles
Source: pinimg.com
Traditional Colonials as well as Colonial Revivals have distinct room divisions that are marked by doors or other distinguishing architectural features like arches. Although brick or vinyl siding was often employed to finish Colonial Revival homes, the exterior hasn't changed much over time.
Saltbox House Styles
Source: pinimg.com
In the 1600s, saltbox houses first appeared in New England, where they are still most prevalent today. Initial settlers could construct these simple buildings out of materials they were able to find, primarily wood from the vicinity.
A big chimney and a sloped, asymmetrical roof are characteristics of saltbox houses. The front of the house is flat, and it often has two storeys in the front that slope downward to one in back.
Spanish Influence in the Colonial Era
Source: pinimg.com
The basic French colonial home styles in the Mississippi Valley, which consisted of neighboring rooms and opened-upon galleries, were distinctly different from the Spanish colonial architecture seen in the United States.
Spanish House Styles
Source: pinimg.com
Spanish colonial house styles closely resemble Mediterranean architecture. Revival house styles often have decorative tiles, wrought iron banisters, and exposed beams. Many of these houses have exposed stucco walls and tile inside, however, modern structures may usually resemble traditional ones.
Features of the exterior of Spanish house styles-
Stucco walls.

Terracotta roofs.

Small fenestrations.

Locally available materials.

Wooded beams.
Features of the interior Spanish house styles-
Domed ceilings.

Wrought iron.

Decorative tiles.
Mission Revival House Styles
Source: pinimg.com
A style evocative of Spanish house styles was adopted by the Mission Revival movement for the construction of both houses and public buildings. With their arched entrances, sloping roofs, and sometimes bell towers, facades often mimicked the missions themselves. Most houses have tiled roofs and stucco walls.
Pueblo Revival House Styles
Source: pinimg.com
Flat roofs, sturdy stucco walls, and round roof beams, or "vigas," that can be seen both inside and outside of the architectural home styles are prominent features of Pueblo revival houses. Many have enclosed patios or courtyards. Although they may be painted white or even in vibrant colors, the more conventional Pueblo Revival homes have a red clay color.
Monterey House Styles
Source: pinimg.com
The first of Thomas O. Larkin's houses was built in 1835, more than 50 years before the Spanish Revival house style became popular. Larkin's houses featured adobe walls with a flat roof, drawing inspiration from both English and French styles along with Spanish.
However, unlike a lot of Spanish-style of houses, they also include upper and lower balconies, which are typical of French houses. By the more typical English Colonial style, the exteriors are too symmetrical.
Floridian House Styles
Source: pinimg.com
Spanish colonizers used local materials wherever they constructed houses. Similar to this, various Spanish Revival movement leaders around the country had an impact on regional building trends. This kind of house is characterized by ornate columns, geometric window designs, and an elaborate façade.
Spanish Eclectic House Styles
Source: pinimg.com
Contemporary structures often fall under the category of "Spanish Eclectic," which encompasses all previous stages of the Spanish Revival. These house styles can feature a split-level design similar to a ranch house, yet with stucco walls and terracotta roof tiles instead. Other features, like bay windows or brick, that have traditionally been uncommon in Spanish-style architecture are present.
Florida's Influence on House Styles in the Colonial Era
Source: pinimg.com
The conch style, which can be seen in the predominantly Spanish-built French Quarter of New Orleans, Louisiana, is prevalent in Pensacola, Florida, and other places in Florida, where house styles are adorned with wrought iron balconies. The majority of the city's current structures stem from late 18th-century reconstruction projects.
Florida House Styles
Source: pinimg.com
There are many different architectural styles available on the housing market in Florida if you're thinking about building or purchasing a home there. From beachfront bungalows in the coastal style to homes with Spanish or Art Deco influences Florida has a wide range of architectural styles.
Coastal Contemporary House Styles
Source: pinimg.com
These home styles are built to let in the most natural light possible and are characterized by contemporary ideas such as a high ceiling and a generally open floor plan. The presence of big windows, which are typically floor-to-ceiling, is probably one of the most typical characteristics of a house of this type.
Mediterranean House Styles
Source: pinimg.com
Mediterranean home styles typically have stucco walls and low-pitched roofs with tiles. Aside from parapet walls with tile capping, elaborate door surrounds, keystone details, symmetrical and massive facades, and arches are further typical design components. The Mediterranean architectural style is also known for its delicate wrought iron window and balcony decoration.
Spanish House Styles
Source: pinimg.com
While stucco walls with low-pitched roofs are also characteristics of this style, flat roofs, terracotta tiles, and clay accents give it additional distinction. Small balconies, Roman arches, and wooden casements, with other similar accents, are further elements.
Victorian House Styles
Source: pinimg.com
Victorian house styles, which are primarily found in Central Florida, are easily recognized by their unique characteristics, such as a narrow, taller design and the presence of decorations like trims, complex porch rails, etc.
The windows in these structures are often smaller. Victorian homes usually appear in the state's older and more historic areas because the majority of them were constructed decades ago.
Eastlake House Styles
Source: pinimg.com
The British architect Charles Eastlake, who backed decor and furniture that was more acute and pointed than the curved forms of other French styles, is credited with inspiring the movement.
As a result, pillars and railings on homes built in the Eastlake style often feature complex, angular designs. Lattice work is also typical. Traditionally, the dwellings are painted in earthy colors with lighter trim to make them stand out.
Ranch House Styles
Source: pinimg.com
There are attached garages at each end of these one-story houses, which are usually built that way. Due to their accessibility for seniors and the fact that they have everything on one level, such houses are particularly well-liked. Another benefit of these house styles is that, if there is room, it is not difficult to add something to the design, such as a screened porch.
Southwest Influence on House Styles in the Colonial Era
Source: pinimg.com
Adobe, a sun-dried clay brick, was used by the Pueblo people to construct house styles with exposed timber ceiling beams. Villages have a distinctive appearance due to their cubic shape and compact organization. The simple, basic buildings remained unchanging and stylish.
Pueblo House Styles
Source: pinimg.com
Although they can also be constructed out of concrete or stucco, pueblo-style houses tend to be single-family residences built with traditional materials like adobe. They include wood-based elements like hefty doors, wood beams, and awnings, as well as smooth, rounded walls.
Adobe House Styles
Source: pinimg.com
At its most basic level, the word "adobe" actually describes how Pueblo-style house styles are constructed, not the architectural design itself. Adobe is a type of dried mud brick that is often created by compressing sand, clay, straw, or grass, adding water, and baking the mixture in the sun.
Antebellum House Styles
Source: pinimg.com
Before the Civil War, antebellum architecture, often known as "Southern architecture," developed in the Southern United States. The plan was intended to be both beautiful and useful.
For example, the houses had large windows and tall ceilings, which looked dramatic and improved airflow. And to experience the outdoors while being protected from the scorching heat, they had huge covered porches that wrapped around their houses.
Columns and winding stairs were further distinguishing characteristics. The South continues to be the region where this design is most prevalent, and contemporary examples still have vaulted ceilings and huge porches.
California Province in the Colonial Era
Source: pinimg.com
The Spanish built several presidios (forts) in the upper Las Californias Province in the late 18th century to fend off British and Russian colonization. These presidios included the Presidio of San Diego, the Presidio of Santa Barbara, the Presidio of Monterey, and the Presidio of San Francisco.
Contemporary House Styles
Source: pinimg.com
Only four states—including California, which has the biggest housing market in the country—have the most of this kind of house styles. Large windows, asymmetrical but geometric forms, and open floor plans are characteristics of the modern style. In Hawaii, as well as California, modern homes are typical.
Row House Styles
Source: pinimg.com
Rowhouses, often referred to as "townhouses," are houses that have been constructed next to one another and share a wall. Major American cities with long, narrow lot sizes often have this kind of home.
Depending on the architect's tastes, the design style can change. Rowhouses first appeared in the 16th century in the Netherlands and Belgium, and they quickly migrated to American towns during the Industrial Revolution.
Dutch Influences on House Styles in the Colonial Era
Source: pinimg.com
To accommodate an extra space on the second level, the early inhabitants built modest, one-room homes with stone walls and steep roofs. In New Amsterdam, two-story gable-end houses were typical by about 1670.
Dutch Colonial House Styles
Source: pinimg.com
The most distinguishing characteristic of a Dutch Colonial home style is its broad, double-pitched roof, which often has thin dormer windows built into the roofline and slopes virtually straight down after changing angles and being relatively level and wide at the top.
French Influences on House Styles in the Colonial Era
Source: pinimg.com
The communities of French Louisiana and the Illinois Country underwent French Colonial development. The Creole cottage, Creole townhouse, and French Creole plantation house are some of the architectural styles that emerged during the French colonial era.
French Colonial House Styles
Source: pinimg.com
If a house style has a hipped roof, French doors, columns, a porch, and a gallery with iron railings, it is considered French colonial.
English Influences on House Styles
Source: pinimg.com
Structures had a relatively simple appearance and were largely constructed of local materials. For instance, the windows were incredibly tiny. The size didn't grow until after the British had started making glass, a long time later.
A lot of house styles were made of wood because wood, especially white and red cedar, was a superb building material and was easily available to the settlers in the English colonies.
British Colonial House Styles
Source: pinimg.com
With precisely symmetrical forms that included pitched roofs, shutters, and the rare column or pilaster for ornamental touches, British colonial house styles were quite formal and rational. Typically, they were built out of brick or wood.
Farmhouse House Styles
Source: pinimg.com
A farmhouse-style home is a contemporary rendition of large, acreage-based rural family farms. Around the country, old farmhouses were built beginning in the 1700s and 1800s.
They come in a variety of design eras, such as colonial and Victorian. However, the most typical farmhouse was a simple rectangular building with a large porch and clapboard siding. Modern farmhouses have grown in size while maintaining their simple design.
Cottage House Styles
Source: pinimg.com
Small villages and towns in Europe are where modest cottage-style houses first appeared. And today, especially in charming residential areas, they are all over the United States.
Cottages are known for their diminutive size and typically have stone or wood exteriors, however, siding has increasingly become popular. They often have modest porches and are normally one to one and a half stories high. The decor is relaxed and comfortable.
Georgian Influence on House Styles in the Colonial Era
Source: pinimg.com
In the 18th century, the Georgian house style emerged, and Colonial Williamsburg in the Colony of Virginia began to adopt Palladian architecture. Built there between 1706 and 1720, the Governor's Palace had a sizable gabled entryway in the front.
It adheres to the symmetry principle and is constructed using materials that could be found in the Mid-Atlantic colonies of Tidewater: red brick, white coated wood, and blue slate for the double-slanted roof. Wealthy merchants in the city and successful plantation owners build their homes in this design.
Colonial Georgian House Styles
Source: pinimg.com
Georgian-era American structures were frequently composed of wood with clapboards; even the columns were made of timber, braced up, and turned on a large lathe.
New Nation Architecture (1785 – 1820)
Source: pinimg.com
The Declaration of Independence of the Thirteen Colonies was published in 1776 by members of the Continental Congress. Buildings for these new governmental and commercial institutions evoked classical architecture from ancient Rome and Greece with columns, domes, and pediments, which represent the nation's democracy.
Federal Era
Source: readgreatliterature.com
During the American Revolution, house styles adopted curving lines, a rigorous rectangular layout, and a preference for ornamental elements like garlands and urns. One or more parts were oval or circular, and some openings had an elliptical shape.
Federal House Styles
Source: pinimg.com
A Federal-style home is a simple square or rectangle with two or three floors. Some buildings are altered with wings that extend outward, dependencies that are added, or both.
Thomas Jefferson Era
Source: pinimg.com
Between 1801 and 1809, Thomas Jefferson served as the third president of the United States and was a scholar in a variety of fields, including architecture. The buildings of Thomas Jefferson's Monticello farm, which is close to Charlottesville, Virginia, were also his creation. The Neo-Palladian architecture of Monticello was inspired by the Hôtel de Salm in Paris, which Jefferson saw while serving as ambassador to France.
Jefferson House Styles
Source: pinimg.com
Some of the elements of Jefferson House Styles –
Red brick – These bricks use true resources that were easily accessible in the late 18th century and reflect the local surroundings.

White Columns – The most recognizable aspect of the Jeffersonian style is without a doubt its white-painted columns with traditional moldings.

Serpentine Walls – The innovative serpentine walls of the classic Jeffersonian style were inspired by the undulating outside walls of Italian and French architecture.

Arches – Original Jeffersonian style makes extensive use of arches, both internally and externally.
New Capital City Era
Source: pinimg.com
The United States Capitol in Washington, D.C., is a prime example of consistent urbanization; it was created by French architect Pierre Charles L'Enfant. Neoclassicism and the monumental city are ideals. Following the establishment of Washington, D.C., by congressional law in December 1790, the White House was built.
Southern Influence on House Styles
Source: pinimg.com
The Deep South's architecture was greatly influenced by the plantation industry. While housing for enslaved African Americans frequently drew on vernacular construction traditions, plantation complexes in the Southern United States frequently featured slaveowners' houses designed in European-derived architectural styles.
Frontier Vernacular Era (1850 – 1890s)
Source: pinimg.com
The Homestead Act of 1862 made property ownership accessible to millions of people, drove away aboriginal populations and altered the nature of settlement patterns throughout the Great Plains and Southwest. Local resources such as rustic sod, semi-cut rock, mortar cobble, adobe bricks, and rough wood were used by settlers to construct their dwellings.
They built sod homes in treeless prairies and log cabins in forested places, like the Sod House in Cléo Springs, Oklahoma. With the use of baling machinery, Nebraska in the late 19th century developed the modern sustainable building technique of straw-bale construction.
Mid-19th Century Era (1830 – 1860)
Source: pinimg.com
In architecture, revivalism is the conscious employment of aesthetic elements that evoke a bygone age. Among the most well-known revival designs are Neoclassical and Gothic. Classical architecture is revived in neoclassical architecture.
Historicism and revivalism are connected. Revivalism is particularly connected with the architecture built in the 19th century, including Victorian architecture.
Greek Revival Era
Source: pinimg.com
American architects who worked in the first part of the 19th century were drawn to the Greek revival style. The building's austerity and grandeur are suggested by its plain façade, constant cornice, and lack of a dome. The Supreme Court and a library are housed within its highly symmetrical structure. During that time, Egyptian Revival architecture became popular.
Greek Revival House Styles
Source: pinimg.com
The majority of Greek Revival house styles include rectangular transoms and sidelights at the entrances, as well as uniformly placed, multi-paned windows. Significant cornices frequently "returned" into gable ends. Low-pitched gables on the roofs resembled those on antique temples.
Italianate Era
Source: pinimg.com
The history of classical architecture went through a distinct Italianate era in the 19th century. The resulting architectural style, though frequently referred to as "Neo-Renaissance," was most of its era.
The Italianate house styles of the late Regency and early Victorian eras may be traced back to this modest country house, which is widely regarded as England's first such villa.
Italianate House Styles
Source: pinimg.com
Italianate house styles can be identified by their deep overhanging eaves, which appear to be supported by a row of ornate brackets or corbels, and their gently sloping roofs. The outside is built with stucco, stone, or brick. circular, tall windows.
Gothic Revival Era
Source: pinimg.com
Under the guidance of Andrew Jackson Downing (1815–1852), the Gothic Revival architectural style rose to prominence in the United States starting in the 1840s. He identified himself as a reactionary to the rise of romanticism and classicism.
His designs feature elements from the Middle Ages once again, such as steeply pitched roofs, warhead windows, gargoyles, and embrasure towers. The structures featured a sophisticated design influenced by neoclassicism and symmetry.
Gothic Revival House Styles
Source: pinimg.com
Features of Gothic Revival House Styles –
Steep gabled roof.

Picturesque design.

Pointed arch for windows, doors, or porches.

Bay windows.

Lacey Tracery works in wood and bargeboards.

English Gothic elements.
Gilded Age (1877 – 1896)
Source: pinimg.com
Between the Reconstruction Era and the Progressive Era was the Gilded Age. Fast economic growth was prevalent during the period, particularly in the north and west of the U.S. Railroads were the main sector to rise, while the importance of factories, mining, and finance all grew.
Gilded Age House Styles
Source: pinimg.com
Gilded Age house styles had a large number of rooms for the family, recreation, and housing for various servants. Some of the rooms' common features are as follows:
Dramatic aesthetic to showcase wealth and power.

Grand entrance hall.

1-2 sweeping staircases.

Sculptural relief on the ceiling and walls.

Marble floor and walls.

Stained glass windows and skylights.

Reception room to welcome guests.

Floral arrangement from the greenhouse.
Late Victorian Era
Source: pinimg.com
Post-American Civil War (around the 20th century), various styles, movements, and trends emerged, which are broadly termed "Victorian", due to their similarity with the movements of the British Empire, during the reign of Queen Victoria.
Late Victorian House Styles
Source: pinimg.com
Cast-iron lacework, fireplaces, molded woodwork, elaborate plaster ceilings, turned-timber balustrades, steep, narrow stairs, and small windows are common features of late Victorian house styles, especially terraces.
The Rise of the Skyscraper in the US
Source: pinimg.com
The skyscraper has been the most notable architectural advancement in the United States. This was made feasible by several technological innovations. Buildings were able to go higher because of elevators beyond the 4 or 5 stories that people were ready to ascend by stairs for regular use.
Beaux-Arts and the Era of the American Renaissance
Source: pinimg.com
The "White City" by Daniel Burnham, built for the 1893 World's Columbian Exposition in Chicago, Illinois, officially heralds the start of the Beaux-Arts style's heyday and the rise of more established companies like McKim, Mead, and White. The emergence of American landscape architecture and urban planning was also represented at the Columbian Exposition.
American Renaissance House Styles
Source: pinimg.com
These house styles often had outer chimneys with brickwork corbels, which was a Furness "exclusive" and influenced by Gothic corbelling. The Arts and Crafts movement's appeal, which inspired the work of Louis Sullivan and Frank Lloyd Wright, is indicated by the low eaves, sleek, squat shape, and restrained ornamentation.
Early Suburbs of the US (1890 – 1930)
Source: pinimg.com
The inner ring of suburbs sprung up around large cities as electric streetcar use was boosted, subsequently aided by the development of bicycles and automobiles. A new, uniquely American type of house would emerge as a result of this construction boom: the American Foursquare.
American Foursquare House Styles
Source: pinimg.com
Except for the attic floor, which usually consists of only one or two rooms, the style's distinct characteristics include a predominantly square, boxy design, two and a half storeys high, four large, boxy rooms per floor, a center dormer, and a sizable front porch with wide stairs.
Arts and Crafts Movement in the US
Source: pinimg.com
The Arts and Crafts movement was a widespread decorative and fine arts fad that originated in the British Isles and flourished there before spreading throughout the British Empire, the rest of Europe, and America.
Some of its famous house styles are –
Bernard Maybeck – Swedenborgian Church

Greene and Greene – Gamble House, Robert R. Blacker House, Thorsen House

Mary Jane Colter – Mary Jane Colter Buildings

Lummis House

Julia Morgan – Asilomar Conference Grounds

Adirondack Architecture, Log home
Arts and Crafts House Styles, or Craftsman House Styles
Source: pinimg.com
Real stone, brick, and wood were often utilized in the construction of the house since it was encouraged to employ local materials. There are a few crucial elements of an Arts & Crafts home that are present across several different architectural styles –
Roof – A typical Arts & Crafts house has a low-pitched roof with wide, exposed eaves.

Exposed Beams – In an Arts & Crafts home, the beams inside the house and the rafters on the roof are often on display.

Windows – The windows of a house are typically comprised of several assemblies of smaller panes.

Built-in – The popularity of built-in furniture is an important aspect of this design trend.

Fireplace – А quite a significant fireplace that served as the room's focal point and centered the open living area was a common feature of Arts & Crafts houses.

Floor Plan – In contrast to the boxy, partitioned rooms of the Victorian-style houses that came before, the houses of the Arts and Crafts movement had open floor plans.

Porches – The porch is usually restricted to the area around the front door.
The Era of Frank Lloyd Wright and His Prairie School
Source: pinimg.com
Some of the famous houses built by F.L.W. are –
Taliesin East

Taliesin West

Robie House

Falling Water

Ennis House
Houses designed in the Prairie School style have open floor plans, horizontal lines, and natural materials. These were connected with the American Arts and Crafts movement, which placed a strong focus on handicrafts, functionality, and simplicity.
Catalog House Styles
Source: pinimg.com
Most of Sears's modern homes were offered by the American company Sears, Roebuck, and Co. through mail-order catalogs. Throughout the 34-year history of the line, Sears Modern Homes featured more than 370 designs in a variety of sizes and architectural styles.
Sears House Styles
Source: pinimg.com
Because of their solid structure, ease of DIY construction, and well-liked architectural design ideas, Sears Home Styles have become a favorite movement among history enthusiasts. However, many homes that are referred to as "Sears Homes" are not Sears Homes; they are either made by another kit home company or are not even kit homes.
Revivalism (20th Century)
Source: pinimg.com
The advent of middle-class travel also had an impact on many of the revivals that took place from the late 19th century into the 20th century, which tended to concentrate more on regional traits and older styles native to the United States and eclectically from other countries.
Mediterranean Revival Era
Source: pinimg.com
The Mediterranean Revival architectural style entered the large estate design vocabulary in the early 20th century. A notable and prominent example is the Julia Morgan-designed Hearst Castle on California's Central Coast.
Mediterranean Revival House Styles
Source: pinimg.com
Some features of Mediterranean Revival House Styles are –
Indoor-outdoor living is the focus.

Maximizing the use of natural light and outdoor views through internal arched casings, as well as curved windows and doors.

Exposed beams, stone walls, and hardwood or tile floors.

Interiors with lots of air and light.
Spanish Colonial Revival Era
Source: pinimg.com
Bertram Goodhue and Carleton Winslow Sr., who studied Spanish Colonial architecture and its Churrigueresque and Plateresque embellishments in Mexico, designed the 1915 Panama-California Exposition to move beyond the Mission Revival Style.
As a result of the project's widespread popularity, the Spanish Colonial Revival style was made known to the public and many design experts in California and around the nation.
Spanish Colonial Revival House Styles
Source: pinimg.com
Low-pitched, rounded arches, red-tile roofs, stucco walls, and an asymmetrical façade are typical characteristics of Spanish Revival architecture. Moreover, it often uses elaborate decorative elements on both the interior and exterior. It's a highly distinctive style, fitting for a region of the United States with a rather distinctive history.
Georgian Revival Era
Source: pinimg.com
In the thirteen Colonies during the British colonial era, the Georgian style dominated residential construction. The Mount Pleasant house in Philadelphia built between 1761 and 1762, has a pedimented-topped entrance that is supported by Doric columns. The roof features a railing and a symmetrical design that are typical of the then-popular neoclassical style in Europe.
Georgian Revival House Styles
Source: pinimg.com
Houses usually had two stories, were rectangular, had white trim, and placed an emphasis on symmetry and order. Furthermore, chimneys and brick facades rose to prominence. Both of them were quite typical of colonial design, but in the 18th century, practicality took precedence over aesthetics.
Colonial Revival Era
Source: pinimg.com
To preserve elements of American colonial architecture, the Colonial Revival architectural style has been developed. In the United States, Queen Anne-style architecture predominated from roughly 1880 to 1910, and only a small number of Colonial Revival house styles were constructed during that time.
Romanesque Revival Era
Source: pinimg.com
The Romanesque Revival style of architecture originated in Britain in the 19th century and came to America in the 1840s. It is influenced by the massive load-bearing columns, wide arches, and thick stone walls of medieval European architecture.
Buildings designed in the Romanesque Revival style simplified some of those elements while keeping the essentials. The architecture is made of stone or brick and features pronounced arches and circular towers. Many churches and structures on college campuses around the United States are built in the Romanesque Revival style.
Cape Cod House Styles
Source: pinimg.com
The Cape Cod style of lighthouse construction developed on Cape Cod in Massachusetts in the early 1800s and spread to the West Coast, where many excellent examples may still be found.
In those lighthouses, the light tower was directly connected to the keeper's house, located on the roof, and entry was made through a staircase on the residence's top floor.
Cape Cod House Styles
Source: pinimg.com
One of the most easily recognizable house styles in the United States is Cape Cod architecture. An original Cape Cod house is mainly a modest, unadorned, rectangular, one-and-a-half-story cottage featuring side gables and a steeply pitched roof to prevent snow accumulation.
Dutch Colonial Revival Era
Source: pinimg.com
It is more accurate to refer to the contemporary equivalents constructed in the early 20th century as "Dutch Colonial Revival," a variation of the Colonial Revival style.
Dutch Colonial Revival House Styles
Source: pinimg.com
Dutch Colonial is a house's architectural style that is chiefly distinguished by gambrel roofs with curved eaves along the length of the house.
Tudor Revival Era
Source: pinimg.com
The Tudor Revival style, also referred to as "mock Tudor" in the UK, initially appeared in domestic buildings there in the second half of the 19th century. In truth, the style of English vernacular architecture from the Middle Ages that persisted into the Tudor period was typically adopted based on the resurgence of elements that were perceived as Tudor architecture.
Tudor House Styles
Source: pinimg.com
A decorative front or side chimney, diamond-shaped casement windows, a round-arched, board and baton front entry door, or an overhanging gable or second story are a few examples of such elements. Tudor home styles often feature ornate stonework or brickwork and are almost always made of stucco, masonry, or masonry-veneered construction.
Pueblo Revival Era
Source: pinimg.com
Although different building materials, including brick or concrete, are often utilized in place of adobe, Pueblo Revival architecture mimics the look of the original style. Rounded corners, uneven parapets, and thick, weathered walls are employed to resemble adobe if it is not used.
Common features found in the Pueblo Revival style include latillas, which are made of peeled branches and strips of wood laid across the apex of vigas to create a foundation for a roof (typically supporting dirt or clay). Vigas are projecting wooden roof beams that sometimes have no structural purpose.
Pueblo Revival House Styles
Source: pinimg.com
Following are the revival house styles –
Natural materials – Traditional adobe (sun-dried mud) can be used to construct pueblo-style dwellings, although they can also be constructed out of concrete, stucco, or mortar.

Massive wood elements – The smooth walls distinctive of Pueblo construction contrast sharply with the heavy doors, ceiling beams, and porch posts. Vigas, the term for the used timbers, are typically exposed at the ends.

Courtyards – Native American Pueblo houses often have a covered patio or courtyard since ancient Indian pueblos were built around a central gathering area.

Windows – They tend to be square with rounded exteriors. These resemble authentic Indian pueblos in appearance.

Sloping roofs with parapets – Low walls known as parapets rise above the roofline; they occasionally allow drainage channels known as canales to pass through them.
Moorish Revival Era
Source: pinimg.com
Among the exotic revival architectural styles that were adopted by architects in Europe and the Americas after Romanticist Orientalism was the Moorish Revival or Neo-Moorish. Neo-Moorish architecture draws inspiration from traditional Moorish design and, thus, from more general Islamic architecture.
Moorish House Styles
Source: pinimg.com
Onion-shaped domes, elaborate ornamental patterns, and a profusion of arches were characteristics of this architectural style. In short, Moorish architecture is a branch of Islamic architecture and is distinguished by its ornate ornamentation, multi-foiled and horseshoe arches, and honeycomb vaults known as muqarnas or mocárabe.
Mayan Revival Era
Source: pinimg.com
The pre-Columbian Mesoamerican architecture and iconography served as the basis for the modern architectural style known as Mayan Revival, which became very popular in the Americas throughout the 1920s and 1930s. Its exterior, interiors, and furniture featured abstract Maya letter designs with Art Deco influences.
Mayan House Styles
Source: pinimg.com
This architectural style had flat roofs, stucco, horizontal lines, sweeping geometric patterns, opaque color palettes, and a close relationship to the landscape.
Egyptian Revival Era
Source: pinimg.com
Ancient Egyptian motifs and iconography are used in the architectural style known as Egyptian Revival. Since the Renaissance, there has been sporadic production of Egyptian-inspired artwork and buildings on the European continent.
Egyptian Revival House Styles
Source: pinimg.com
Some of the Egyptian Revival House Styles are –
Bundled shaft.

Rope or roll-like moldings.

Lotus capital.

Flat roof.

Egyptian temples.

Egyptian cornice.

Smooth ashlar finishing.
The Era of Style Moderne and Interwar Skyscraper
Art Deco Era (1919 – 1939)
Source: pinimg.com
A style of architecture, product design, and visual art, Art Deco—short for the French Arts Décoratifs—first debuted in France in the 1910s and thrived in the United States and Europe in the 1920s and 1930s.
Modern designs, exquisite craftsmanship, and precious materials were all integrated into Art Deco. In its prime, it stood for wealth, glitz, excitement, and optimism in societal and technical advancement. The development and look of Art Deco were greatly influenced by new materials and technology, particularly reinforced concrete. François Coignet constructed the first house made of concrete on the outskirts of Paris in 1853.
Art Deco House Styles
Source: pinimg.com
With stylized, usually, geometric accents, Art Deco house styles have an elegant, linear aspect. A sequence of setbacks that produce a stepped contour is frequently seen on the main façade of Art Deco structures. Low-relief ornamental panels are frequently used as string courses around windows, along roof edges, and around entrances.
Streamline Moderne Era (1930s)
Source: pinimg.com
In the 1930s, the international Art Deco style known as "Streamline Moderne" first appeared in architecture and design. It emphasized curved forms, broad horizontal lines, and occasionally nautical motifs because it was aerodynamically design-inspired.
It was employed in industrial design to create the appearance of sexiness and modernism in things like telephones, ovens, buses, gadgets, and other things.
Streamline Moderne House Styles
Source: pinimg.com
The absence of ornamentation is a defining feature of Streamline Moderne architecture. Typically, decorative elements are restricted to linear elements like applied trim or notches in the clean stucco cladding, as well as stylized functional parts like a flat canopy or rounded handrails.
Queen Anne House Styles
Source: pinimg.com
The Victorian architecture style includes the Queen Anne style, which peaked in popularity in the late 1800s. It typically has an asymmetrical facade with an overhanging eave and a front gable. Additionally, the front of the house often has a porch that runs the length of it, sometimes with a balcony on the second floor.
The Age of Skyscrapers
Source: pinimg.com
The Woolworth Building in New York City, built in 1913, was one of the first skyscrapers with major cultural significance. Although the Woolworth building was a key influence on the competition's chosen Gothic design, some of the many other entries ended up having a significant impact on other 20th-century architectural styles.
Roadside Architecture in the US
Source: pinimg.com
The American automobile culture has given rise to many distinctive architectural expressions that are unique to that nation as well as having vernacular roots, particularly in diners.
Roadside House Styles
Source: pinimg.com
To meet the requirements of the early automotive period, roadside architecture incorporates a variety of structures, such as petrol stations, restaurants, cafes, campers, hotels, and motels built out of small guest cottages.
The popularity of a new type of growth brought about by the usage of cars spread across the nation, not only along Route 30.
Parkitecture Era (Late 19th century)
Source: pinimg.com
The National Park Service's rustic architectural style, often known as Parkitecture, emerged in the early to middle 20th century as a result of the National Park Service's (NPS) efforts to design structures that complemented their surroundings.
Ducks Era
Source: pinimg.com
Novelty architecture, also known as programmed architecture or mimetic architecture, is a style of architecture that consists of house styles and other structures given odd shapes for commercial or imitative objectives without any consideration for authenticity.
They often act as landmarks due to their size and originality. They differ from architectural follies in that novelty architecture mostly consists of utilitarian structures in quirky forms, whereas follies are ornamental, non-useful structures that are frequently unconventional in form.
Googie Era
Source: pinimg.com
A style of futurist architecture known as "Googie" was inspired by car culture, jet travel, the Atomic Age, and the Space Age. Motels, coffee shops, and petrol stations were among the roadside businesses that often featured googie-themed architecture.
Googie House Styles
Source: pinimg.com
Upswept roofs, curved, geometric designs, and daring use of neon, steel, and glass are all characteristics of Googie house styles. Googie also featured free-form styles like "soft" parallelograms or an artist's palette theme, as well as Space Age symbols of motion like boomerangs, hovering saucers, diagrammatic atoms, and parabolas.
Miami Modern Era
Source: pinimg.com
A localized architectural style known as Miami Modernist architecture, or MiMo, emerged in South Florida amid the post-war era. The fashion was acknowledged on a global scale as a regionalist reaction to international style.
Miami House Styles
Source: pinimg.com
Using a design named Mediterranean Revival, architects like Addison Mizner responded to the desire for Miami's quick expansion. Apartment structures, mansions, and single-family houses all include architectural features reminiscent of Spanish, French, and Italian Mediterranean coastal cities.
Post-War Suburbs Era
Source: pinimg.com
Suburbs grew as a result of accessible cars and a preference for single-family detached houses. These have become a common sight in American landscapes, being both commended for their high quality of life and criticized for their boring architecture.
Post-War House Styles
Source: pinimg.com
Houses are cozy and made for family living, and they are frequently distinguished by their triple-faced brick veneer. Post-war architecture is often single-story with connected living areas, yet it is more traditional as compared to modern architecture. Mass-produced windows encourage the use of glass more often.
Ranch-Style House
Source: pinimg.com
The ranch is an American domestic architectural style that is often referred to as "American ranch," "California ranch," "rambler, or "rancher." The ranch-style house is distinguished by its long, low profile, and open design.
Split-Level Houses
Source: pinimg.com
The floor levels of a split-level home, also known as a bi-level home or a tri-level home, are spaced out. Typically, there are two short sets of stairs: one leading up to the bedroom level and the other leading down to the basement area.
Neo-Eclectic Era
Source: pinimg.com
An architectural style that has influenced the construction of residential buildings in North America is known as "neo-eclectic architecture." It blends a wide range of ornamental methods drawn from a variety of distinct house designs. They can be seen as a degeneration from the simple, unadorned modernist principles and designs that underpin Ranch-style and mid-century contemporary homes.
Neo-Eclectic House Styles
Source: pinimg.com
The majority of neo-eclectic houses have an open layout with connected kitchens, dining, and living spaces. The ceilings are lofty, frequently vaulted, and average 9 feet or more in height. Wood beams and paneling, which have an arts and crafts aesthetic, are typical rustic interior design elements.
The Era of Modernism (1930s – the early 1960s)
Source: pinimg.com
Modern architecture, also known as modernist architecture, was an architectural style that was based on innovative building techniques, especially the use of glass, steel, and reinforced concrete, an adhesion to minimalism, the idea that design should follow function, and a dislike for ornamentation.
Early Modernism Era
Source: pinimg.com
Irving Gill's work is exemplified by several Californian buildings with flat roofs in the 1910s. It included the Walter Luther Dodge house in Los Angeles and advanced interest in the simplification of the inner space and outer facade.
Modern House Styles
Source: pinimg.com
Clean lines, open layouts, and an emphasis on functionality are characteristics of modernist architecture in residential construction. In addition to using natural materials such as wood and stone, modern homes often feature huge windows that let in a lot of light.
International Style Era (1920s – 1930s)
Source: pinimg.com
The 1920s and 1930s saw the development of the International Style, often known as internationalism, which was strongly associated with modernism or modernist architecture.
Some of the international-style houses are –
Ludwig Mies van der Rohe's Farnsworth House and 860-880 Lake Shore Drive Apartments

Louis Kahn's Salk Institute for Biological Studies and the Phillips Exeter Academy Library
International House Styles
Source: pinimg.com
The most common features of International Style houses include rectangular shapes, light, taut planar surfaces free of any applied embellishment or ornamentation, open room layouts, and visually weightless aspect brought about by the adoption of cantilever construction.
Mid-century Modern (MCM) Era (1945 – 1969)
Source: pinimg.com
The MCM design style is modernist in both appearance and construction, keeping with the time's Modernist vogue. It typically lacks ornamental flourishes and is distinguished by clear, straightforward lines and honest use of materials.
MCM House Styles
Source: pinimg.com
Clean lines, soft curves, the absence of ornamentation, large windows, utilitarian interior design, and open floor plans were all hallmarks of mid-century modern architecture, a 20th-century architectural style that sought to balance indoor and outdoor living areas.
Cabin House Styles
Source: pinimg.com
Since the arrival of European settlers in North America, minimal log cabins have been constructed. The earliest examples of this archaic architecture were simple one-room houses in the woods. As an homage to the original design, the outside is still frequently constructed with logs or, at the very least, covered in wood. Furthermore, the form is simple and typically has an open interior.
Futurist Era
Source: pinimg.com
Futurist architecture, a style of early 20th-century architecture that originated in Italy, is distinguished by long, dynamic lines that imply speed, motion, urgency, and romanticism.
Brutalist Era (1950s)
Source: pinimg.com
Simple, unadorned buildings that highlight the basic materials and structural elements define brutalist architecture.
In addition to using materials like steel, wood, and glass, the style frequently uses exposed, unpainted masonry or brick, sharp geometric shapes, and a primarily monochrome color scheme.
Brutalist House Styles
Source: pinimg.com
The characteristics of Brutalist house styles are raw materials, rough surfaces, straightforward outlines, and geometric shapes. The post-Mid-Century era, which embraced grandeur, glamour, geometric forms, and repeated patterns, is where the movement originated.
The High-Tech Era (1970s)
Source: pinimg.com
An example of late modernist architecture that incorporates features of high-tech industry and innovation into building or house styles is high-tech architecture, commonly referred to as structural expressionism.
It places a focus on honesty in design and construction, aiming to convey a building's fundamental structure and function throughout both its interior and exterior. A lot of aluminum, glass, steel, and, to a certain extent, concrete is used in high-tech architecture.
High-Tech House Styles
Source: pinimg.com
Buildings constructed in high-tech architecture often feature a similar plan. These consist of an open floor layout, a sizable core area serviced by numerous smaller maintenance rooms, and repeating elements that may be or appear to be disconnected and changed as necessary.
Also Read: The British Museum London Architecture, Interior & USPs
Postmodernism Era (Late 1970s)
Source: pinimg.com
In response to the "glass box" issues, some younger American architects, like Michael Graves (1945-), have abandoned the austere, boxy appearance in favor of postmodern structures, like those by Philip C. Johnson (1906-2005), who used bold decoration and angular shapes to allude to more traditional architectural motifs.
Postmodern House Styles
Source: pinimg.com
Curved shapes, decorative accents, asymmetry, brilliant colors, and elements frequently taken from older eras are characteristics of postmodern house styles. Colors and textures had nothing to do with the building's design or purpose.
Which House Styles Impressed You?
Source: squarespace-cdn.com
Well. quite a long piece, right? So, which house style are you going to incorporate into your design? Is it the colonial house styles, the Pueblo, the modern style, or the ranch house styles? You can go as intricate as Gothic styles or as simple as modern ones. The sky is the limit! But whatever house styles it may be, just make sure you do justice to its elegance and style.
Subscribe to our page for more such informative pieces.
FAQ: House Styles
1. What Are the Famous House Styles?
Cape Cod, Colonial, Victorian, French Country, Tudor, Craftsman, Mediterranean, Ranch-style, Cottage, and Contemporary are among the top ten most common house styles in the United States.
2. What Are Modern Home Styles?
Clean lines with geometric shapes are highlighted in contemporary house styles. Arches, elaborate columns, window shutters, and other bizarre embellishments are no longer present.
3. Why Are House Styles Used?
Your home's aesthetic serves many crucial functions and helps define who you're as a brand. A simple house style, to start, aids in defining your brand for customers. Customers are inclined to purchase from well-known companies. Secondly, it is a crucial strategy for standing out from your rivals.
4. What Is the American Traditional House Style?
The most popular kind of house in the United States today is one with a traditional design. Its layout is a fusion of traditional elements taken from historic houses and contemporary house-style ideas. Simple rooflines, symmetrically positioned windows, and understated accents are typical characteristics of this design.
5. What Is a Luxury House Style?
Luxury homes can be rather spacious, made of high-quality materials, furnished lavishly, and equipped with several expensive services. These luxurious properties are located in the nicest, most sought-after areas. They are valued in the top 10% of the regional real estate market.
More from The Architecturesstyle
For more information about the latest architectural development, keep coming to Architecturesstyle.
Also, do follow us on our Instagram page, Architecturesstyleideas, to get daily updates.
Saili Sawantt
Saili, once an architect, has seamlessly transitioned into the world of writing. With a background in architectural writing, content strategy, and curation, she now brings a unique perspective to fashion. For the past three years, Saili has collaborated with various multimedia publication houses, design firms, studios, organizations, luxury brands, and educational institutions. Beyond her professional endeavors, Saili is an avid reader and an adventurous traveler, channeling her experiences into her work.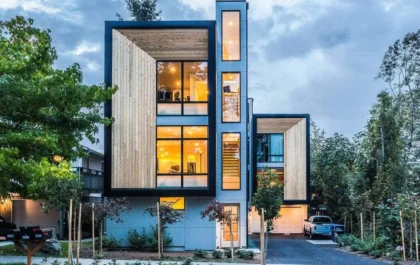 27+ Stylish & Modern Townhouse Designs for Urban Living.
The townhouse's first impression is normally too small, too compact, too narrower, and the list is endless. Well, let us…