The late 19th and early 20th century witnessed many important social movements which largely affected the Architecture and art world all over.
As a result of these, we got a wide range of home styles, and one that stands out vividly is the Craftsman bungalow house. These were famous for their rich history and character.
In this blog, we'll know more about Craftsman bungalows and its design elements.
Craftsman bungalow houses are built in the architectural style that was inspired by the infamous Arts and Crafts movement. This style widely included architecture and landscape design, interior design as well as applied arts and decorative arts.
History of Craftsman Bungalows
The credit to this beautiful Architecture style originally goes to the late nineteenth-century British social movement.
In America, the craftsman bungalow houses became widely known in the late 1800s and early 1900s during the Arts & Crafts Movement. Its period of popularity is said to be roughly between 1900 – 1929, a time prior to the great depression.
This was the time when people had started losing interest in the rather heavy and eclectic style Victorian homes. People instead started choosing simplicity of craftsman bungalow house plan.
The initial people associated with this style are American furniture manufacturer Gustav Stickley and the Gamble Brothers. The Gamble brothers are known for their iconic Gamble House. 
Characteristics of a Craftsman Bungalow House
Any style of design or architecture gets known because of its distinctive characteristics. These few said characteristics get featured in almost all pieces of architecture that follow this style.
Following are the characteristics you'll get to see in a Craftsman bungalow. These characteristics can be seen finely crafted in these homes.
Roof is generally low- pitched with overhanging eaves.

The rafters were kept exposed under the eaves.

The columns are squarer shaped, being heavy and tapering.

The window and its panes have beautiful patterns.

The exterior colours of

craftsman bungalow houses

reflect natural elements. Earthy tones, including greens, browns and taupe shades can be vividly seen.

The building materials also reflect earthy finishes ranging from brick, stone to stucco and wood sidings.

Craftsman bungalows

are either front-gabled, side-gabled or cross- cabled.
Craftsman Bungalow House Plan
Even after over 100 years later, the Craftsman bungalow house plan still remains relevant. Craftsman bungalow houses were designed with keeping in mind the family's needs and movement. Public spaces, privacy was taken utmost care of.
That being said, some things about an original Craftsman Bungalow are impractical in today's time. Back in its time, bedroom closets were very cramped, and kitchens didn't have room for the appliances. The countertops are a necessity in even the most compact kitchens of today. These homes used to have just one tiny bath for a three-bedroom house which seems insufficient today.
Nevertheless, the essence of a Craftsman Bungalow house plan remains the same today as it was back then. Even today we love a welcoming front porch; a welcoming foyer; a cosy family living space organized around a big fireplace; and other functional living spaces. Don't have a porch on your property yet? Have porch builders create you one!
The philosophy behind a Craftsman bungalow is a good match for what is known as "open floor plan".
Just like in older generations, Victorian homes needed a fireplace in almost every room and lots of doors to keep the heat secured. But after the emergence of central heating during the early 1900's, it allowed Craftsman homes to begin opening up spaces like living and dining rooms to each other.
Craftsman Bungalow houses of today take that idea even further from opening the kitchen to the living spaces and blending the cooking and eating areas.
Inside the Craftsman Bungalow
The bungalow interiors were done in the Craftsmans style too. In contrast to the Victorian interior styling, Craftsman bungalows focused on simplicity of design and craftsmanship of the unique details.
Walls were often seen with wood- panelling to half or chair height. Use of burlap was seen on top parts of the walls. Details or soft textures were usually in earthy harmonious tones.
The woodwork was done of golden oak or oak brown stained finish coats. Painted softwood was also gaining popularity.
The concept of artistic details was widely seen in interior styling. Pottery, Indian baskets, Asian wares, vases and arts and crafts hangings were used to display the owner's collections.
Built-in furniture had bookcases, cabinets with fine details. They also included fireplaces with cabinetry on either side.
Summary
Now that we've understood what our craftsman bungalows houses, we can clearly see how this style of architecture and interior can still be a great concept even today. New homeowners who want a simpler, streamlined yet functional design must definitely consider the craftsman style of houses.
Find Out More: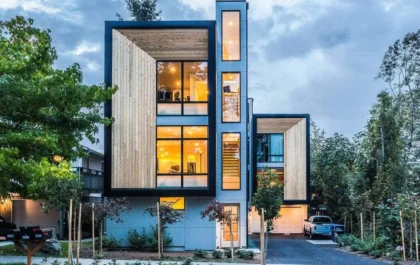 27+ Stylish & Modern Townhouse Designs for Urban Living.
The townhouse's first impression is normally too small, too compact, too narrower, and the list is endless. Well, let us…