H House
Architects: G+ Architects
Location: Vũng Tàu, Vietnam
Area: 68 m²
Year: 2020
Source: adsttc.com
Located in Vũng Tàu, Vietnam, this urban house has many remarkable features and elements. Constructed on a typical subdivision land, this house can perfectly explain the definition of minimalism with comfort.
Designed by a Vietnam-based architecture firm, G+ Architects. For this project, Doan Bang Giang was the head architect, and Nguyen Khac Luu was the structural engineer. The design team includes Quan Truong, Huong Nguyen, Khanh Steven, and Giang Doan.
Source: adsttc.com
Source: adsttc.com
The home has two divisions: the ground level and upper level with the living space. In urban areas, most houses are built to face each other, including the west houses. This gives less privacy to the people, so residents don't prefer to open balconies and windows. Hence, the dependence on air conditioning and electric lights has increased in these areas.
Source: adsttc.com
Source: adsttc.com
The homeowner discussed this issue with the architect. So the design team came up with this brilliant house idea. The H house in Vietnam has ample space indoors with little brick openings in the facade. These openings will allow natural light and air to enter the building without invading privacy.
Source: adsttc.com
Let's know more about the H-house / G+ Architects.
H House: Exteriors
Source: adsttc.com
Source: adsttc.com
This house project is a bit different from the regular houses. Instead of one outer facade, architects created two shells or layers.
The first shell is completely made out of bricks. Only refractory brick has been used as they're light in weight but still quite strong and have less dust. These bricks are laid in a specific pattern around the front and back parts of the house.
Source: adsttc.com
Source: adsttc.com
The second shell or layer is buffer space that can be used as a balcony, garden, or floor ventilation. After the second shell, there is a system of glass doors. They act as an inner layer and operate with advanced technology. These doors open and closes actively in the morning (light) and at night (dark) and ventilation. (convection before – after & between the house)
Source: adsttc.com
Take a look at the above pictures to see that the roof is also designed differently. Actually, the roof is a wooden bar system or wooden lattice system. It is designed this way for the zipper and solar battery roof.
Source: adsttc.com
Source: adsttc.com
This empty shell in the architecture is cleverly designed to limit 70% of the direct sunlight. So the living space has low sunlight but maximum air convection. This also has another advantage; it also blocks the direct views from residences built on the opposite side. So the H-house residents will get enough privacy to enjoy their family time without being supervised by the neighbors.
H House: Interiors
Source: adsttc.com
Source: adsttc.com
Instead of going with a single structure, architects decided to go with a split-level home. This way, it will bring flexibility to the center of the house, joining both indoors and outdoors. There are also spacious balcony spaces that provide open spaces for views. Residents can enjoy viewing the neighborhood from the living room – the dining room, and the balcony.
Source: adsttc.com
Source: adsttc.com
There is also an atrium (large open-air or skylight-covered space) in the middle of the house. Designers have included this part in the building to make interiors bright and airy. Habitants can enjoy sunlight through the rotating bar system, and air will flow through the brick slots from the outer shell.
This space will be great for family gatherings and meetings as it will increase the connection and interaction between family members living in different parts of the house.
Source: adsttc.com
Source: adsttc.com
There is also a stair between and in front of the house. This will create flexibility for traffic and also create views of open spaces. Instead of using the stairs in the middle of the house, residents can use these stairs from the bedroom to go directly to the garden on the terrace. Plus, people can also enjoy natural outdoor views from the terrace and stairs.
Source: adsttc.com
Source: adsttc.com
Source: adsttc.com
Source: adsttc.com
Source: adsttc.com
Source: adsttc.com
Source: adsttc.com
Source: adsttc.com
Source: adsttc.com
Source: adsttc.com
Source: adsttc.com
Also Read: Country House: Key Elements, Types, Interior & Exterior ideas
The Bottom Line
So this is all about the H house in Vietnam by G+ Architects. This project beautifully describes the simple lifestyle in a modern way. While keeping nature close to the living space, residents can easily be able to live a high quality of life with privacy. From its unique architecture to interior elements and designs, everything seems in a proper flow and seamlessly blends outdoors and indoors.
I hope this post has given you some inspiration about the simple living style in this busy urban lifestyle. You can take inspiration from this house and build your own dream home. If you find this house guide helpful and informative, share it with your family and friends.
Do you want to read more about other fascinating architecture around the globe? Check out our previous blogs on Fritz Hansen Pavilion in Copenhagen, 7 Spectacular Residences in the World 2022, Almaty Cafe and Restaurant by M.serhat Sezgin in Kazakhstan, Czech Republic's Tallest Skyscraper, and many more.
To know more about home improvement techniques and decoration ideas, explore Architecturesstyle.
For daily updates about architecture, don't forget to follow us on our Instagram page, Architecturesstyleideas.
Himadri Shakya
Himadri Shakya is an enthusiastic Content Writer and Editor. She loves to create creative, engaging, and SEO-friendly content. Through her extensive research skills and practice, she has been generating high-quality and informative articles, and blog posts for over 4 years.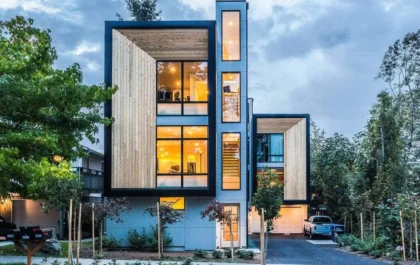 27+ Stylish & Modern Townhouse Designs for Urban Living.
The townhouse's first impression is normally too small, too compact, too narrower, and the list is endless. Well, let us…