I want you to close your eyes for a moment and try to visualize the house of your dreams. A house with everything you desired, the perfect colors, interior, etc. Now open your eyes and examine your feelings. I am sure you must be feeling delighted. That is the thing, the mere thought of having a home with beautiful house interior design ideas is astonishing. So, think about how you will feel when you live in one?
Our home holds a deep meaning in our lives. We crave to create our living place elegantly. The way we furnish our space left a message in front of the people. People will make a sketch of miscellaneous items associated with us just by peeping over at our space. People tend to spend a lot of money on home decor.
So if you're thinking of renovating your home and looking for an architect home designer, you have just landed in the right place. We have curated the latest home decor trends that will give you just the right vibe.
Let's have a look at some beautiful house interior design ideas.
Embrace Your Home Interior with Custom Canvas Prints
Source: canvaspop.com
Are you in search of home decor as unique as your space is?
Custom canvas prints are just the perfect choice to make your home decor unique. Enhance your artist in your home decor with canvas prints.
Canvas prints are the most intimate form of art that will add life to your empty, dull walls. You can even dedicate a wall of your house to these custom canvas prints and channelize your hidden creativity to arrange these canvas prints into the pattern you wish to.
With CanvasPop, you can effortlessly transform your personal photos into home decor. Order framed prints with Canvaspop and give life to your lifeless walls. They provide you with several options to choose from sizes, mats, frames. Seize your favorite memory forever with custom canvas prints.
Welcome Nature Inside with Dried Flowers
Recently, dried flowers were all over Instagram, suddenly Millennials, Influencers, Actors everyone had included dried flowers to give a chic look to their interior. Dried flowers are a magnificent alternative to have unusual natural, sensitive touches in our home. Artificial dried flowers are readily available at stores, or you could even buy them online from Amazon.
You can even make dried flowers at home by simply plucking out the flower of your choice, and hang them together for weeks. Lastly, shift them into a beautiful vase and your dried flower decoration is ready.
Traditional Impressions Are Back at the Trend
These days you will get to see traditional prints everywhere, whether it is clothing or crockery. Traditional impressions are trending globally. People are especially looking for traditional prints that can add beauty to their modern spaces.
Getting your walls a traditional pattern will give you just the classic look you have been searching for. Here is a tip from renowned interior designers, they believe that traditional prints go well with contemporary pieces.
Go for Granny Chics'
Source: earlysettlerblog.com
Granny chic is now popularly known as Grandmillenial and it's solely about flowery prints, lace table fabrics, stitched curtains. But, there is a fashion for how you place these things. Otherwise, you will end up giving your space a look similar to your nan's bedsheet.
You will notice that this granny chic becomes big on the traditional fashioned designs but, you could add a modern touch by installing a few contemporary pieces, for example- a classic velvet sofa and a pastel vase. They will make you feel all nostalgic but they will look unusual as part of your home interior.
Hidden Kitchen
You must be wondering what a hidden kitchen is?
You must have seen a closet behind a combined cabinet doorway or a combined refrigerator into a pantry unit. But, it might not be possible that you have seen an entire hidden kitchen. A hidden kitchen is a thing now. It has grown into one of the most trending kitchen ideas of 2021.
With the existing areas getting smaller and storehouses becoming clever, the inclination towards installing a neat, minimalistic kitchen is growing popular. The items required in a kitchen like workstations, pots, connection joints, knife bars, even taps, and tubs can now hide into cupboards and consecutive exteriors so that one can enjoy the maximum advantage of the space available.
Sustainable Designs
Fast fashion is not a new theory for us. There is a growing concern observed in people who contemplate the source of the pieces they are acquiring for their home decor. People are driving towards eco-friendly choices. Thus, they are seeking sustainable furniture.
Sustainable designs came from the things that do not harm the environment, for example- rugs made out of recycling plastic bottles. Check your local market for unique furniture pieces or you can even DIY. Sustainable designs furniture gives your home the elegant and unique look that you have been craving for.
Enhance Your Decor with Cane Furniture
Source: mydomaine.com
Classy, rich, and cultured are the three words that define cane furniture best. You must have seen the traces of cane furniture the last time you visited your ancestral home. Furniture made from cane, rattan, and wicker is commonly used to decorate your terrace, balcony, and gardens.
A sofa set made from cane will flatter and accentuate the interior of your living room with a combination of earthy and rustic textures. On top of that, furniture made from cane is much more affordable.
Animal Prints
Animal prints can do wonders to your home decor. They have the ability to add a wow factor that modifies a drab space to a fab one. Combine animal prints with a decor encouraged by nature, adding greenery to your interior can change everything into an excitement without remodeling the entire decor of the room.
Decorating the room according to the color palette of the animal will work perfectly. From rugs, furniture to the walls, you have animal prints on anything.
Introduce a Canopy into Your Bedroom
Source: decoratorist.com
Introducing a canopy into your bedroom will reconstruct your space suited for royals. Constructing a canopy does not require a lot of effort and money, you just need a white cloth that drapes magnificently and produces an empirical gaze to the minimalist room.
Place a Classic Floor Lamp
Do not forget the empty corners of your house, placing a classic floor lamp will do justice to the lifeless corners of your home. The floor lamp will give the perfect smooth and stylish look to your home decor.
Final Keynote
Out of all the above-mentioned home decor ideas, custom canvas prints are the most admired by people. Home is a very personal thing for us and we tend to look for house interior design ideas that could make it more intimate and unique. Thus, custom canvas prints or framed prints are the right choices to add beauty to our dull home.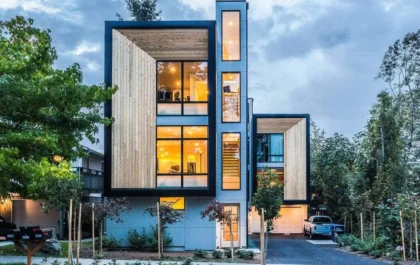 27+ Stylish & Modern Townhouse Designs for Urban Living.
The townhouse's first impression is normally too small, too compact, too narrower, and the list is endless. Well, let us…