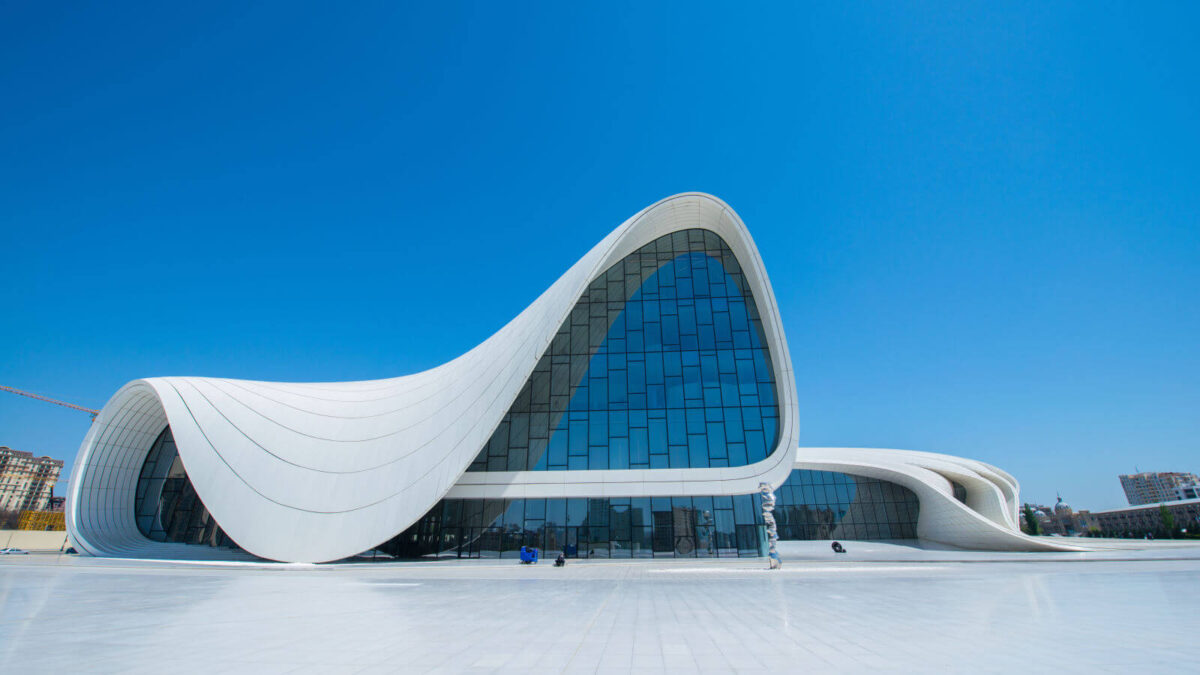 Heydar Aliyev Center: An Overview Of This Flowy Architecture
archistyladmin, 4 months ago
0
4 min

read
481
The Heydar Aliyev Center is located in the capital city of Azerbaijan, Baku. It was designed by the Iraqi-British architect Zaha Hadid. 
Zaha Hadid architects were selected as the design architect of the Center in 2007, the year when the construction started and it got completed in 2012, 5 years for its completion. From this, one can think of crucial and painstaking its construction would have been.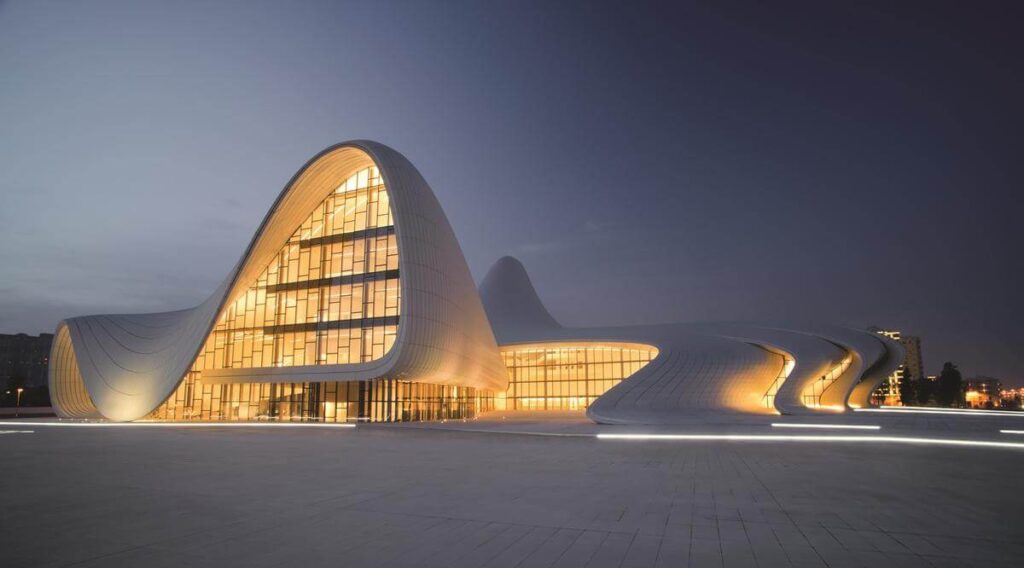 source: architizer.com
This piece of architecture is noted for its unique design and innovativeness. The curved style design makes it look very different and extra-ordinary. When you just have a look at its pictures or visit it in real life then you will have just one word on your mind: "WOW".
It is widespread in an area of 57,500 m2. The roof of this center is very tall with a height of 74m. The estimated cost of building this structure is 250$ million.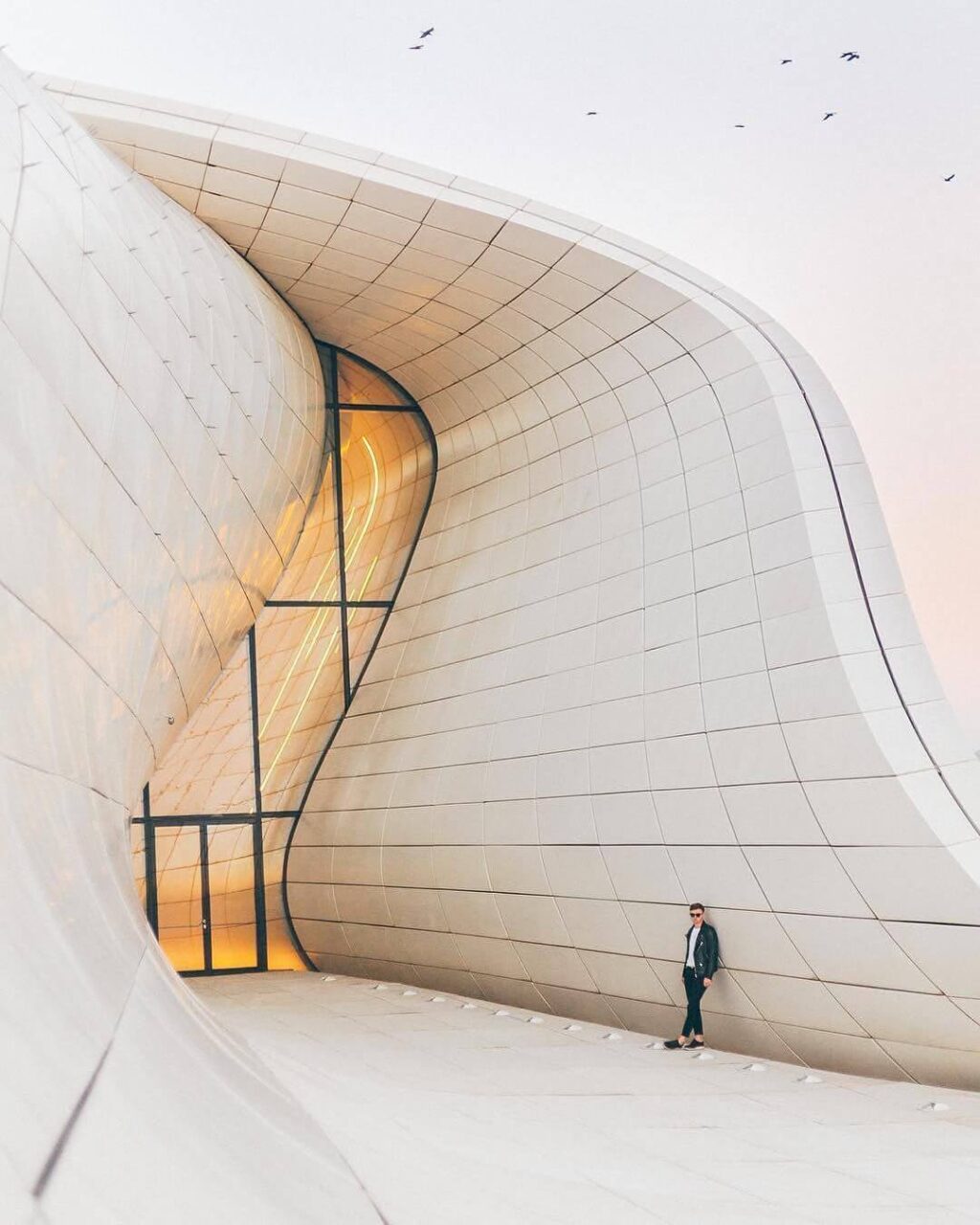 source: architizer.com
Let us now read ahead and check out this wonderful architecture in detail. 
After whom it is given the name?
It is named after Heydar Aliyev who was the president of the nation from 1993 to 2003. Its inauguration was done on May 10, 2012, by the President of Azerbaijan Ilham Aliyev.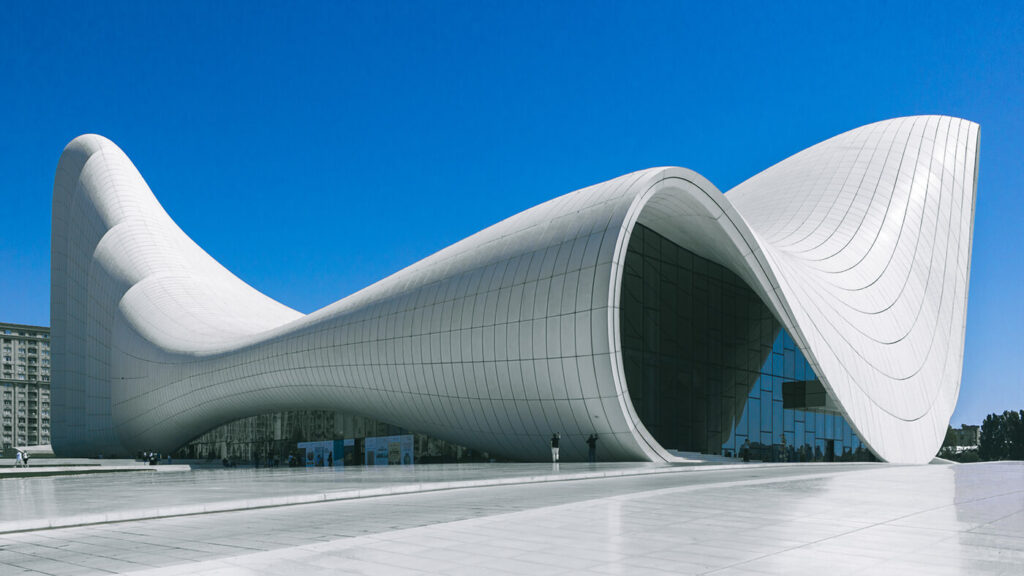 source: architizer.com
What's so special about its design?
Talking about the design, the surprising and interesting factor is the design of the building in the form of a flow. All the parts of the center are represented by folds in a continuous surface. The various elements of the center are provided their own identity and privacy under this fluid-structure.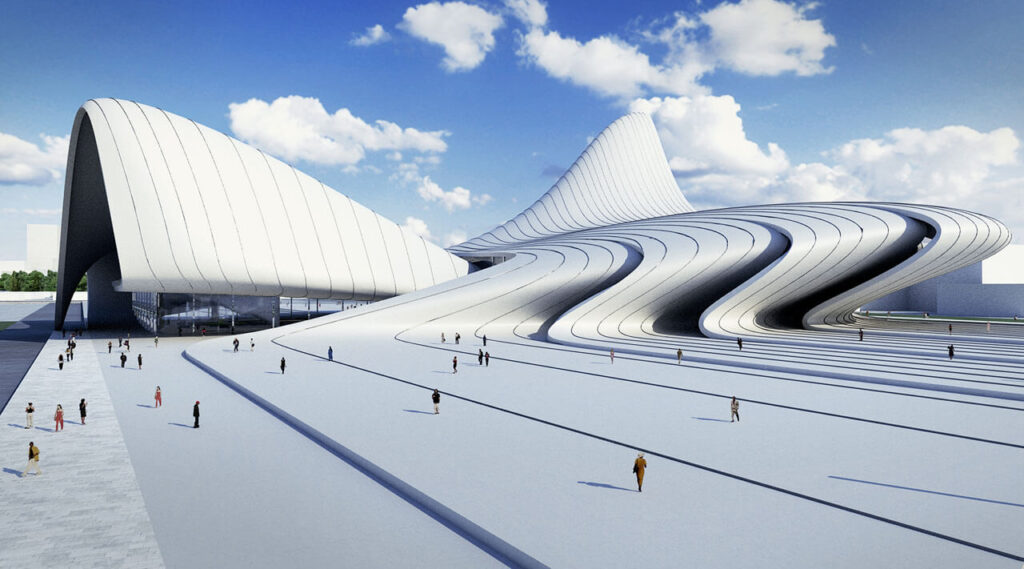 source: arch2o.com
Folds, bifurcations, undulations, and inflections have given a very unique shape and design to this center and it is the trademark of its popularity not only in Azerbaijan but all over the world. Fluidity in the architecture is very old in the Azerbaijan culture and it is witnessed in several different elements as well. You can see it in walls, carpets, ceilings, and many other elements so it is obvious that this center had to have it.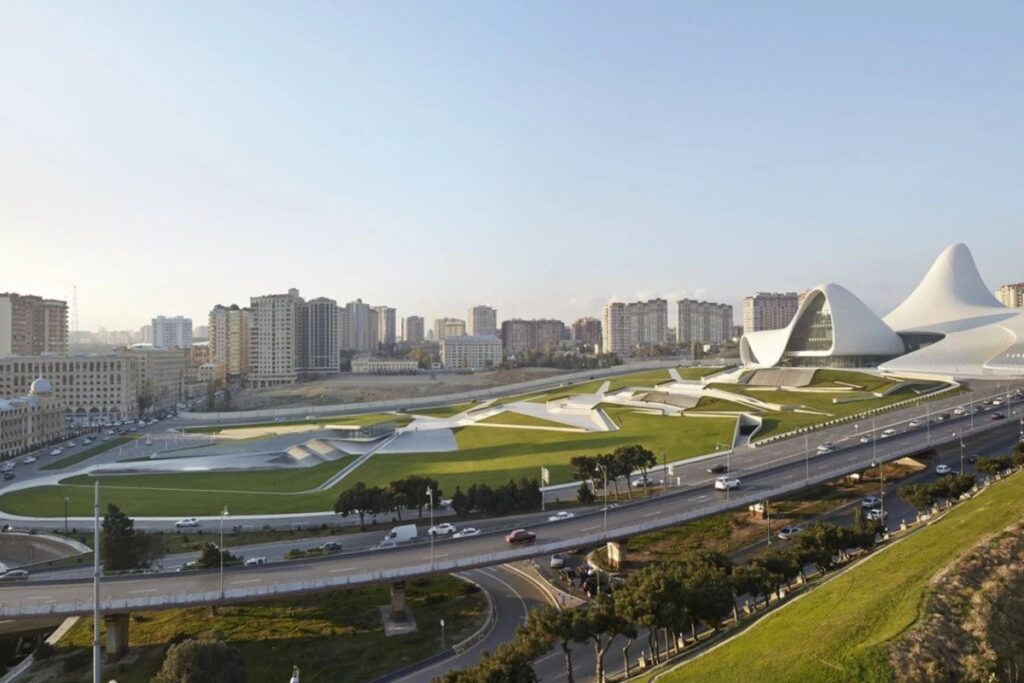 source: arch2o.com
Architects said that the most complex task of building this center was the continuity part. The homogeneous flow of the building required a sound technical knowledge, good experience of doing this in earlier projects, and construction logics.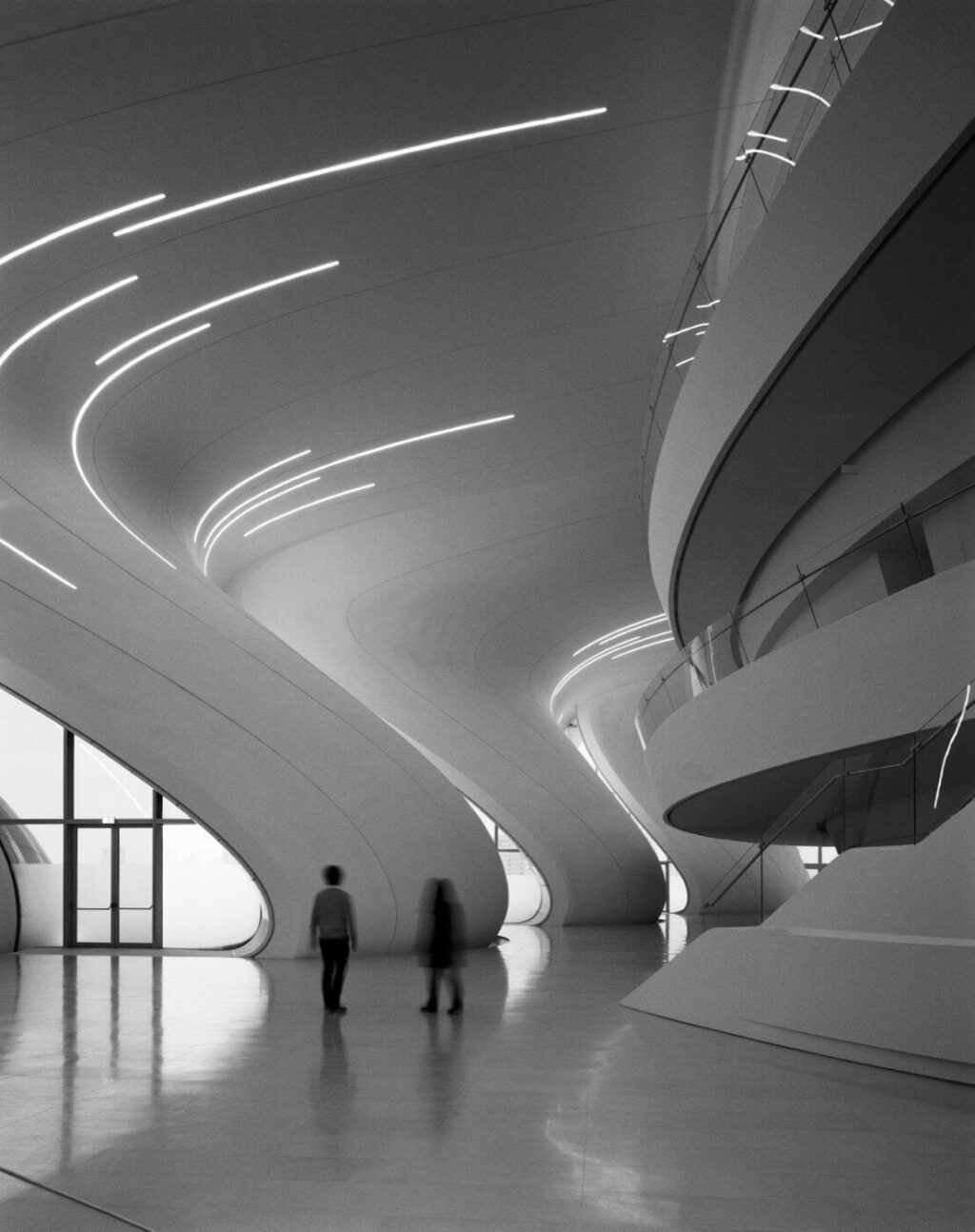 source: arch2o.com
The building represents the modern era of Baku and it has become a significant landmark getting popularity and recognition all over the world for its innovative design.  
What it consists of?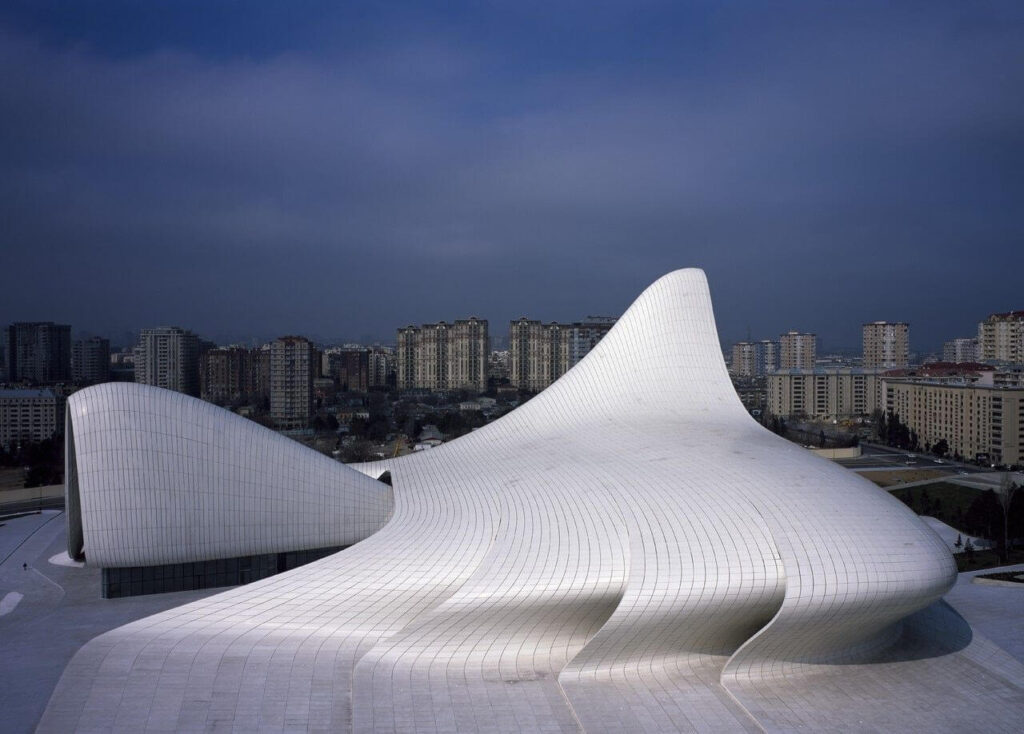 source: pinterest.com
There are an auditorium, a museum, and a gallery hall in the building. You will be surprised to know that there are eight floors in the center. There is a capacity of 1000 people getting accommodated in the auditorium. You will be amazed to see the interior of this auditorium as it is stunning. 
There are various exhibitions held at the exhibition spaces regularly. It has underground parking as well.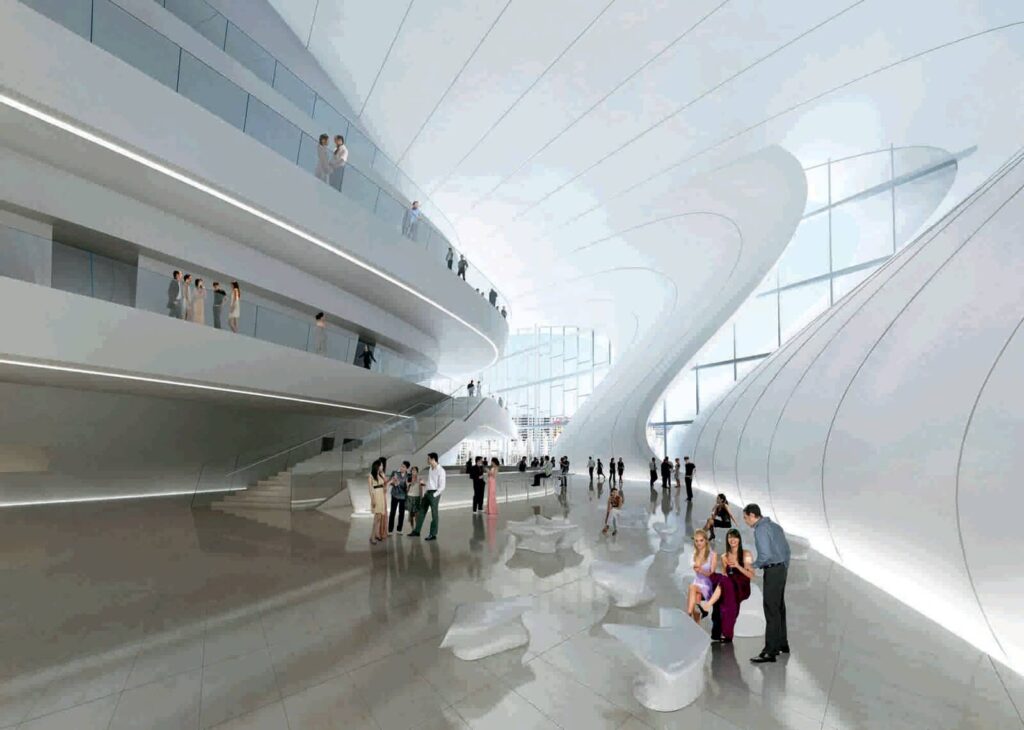 source: pinterest.com
This center witnesses numerous cultural programs and events held on a big level. Various traditional and contemporary Azeri culture programs have been held at this center. 
Outside beauty of this center is equally beautiful, there are lush green grass lawns in the exterior. There is a wide-open area outside.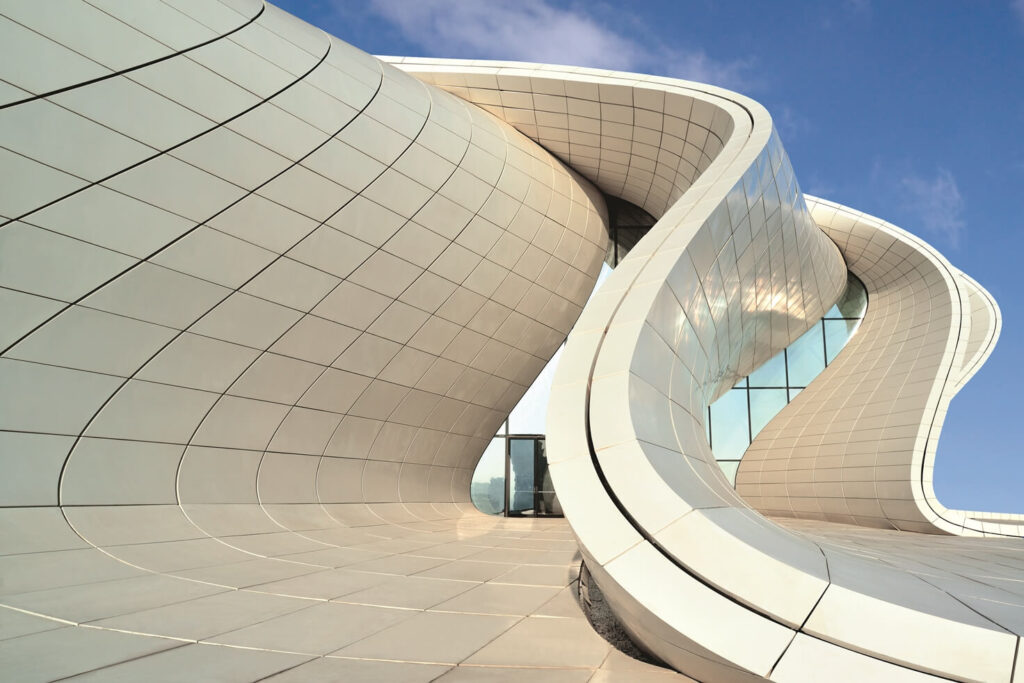 source: archdaily.com
The lighting of the center is very carefully selected to maintain the continual flow inside and to maintain a perfect relationship between the interior and the exterior. 
What Impact this Center bring on the Country's architecture?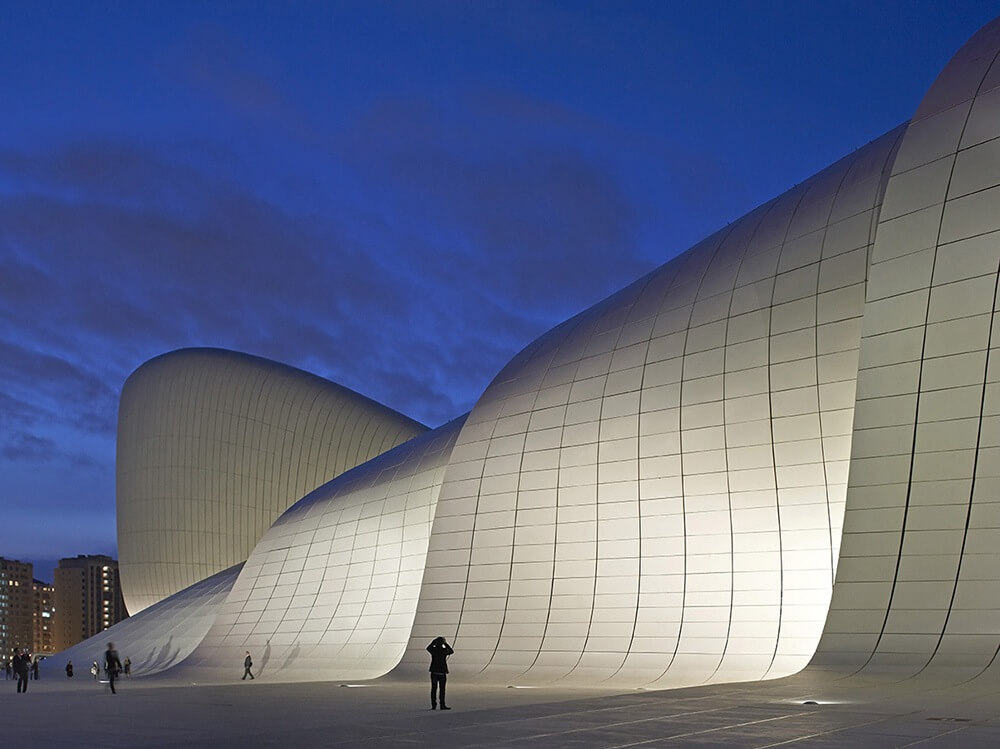 source: archdaily.com
After Azerbaijan got its independence, the country moved its architectural designs from the old traditional aspect to a more modern, urban, and open architectural design. The infrastructure and the various buildings started having a more modern and urban look as compared to what was there before Independence.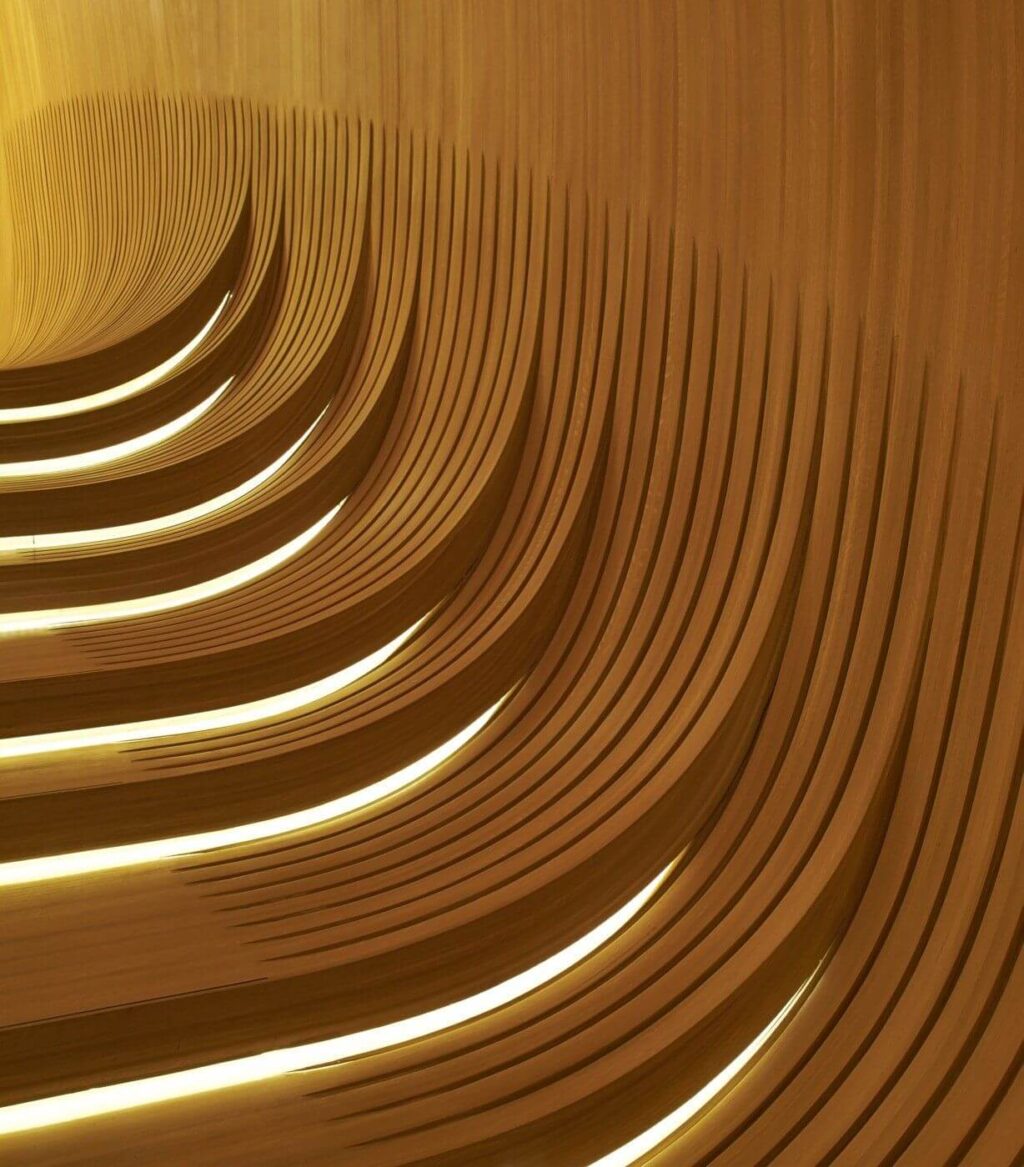 source: archdaily.com
In this, the contribution of this center in becoming a prominent landmark signifying the innovativeness and becoming an inspiration for everyone to go for more innovative and beautiful infrastructure was huge. This center broke the trend of following the monumental Soviet architecture and opened the gateway for urban design.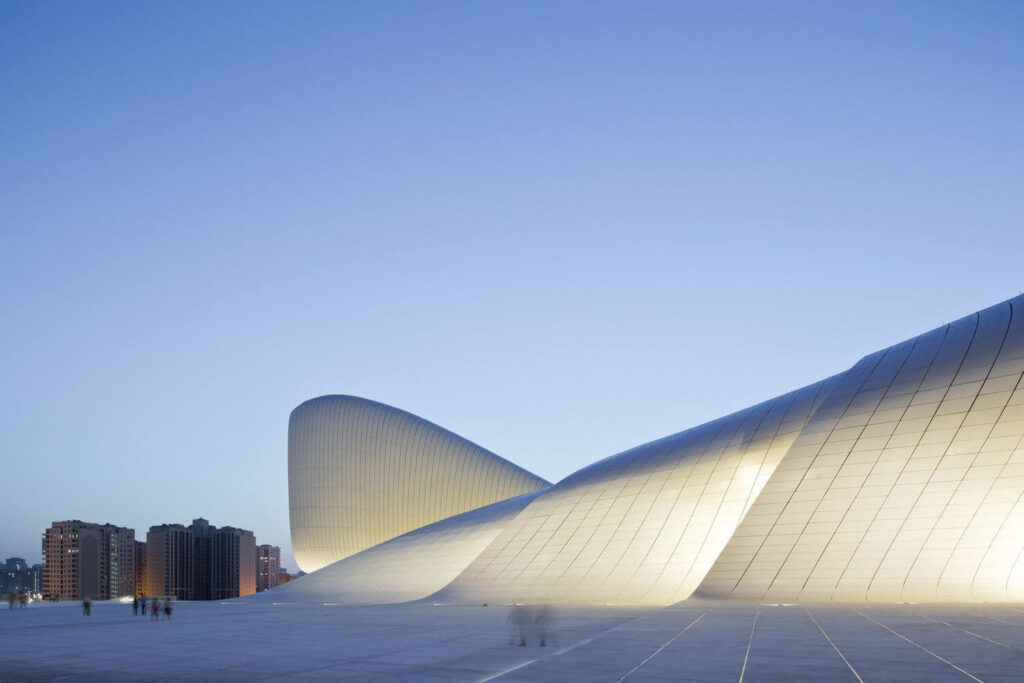 source: archilovers.com
Awards
This center was nominated for awards several times and has won many of them. For example, it was nominated for the awards at the World Architecture Festival and the biennial Inside Festival. It won the Design Museum's Design of the Year Award.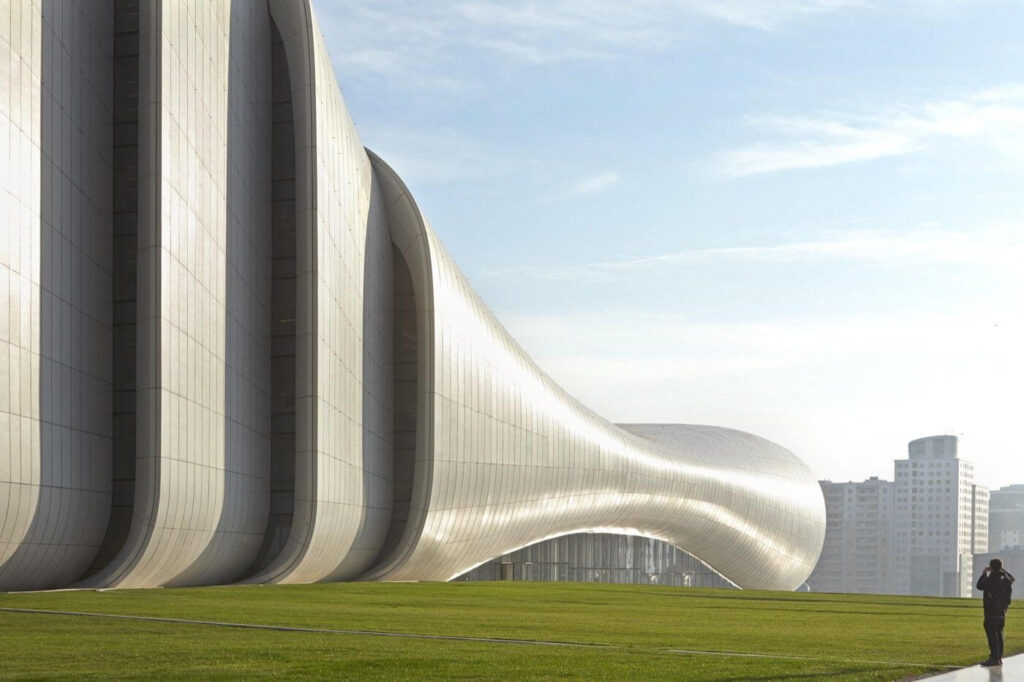 source: archilovers.com
The center has held many big functions and occasions. For example, the official opening of the Crans Montana Forum was held here. It held the ceremony of the seeing off of Azerbaijan's Olympic delegation. Apart from this, numerous exhibitions have been held at this center.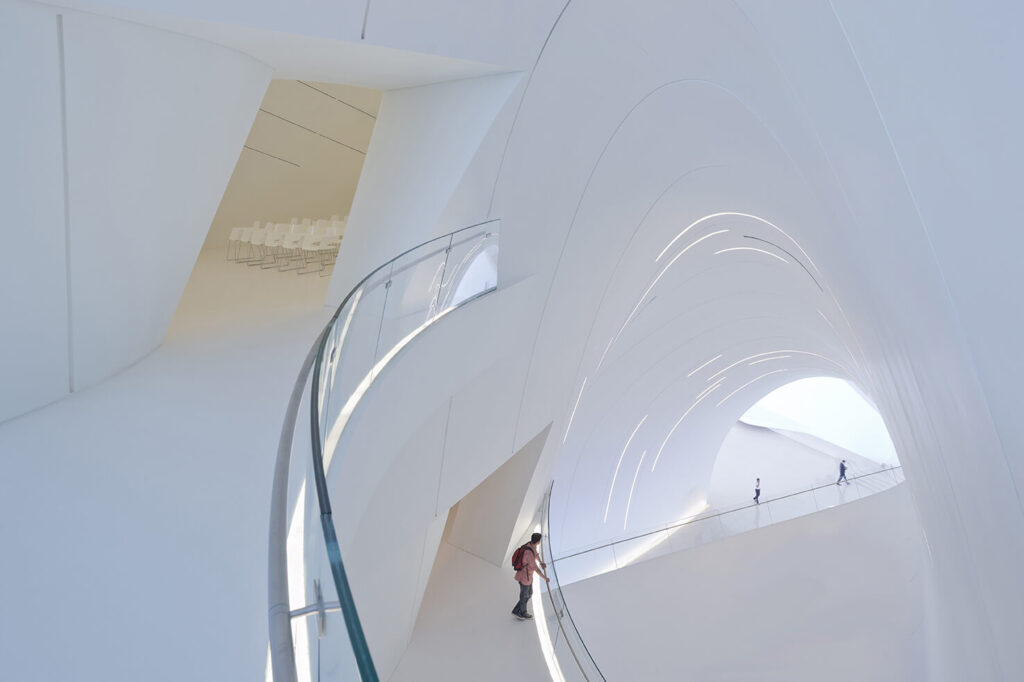 source: archilovers.com
So, here was an overview of the heydar aliyev center. If you travel to Azerbaijan someday then don't forget to check out this wonderful piece of architecture, you will love to see it! For more information, visit Architectursstyle.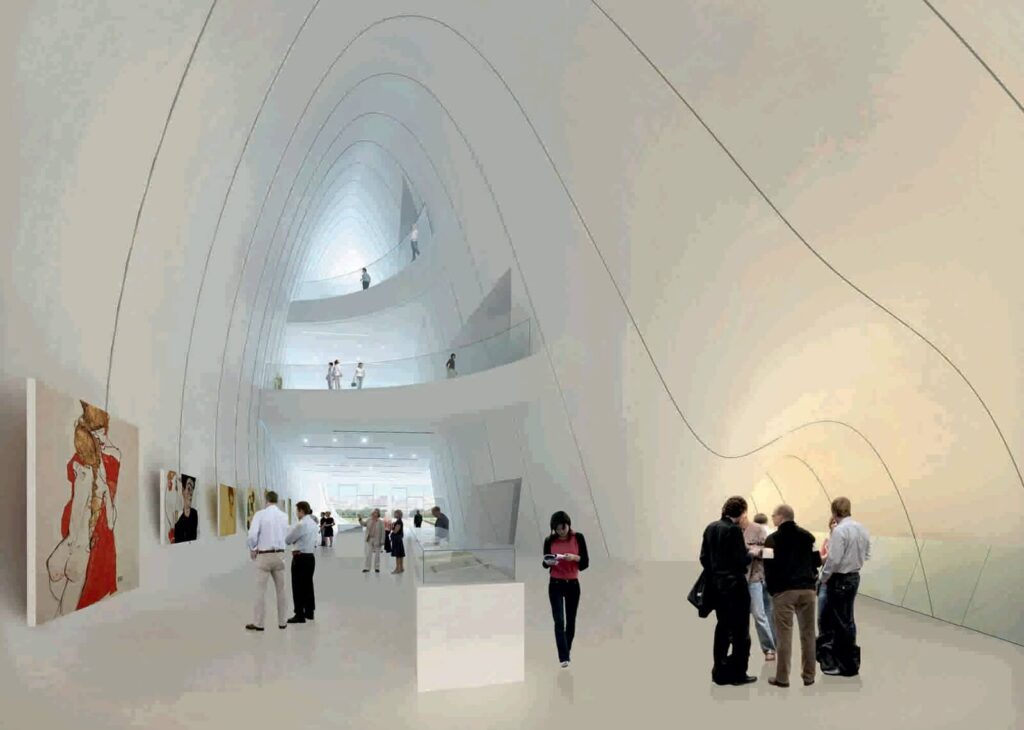 source: artribune.com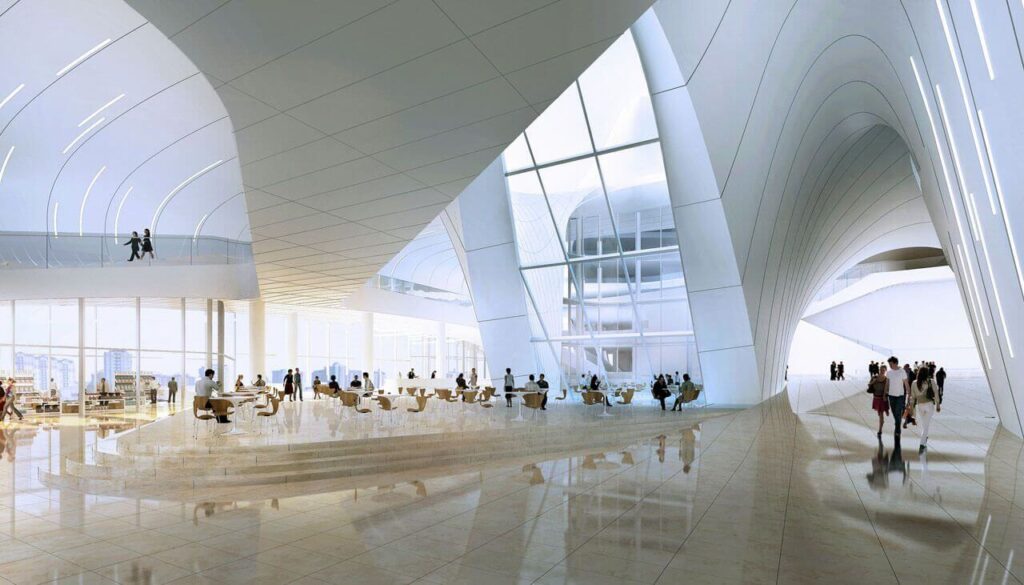 source: artribune.com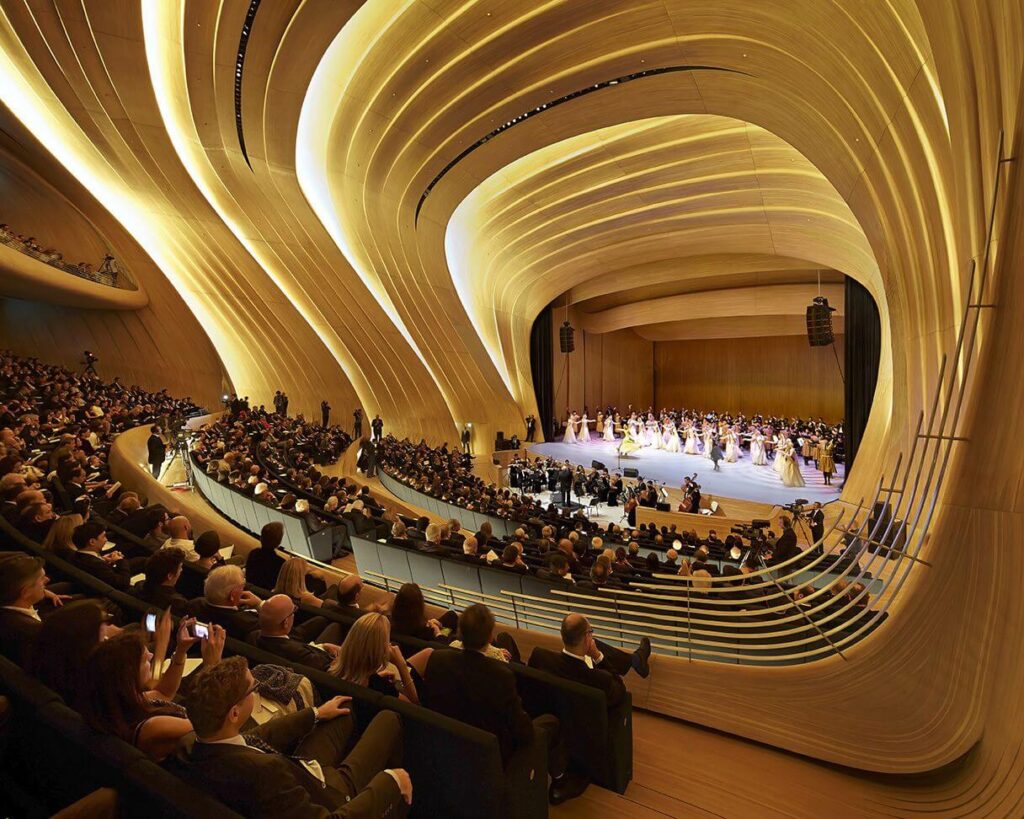 source: floornature.com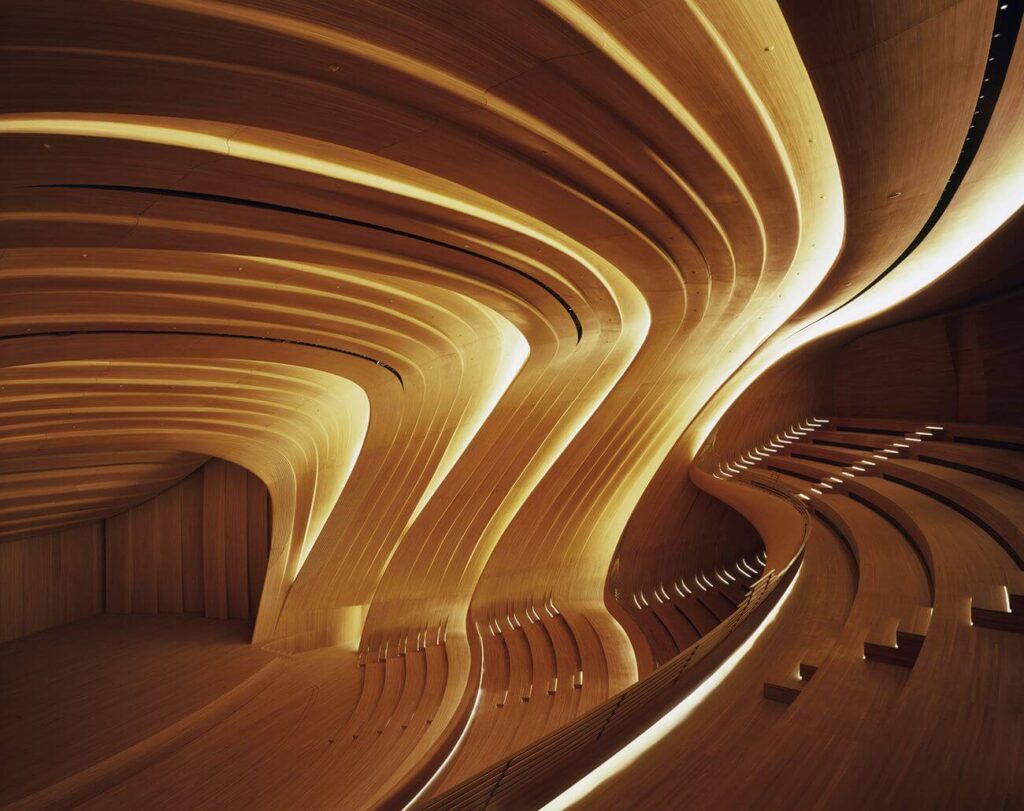 source: floornature.com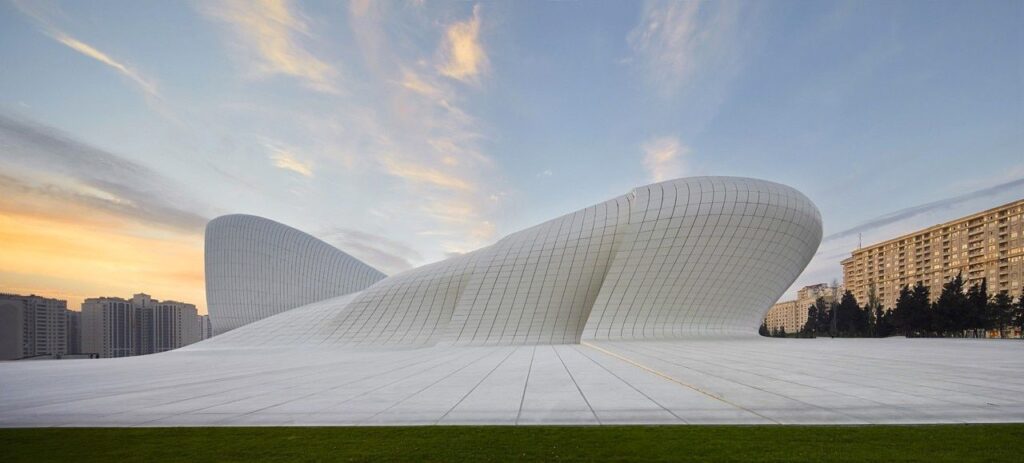 source: zaha-hadid.com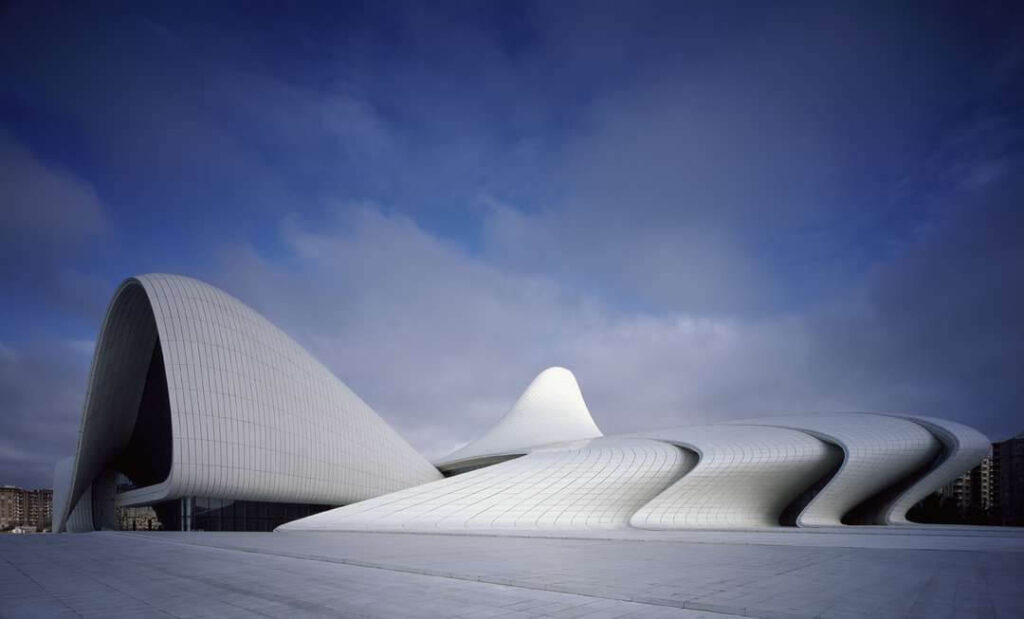 source: zaha-hadid.com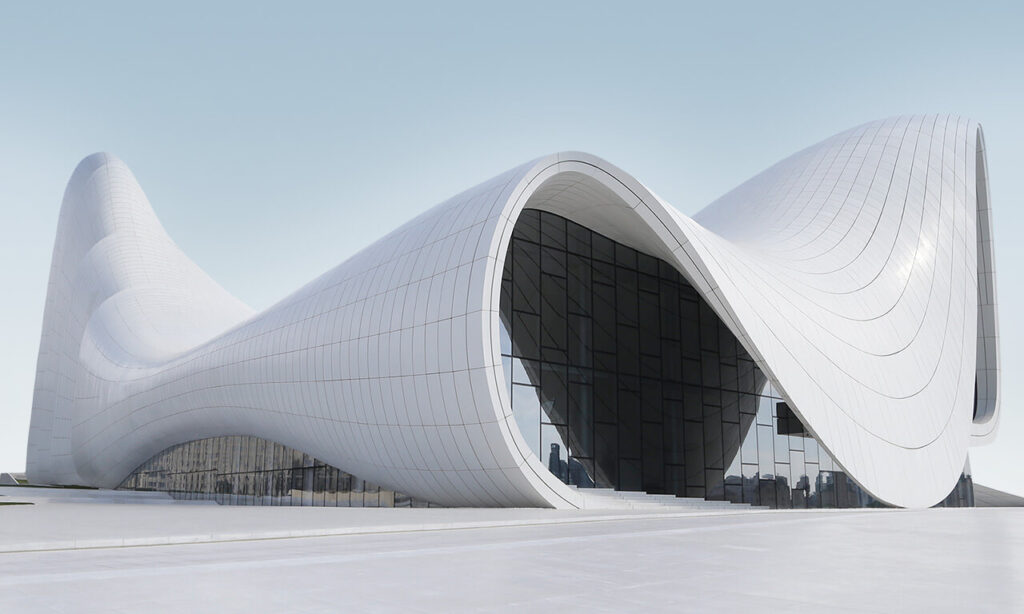 source: scout.org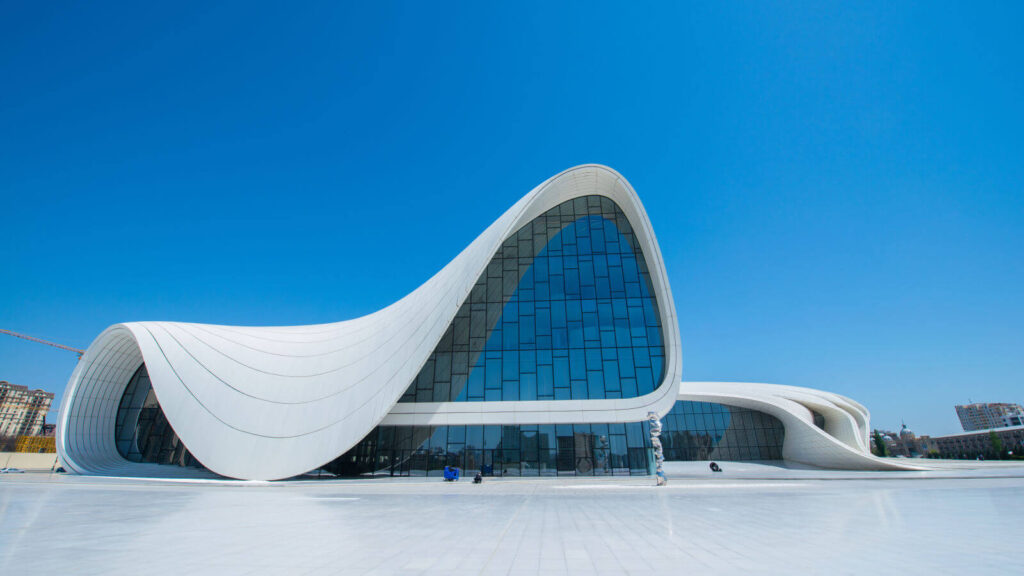 source: scout.org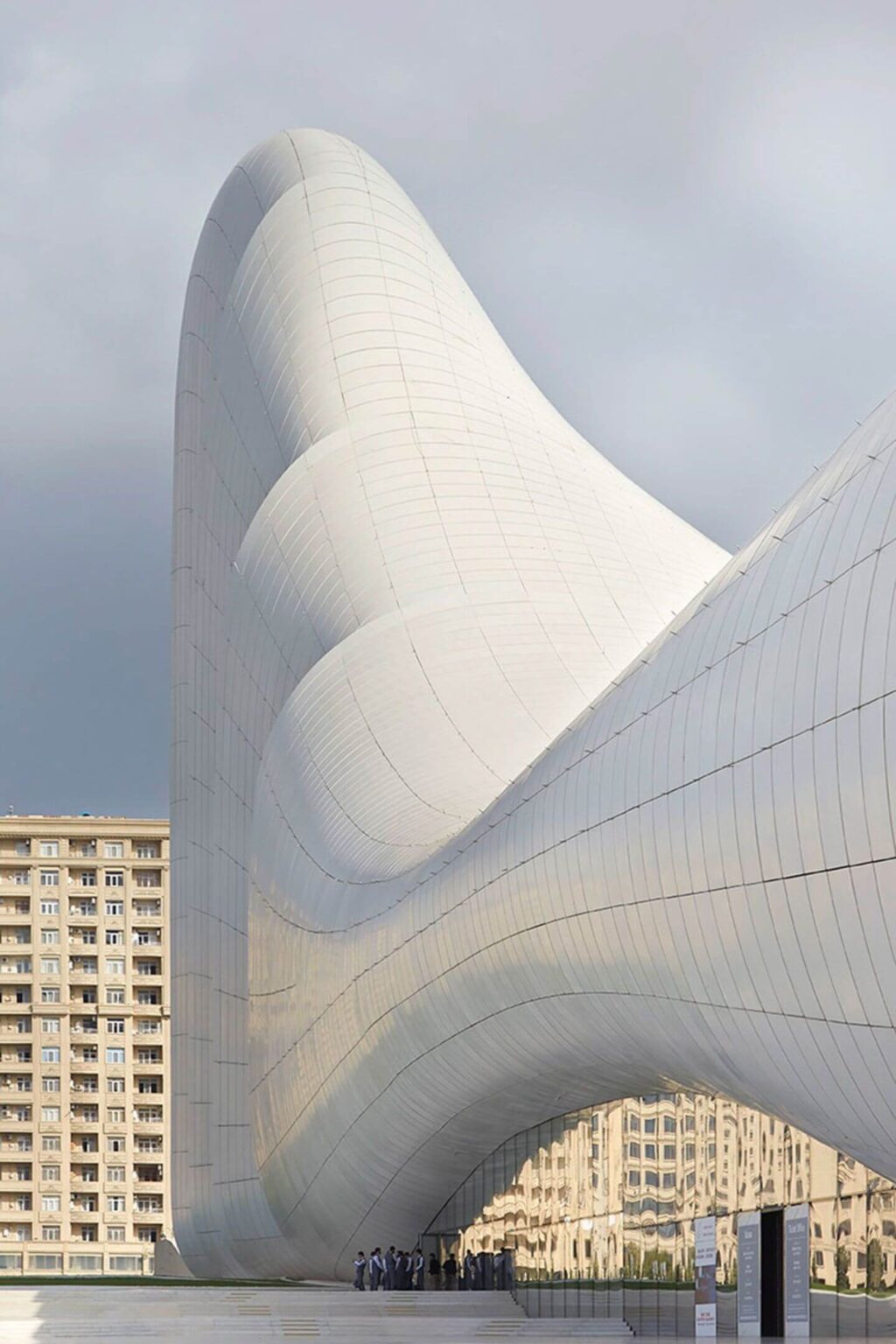 source: travellers.lk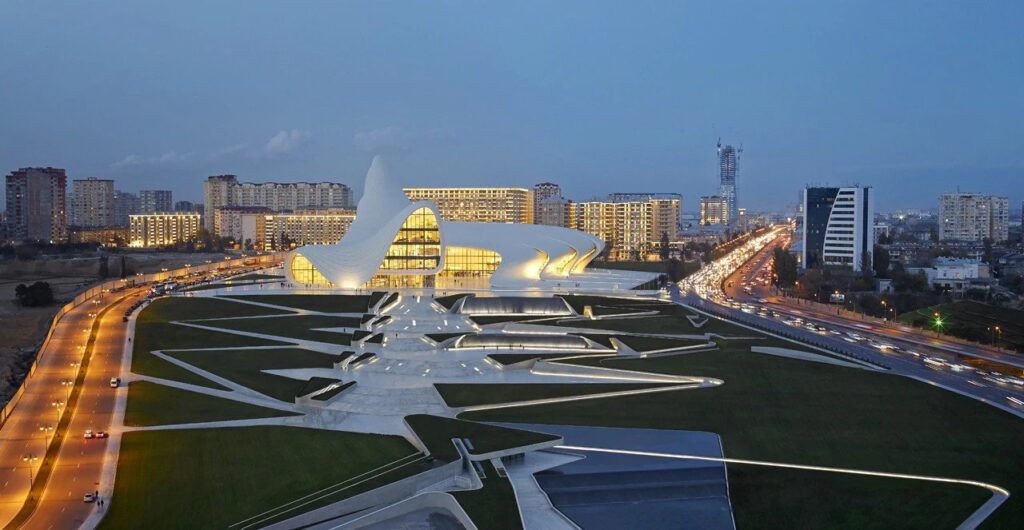 source: travellers.lk
Related posts
Subscribe Now
* You will receive the latest news and updates on your favorite celebrities!
Cadillac House by Gensler: A Structure with a Bizarre Angled Steel Facade!
Cadillac House Source: archpaper.com Location: Jin Qiao, Pu Dong, Shanghai, China Architect: Gensler Type: Commercial Status: Built Year: 2019 Size:…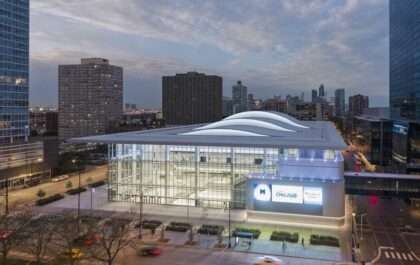 Wintrust Arena, Chicago: Get an Overview of This Amazing Structure
The Wintrust Arena is a multi-purpose event space famous for hosting wonderful basketball matches. Not only basketball matches but it…
Instagram
Instagram has returned invalid data.