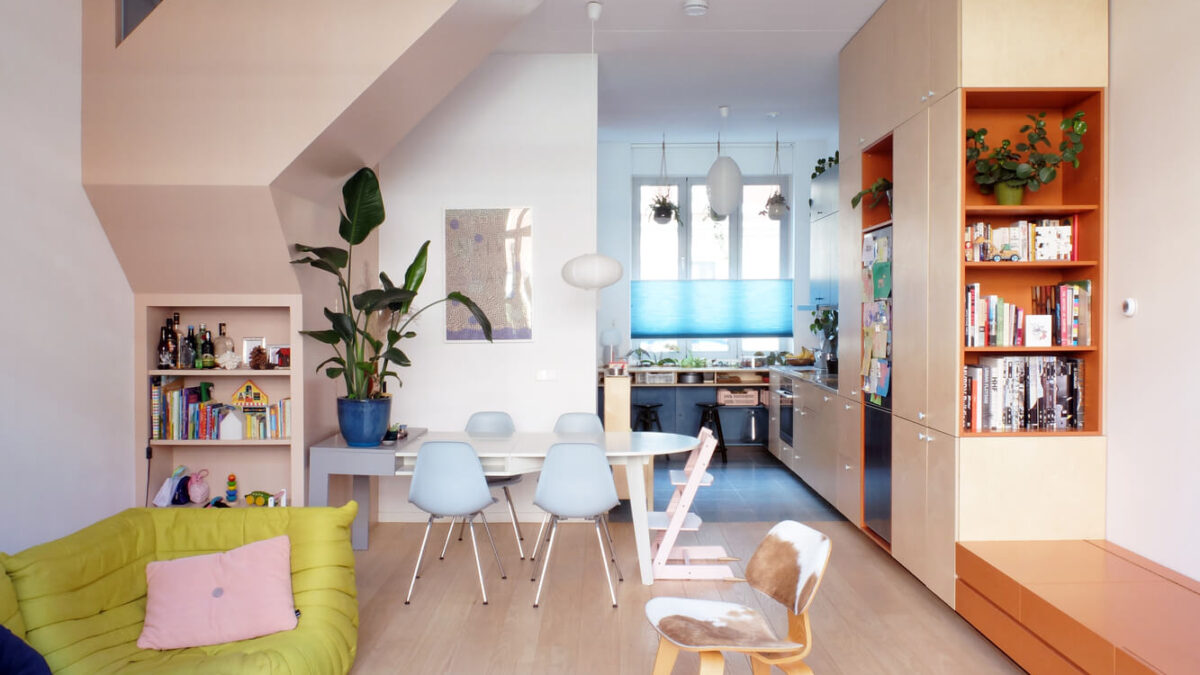 Work Home Play Home: A Colorful Rotterdam House By LAGADO Architects
archistyladmin, 4 months ago
0
5 min

read
413
Work Home Play Home
Location:  Rotterdam, The Netherlands 
Architects: LAGADO architects
Area: 135 m²
Year: 2019
The two brilliant founders of the Lagado Architects have renovated and redesigned their own townhouse, situated in Rotterdam. It mainly features bold, lively workspaces and a beautiful blue staircase. They also renamed the house to "Work home Play home". The home is surrounded by the wonderful Nieuwe Maas river.
According to the LAGADO Architects," Work Home Play Home is our own life and work home in the center of Rotterdam: a colorful and playful interior that is designed to add color and charm to the daily life of adults and children. The main goal of the design is to create an environment that can handle all sorts of use, at the same time, without giving up character in favor of performance. Simultaneously, we wanted to create a joyful and colorful house with a personal character."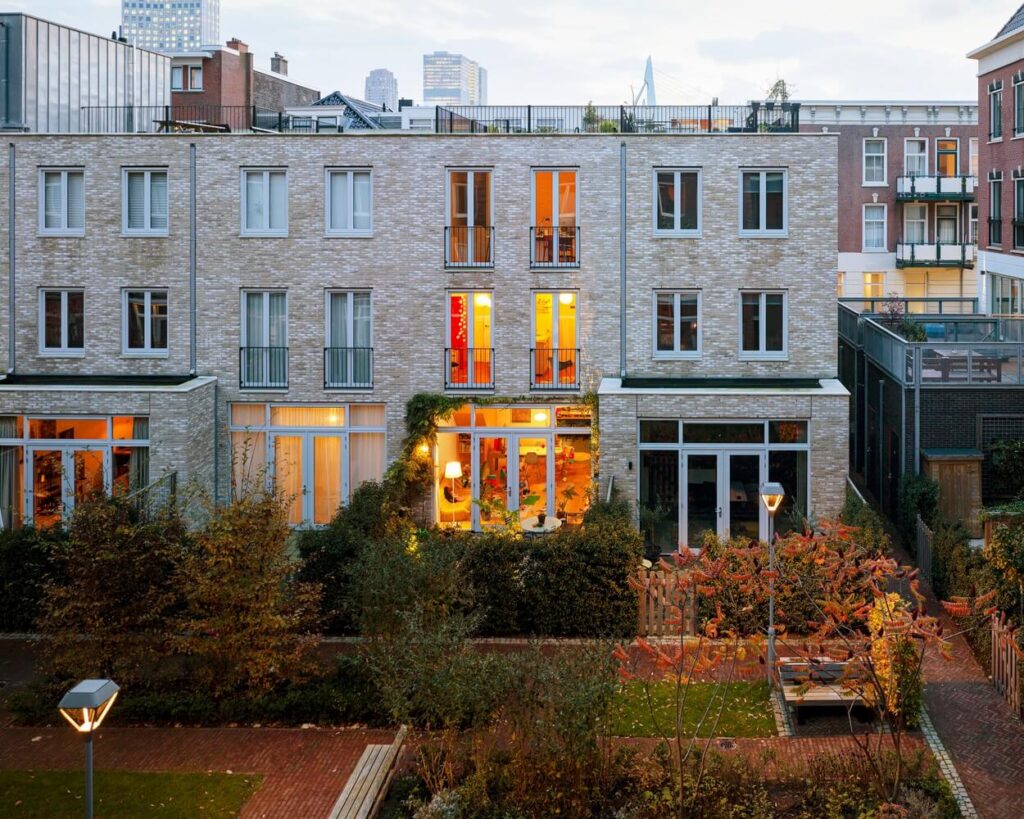 source: dezeen.com
Work home play home consists of two floors in total, and each floor has its own function. The living and cooking areas are at the ground level. Whereas the sleeping area is on the second level and on the top floor, there is a guest room. This house is shared by Victor Verhagen and Maria Vasiloglou, and their children, who are the founders of LAGADO architects. They created this space according to the floor plan and decorated it with versatile decor pieces.
The main aim of the interior design was to give a new character to the house while keeping the structure the same. The layout is redesigned and upgraded to an open loft-style top floor and with classy elements like sliding doors. Architects initially wanted to remove the stairs, but later they decided to keep it. They transformed it into a vertical shape, which looks way better than before. Bold and vivid colors in the interiors add special warmth and texture in the space. 
They brilliantly used geometric shapes and various materials to give a fresh and stimulating ambiance. Colors like ashwood, orange, purple, caramelized bamboo, and pasted hued tiles are used to create a peaceful yet cozy environment in residence. Let's look in detail into the interior of this pretty home: 
The Living Area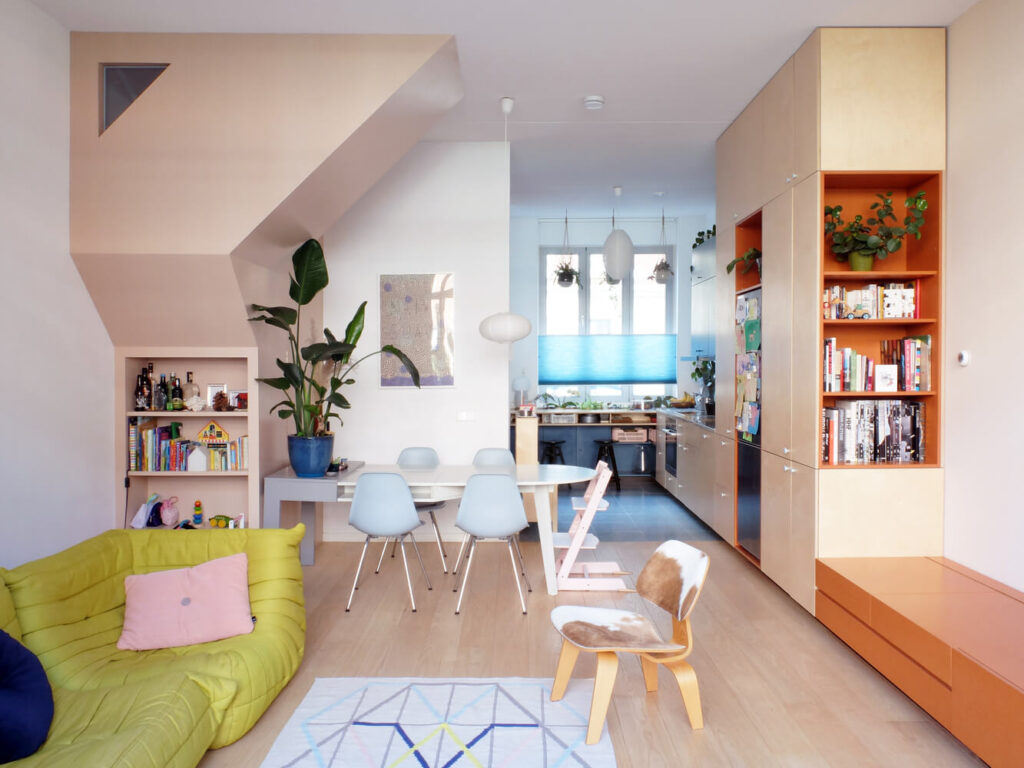 source: archdaily.com
On the ground level, the family room is there, and it has been arranged in such a way that you can enjoy the garden while sitting on the couch. Instead of the regular sofa or couch, a chartreuse-yellow daybed is placed against the wall. It is adorned by the navy and contrasting pink color cushions.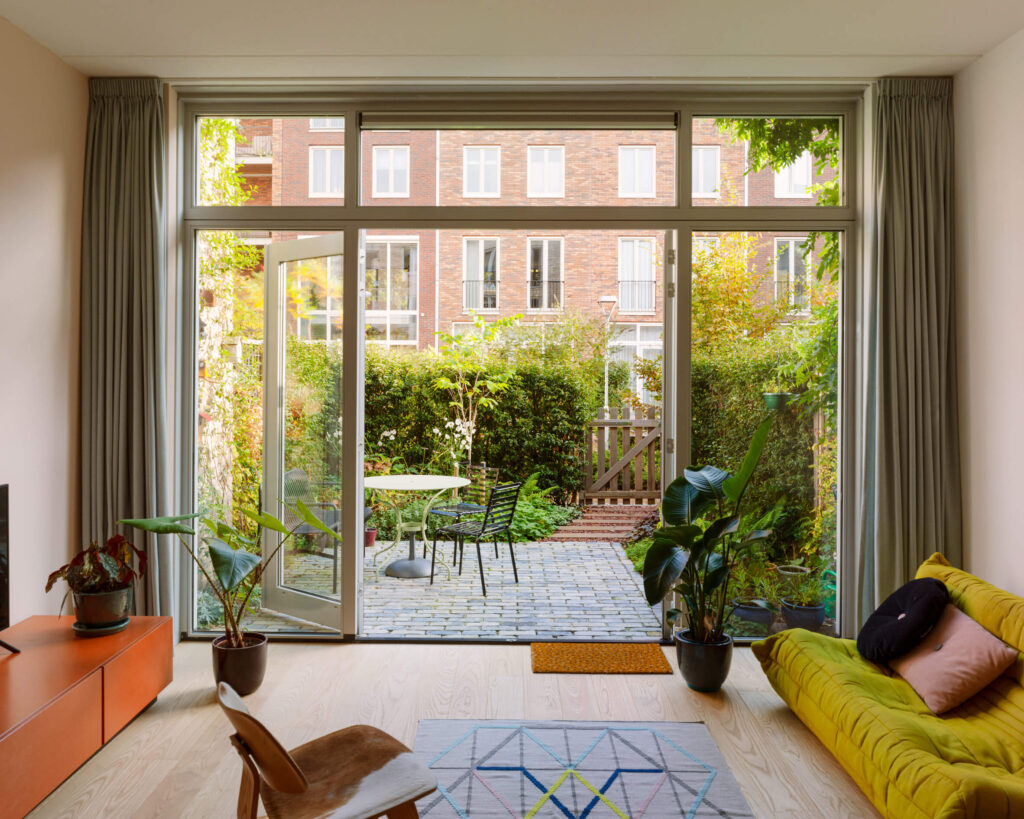 source: dezeen.com
There is also a garden which provides absolutely refreshing air circulation. Architects have tried to bring nature vibes through this garden into the house. The warm pink and orange shades in the living room complements the garden quite well. And on top of that, the orange and blue terrazzo tiles and pink sliding doors connect the whole space beautifully. 
Modular Kitchen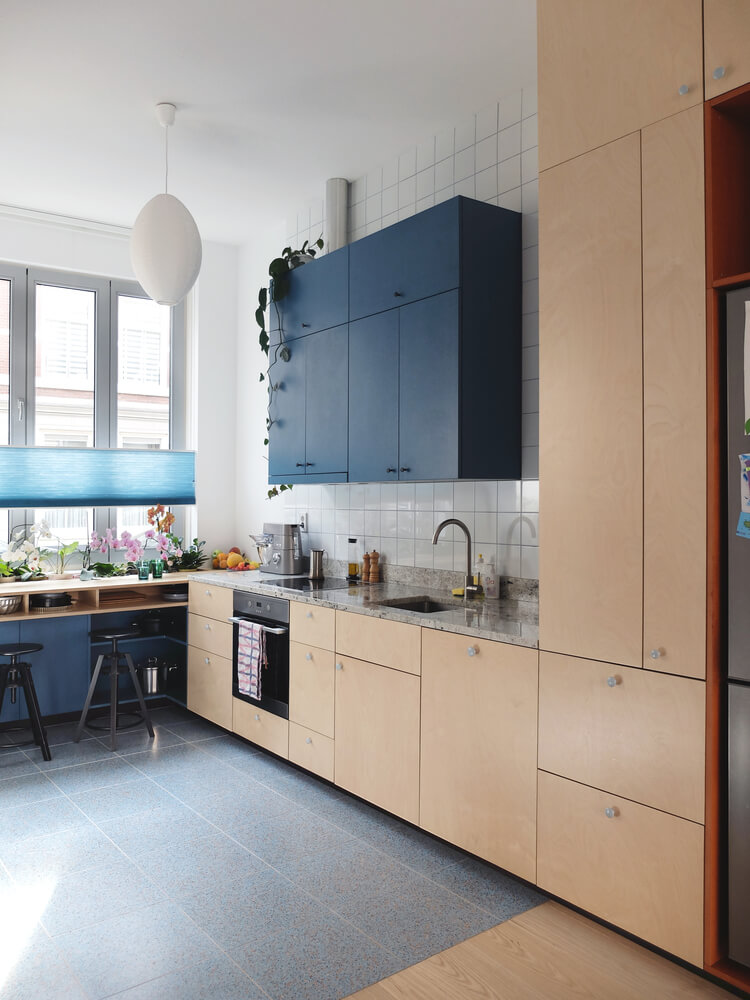 source: archdaily.com
Look at this cute little kitchen. It may look small, but it has all the necessary things such as ashwood storage units and a refrigerator, etc. There are also additional teal-colored cupboards, which are specially designed to complement the blue terrazzo floors. They are looking astonishing with the tiled splashback.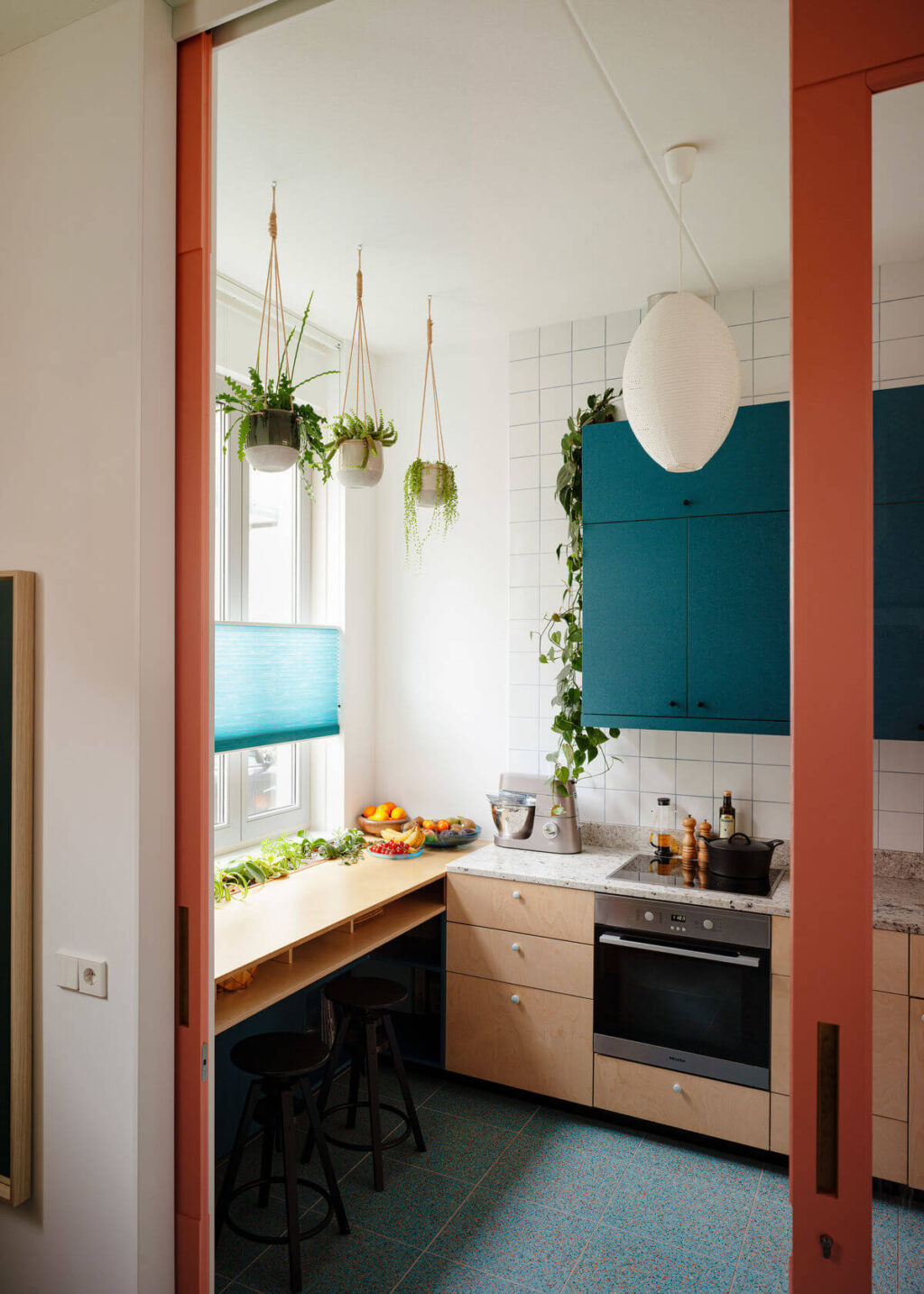 source: archidea.com.ua
There is also a small breakfast area in the kitchen, which directly faced the windows. So that residents enjoy the fresh air while eating breakfast.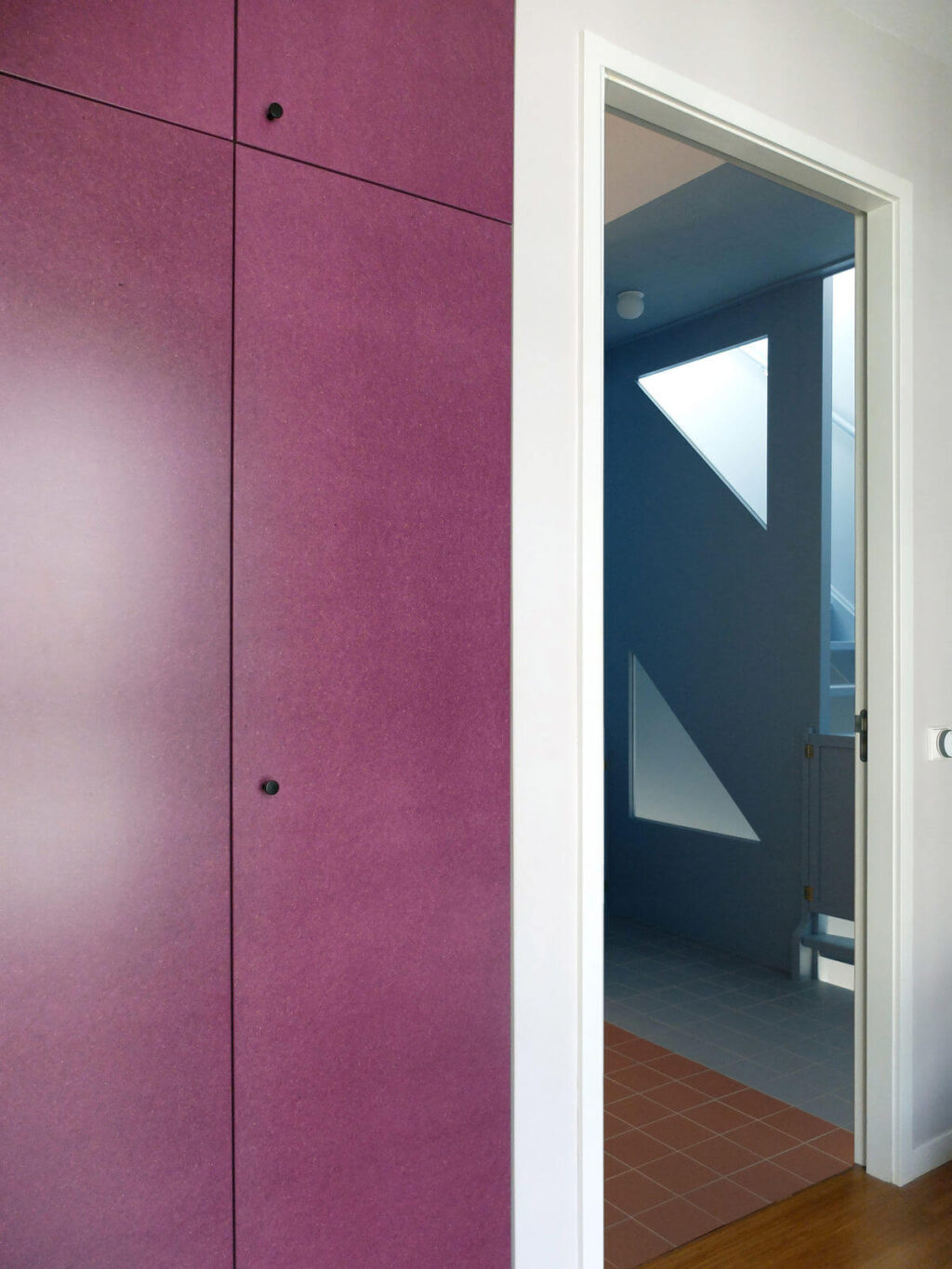 source: pinterest.com
Magnificent Blue Staircase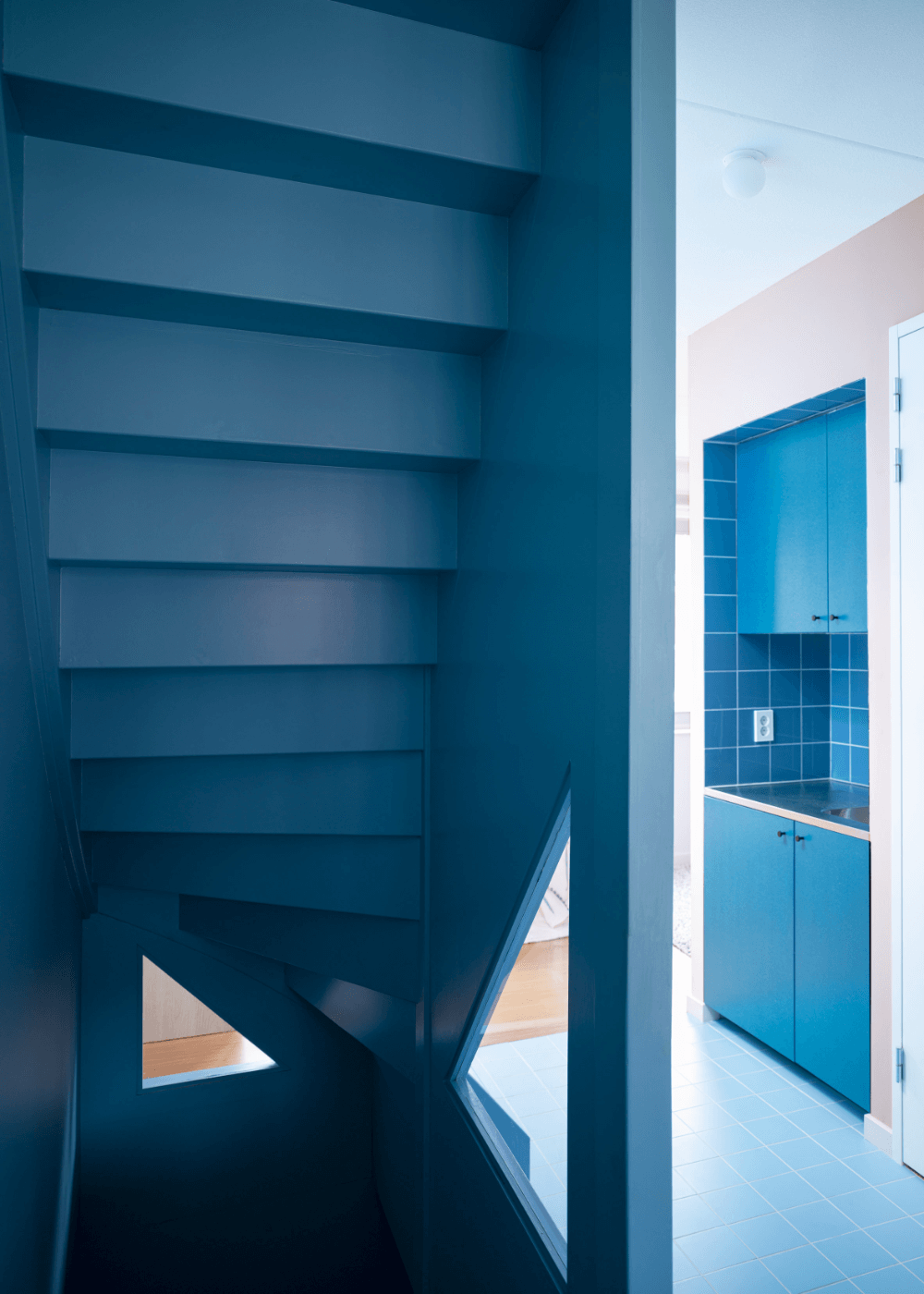 source: archidea.com.ua
This awesome blue staircase is the star element in the entire house. This staircase is the only fixed element in the whole place that also links all the rooms of the home together. Some triangular windows are created in it to take a glimpse of all the different rooms. They are not in a regular shape; they are constructed in a very dramatic way.
Bedroom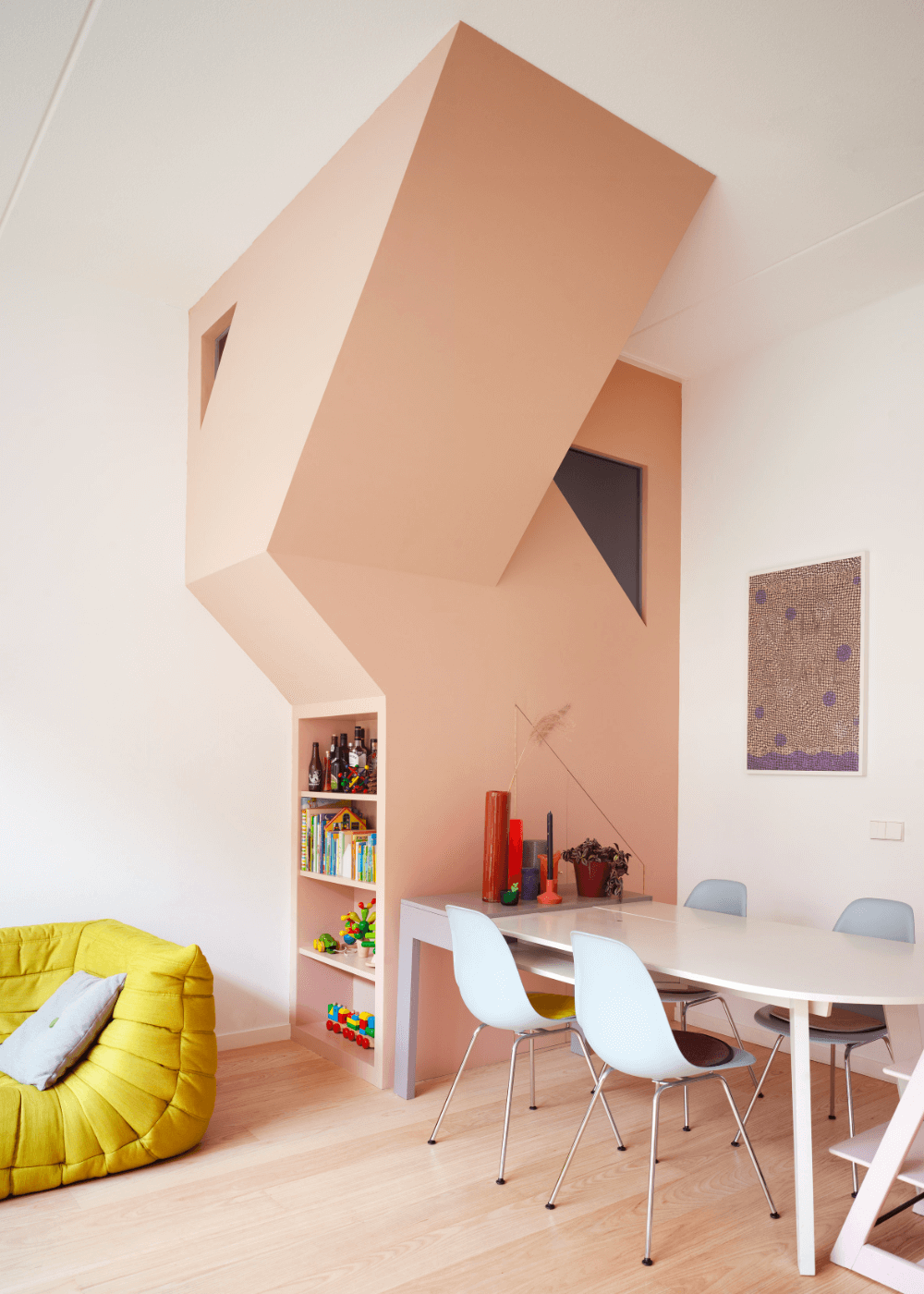 source: pinterest.com
The bedrooms are located on the first floor, and Verhagen and Vasiloglou describe this part of the house as the "dark heart" of the home. Cabinets and curtains add some vivid but relaxing surfaces that beautifully enhance the character of the whole space. Some portions of the staircase are also painted in a pink tone, and also, there are shelves where their kids can put their toys.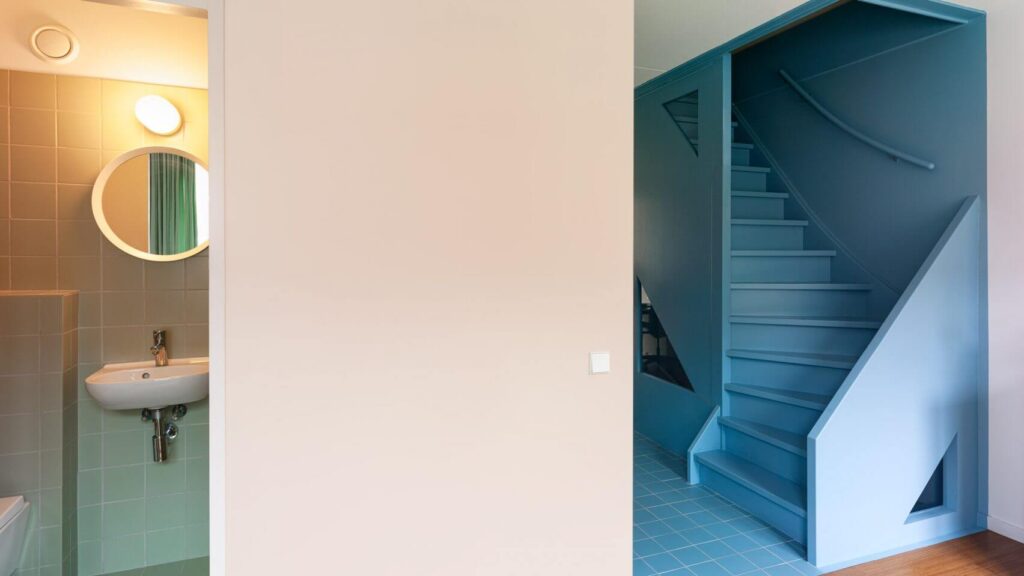 source: dezeen.com
There is also a bathroom that is clad in mint-green tiles, which goes very well with the theme of the residence.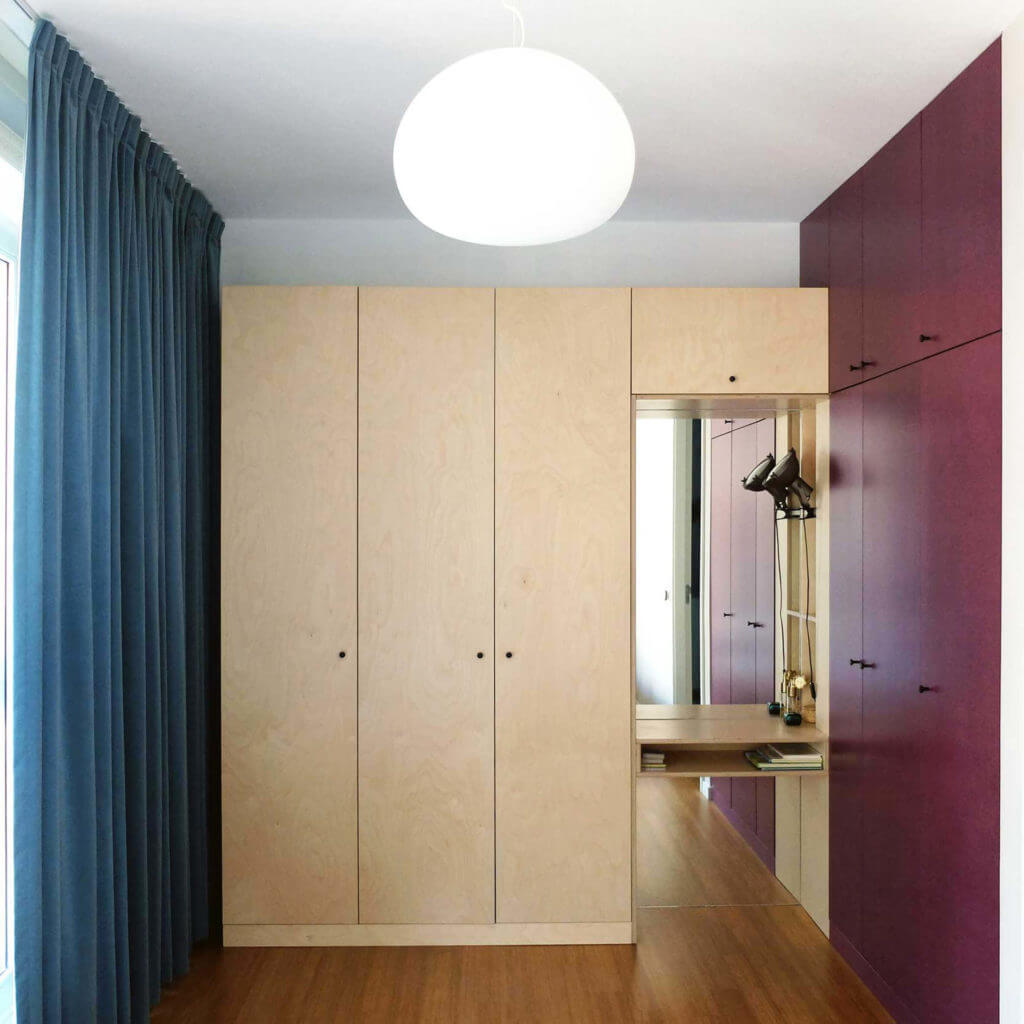 source: archdaily.com
The Second Floor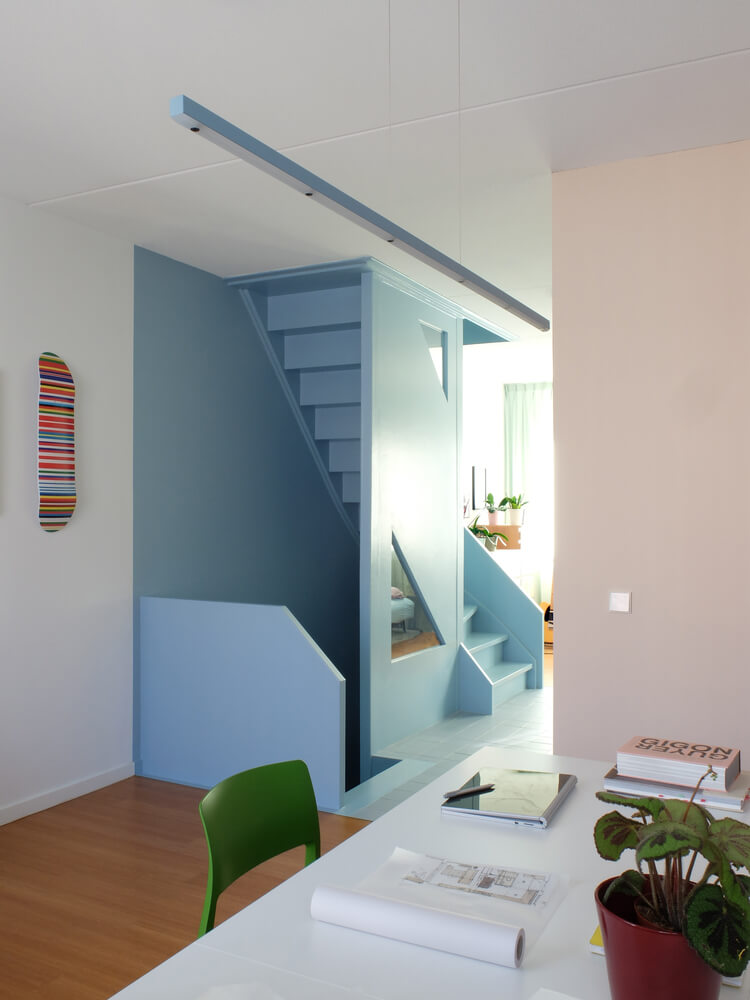 source: archdaily.com
The second floor is designed in an open loft-style. It features a working table where Verhagen and Vasiloglou can do their office work, or their kids can do homework. It also has a small bathroom and pantry area, which can be used as an additional space such as a guest room, paying room, or a music room.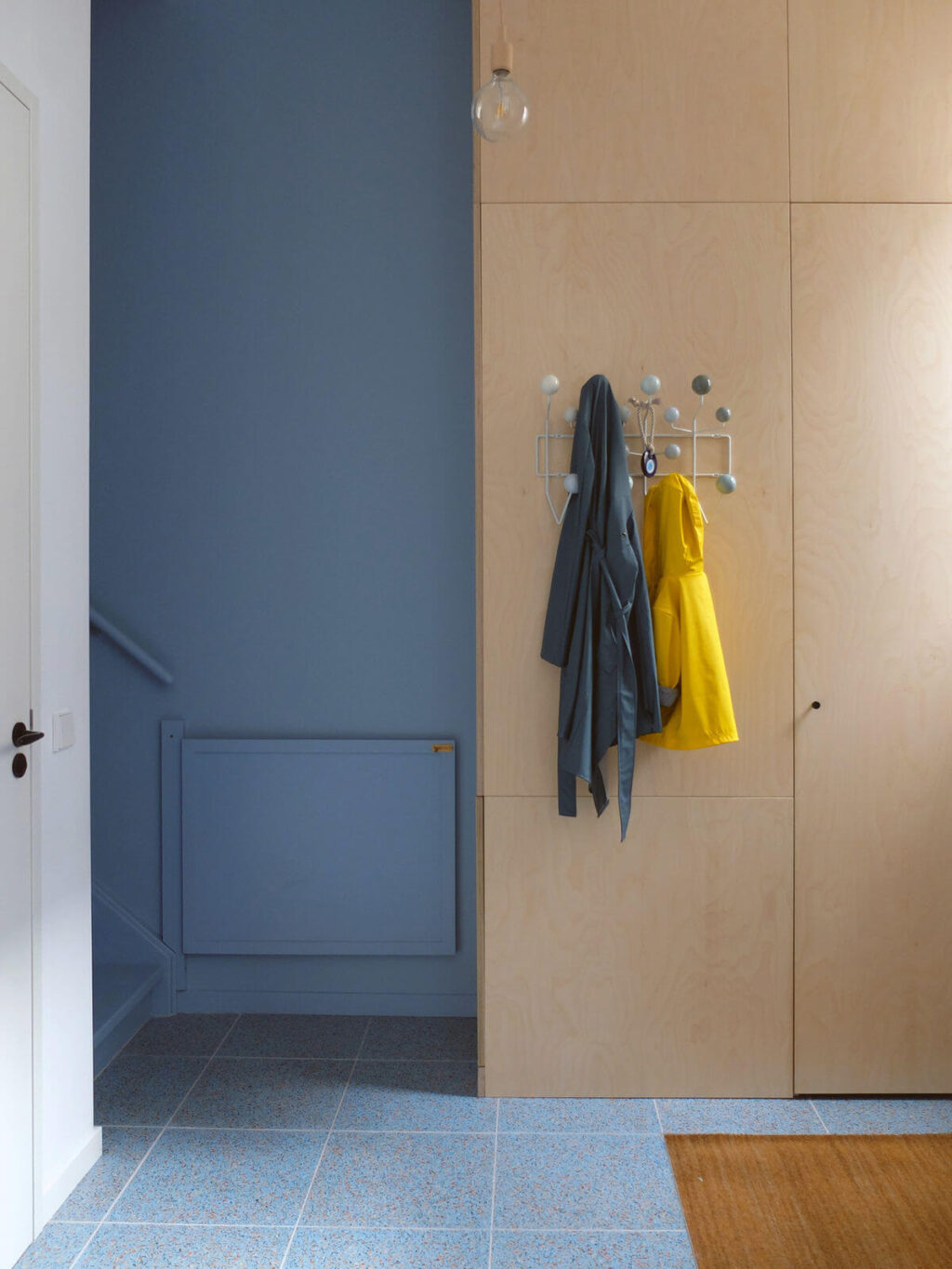 source: archdaily.com
Conclusion
Victor Verhagen and Maria Vasiloglou had established the LAGADO Architects in 2011. This house has many small things that are both functional and good looking at the same time. Small individual gardens are connected to one big garden at the ground level. Although it is located in the center of Rotterdam, it is still able to catch people's attention.
You can also take inspiration from this house and construct your dream house. If you want to read more about these kinds of lovely homes or any architectural information, just visit Architecturesstyle. 
Related posts
Subscribe Now
* You will receive the latest news and updates on your favorite celebrities!
Cadillac House by Gensler: A Structure with a Bizarre Angled Steel Facade!
Cadillac House Source: archpaper.com Location: Jin Qiao, Pu Dong, Shanghai, China Architect: Gensler Type: Commercial Status: Built Year: 2019 Size:…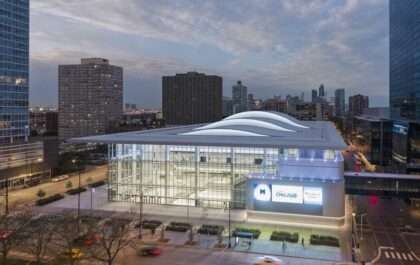 Wintrust Arena, Chicago: Get an Overview of This Amazing Structure
The Wintrust Arena is a multi-purpose event space famous for hosting wonderful basketball matches. Not only basketball matches but it…
Instagram
Instagram has returned invalid data.