The warm weather of summer calls for nothing more than a good barbecue and some bare feet. It's the ideal time for homeowners to get a jumpstart on summertime renovations while the weather is still pleasant. Summer is typically the best time to evaluate, repair, and upgrade homes because wind, snow, rain, and ice aren't obstacles anymore.
Home upgrades in the summer can range from minor touch-ups to extensive overhauls. Most of these improvements won't come cheap, but they will increase the home's resale value as a whole. With so many summer projects to choose from, homeowners have to figure out which projects to tackle first–if at all.
Let's take a look at 7 home improvement projects you may want to tackle in summer 2023.
1. Powerwash the Exterior
Source: bobvila.com
When it comes to dependable and time-saving summer home upgrades, a good old-fashioned power washing can't be beaten. This low-cost service can help restore even the grimiest of homes by eliminating mold, mildew, and algae that have invaded there and by removing built-up dirt, sediment, and other debris.
Homeowners can either do it themselves or connect with a professional pressure washing service. Though inexpensive, pressure washing a house safely needs some training or experience. Some people believe it is important enough to invest in an expert's services despite the higher price tag.
2. Paint the Interior
Source: oak.com
Painting your own house is a doable DIY project, and many people do it every summer. Saving money on labor costs by doing it yourself is great, but don't expect this to be one of those "easy summer DIY projects" you read about. It can be a painstaking process if you've never painted before. If you want to get the best results, perhaps you may want to hire a professional painter.
But, either way, a fresh coat of paint can do wonders for a home's resale value and visual appeal. It's hard to think of anything else that could make a house look more modern in such a short amount of time.
3. Improve Landscaping
Source: renovationfind.com
In the summer, landscaping is the most popular do-it-yourself home improvement project. The best part is that it won't cost you a dime. Pinterest is an amazing source of inspiration, and so are the houses in the neighborhood you live in. Even if you don't have much of a green thumb or a flair for design, you can still make your home's curb appeal pop with some mulch and some hardy green bushes.
If you want to add a splash of color here and there, annuals are the way to go. Not enough money to hire a landscaping company? Don't worry, because when done properly, even the most modest landscaping upgrades are capable of producing stunning effects with minimal investment of time, yard tools, and expertise.
4. Restain the Deck
Source: amazonaws.com
You can easily increase the value of your home by handling deck maintenance tasks like stripping and re-staining it on your own. The fact that it is performed totally outside makes it an ideal choice for summer home maintenance.
If you want to avoid damaging your deck boards, use low pressure when power cleaning. If you want to get the best outcomes, start with the lowest pressure possible and gradually increase it to no more than 1500 psi. Staining is a great way to give your wood a new look, but before you start, you need to make sure you have the right stain for the job.
5. Kitchen Renovation
Source: bhg.com
In 2023, a lot of people will be updating their kitchens as a way to make their homes more comfortable and modern. The average cost of a kitchen remodel ranges from $14,500 to $40,000. This makes it one of the more expensive projects on the list.
Refinishing cabinets, upgrading a few appliances, and putting in new flooring or worktops are all examples of manageable kitchen renovations. Changing out the sink and faucet is another common kitchen makeover.
A larger-scale kitchen makeover often includes a complete redesign of the kitchen's design, the addition or relocation of plumbing, electricity, and gas lines, the installation of high-end smart equipment, and building a new kitchen island or replacing the countertops.
6. Replace Flooring
Source: thespruce.com
The average cost to install new flooring in a 500-square-foot room is $3,000. If you plan on selling your San Francisco house in the near future, installing new flooring is an excellent investment that will not only improve the aesthetics and functionality of any area.
Keep in mind that the final cost of your new floors will depend heavily on the materials you decide to use. Vinyl is by far the least expensive option, costing somewhere between $3 to $7 per sq. ft., while hardwood can cost between $6 to $22 per sq. ft., making it by far the most expensive option.
Also Read: 7 Creative Ideas to Transform Your Home Flooring Space
7. Replace Windows
Source: lawnstarter.com
Getting new windows is another common home repair project, especially in the sweltering temperatures of summer. This method is ideal for homes with outdated or broken windows since it improves energy efficiency while also providing long-term cost savings on heating and cooling.
The most cost-effective choice for replacing old windows is to go with dual-pane models. This window style will improve the aesthetics of your home while also reducing annoying noises from the outside world, such as those caused by inadequate heating and cooling systems. Depending on how many windows you need to put in, you may expect to pay anywhere from $600 to $5,000.
The goal of summertime home repairs and renovations is to make the house look nicer and to prepare it for the coming fall and winter. If you do these summer jobs right, they can increase the value of your home and save you money in the long run by making your home more energy efficient.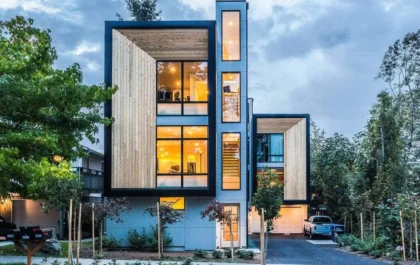 27+ Stylish & Modern Townhouse Designs for Urban Living.
The townhouse's first impression is normally too small, too compact, too narrower, and the list is endless. Well, let us…