While renovating or designing a home among all the parts in the dining area, each family member gathers for meals, and guests are entertained. A beautiful and trendy dining table can rock your interiors with high-end utility designs and a contemporary outlook. It is why it plays a unique role while designing the houses and reflects the overview of the entire design of your house.
Choosing the right and accurate dining table for your home is a complex task. People are highly considerable about the dining table designs and materials, which can impact the complete theme of their interiors. We are here with all the detailing aspects involved in accurately selecting the suitable and stylish dining table for your space. Let's have a look:
Dining Table Material:
The material is the most crucial part of the dining table as it reflects the chosen theme and the durability of the dining table. People analyze a wide range of material that matches their theme and ensure a high durability ratio. Below are the listings of dining tables with variant materials:
Wooden Dining Table:
Source: roomservice360.com
Presently, there is a wide range of solid wood materials like Sheesham, walnut, teak, rubberwood, mahogany, etc. These are highly durable, classy, and sturdy dining tables. The only aspect to consider with wooden dining tables is that they are a bit pricy and bulky. Composite wood, plywood, MDF, and engineering wood are budget-friendly wooden options in this category, but they do not offer durability and a classy appearance.
Glass Top Dining Table:
Source: futonland.com
These are the most dynamic, sophisticated, modern contemporary look and a stylish appeal to the dining table. The glass top matches its looks with wooden and metal frames. Such dining tables need extra care and are pretty spacious.
Laminate Top Dining Table:
Source: amazon.com
Presently, these are the trendiest options in the range of dining tables. Laminates of PVC, Melamine, and epoxy resin tables are in high demand due to their durability and finished looks. The laminates are the ornate layering on the plywood or MDF material.
Stone Top Dining Table:
Source: nexcesscdn.net
A wide range of beautiful stones is available with multiple designs. Marble, quartz, and granite are popular stones used to design the dining table. Such dining tables provide a sophisticated look to your interiors and are compatible with most themes. The stone dining table requires regular maintenance and resealing and is bulky to relocate.
Metal Dining Table: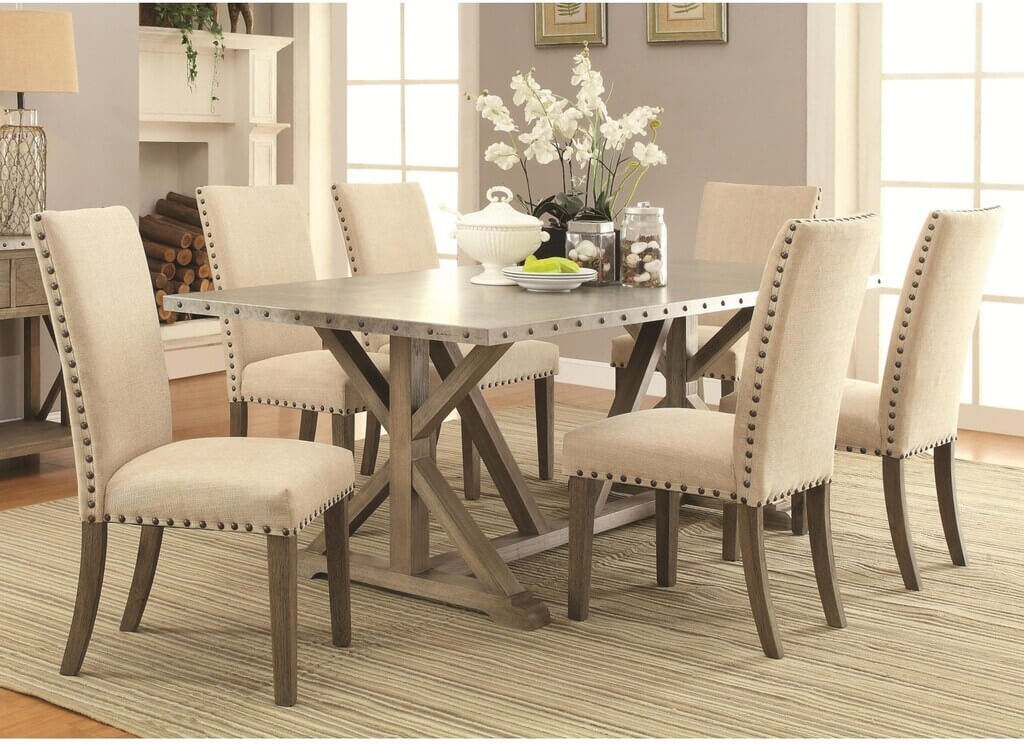 Source: knorrweb.com
These are among the latest and most stylish choices within the design range of dining tables. It provides a regal, stylish, and contemporary look with a stylish appearance. Muted color appearance of gold, brass, and sparkling silver compliments a luxurious touch to any space. These dining tables are compatible with personal and industrial interiors.
Popular Design Category of Dining Table:
Many famous and trendy designs on the dining table are available with aesthetic detailing and durable material. People highly consider the designs according to their interior themes. Below is the listing of some of the popular designs:
Modern Style Dining Tables:
Source: rocketcdn.me
The modern design of the dining table includes sleek finishing and simple adornment. Their beauty features involve natural wood, glass, and stones in their framing and tabletops.
Traditional Style Dining Table:
Source: homestratosphere.com
These dining tables have traditional simplified finishing with dark wood and simple pedestrian or corner legs. These tables are often available with matching chairs.
Farm Style Dining Table Design:
Source: abeautifulmess.com
These dining tables appear with a rugged and distressed woody structure. These are heavy furniture with rustic tabletops and sturdy legs. Such dining tables lack finishing as they were designed this way, and scratches, uneven color, and dents are integral.
Japanese Style Dining Table: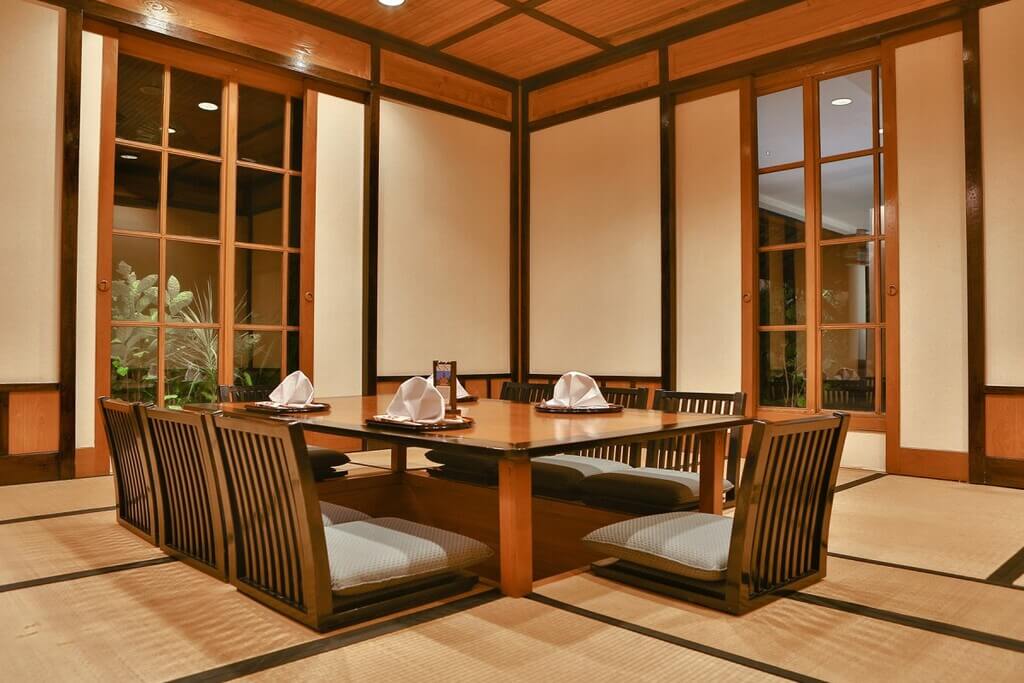 Source: cloudfront.net
The low-level dining tables and chairs are replaced by cushioned seats or mats. The average height of the Japanese dining table lies between 15 to 30 meters of height and is generally available in the oval or square shape of tabletops.
Industrial Style Dining Table:
Source: pinimg.com
Such dining tables are manufactured with aesthetic metal bases and wooden or glass tabletops. These dining tables are easily recyclable dining tables with metal support pedestrians.
Shaker Style Dining Table: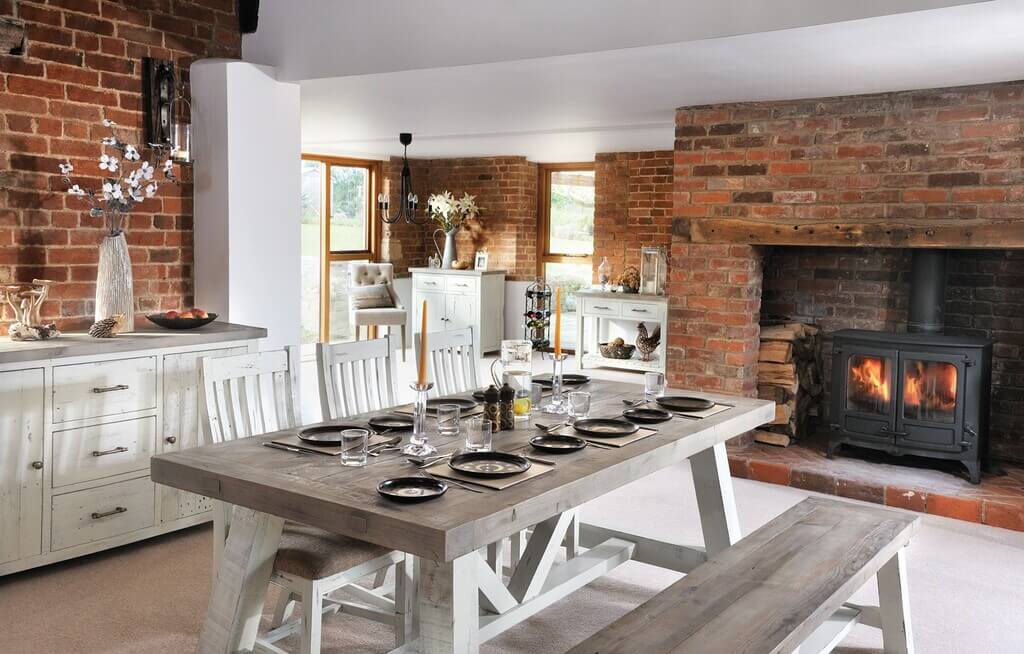 Source: styleourhome.com
These dining tables include a stylish and sleek touch to your interiors. These dining tables are usually designed with maple, cherry, or pine wood. The noticeable aspect of these tables is their utility and simplicity and are available with rectangular tabletops.
Conclusion:
The dining table in any space must complement the interiors by looking and placing. The look and design of the dining table must be aesthetic and functional. Recently, multiple dining tables have been available with modern and contemporary customization.
We have included some popular designs that categorically match the interiors according to the space, material, and appearance. Creativity can also be tested with the new designs and décor ideas in these designs. According to your preference in all aspects, get your best pick for your dining area.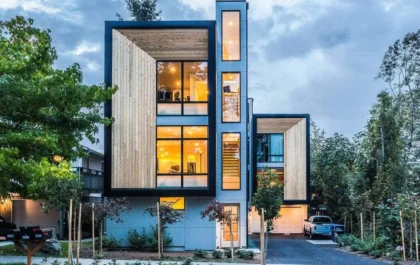 27+ Stylish & Modern Townhouse Designs for Urban Living.
The townhouse's first impression is normally too small, too compact, too narrower, and the list is endless. Well, let us…