Hygge, a Danish term pronounced "hoo-gah" – not "hi-guh" – is a concept about creating a warm, cozy, and welcoming environment. It's a Danish-inspired decor trend that the world quickly fell in love with. The idea of coziness is at the heart of hygge-inspired decor, which focuses on making your home feel inviting and comfortable by exciting all the human senses. Let's explore some expert-recommended tips for incorporating hygge into your home decor.
Natural Materials Are a Must
Source: home-designing.com
Hygge embodies nature. Danes who utilize hygge believe you should use all your senses to create a deep connection to nature. In terms of decor, this is often related to color, smell, and light use. Using natural materials like wood, wool, and linen is essential, and so is focusing on the warm and natural tones they bring. It just so happens that warm brown tones are trending this year – experts think that the subtle yet inviting colors bring a natural, cozy, elegant feel to any home.
Incorporating items made from these materials will add warmth and texture to your space. Many discount furniture stores will have all the furniture – made with natural materials – to bring hygge into your home. One thing about hygge; it doesn't have to be flashy or expensive.
Natural materials also satisfy the ongoing global push towards greener lifestyles. Part of green lifestyles is greener homes. Utilizing – even upcycling, recycling, or hand-making, in addition to purchasing – items made of natural materials around your home go a long way to creating a sustainable home.
Lighting Is Everything
Source: tollbrothers.com
Soft, warm lighting is a hallmark of Hygge-inspired decor. Instead of bright, harsh overhead lights, use table lamps, candles, and string lights to create a cozy atmosphere. The pockets of light you can create are what make a hygge-inspired home so inviting. Steer clear of artificial light where possible and let as much natural light flow through your home.
This, again, follows lighting trends that are in vogue in contemporary culture. Decorative lighting – lighting that both serves as lighting but is intentional within the decor of your home – is being applied in homes across the world.
It gives homeowners a chance to be surprised by their lighting choices and how it affects a room's, or section of a room's, vibe. But, also, as decorative lighting can lead to a greater quantity of light sources – think: multiple lamps (floor, wall, table), candles, string lights – homeowners can be more selective with what lights they wish to use, what they need.
Instead of lighting up a whole space with an overhead light, they may be sitting in a chair in the corner of their living room and need only a subtle floor lamp to light their book. This, in turn, leads to a more sustainable home with lower electricity bills and usage.
The Comfiest Textiles
Source: architecturaldigest.com
Comforting is everything. The comfier, the better. Plus, textiles are a hot interior decor topic for 2023. Adding a range of soft, plush textiles like throws, pillows, and area rugs to create a cozy, inviting space is what Hygge and the 2023 interior decor trends rave about. Choose fabrics like wool, faux fur, and fleece to add warmth and texture to your decor.
Create a Cozy Seating Area
Source: hearstapps.com
Sticking along the lines of comfort and a nurturing environment, you have to have an inviting seating area for people to relax. Another concept of hygge is community – relaxing together in a warm environment that brings peace.
You can achieve this by arranging chairs and sofas around a central focal point like a fireplace or coffee table. Add plenty of pillows and throws to make the space feel like somewhere you'd never want to leave. Couple this with your essential and soothing pockets of light, and you've hit the huge jackpot.
Also Read: Scandinavian-Inspired Home Decor: Simple & Stylish Designs
You've Got Natural Materials, Now Explore Natural Elements
Source: futurecdn.net
Natural materials are one aspect of the hygge concept, but actual natural elements are just as essential. The Danish love the outdoors, so why not bring the outdoors to you by incorporating natural elements like plants, flowers, and wood accents into your decor?
These elements will add a touch of nature to your space and create a calming, serene environment. You don't even need to splash out on the real thing – although that would be ideal – artificial plants look as life-like as the real thing.
You can also achieve a similar vibe with scents – nature-inspired oak and floral scents can transport you into the middle of a blossoming forest in one sniff.
Incorporating Hygge-inspired decor into your home can create a warm, welcoming space that promotes relaxation and comfort. By emphasizing natural materials, soft lighting, plush textiles, and natural elements, you can create a cozy atmosphere that will make you want to stay home and relax forever. Will you ever leave your home? Who knows.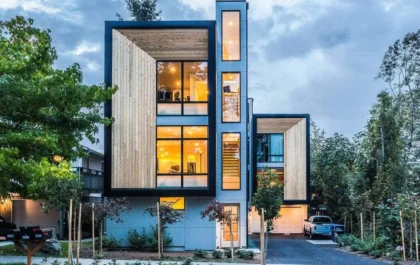 27+ Stylish & Modern Townhouse Designs for Urban Living.
The townhouse's first impression is normally too small, too compact, too narrower, and the list is endless. Well, let us…