Purchasing a perfect coffee table that can adorn your living room seems like a very easy task for many. People think it just takes a few simple steps, and that's it; you go to a furniture store, pick your favorite pieces of wooden coffee tables with modern design, and purchase them. But that's not the complete story. You need to fulfill many more requirements to pick the right coffee table that meets your expectations.
In this blog, let's explore some of such crucial factors that you should keep in mind before buying a perfect coffee table in the future.
Read on
Choose the Height Mindfully
Source: mediaset.it
A coffee table that is very high or low will be awkward. If you want to make your living area comfortable, you need to opt for a coffee table with equal height like the cushions on your sofa or one or two inches lower than that. If you do anything more than that, it will look off. So, if you don't want that kind of weirdness in your living space, make sure you are getting the right height of your coffee table.
Keep Your Proportions Clear
Just like how the height of a coffee table matters, you should also make sure that the coffee table you are purchasing must have a perfect length according to the width of your sofa. Precisely, it would help if you take care of the fact that the coffee table you are purchasing is two-thirds the length of your sofa. For example, if you have a 96-inch sofa, you need to buy a coffee table that has a length of 65 inches.
Understand Your Clearance Rules
Source: amazon.com
After you have decided the height and length of your coffee table, you should now choose your coffee table shape. But while you decide whether you should buy a square, rectangular, round, or oval coffee table, you should be sure how much clearance has to be made around it.
Typically, it would help if you keep in mind that your coffee table must be 12 to 18 inches distant from your sofa. If this distance is anything more or less than that, you will end up feeling uncomfortable. Moreover, if you want to have the coffee table near the fireplace or TV stand, don't forget to ensure a gap of 24-30 inches. It will help because you will have room for proper air circulation around that space.
Consider the Functionality
Another crucial factor you should remember while purchasing coffee tables for your living room is its functionality. Be cautious about whether the coffee table you are purchasing is for decorative purposes or storage, how much storage should be ideal, etc.
Coffee tables can come in all forms. It would be best if you decide whether you want one with shelves and racks to store things or not. Apart from storage, you should also look for whether the coffee table you are buying is good for placing a drink or plate down without any risk of falling. It is recommended you go for a coffee table that can hold drinks and your plates of snacks easily.
Look for the Material
Source: mansionglobal.com
When it comes to materials, coffee tables are available in many varieties. If you want to purchase for industrial uses, go for metallic custom coffee tables. Moreover, when you want a more sophisticated look for your coffee table, you should buy one that is made of glass in combination with brass or steel.
Also, coffee tables are available in different woods like oak, maple, cherry, walnut, etc. If you want your coffee table to look casual, oak and maple wood would be fine. However, if your coffee table should have a formal look, walnut and cherry wood will suffice your needs.
On the other hand, if you want a modern living room, consider buying a coffee table made of Lucite. Thus, you will make your coffee table look like floating in the room with an amazing modish appeal.
Let There Be the Right Balance
If you plan to buy a coffee table for your living room, you need to give a lot of importance to weightiness. We want to say that your coffee table should match the other furniture that your living room has in order to make it look balanced. What does it mean?
If the sofa in your living room has a high-thin leg, you should buy a coffee table that has a solid look to the end of the table or a pair of shorter and chunkier legs. However, if your sofa does not have any visible legs, go for a coffee table that has skinnier legs. Got it, now?
Ready to Purchase a Perfect Coffee Table?
We have discussed most of the highly important factors you must consider before buying a coffee table. If you are about to purchase one soon, remember these, and you will surely end up with the best coffee table for your living room as per your needs.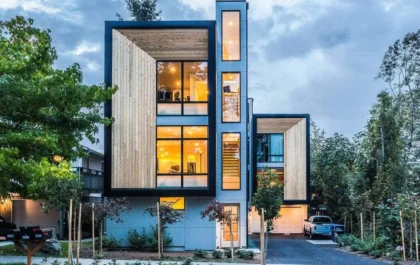 27+ Stylish & Modern Townhouse Designs for Urban Living.
The townhouse's first impression is normally too small, too compact, too narrower, and the list is endless. Well, let us…