Do you believe that buildings and be honest, and reflect the spirit of times?
Well, if you have ever heard about Brutalist architecture you will surely agree with this! It was a novel aesthetic that represented the post-war era's shifting social and political climate. Brutalism was a reaction against modernist ideas that emphasised practicality, simplicity, and the use of industrial materials such as steel and glass.
In this blog, we will look into Brutalist architecture's origins, characteristics, examples, and legacy.

History of Brutalism
1. Origins of Brutalist Architecture
Brutalism may be traced back to the post-World War II era when Europe was reconstructing and renewing itself. Designers at that time aspired to develop a fresh aesthetic that would capture the era's shifting social and political climate. The resulting products were not just useful but also emblematic of the new period of hope and development that was approaching.
Fun Fact: Do you also feel that modern brutalist architecture is the abstract culmination of concrete art? Well, the term "Brutalism" is derived from the French word "béton brut," which means "raw concrete.
2. Peak Era of Brutalism- 1950s to 70s
The 1960s and 1970s saw the height of brutality, which came to be linked with governmental and public structures. In Eastern Europe and the Soviet Union in particular, the style was frequently employed to convey a sense of authority and strength. The National Theatre in London, Boston City Hall in the United States, and the Palace of Culture and Science in Warsaw are among the most noteworthy Brutalist structures from this era.
3. Decline of Brutalism
Brutalism went out of favour in the 1980s as designers began to adopt more modernist and deconstructivist designs. The starkness and absence of adornment of many Brutalist structures led to criticism and the perception that they belonged to a bygone period. Many observers even tagged it as synonymous with urban decay and ruins.
4. Revival of Brutalist Architecture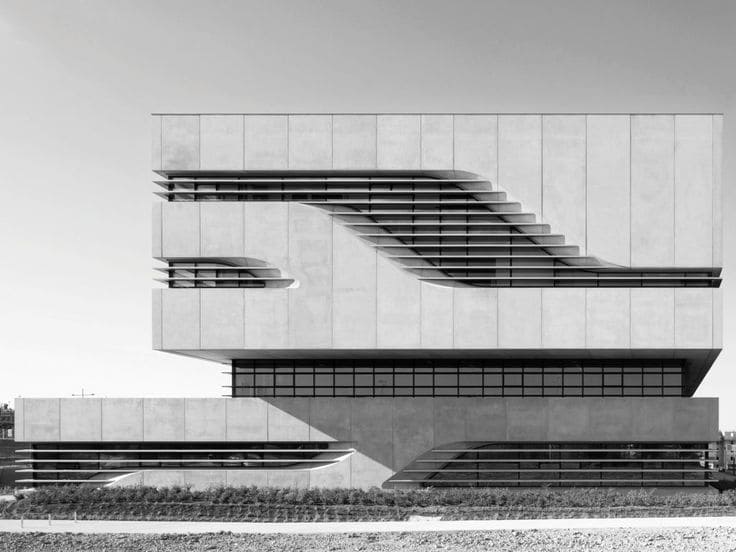 However, Brutalist architecture passed the test of time! Brutalist structures are now admired for their boldness, sincerity, and sense of the past. As a result, many have been repaired and reused for new purposes. Brutalism has had a renaissance in recent years, with many architects and designers rediscovering the beauty and strength of bare concrete.
What is Brutalist Architecture?
Now that we have understood the nuances of Brutalism, let us dive deeper into the architecture of that era. A rough, unfinished look and the use of industrial materials, especially untreated concrete, define brutalist architecture. These structures often have a rough, textured surface and a towering, fortress-like appearance.
Brutalist buildings are often monolithic and intimidating and are constructed of huge, repeated geometric forms like rectangles or cubes. The style is associated with government and public buildings, especially those constructed in the 1960s and 1970s. Although it may also be seen in private residential and commercial constructions.
5 Key Characteristics of Brutalist Architecture
1. Raw Aesthetic
What comes to your mind when you think about Brutalism? Concrete-Right?
Brutalist architecture is like a massive concrete palette that has been left raw and unfinished, with each pour and mark honoured as a unique work of art. The roughness and solidity of concrete are shown, with no attempt to conceal construction indications. This results in a unique and rustic look that is both strong and inspirational.
2. Industrial Material Palette
The basic material palette of Brutalist constructions was concrete, steel, and glass. The use of these materials, however, mirrored a larger societal movement towards valuing the beauty and significance of industry and technology.
The rough, utilitarian beauty of these materials was valued by Brutalist architects, who strove to highlight it in their designs. They emphasised the intrinsic beauty of the materials themselves by leaving them open and unadorned.
Fun Fact: The use of industrial materials in Brutalist architecture was partially motivated by the shortage of conventional construction materials in the postwar period.
3. Monumental Scale of Brutalist Architecture
Brutalism evolved during the time when most governments and nations were regaining their power and stability. Architecture is a reflection of society, so brutalist buildings were also a grand display of power and dominance. They frequently include bright, geometric designs that repeat themselves over and over again, like a captivating melody.
But Brutalism is more than simply being huge and threatening. These structures also give a sense of strength, durability, and permanence that is difficult to reproduce with other architectural forms.
4. Form Follows Function
Many Brutalist structures are public or government structures, such as libraries, museums, or government offices. So it's clear that it's not only about aesthetics – it's also about getting the job done. With an emphasis on satisfying the demands of the users, these structures are made to be practical and effective.
Brutalist architects typically prioritised aspects like accessibility, durability, and simplicity of maintenance. Many Brutalist structures, for example, have vast, open areas that are easy to manoeuvre and accessible to individuals of all abilities.
5. Let There Be Light
Do you think Brutalist architecture is all about heavy materials and bold aesthetics? Then what gives them that ethereal quality? Clever use of Natural Light! This can take the shape of huge windows, skylights, or other openings that enable the sunshine to stream into the area.
Natural light fosters a sense of connection to the outer world by bringing the natural environment inside and blurring the lines between inside and outside. Furthermore, it can assist to eliminate the need for artificial lighting, which can lower energy expenditures and the environmental effect of the structure.
5 Types of Brutalist Architecture
| Sr No. | Type | Timeline | Characteristics |
| --- | --- | --- | --- |
| | | | |
| 1 | New Brutalism | 1950s-70s | It first appeared in the UK featuring rough, exposed concrete and emphasising functionality above ornamental aspects. |
| 2 | Mediterranean Brutalism | 1950s-70s | Local materials, such as stone and brick, were used in addition to concrete in southern Europe, notably in Italy and Spain. |
| 3 | Soviet Brutalist Architecture | Stalinist era from the 1930s to the 1950s. | With a concentration on state authority and propaganda, grand and colossal structures with classical details like columns and pediments mixed in with Brutalist concrete architecture |
| 4 | Japanese Brutalist Architecture | 1950s-70s | Developed in Japan during the post-war reconstruction phase; uses concrete and steel; a minimalist aesthetic |
| 5 | American Brutalism | 1950s-70s | Government offices, institutions, and libraries on a grand scale; powerful geometric shapes; a feeling of monumentality |
| | | | |
10 Iconic Examples of Brutalist Architecture
1. The Unite d'Habitation by Le Corbusier
How can we compile a list of excellent Brutalist architecture without including the master's own masterpiece?
The Unité d'Habitation, standing tall and proud amid the busy metropolis of Marseille, is a towering tribute to the Brutalist style. Its unique use of prefabricated concrete pieces enabled rapid and efficient construction, while its modular design made it adaptable to a wide range of living configurations.
The apartments are big and bright on the inside, due to the building's extensive use of glass in its huge windows. Residents benefit from the social spaces, which include a rooftop patio and a shopping centre on the ground floor.
2. Boston City Hall by Architects Kallmann, McKinnell, and Knowles
Boston City Hall is a great American symbol of Brutalist architecture. It has a remarkable, fortress-like look, which has sparked considerable debate and controversy over the years. The rough concrete and powerful geometric shapes of the building provide it with a feeling of monumentality and strength, but its large cantilevered roof and wide interior reflect the Brutalist emphasis on usefulness and efficiency.
A great building, however, is not without controversy. Many individuals called for its downgrading due to its departure from conventional Government building architecture. Despite its polarising image, Boston City Hall is an essential element of the city's architectural legacy and has inspired a plethora of other Brutalist designs.
Fun Fact: Boston City Hall was a filming location for the film "The Departed." The building's distinct design and imposing stature made it an ideal setting for the grim criminal drama.
3. Barbican Estate by Chamberlin, Powell and Bon
With its dramatic towers and walkways highlighting the raw and unpolished beauty of concrete, London's Barbican Estate is a real Brutalist architecture masterpiece. The estate, with its combination of residential, cultural, and leisure venues, is still recognised as a cutting-edge and modern example of Brutalist design, even though it was completed in 1982.
Today the Barbican Estate has become a highly desirable spot to reside in London. It is a self-contained mini-city with all the facilities required for a comfortable and convenient life. Everything on the Barbican Estate is easily accessible, from residences to entertainment.
4. The National Theatre by Sir Denys Lasdun
The National Theatre is an important cultural landmark in London as well as a magnificent example of Brutalist architecture. Its design is inspired by the concept of a theatre machine with functional parts like fly towers and stage equipment visible from the outside.
It underwent an extensive renovation operation in 2013, restoring the original concrete façade and enhancing tourist accessibility. It is still a lasting emblem of both Brutalism and the city's cultural power today.
5. Habitat 67 BY Moshe Safdie
Habitat 67 in Montreal, Canada, is not just a landmark example of Brutalist design, but also a groundbreaking plan for urban housing. Its modular design consists of 354 prefabricated concrete pieces stacked in various combinations to create a variety of dwelling types and outdoor areas.
The structure resembles a vertical town, with each apartment having its own patio or garden. This novel approach to housing sought to provide inexpensive and roomy dwellings in metropolitan areas.
Fun fact: Safdie designed the structure as his thesis project for his architecture degree at McGill University. It attracted international recognition after being erected for the World Expo and became a classic example of Brutalist architecture.
6. The Salk Institute by Louis I Kahn
A perfect blend of minimalism and Brutalist architecture! The Salk Institute's architecture was inspired by a poem by Mexican poet Octavio Paz, which emphasised the relationship between science and the environment. The complex's symmetrical shape is meant to generate a sense of balance and harmony.
Kahn's conviction in the honesty of materials and the relevance of the surrounding environment is shown in the use of bare concrete and natural light. The Salk Institute has received accolades for its remarkable visual effect as well as its practical design, which promotes cooperation and scientific study.
7. The Hiroshima Peace Memorial by Kenzo Tange
Probably, one of the best examples of Japanese Brutalist Architecture! The Hiroshima Peace Memorial Park serves as a memorial to the victims of the Hiroshima atomic attack.
The Peace Memorial Museum, the Cenotaph for A-bomb Victims, and the Flame of Peace are among the structures and monuments in the park. A sombre and melancholy mood appropriate for the park's serious purpose is created by the Brutalist features included in its construction, such as exposed concrete walls and pathways.
8. The National Museum of Western Art by Le Corbusier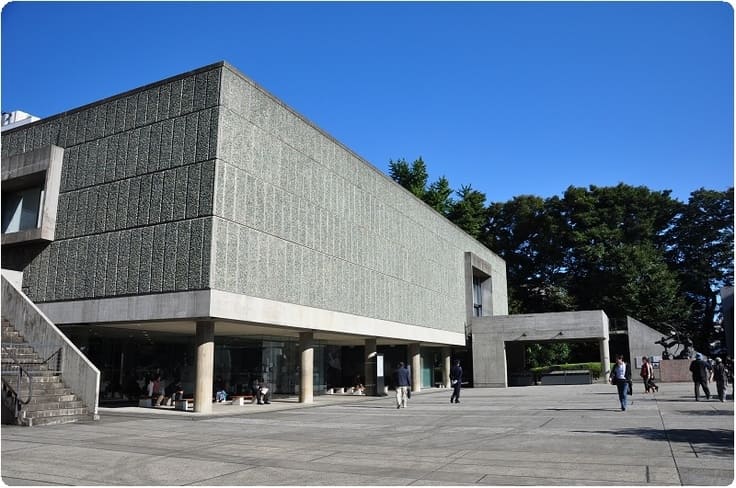 The National Museum of Western Art in Tokyo is another example of Japanese Brutalist architecture, displaying the strong and inventive concepts of Swiss-French architect Le Corbusier. The bare concrete facade of the museum, completed in 1959, includes geometric patterns and angular lines that exemplify the Brutalist style.
Visitors are treated to a breathtaking collection of Western art inside, which includes pieces by artists like Monet, Van Gogh, and Renoir. The wide and spacious halls of the museum are drenched with natural light, providing a tranquil and contemplative environment that perfectly matches the Brutalist architecture.
9. Trellick Tower by Erno Goldfinger
Overlooking the West End of London's skyline, this architectural gem is a colossal example of brutalist architecture. This 31-story residential skyscraper, built in 1972, has a rough, exposed concrete façade and unusual, staggered balconies
The tower has become a cultural symbol, featuring in films, music videos, and even as a fashion designer's inspiration. Trellick Tower, despite its early image as a divisive and unwelcoming housing complex, has subsequently become a symbol of London's Brutalist legacy and a treasured aspect of the city's architectural environment.
10. Robin Hood Gardens by Alison and Peter Smithson
Robin Hood Gardens is a Brutalist housing complex comprised of two long concrete buildings with a characteristically stepped design, housing approximately 200 families in a combination of flats and maisonettes. While it was initially lauded as a pioneering example of communal housing, the complex fell into disrepair over time, and its Brutalist appearance became divisive.
The estate was ultimately demolished in 2018 despite preservationists' best attempts to keep it standing. It is nevertheless a striking example of changing perceptions towards Brutalist architecture and public housing today.
Legacy of Brutalist Architecture
1. Influence on Modern Architecture
If you believe that the Brutalist architecture aesthetic died in the 1970s, you are mistaken! It had a significant influence on modern architecture, notably the use of raw, exposed materials like concrete, steel, and glass. Many modern architects are inspired by the Brutalist approach, adopting its harsh and sculptural features into their creations. Consider Zaha Hadid's MAXXI National Museum of 21st Century Arts in Rome.
2. Efforts to Preserve Brutalist Architecture
Many Brutalist structures are in danger of being demolished owing to shifting preferences and upkeep costs, despite their importance to culture and architecture. Preservation efforts, however, are developing globally, with organisations such as the Brutalist Architecture Appreciation Society and the World Monuments Fund lobbying for their conservation.
3. Reinterpretation of Brutalist Architecture
Some consider it a sign of postwar optimism and societal development, while others see it as an oppressive and alienating style that ignores human needs. Some architects have reinterpreted Brutalism's shapes and materials in order to create more responsive and sustainable structures.
Discover the Bold Beauty of Brutalist Architecture!
Even decades after its peak, Brutalist architecture continues to attract and inspire people all over the world. Its daring shapes, raw materials, and unwavering aesthetic have left an indelible mark on the built world, inspiring current architects and designers in novel and intriguing ways.
Do you want to learn more about this mysterious style? Learn more about this significant style by reading books and watching films. (We suggest 'Concrete Love' on Apple TV! ) Whether you like it or dislike it, there's no disputing Brutalism's influence on the architectural world.
Check out some more brutalist architecture examples
FAQs
1. What is Brutalist Architecture?
Brutalist architecture was popular in the 1950s and was distinguished by the use of raw concrete and harsh, geometric shapes. It was largely utilised for institutional and governmental structures, although it was also employed for residential structures.
2. Why Is It Referred to as Brutalist Architecture?
"Brutalism" is derived from the French phrase "béton brut," which means "raw concrete." The use of exposed concrete surfaces, which gives the design a raw, unfinished aspect, distinguishes it.
3. Is Brutalist Architecture Sustainable?
Brutalist architecture may be sustainable if it is planned and built with environmentally friendly materials and processes. The use of raw concrete, on the other hand, might cause concerns with energy efficiency and thermal comfort that must be addressed by careful design and insulation.
4. Can You Call Brutalist Architecture Art?
Brutalist architecture is unquestionably a type of art since it reflects a novel and unique approach to building design. However, its worth and significance, like all forms of art, are subjective and susceptible to interpretation.
5. What Are Examples of Russian Brutalist Architecture?
The Ostankino TV Tower in Moscow, the Novosibirsk Opera and Ballet Theatre in Novosibirsk, and the Melnikov House in Moscow are all famous examples of Brutalist architecture in Russia.
More from The Architecturesstyle