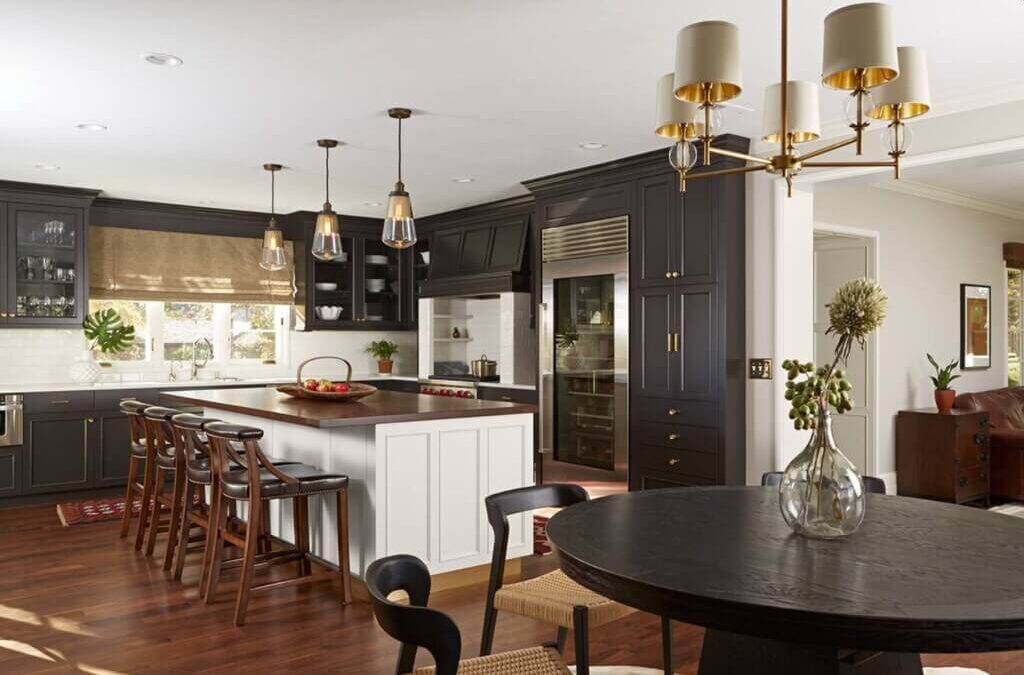 A Budget-Friendly Guide to Kitchen Renovation  
architectures style ,

Updated on 16th November, 2022
1 min

read
243
The kitchen is your home's heart and one of the most frequented rooms, whether you're having a homemade dinner or ordering takeout. Spending pastimes with family and hosting parties with guests is also great. For these reasons, renovating your kitchen makes sense. 
Modernize your kitchen with these tips if you're planning a home makeover.
Add a Kitchen Island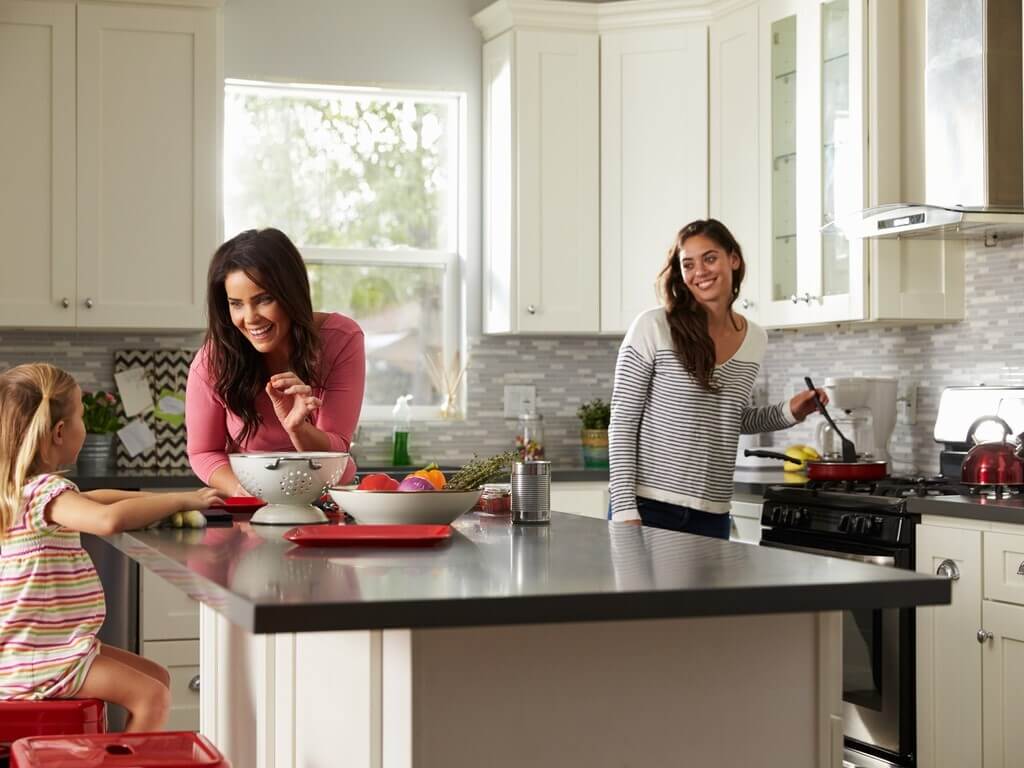 Source: mydecorative.com
Kitchen islands used to feature in stylish, high-end homes, but they are gaining widespread popularity. Traditional countertops are useful, but including an island creates more space and an illusion of closed functionality.
Adding a kitchen island allows you to change your floor plan so that you can prepare meals while engaging others in the overlooking dining or living room.
It also creates extra storage space and room for more seats. In addition, you can use the island as a worktop with open shelves for holding kitchenware like graters, knives, chopping boards, etc. 
Install Lighting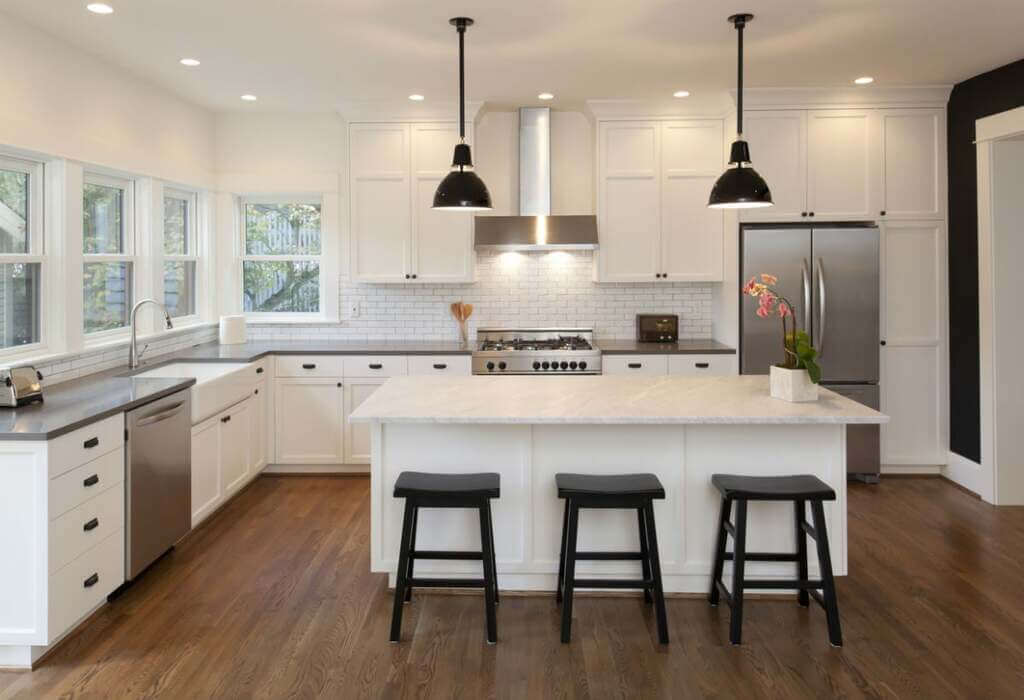 Source: bobvila.com
Although many ignore it, upgrading kitchen lighting improves it significantly. Besides illuminating other decorative elements, lighting can become the room's focal point. For this effect, use recessed light fixtures or pendant lighting. 
Kitchen pendant lights are not new to the scene. Despite inconsistencies in popularity, they effectively illuminate standalone installations like islands and countertops. To avoid overwhelming the room, ensure you scale the pendants to your kitchen's size. 
Improve Your Hardware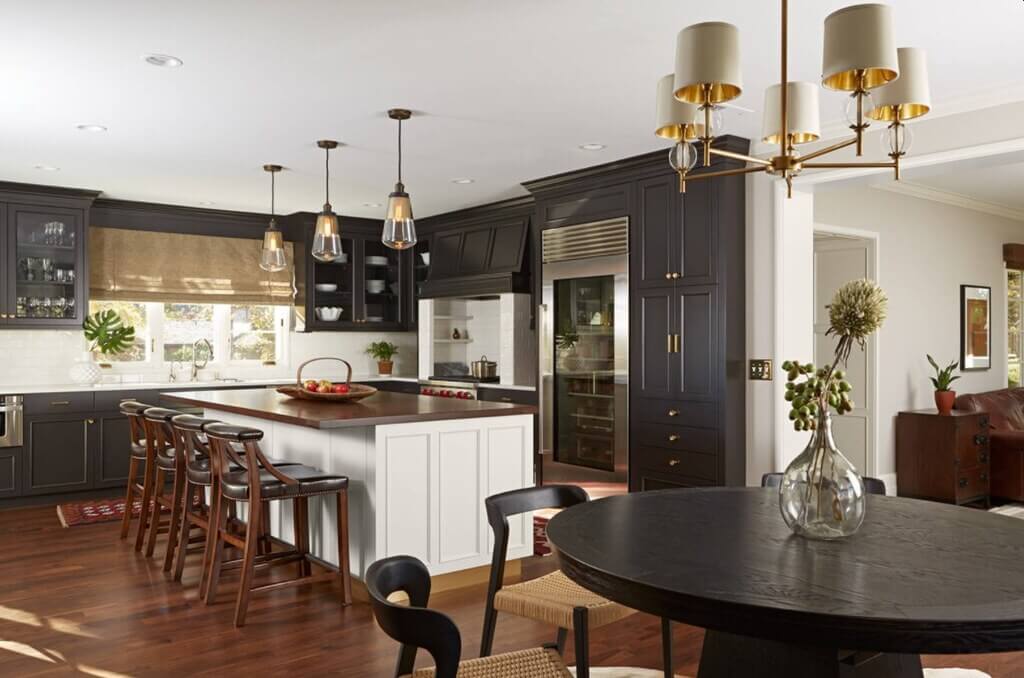 Source: homedit.com
Improving your kitchen hardware, such as Kitchen cabinet knobs and handles, faucets, sinks, etc., can elevate it to the next level. Consider warm-toned metals like brass on your handles, knobs, and faucets. Other colors that can transform your cooking space include champagne bronze and matte black.
Investing in stainless steel appliances is also best because of their durability, cleanliness, and tensile strength. While iron, steel grates, and wood burners are still available in the market, they can't match stainless steel's quality. 
Stainless steel appliances combine style with robustness. They can withstand extreme temperatures and are easy to clean. But, more importantly, they add a modern feel to your kitchen. 
Install Quartz Countertops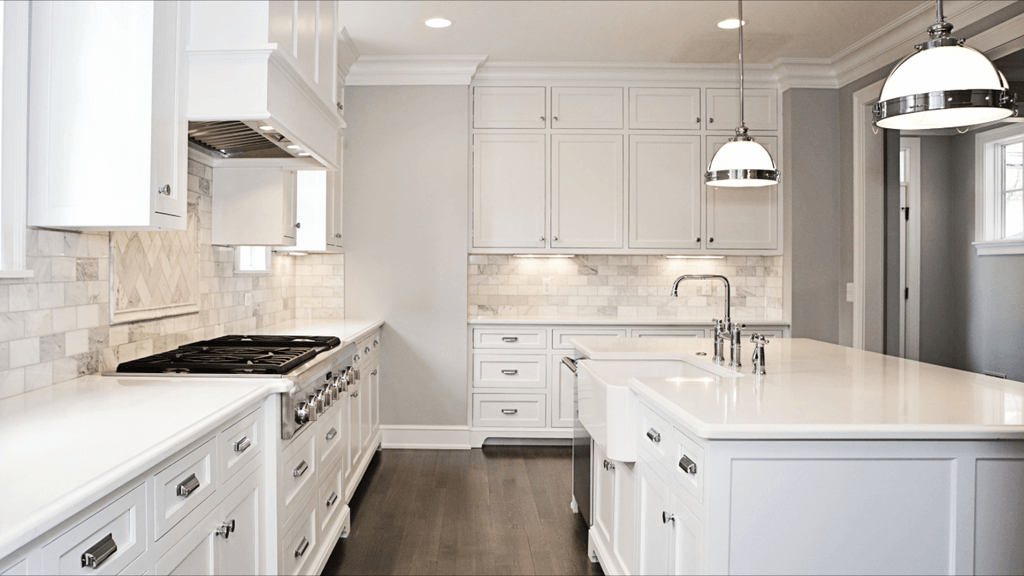 Source: extremegraniteinc.com
Concrete, laminate, stainless steel, and solid surface are popular countertop choices, but none match quartz countertops' elegance. 
An amalgam of minerals and resins, quartz is near-perfect countertop material. It's harder than natural stone, but it looks just as good. It's non-porous like solid surfaces but doesn't scratch like them. 
However, quartz is expensive, so be sure it'll take up a huge chunk of your remodeling budget.  
Revamp the Backsplash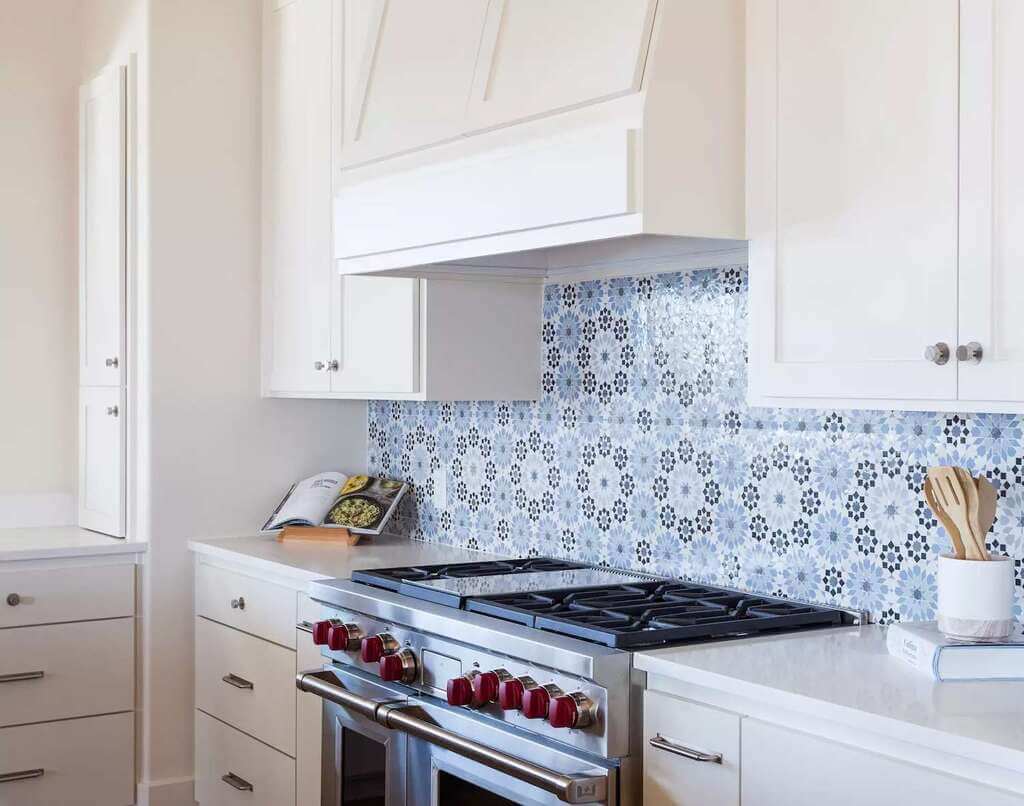 Source: thespruce.com
Your kitchen's backsplash is vital to its visual appeal. Unfortunately, an old backsplash can overshadow all the good work on remodeling your kitchen. 
Ideally, the backsplash should have a different design from the rest of the kitchen. A neutral backsplash works best if you use bold colors on cabinetry, countertops, and kitchen hardware. Apply bold hues on the backsplash for a space with a neutral color palette
Add Storage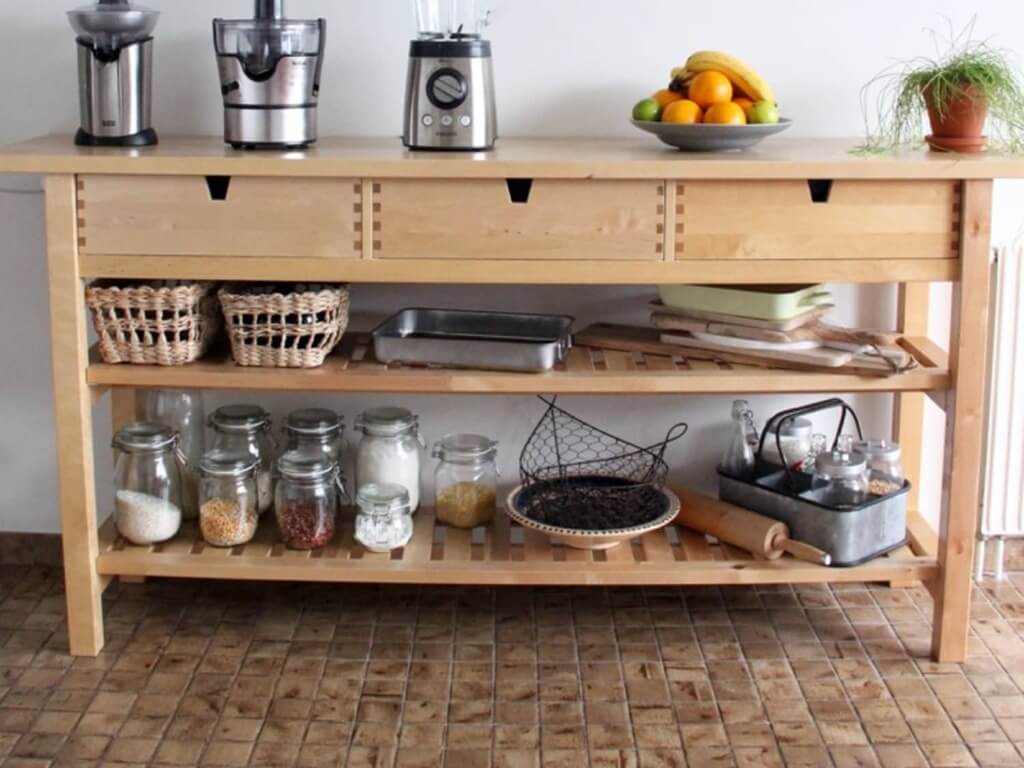 Source: apartmenttherapy.info
Adding some storage is never enough and never goes out of style. However, instead of just adding some extra space for kitchen essentials, consider adding storage that is space efficient. 
For example, install large kitchen cabinets that go to the ceiling. This will give you extra storage space for things like festival platters and decorations, which you just need once a year. 
You can also mount floating shelves and racks on unused, empty walls. You can use them to hang stock pots, large skillets, aprons, brooms, and mops.
Choose Your Appliances Early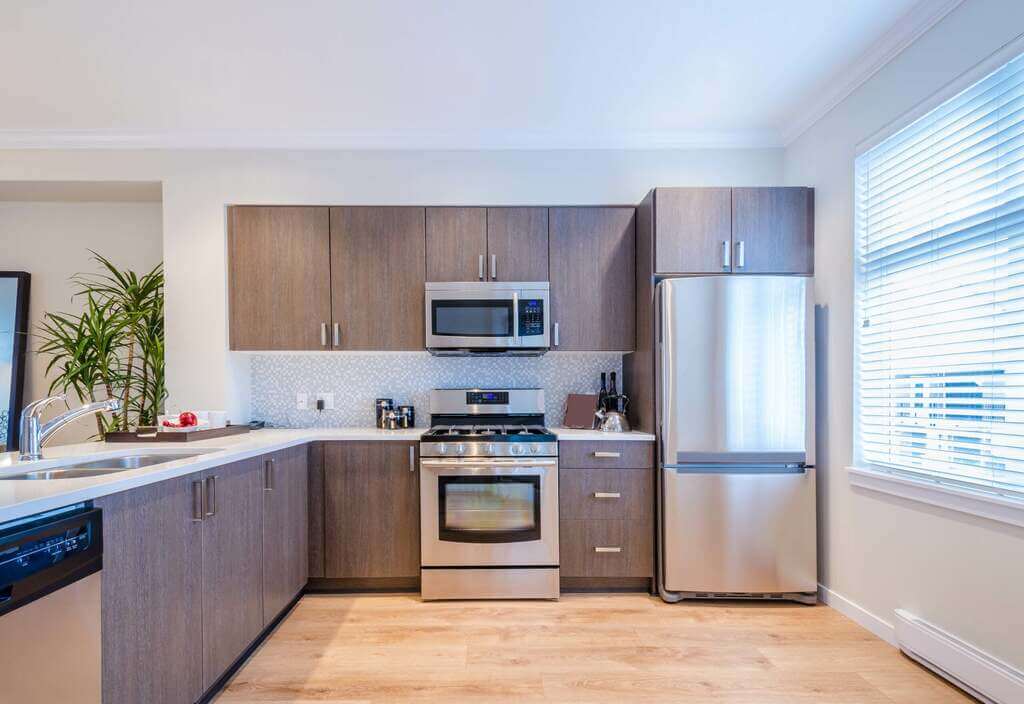 Source: bobvila.com
Always try to pick your appliances like refrigerators, ovens, dishwashers, and cooktops even before you start the Kitchen renovation process. These appliances can cost you from a few thousand dolls to $100K. This will help you to understand your overall budget, and you can plan accordingly. 
Another benefit is that you can design the kitchen layout according to the appliances you have selected before. 
Also Read: How to Find the Best Tile Colour for Your Kitchen 
Spend on a Quality Faucet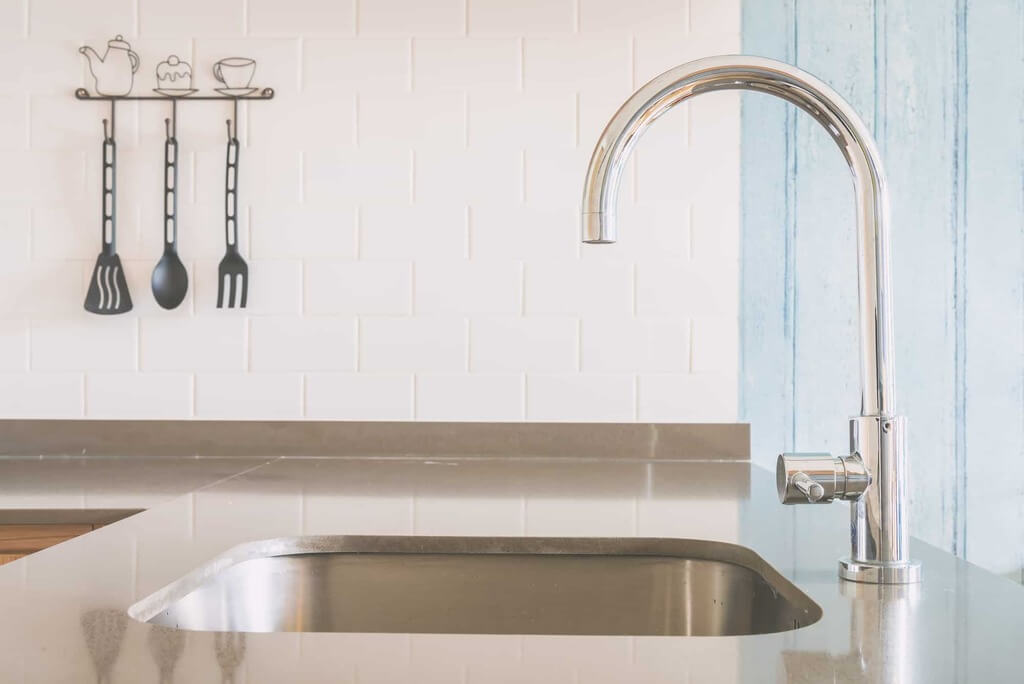 Source: mrkitchenfaucets.com
One of the important parts of the kitchen is the faucet, as you'll be using it many times a day. That's why it's important to spend money on a faucet that has great quality and convenience. The faucet should easily single-handle operation. 
For example, if your sink is in front of a window, make sure that the faucet and handle fit well in that space. Similarly, the sink should be large enough so that you can use it to wash utensils, vegetables, and other purposes. Select a single basin but not deeper than 10 inches. 
Final Words
You must not overhaul your kitchen to give it a chic, modern outlook. To save money, make a priorities list and address the most critical issues first. Remember, you can do it step-by-step!
Related posts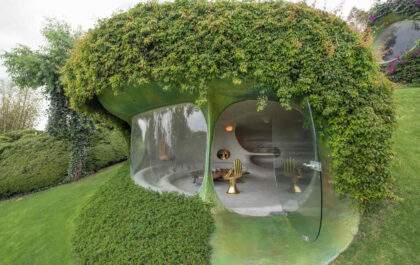 Javier Senosiain's Organic House: A Unique Architectural Wonder 
Project Credits: Project name: Organic House Architecture firm: Javier Senosiain Location: Acueducto Morelia 26, Vista del Valle, 53296, Naucalpan de…