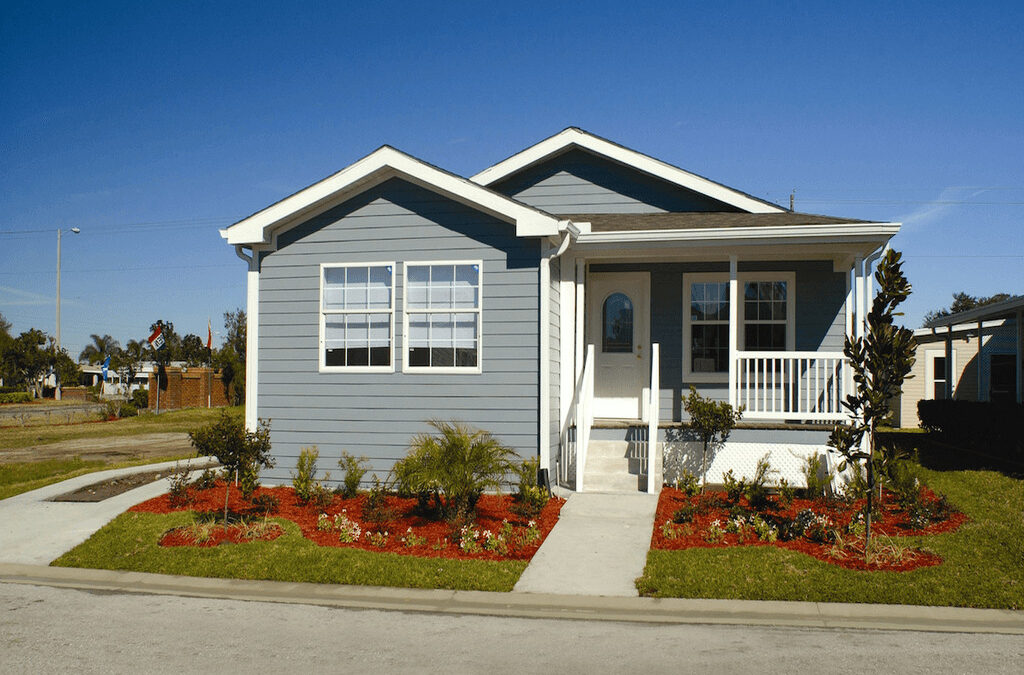 The exterior house siding is a great way to improve the appearance of your sweet home! Today, there are different types of house siding. You can choose between stone or wood shingles and metal or board siding based on your home's requirements. Choosing the right one can be challenging because they each have pros and cons. In this blog post, we've compiled a list of the best types of house siding for residential use.
1. Split-Log Siding
Split-log siding, also known as log cabin siding, is one of the traditional house siding used in many parts of the country. As its name suggests here, the wooden log has been first split in half and then placed onto the house exteriors.
This is made with oak, cypress, or cedar, giving a natural rustic vibe to the place. This type of split-log siding is commonly used in mountain cabins, ski village retreats, and country-style homes.
2. Board and Batten Siding
This type of exterior siding is made from high-quality boards placed in some space. These spaces are later covered with thin, narrow wood strips called battens to create a beautiful vertical pattern. The board is about 1 foot wide, and the battens are 1/2 inch wide.
Board and batten siding are considered one of the most versatile types of siding for homes as they can be either dressed up or down according to a home's exterior or style. It can be used to make your dwelling appearance taller or wider. This siding is widely used in colonial and farm-style architecture.
3. Wood Shingle Siding
Do you want to give your home a natural and rustic look? If yes, use wood singles to create a siding.
This is one of the reasons why this siding has been used for centuries. You can commonly find these Cape Cod and Victorian-style houses. These types of exterior house siding are made with thin pieces of wood placed slightly overlapping each other.
These sidings are available in several options, including red cedar shingles, eastern white cedar shingles, and eastern white cedar shingles. Apart from their textured and beautiful looks, these are also quite strong and durable. However, these things make them one of the most expensive siding and need more maintenance.
4. Horizontal Wood Siding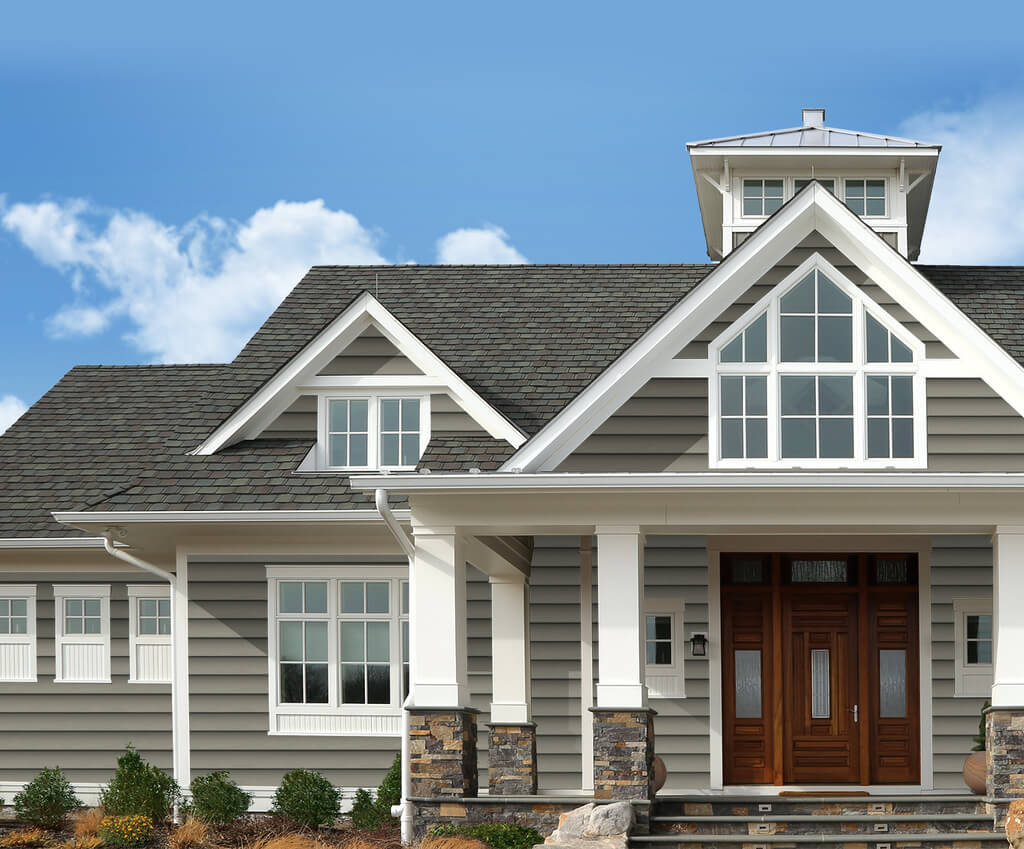 Horizontal wood siding or lap siding is another way to add a classic touch to your house exterior. You can guess from its name that these are installed horizontally.
This house siding is versatile and can be used with any type of architectural style. You can use them as it is or paint or stain them to create a personal and distinct look.
From quaint cottages to grand estates, horizontal wood siding can be seen in various traditional as well as modern buildings. However, as compared to other types of siding, this one is expensive and also requires more maintenance. So, if your budget is high, and you can maintain them properly, this siding option is excellent.
5. Metal Siding
These days, both metal siding and roofing are quite popular among homeowners. This siding first gained popularity during the 20th century, and people still use it. The main reason is its durability and low maintenance requirements. The metal sidings also look pretty cool in different architecture.
If you live in a region with harsh weather conditions, metal siding will be a magnificent option. This siding is made from aluminum, steel, and copper, which can withstand heavy rain, wind, and snow. They are also resistant to fire, mold, and pests. So, the metal siding will protect your home from various elements and give your home an industrial aesthetic.
6. Natural Stone Siding
Natural stone siding is an organic and durable option to add a stunning curb appeal to your property. Stones have been used for centuries in castles and palaces. This is perfect for homeowners who want to have a rustic appearance. This house siding looks elegant and sophisticated but comes with a high price tag. So, if your budget allows you, you can definitely try natural stone siding!
7. Faux Stone Siding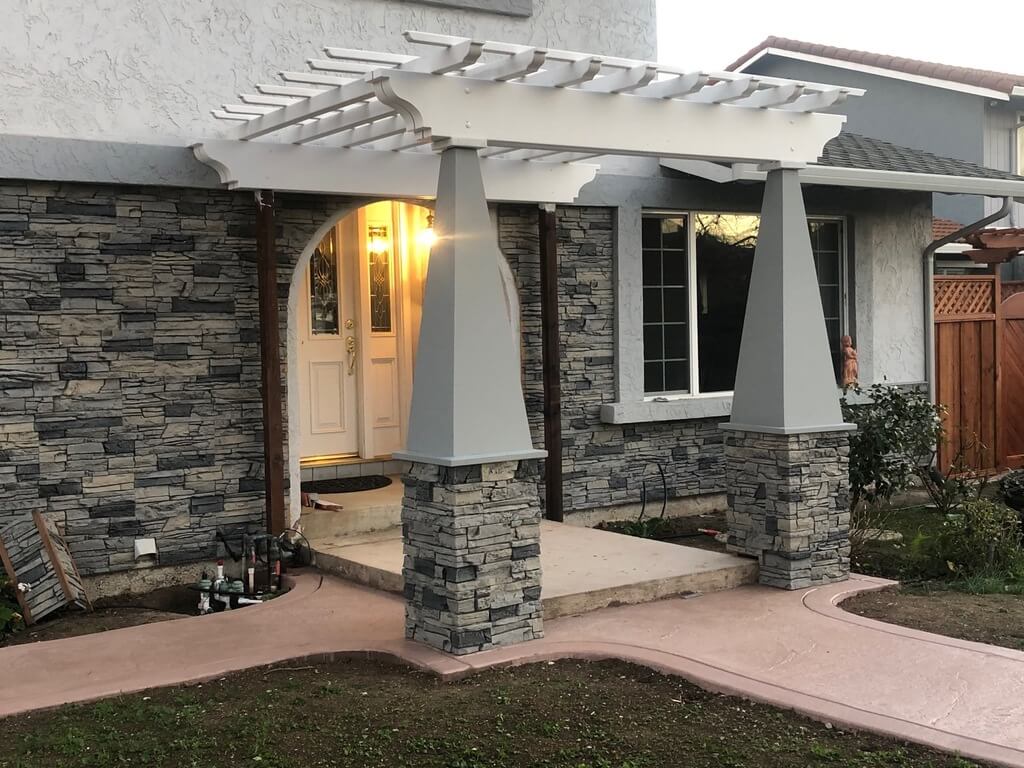 On the other hand, faux stone siding or stone veneer house siding looks exactly like stone but doesn't have the same price tag. There are several options available, you can select anything and easily install or replace them.
These types of house siding are lightweight and give the real appearance of stone to your house exteriors. So, whether you want a modern or Mediterranean look, you can use faux stone siding!
8. Brick Siding
Another popular exterior siding material is brick! Bricks have been used in numerous ways, from constructing homes to creating an accent wall. You can also use them to create wonderful house siding. This staple architectural material can be used in both traditional and modern ways to create various styles.
Bricks are made from clay and shale, so they're durable and can well protect your home in various natural conditions. However, just like natural stone, these types of house siding are also a bit costlier. You have to get professional help as you can't install brick siding all by yourself.
9. Glass Siding
If you own a mansion or villa or want to give it a luxurious touch, go for glass siding!
In many modern architecture, glass has been used in different ways, one of them being as house exteriors or siding. This siding allows plenty of natural light to the space and also creates a good airflow.
This way, it creates an illusion of a bigger space than it actually is, along with a seamless connection between inside and outside while maintaining privacy. However, before finalizing, it's essential to know that these types of exterior siding are available at a high cost and are more susceptible to damage.
10. Fiber Cement Siding
The next type of house siding is fiber cement siding. This is one of the best siding, offering complete protection from fire, pests, and mold. This is an excellent option for living in areas with high winds or hail. Another great thing about fiber cement siding is that you can create the exact appearance of wood, stucco, or masonry for a stylish and modern look.
Compared to vinyl siding, this one comes at a higher price range but still is quite affordable. This siding is a mixture of various materials, including Portland cement and natural cellulose wood fibers. These materials give the siding strength and it will last many years. Besides these benefits, the fiber cement siding protects from moisture, fire, and termites.
11. Stucco Siding
You might have seen old buildings covered in white plaster or heard about a white paste used in ancient architectural construction. This plaster-like material is known as stucco, and it has been used since ancient times for the exterior of various types of buildings.
Stucco is a fire-resistant and long-lasting material; this is why it is still one of the common types of house siding. You can create different textures and patterns from them and apply them on surfaces like brick, wood, and stone to decorate your property. Also, you don't have to worry about getting it repaired or replaced, as this siding needs low maintenance.
You can take inspiration from the Mediterranean and Spanish-style architecture.
12. Vinyl Siding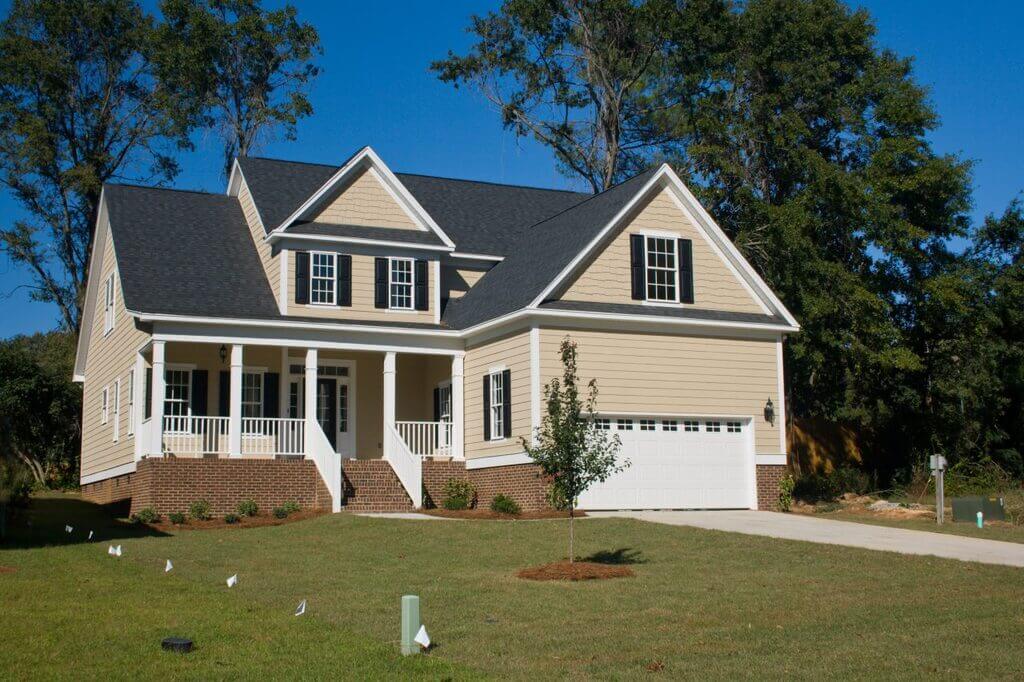 One of the most common types of house siding in the US is vinyl siding!
Do you know Why?
It has several reasons, including its affordability, versatility, and great appearance. Vinyl siding is available in various colors and sizes so that you can get the one according to your home size, requirements, and budget. This siding is synthetic material available in panel and shingle forms.
You can use them for various architectural styles and add an aesthetic touch to them. The only drawback of vinyl siding is that it is not as durable as other types of house siding. So you have to pay extra attention and take extra care of it. However, it is affordable as compared to other sidings.
13. Engineered Wood Siding
These types of exterior house siding are composite of wood fibers which are later bonded together with the help of adhesives. This mixture is later compressed down to get the exact wood texture. People living in areas with high winds and rain can use engineered wood siding. This is a unique, modern way to achieve the classic traditional look.
14. Insulated Vinyl Siding
Get the insulated vinyl exterior house siding if you want to improve your house insulation. This is also a great option to try if you're looking for a low-maintenance and budget-friendly siding option.
This is an upgraded version of the regular vinyl siding, but here it has insulation at the ridge of the panel. Other than this, the installation process is pretty much the same. This siding will maintain the temperature inside your home and give you a comfortable living atmosphere.
15. Aluminum Siding
The last type of house siding is aluminum siding which has been a part of homes around the globe for many years. This material is lightweight, extremely durable, and available in a wide range of styles and colors. Another benefit is that it is completely resistant to corrosion, decay, and pests. However, it can become a bit noisy in heavy wind and rain, so keep this in mind while considering these types of siding for homes.
FAQs
1. What kind of siding is best?
While selecting the siding, consider a few factors like your living area, design or style, material, and budget. Depending on these things and your personal preferences, you can pick the best types of house siding for your home. 
2. What type of siding lasts the longest?
House siding made from materials like metal, fiber cement, natural stone, and brick is one of the most durable and long-lasting.
3. What is modern siding?
Today modern house siding consists of several materials, including wood, fiber cement, engineered wood, and metal. These types of house siding are built in a contemporary way. You can also paint or stain them to coordinate with the rest of your house's exterior.
Wrapping Up!
Exterior house siding is a fantastic way to improve your house's aesthetics and overall appearance. Sidings also protect homes from pests, mold, and harsh weather conditions. As mentioned in this blog, various types of house siding options are available in the market. From natural stone siding to budget-friendly vinyl exterior house siding, you can choose the one according to your requirements and budget.
So, this is all about the different types of siding. Choose the best siding and add curb appeal to your property. Share this blog with your family and friends if you find it informative.
In case you missed it!
Himadri Shakya
Himadri Shakya is an enthusiastic Content Writer and Editor. She loves to create creative, engaging, and SEO-friendly content. Through her extensive research skills and practice, she has been generating high-quality and informative articles, and blog posts for over 4 years.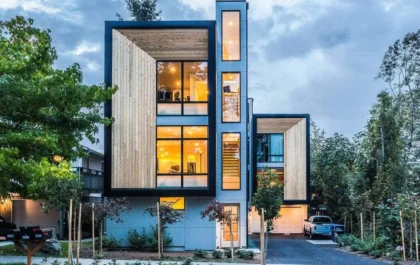 27+ Stylish & Modern Townhouse Designs for Urban Living.
The townhouse's first impression is normally too small, too compact, too narrower, and the list is endless. Well, let us…