Luxurious living space is a dream for all homeowners. But the idea of spending a fortune on decor often dissuades them from going ahead with the vision. However, designing a posh home isn't always destined to dig a hole in your pocket. You can use some simple and creative architecture and decor ideas to transform an ordinary-looking space into a luxurious haven.
The best thing is that you can achieve the vision within your budget. Here are some tips and ideas shared by expert architects and designers.
Open Floor Plan
An open floor plan can add a chic ambiance to your living space. It is ideal for small homes because it makes the place appear much bigger than its size.
Let the walls between the living room, dining area, and kitchen disappear, and you will have a spacious-looking home without much work. Just make sure that the furniture is arranged strategically, and you get full marks for your discerning taste.
Plush Bedrooms
If luxury is on top of your wishlist as a homeowner, your bedrooms make the perfect place to start. Bring a plush touch to each room with an accent wall that brightens up the area.
Invest in eye-catching decor pieces, thick rugs, and gorgeous curtains to make an impact. Don't forget to go the extra mile with bright and luxurious bed covers, cushions, and quilts.
Cozy and Contemporary Living room
You cannot overlook the living room decor if you want your place to be royal-looking. An electric fireplace entertainment center is a perfect investment for making it appear cozy and contemporary.
Use it as the focal point of the room, and create a sitting area nearby. Add more tasteful touches with luxurious tapestry, curtains, and rugs.
Minimalist Bathrooms
Luxury isn't always about having too much, but it is about doing more with less. The modern plush-home trend focuses on minimalism.
Create minimalist bathrooms to bring your vision to life. Minimalist designs are often stark, but they have all the functionality you need.
Invest in high-quality fittings and fixtures to enhance the elegance of bathrooms. Pick modern materials for flooring, tub, toilets, and basin. Place small plants to bring greenery and freshness to the place.
Creative Outdoor Spaces
Posh homes replicate luxury inside and outside, so you have to invest in a creative outdoor space as well. It doesn't mean you need a swimming pool in the backyard or a sprawling garden to host barbecue parties for your friends.
You can even create a plush little haven in your apartment balcony with an outdoor garden. An outdoor party area in the backyard and patio serves as the best venue for your barbecue evenings.
Pick tasteful furniture pieces, have some greens, hang on fairy lights, and you have a perfect-looking outdoor space to complement your interiors.
Elevating your home into a luxurious living space need not be an expensive project. You can be a little creative and do it without spending a lot of time and effort. Just try these architecture and decor ideas and see the difference! 
Discover More: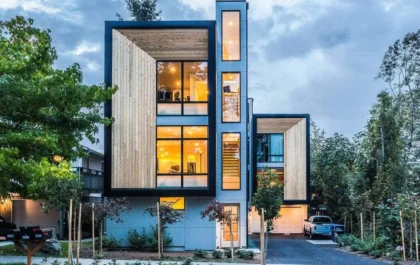 27+ Stylish & Modern Townhouse Designs for Urban Living.
The townhouse's first impression is normally too small, too compact, too narrower, and the list is endless. Well, let us…