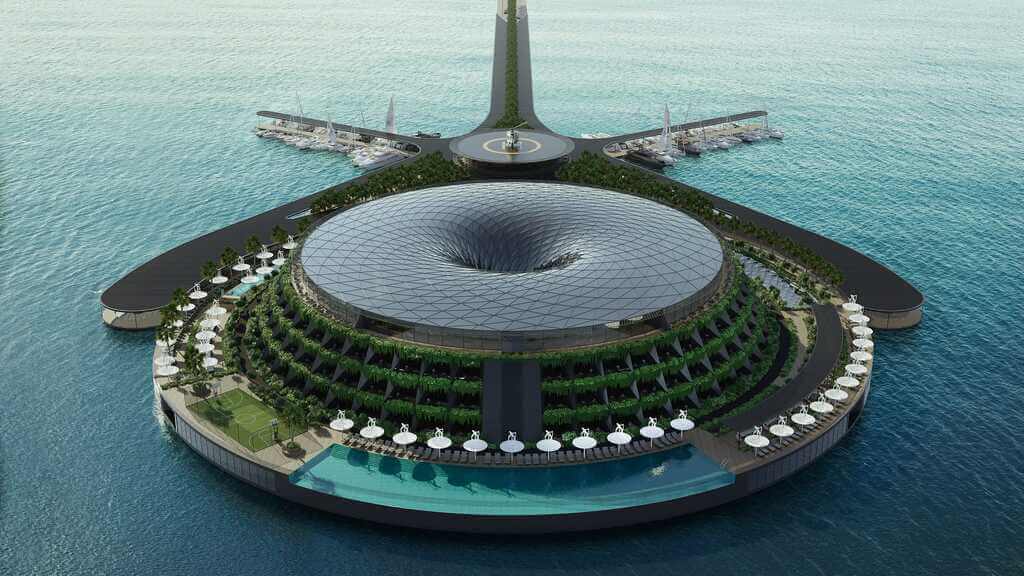 Project name: Eco-Floating Hotel
Location: Qatar (Variable Locations)
Architecture Firm: Hayri Atak Architectural Design Studio (HAADS)
Built Area: 35000 m²
Design Year: 2020
Completion Year: 2025
Have you ever seen a floating hotel? If not, today you'll get to know about the most fascinating hotel in the world! We're talking about "The Eco-Floating Hotel." Designed by the famous Hayri Atak Architectural Design Studio, this is an immense architecture that is currently a trending topic.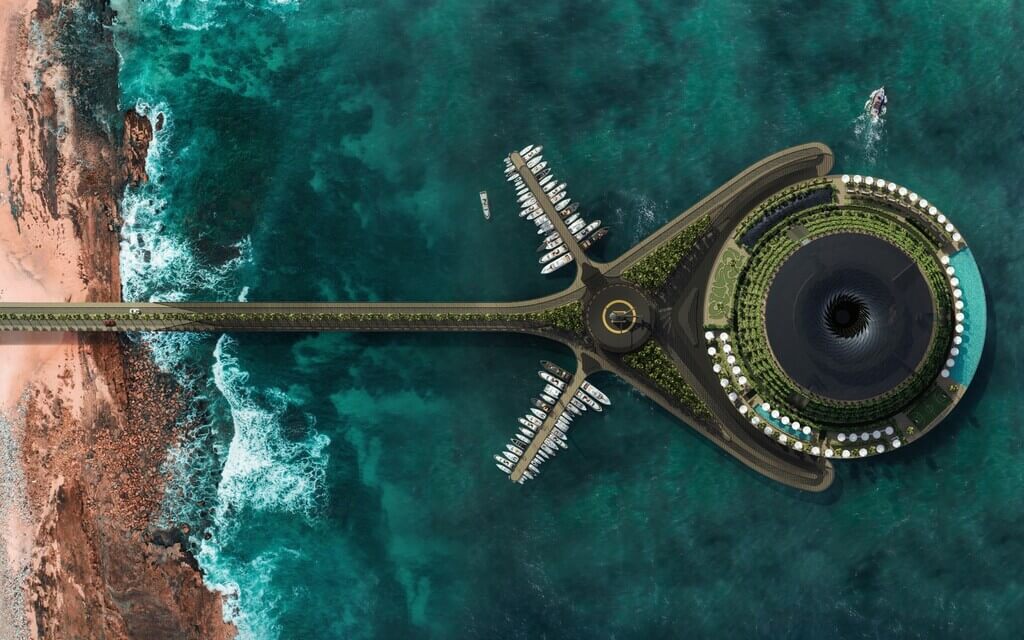 Source: newatlas.com
After giving the incredible sinuous skyscraper proposal for New York, "The Eco-Floating Hotel" is the next project of HAADS. With an eye-catching structure and interior design, there are many things that will baffle your mind. So, are you excited to know more about this remarkable structure?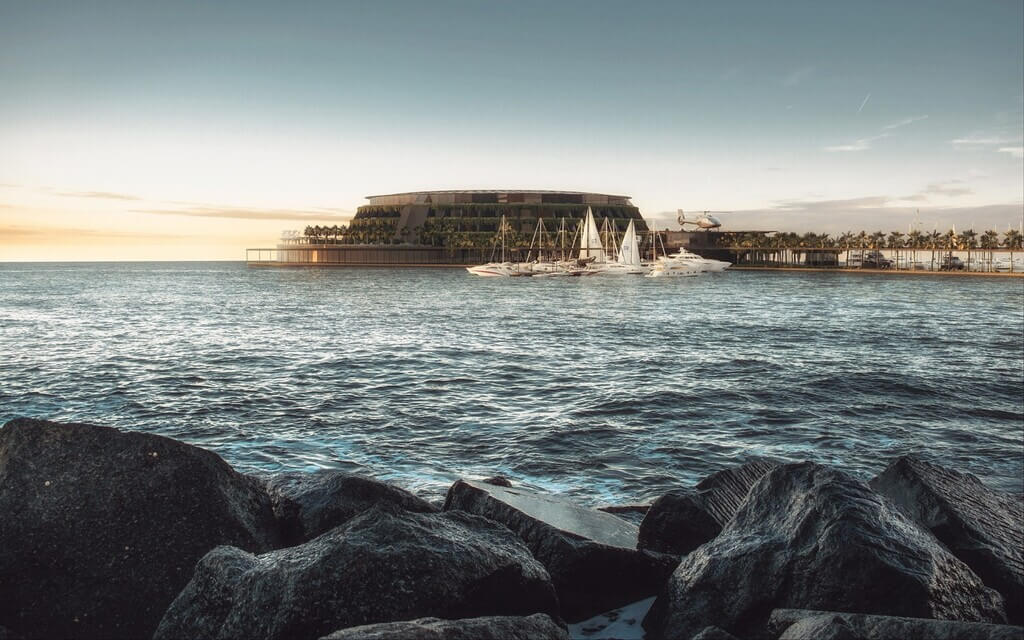 Source: autoevolution.com
First, this project was only aimed to be placed in Qatar but due to its characteristic mobile features, there are high chances that it may be located in different areas. The studio shares the design for a 152 room 'Eco-floating Hotel' envisioned off the coast of Qatar. This is not a regular architecture project; it has various opinions and technical knowledge from many different disciplines and visions.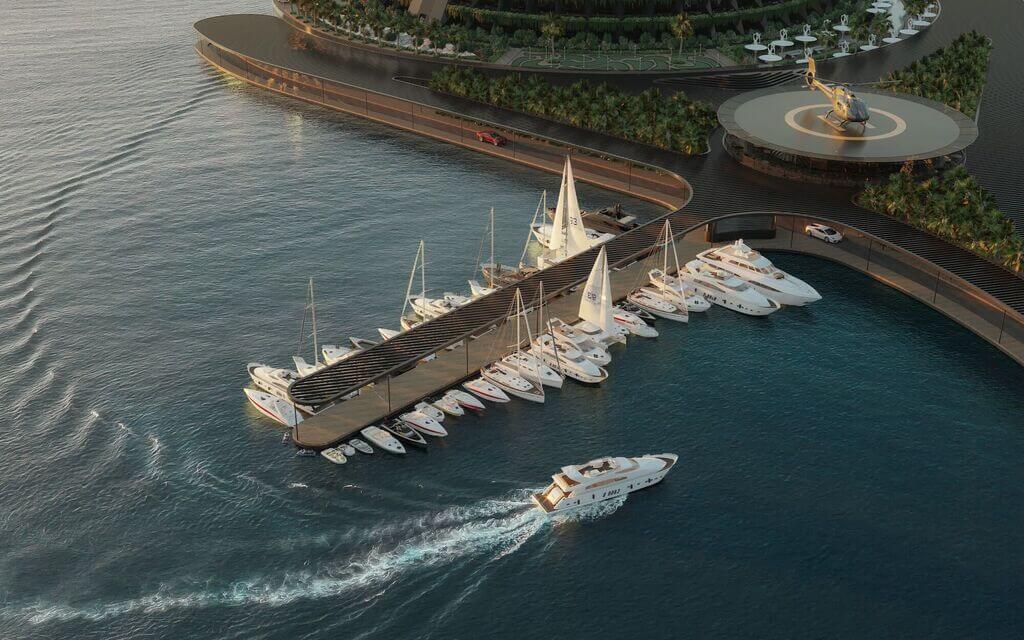 Source: asiatatler.com
From consultants from different fields to ship construction engineers and ship architects have contributed to this whole project process. 
However, the main thing that attracts people's attention is that the whole design is built to minimize energy loss and with a zero-waste principle.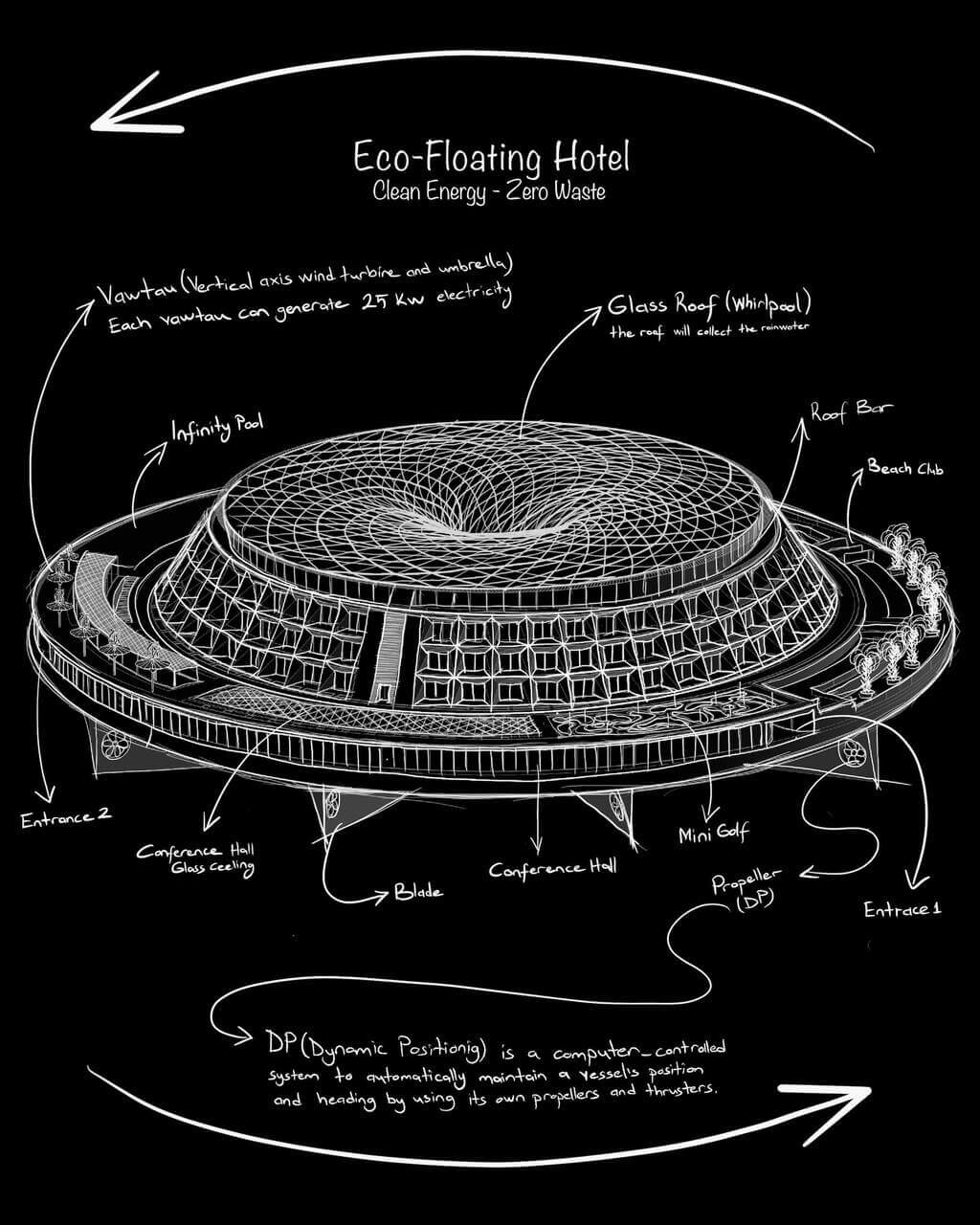 Source: amazingarchitecture.com
Do you know that this building will generate electricity? Yes, the design includes a brilliant rotating system that moves the building around to generate electricity. The overall design is inspired by the ocean and, in particular, a vortex. Yes, you heard it right, VORTEX!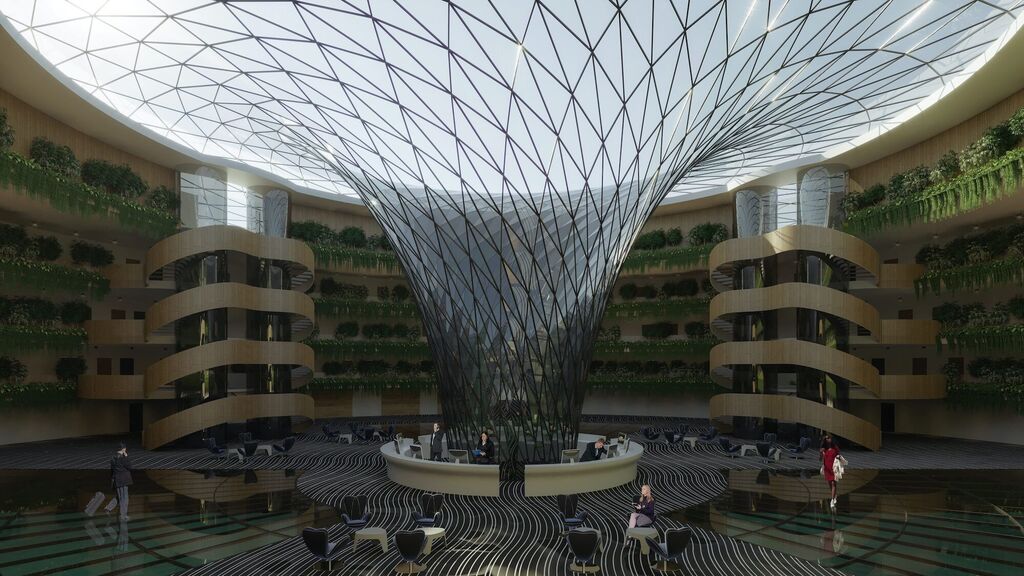 Source: asiatatler.com
According to HAADS, the design features the main pier that will be static, but the circular-shaped hotel will slowly revolve. It completes the full circle in 24 hours with a continuous current. Wouldn't that be amazing? In addition, the hotel also features three entrances. All of them are in coordination with a 140-degree pier, so you can easily access the hotel from the shore at any time of the day.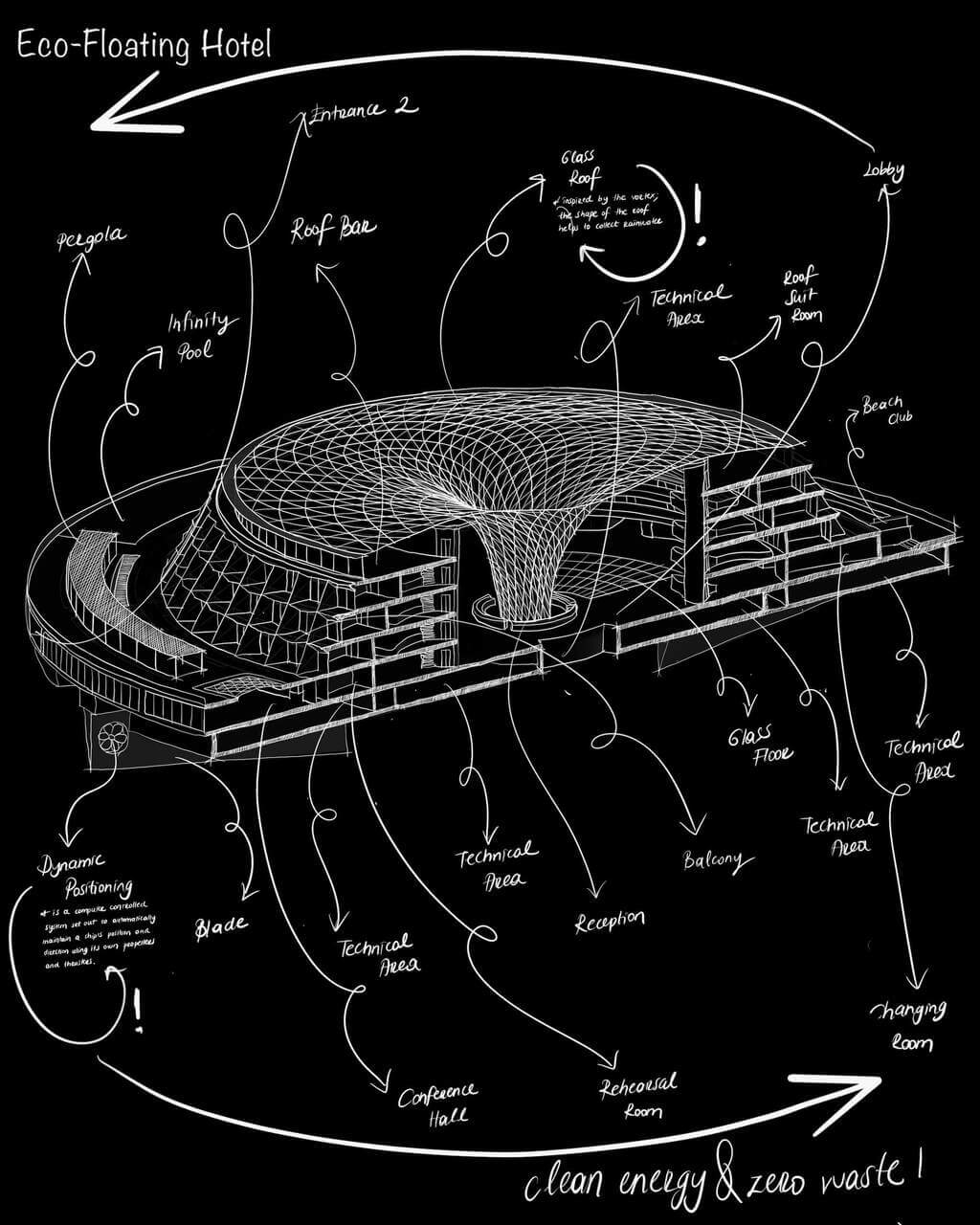 Source: amazingarchitecture.com
HAADS had started working on this project in March 2020, and the whole design took six months. Their main principle is to construct a structure with "Minimum Energy Loss and Zero Waste." The building also has a rotating feature that generates electrical energy.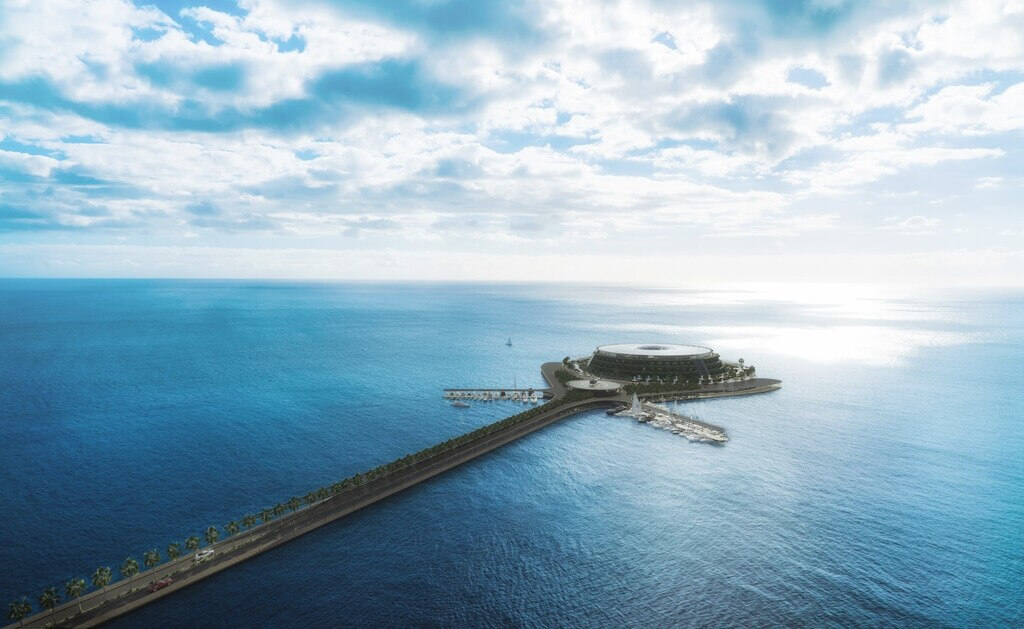 Source: newatlas.com
Now you might be thinking, what is this moving characteristic? How does it work? The entire rotating system utilizes dynamic positioning (DP). DP is a computer-controlled system that has been used to automatically maintain a ship's position and direction using its own propellers and thrusters. It revolves around its position according to the water Current and provides users with various perspective experiences.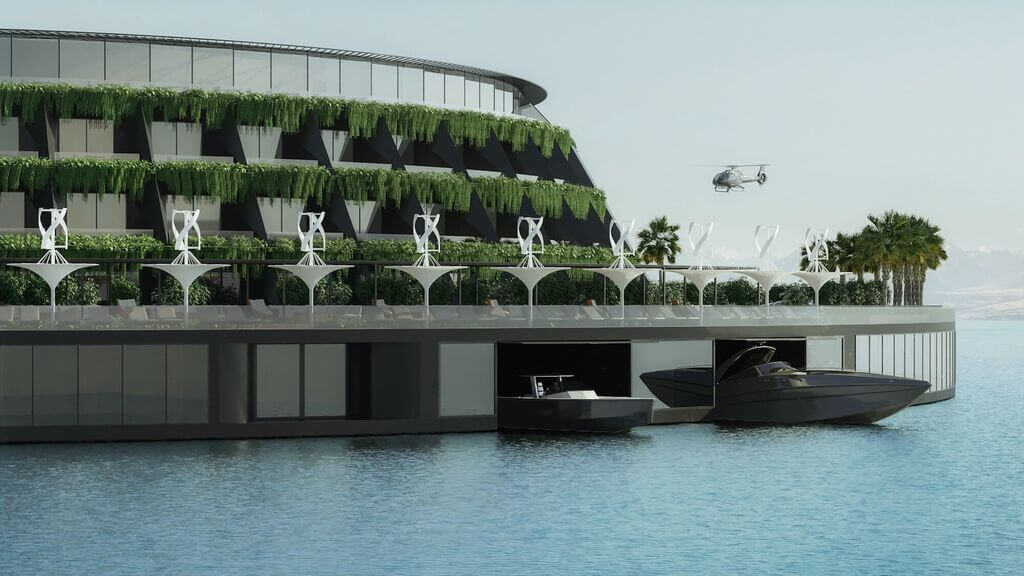 Source: asiatatler.com
The HAADS team wanted to create a project with 'Ecological Balance,' which's why they integrate a system of green energy production called VAWTAU, which is Vertical Axis Wind Turbine And Umbrella.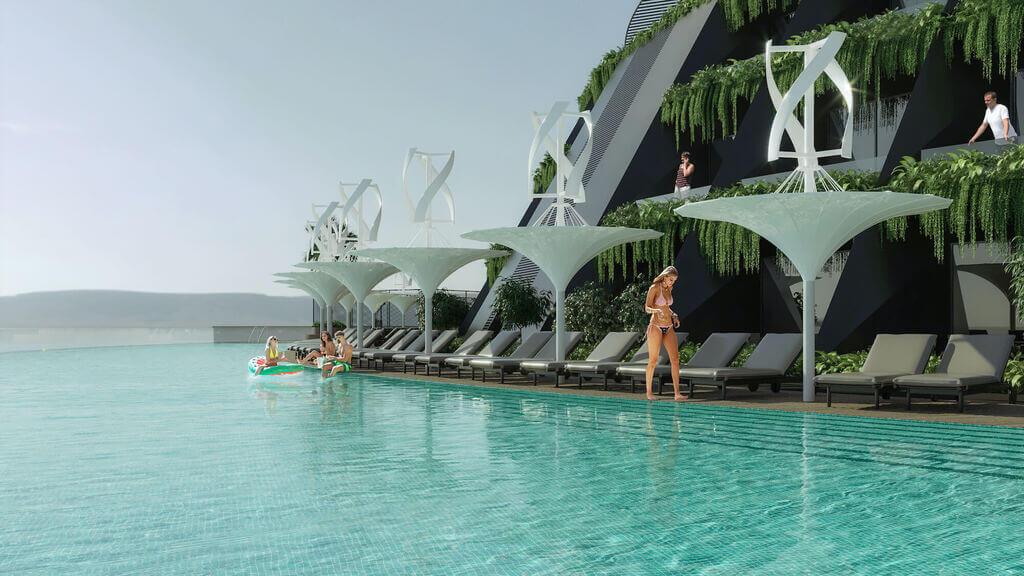 Source: amazingarchitecture.com
For the vertical plane, this wind system works as a wind turbine; at the same time, on the horizontal plane, aka the coastal band, it serves as a sun umbrella. According to HAADS, this wind system can obtain 25 kW of energy from each of the 55 VAWTAU modules. This system has a pretty simple but really effective working principle: It uses wind current caused by temperature difference in sea and land.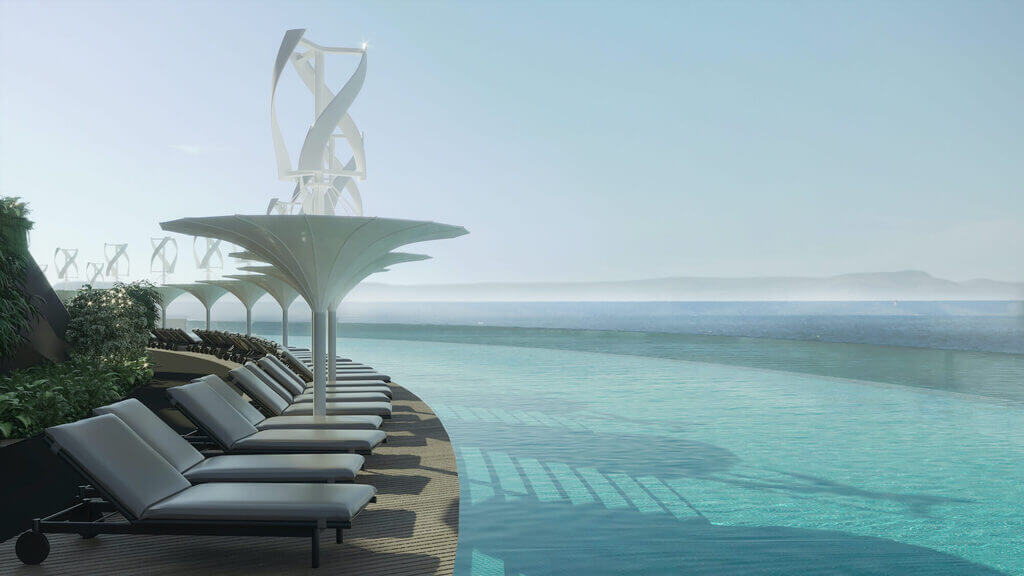 Source: amazingarchitecture.com
Not only this, but this hotel design will also effectively use green areas and rainwater. 
You'll be surprised to know that the hotel's roof or the top part is designed in such a way that it also collects the rainwater in its form!
Later, this water can be stored and can be used as gray water by treatment. The reason behind this to maintain and make a proper water balance of green areas.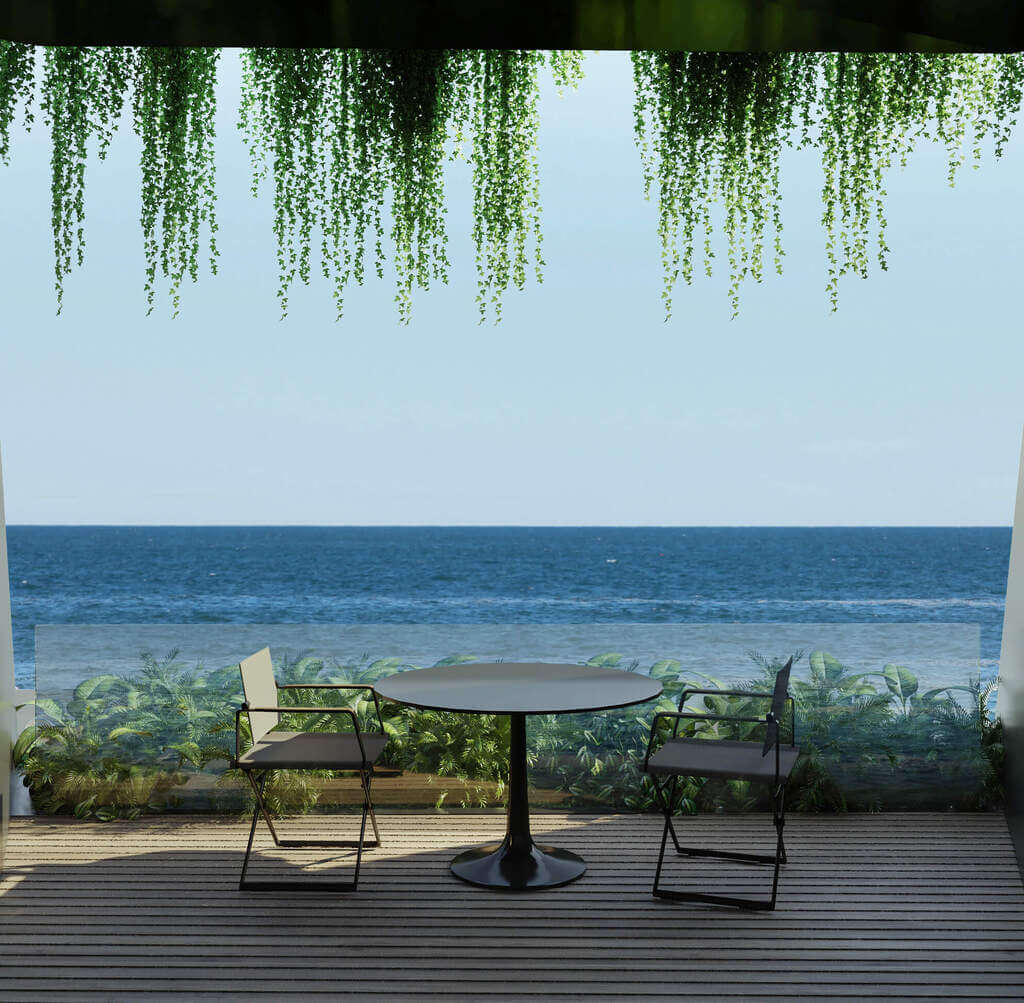 Source: autoevolution.com
Also Read: Feel The Ultimate Royalty In Luxurious Hard Rock Guitar Hotel
Apart from this, designers have also planned to include "waste separation units." These units will help to turn food waste into fertilizer for the landscaping. In short, from water, food to structural design, the HAADS architects have created a project that is completely environment friendly and sustainable.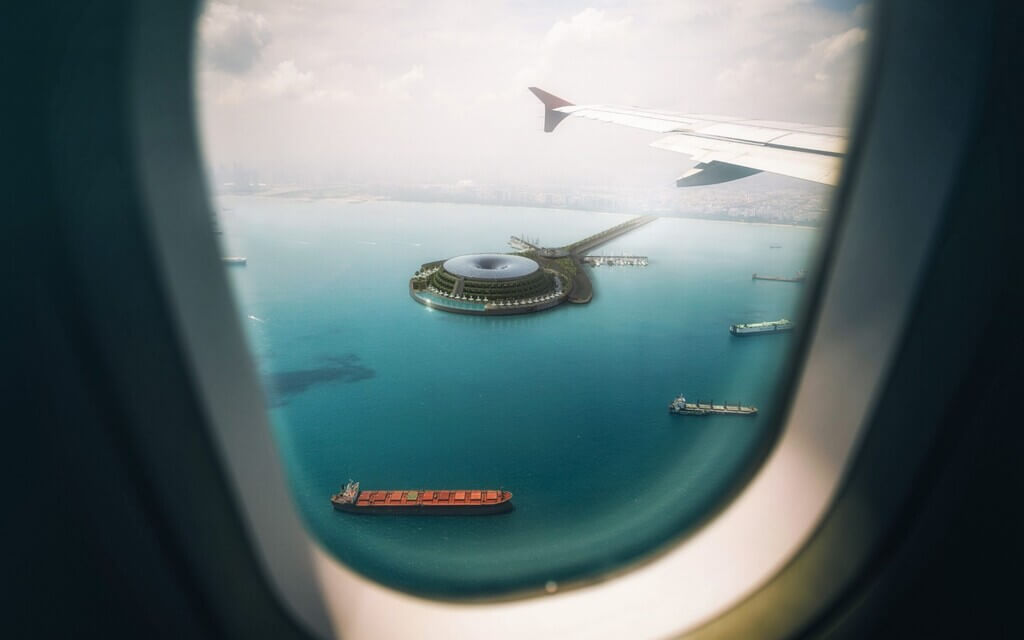 Source: autoevolution.com
Want to visit this place? You can access or reach the hotel by many Transport ways, including car, boat, or helicopter as a helipad is located nearly on the floating pier. This luxurious hotel is constructed in a 35000 square meter area, and it features a 700 square meters lobby and 152 lavishing rooms.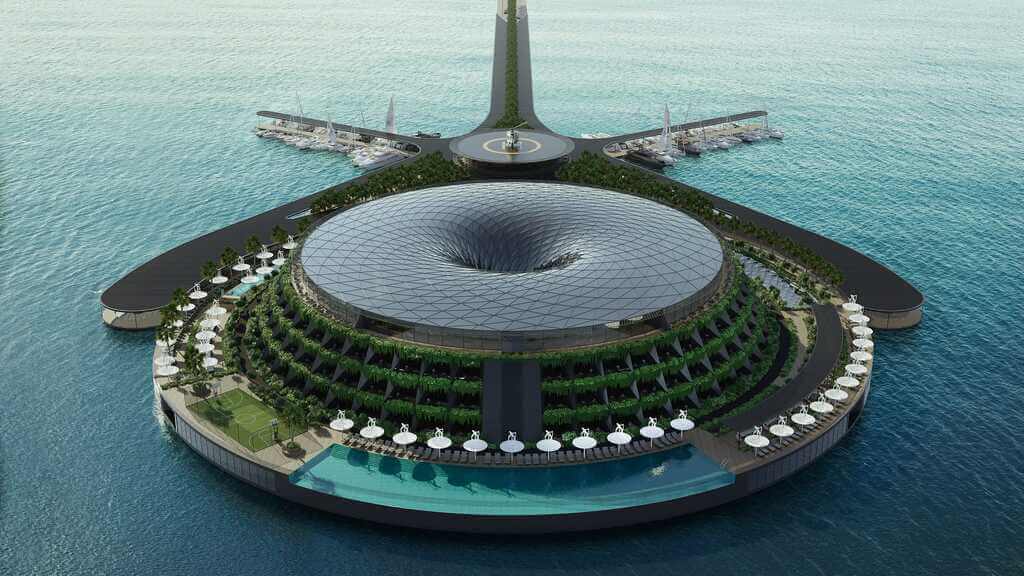 Source: bosshunting.com.au
Each room has its own private balcony from where you can enjoy the breathtaking views. The building also has many luxurious amenities such as indoor and outdoor swimming pools, a sauna, spa, gym, and a mini-golf course.
The Bottom Line
So how do you feel after reading about this astonishing hotel on the sea? Do you want to visit this place? But you have to wait for some more years because the Eco Floating hotel is set to open in 2025. The concept and design work of the project has been completed and approved, but still, there is no fixed date for the completion of these works! 
For more updates about Eco-Floating Hotel, or the latest projects of Hayri Atak Architectural Design Studio, or any other latest architectural development, keep coming to Architecturesstyle.
Also, follow us on our Instagram page Architecturesstyleideas to get daily updates. 
Himadri Shakya
Himadri Shakya is an enthusiastic Content Writer and Editor. She loves to create creative, engaging, and SEO-friendly content. Through her extensive research skills and practice, she has been generating high-quality and informative articles, and blog posts for over 4 years.
Related posts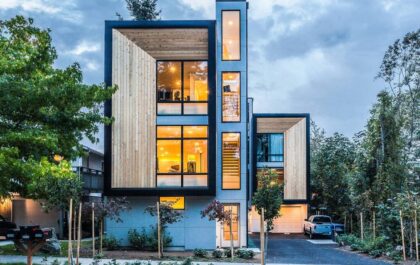 27+ Stylish & Modern Townhouse Designs for Urban Living.
The townhouse's first impression is normally too small, too compact, too narrower, and the list is endless. Well, let us…