When it comes to home designing, people immediately start thinking about the interiors. Are you doing the same? Interiors are, of course, one of the important parts of the house design, but what about the exteriors? Whether you're designing a farmhouse-style house, modern or mid-century modern house, exteriors are always as important as interiors.
After all, when anyone comes to your home, outdoor and exteriors are one of the first things that they will notice, so, don't leave this part boring. Today in this blog, we're going to tell you all about mid century modern house plans and ideas. From its history to its latest architecture and examples, we've included everything.
What is Mid Century Modern Home Design?
In simple words, A mid-century house has one level of living space, and it includes minimal things and detailings such as open floor plans, outdoor living, and seamless indoor/outdoor flow by way of large windows or glass doors.
Basically, the mid-century style was popular back in the 1930s, and it remained pretty famous till the 1960s. From New York to L.A., people were crazy about this new style.
This style is mainly focused on contemporary, & futuristic aesthetics. Even after so many years, the Mid-Century Modern movement has influenced many types of designs and elements. It is not wrong to say that the mid-century style will be one of the emerging key design trends of the year.
Key Elements of Mid Century Modern House Plans
Now you might be thinking, what are the key elements of the mid-century style? Like any other architecture, it also has some key features by which you can easily and instantly identify any mid-century building.
The first feature is the flat pane. Mid-century houses have regular and rigorous geometric lines. Flat roofs are pretty common, but these days gable roofs are also being constructed, especially in modern ranch-style houses.
From floor to ceiling windows to the expansive panes of glass doors, you can see windows are always an essential part of this style. One of the reasons why it has been integrated into the design is to allow natural light to enter rooms from multiple angles.
These houses usually are one to two-storey and small steps are provided to join these levels. Also, to create different depths in the space, you can see the walls and cabinets with varying heights as they are commonly used.
Whether the house plan is small or big, one thing that is specifically included in the outdoor area is the need of blending in nature. And from every room, there is always a proper doorway to access the garden or the outdoor area.
10 Mid-century Modern House Ideas !
Below are the top 10 mid century style houses in the world from which you can take inspiration. Take a look at these eye-catching homes and bring the style and boldness of mid-century exteriors to your space.
1. Courtyard Modern House
Look at this beautiful house; it is a true example of a mid-century home. Why? Because you can see all the main elements such as a flat roof, large glass windows. Wood has also been used as one of the main building materials to construct this lovely structure.
2. Highland East House
Another good example of this style is this Highland East House. Located in Portland, this modern black property consists of two-storey with incredible exterior design.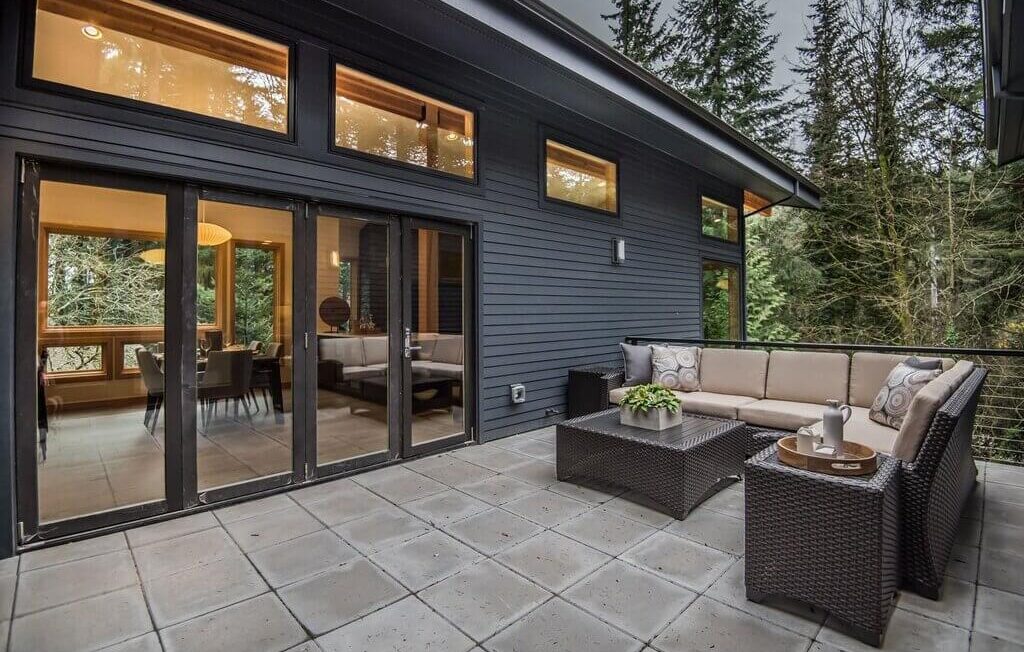 It is built in a 4,200 SF area in the beautiful location of Portland's west hills. Three pane glass doors are also provided to access the outdoor patio or outdoor living area.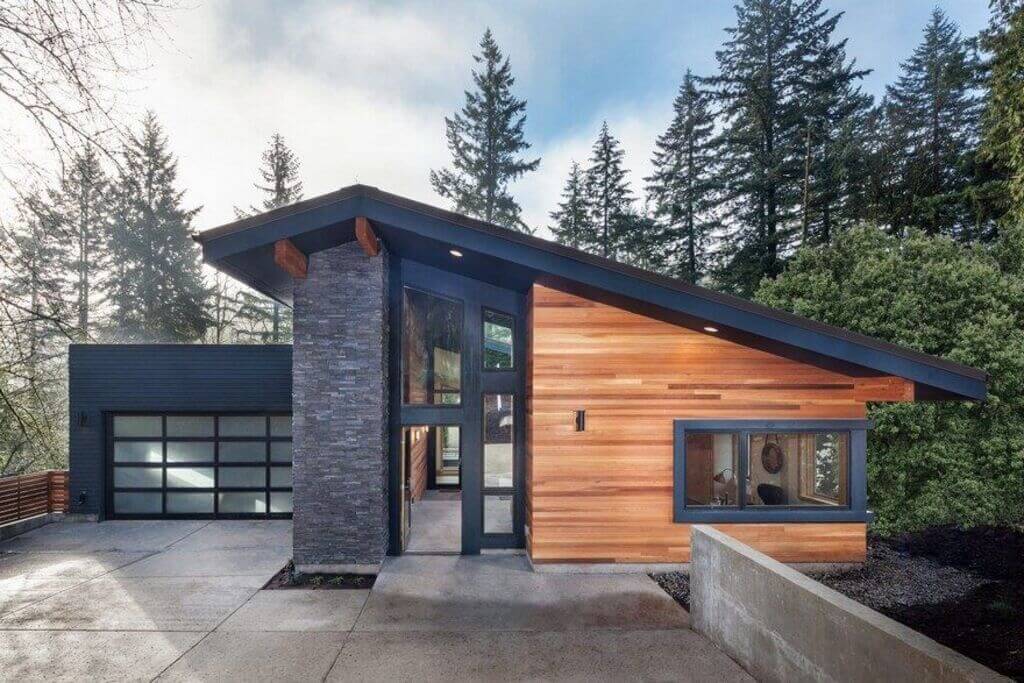 The black color with the combination of light-colored wood is used in the entire exterior of the building. This combo makes it more unique and different from other neighboring homes.
3. 1954 Mid Century Ranch Home
This beautiful home is present in Napa, CA. The main highlight of this construction is the huge courtyard which gracefully blends indoors with the outdoors. This dwelling is situate on a hill, and along with the great exteriors, this adds a feather in a cap. From the large glass windows, residents can enjoy the view.
4. Single Storey Luxurious Villa
This 860 square-foot two-bedroom residence is one of the luxurious villas in the town. From its mid-century exteriors to modern interiors, everything about this house is aesthetically pleasing. Actually, this house plan is an extend version of its previous version, Hummingbird. Now architects have include many new features such as a full bath, storage, and walk-in closet in the new design.
This house also has a huge Chill Deck and an optional exterior fireplace, which makes the outdoors a fun place to hang out. This is a single-storey construction where wood, terracotta, and natural materials have been using.
5. Park Road Remodel Home
This is a mid-size home situate in the D.C. metro. This is a two-story brick townhouse that was built in the 1960s. You can see the old mid century style exterior by its hip roof. Other than this, you can also notice the large glass doors, which is also one of the prominent features of a mid-century style.
6. Mid-Century Modern Exterior
Located in a forest site, this is a private residence. The homeowners want to enjoy the scenery and neighborhood view, so architects include large glass windows in the design. Also, the exteriors are kept in proper mid-century style.
The overall house layout is kept open plan so that it beautifully blends with the outside or nature. The outdoor patio is also provide with a chimney, fireplace, and seating area so that residents can enjoy the weather outside.
7. Hart Residence
Design by Blackbox Studios, Hart Residence is a luxurious villa, which is locate in Salt Lake City. From location to the exteriors, everything is grand in this house.
The architects have provide many luxurious amenities on the demand of residents, such as an outdoor patio, lounge area, and a private pool.
This house is on the hill, so everything becomes more beautiful. The materials like concrete, metal, and laminate are use to create the perfect mid-century look. The roofs of all the sections are also flat. Concrete with modern materials has always been a popular choice for architects to create an industrial yet modern look.
8. Mid-Century House in L.A.
Don't think that mid-century exteriors only consist of clean lines and modern materials. Look at this house; it is situate in L. A and it mainly consists of brick and natural wood.
This house is located in the forest, so it is completely surround by wood. That's the reason why designers have select wood to include in the main design. From the deck, residents can enjoy the breathtaking view of nature.
This house features spacious great rooms, a cozy living space with a fireplace, a dazzling kitchen setup, and a ceiling with skylights. There is also a pool and lounge area to enjoy the evenings.
9. F-5 Residence
Located in Indian Wells, California, the F-5 Residence comes under one of the world's best modern villas. This 5,300 sq. ft project is construct on a relatively flat valley site with amazing mountain views.
This one storey home is a real example of how you can maximize and brilliantly use the available land and create a constant connection between the home's interior and landscape.
If you look at the material palette that has been using, it consists mainly of four materials: board-form concrete, corten steel, and Ipe wood siding.
Completed in 2009, this home is full of native and drought-tolerant plantings that have been compose into reflective foreground spaces. Isn't it brilliant? Plants and trees like yucca, cactus, palms, and boulders in the outdoor living spaces are a good choice for contemplative, sculptural, yet habitable space.
10. Midvale Courtyard House
Located in Madison, United States, Midvale Courtyard House is a private residence. Design by famous Bruns Architecture, the construction was complete in 2013. This house design perfectly balances the introvert nature of a courtyard with the bold personality of an extrovert and manages matters of privacy.
This construction is actually a renovation of a half-century-old ranch home that was confine and uninviting. But the new designs feature a proper entry, elevate master suite, and cover parking, and it creates a connection between indoor and outdoor spaces.
How? You can see the series of private outdoor rooms; that's why interior zones visually extend beyond their original boundaries.
This design includes a series of site walls with varying levels of opacity and a private courtyard terrace. The height difference provides privacy without blocking the neighborhood views.
The Bottom Line
Now you know why mid-century house style is so popular, and why they're one of the most influential architectural styles in America! This style includes both traditional materials and modern ones without looking overwhelming. With the simple mid century modern house plans, you can create a practical and functional residence.
I hope you like this blog on mid century modern house ideas. You can always take inspiration from these magnificent designs and can implement them in your home plan or layout. Also, don't forget to share this blog with your friends and family.
Discover more:
Himadri Shakya
Himadri Shakya is an enthusiastic Content Writer and Editor. She loves to create creative, engaging, and SEO-friendly content. Through her extensive research skills and practice, she has been generating high-quality and informative articles, and blog posts for over 4 years.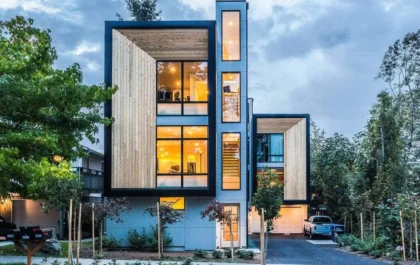 27+ Stylish & Modern Townhouse Designs for Urban Living.
The townhouse's first impression is normally too small, too compact, too narrower, and the list is endless. Well, let us…