Ancient houses and buildings are a very important part of our architecture and even in present generation architects get inspired by old houses and construct buildings accordingly. While there are so many kinds of constructions in past years but only few could make their way to the list of best architectural designs and mid-century modern architecture has to be one of them that is in the list of best architecture.
This architectural style came in being in the mid-century during the time modern architectures also made debut in the construction industry so this is a fusion of both mid-century and modern architecture. In this type of architectural homes, you would be able to see both modern as well as industrial designs which stand for the perfect home.
Even in the present time architecture, the influence of mid-century modern architecture is very strong and people love the way it turns the whole look of their home. The mid-century architecture took place between the year 1920 and it continued till 1970 as soon after modern architecture was everywhere.
If you are wondering about some of the best mid-century modern architecture buildings then here are some of them listed below that you need to check out and you can also get your home designed after getting inspired by the design of these buildings:
Lovell beach house:
This home was created in the year 1926 and the credit of this construction goes to Rudolph M. Schindler and his idea of construction deserves to be praised. This home is situated at Newport Beach that comes under California and this home was constructed for Mr. Philip Lovell who was crazy for modern architectural designs and he has other such homes as well but this one is superior to all.
It is a two-story building with a garage at the base and this home has been designed with innovation that can be seen in many present-day villas. There was a huge hall in the home that was so tall that it took the space of two floors and at the side, there are separate floors created. The home was spacious was there were few rooms so it is good for a small family and the hall can be used for party organizations.
Gropius house:
This house was constructed in the year 1937 and there is no doubt that home is very beautiful and deserves to be on this list. Wall Gropius constructed this house and this house is one of his best creations and this home is located at Lincoln that comes under Massachusetts.
This is a small home and now you can visit this home and enjoy the details of this house as now no one stays at this home. This home was constructed for the living of the Gropius family and this home was in classic white color and there were some black and brown detailing in the home which seems to be beautiful.
Eames house:
This house was constructed in the year 1949 and this home was created by couple Charles as well as, Ray Eames and they constructed this home to live there. This home design has a strong influence on modern architecture with a beautiful blend of mid-century architecture design which is great.
This house is located at Pacific Palisades that comes under California and this is a medium-sized home where a family of 4 to 5 members can live easily. This home has a rectangular kind of structure with lots of windows and here you would be able to see the strong use of wooden materials.
Gamble house:
This has to be the most beautiful house in the list and this is the house was created way before the mid-century modern architecture got popular. In the year 1908 this house was constructed so here you would not get a strong influence of modern architecture rather it is more of a pure mid-century home.
This house was constructed by the team Greene and Greene and there is no doubt that the team did a wonderful job and the result turned out to be beautiful. This house is located at Pasadena that comes under California and now this house is open for public visits so you can be there and explore the architectural work and beauty of this home and you would be guided by the guides as well.
Glasshouse:
This is another masterpiece of Philip Johnson and this home is a revolution in the modern architectural designs and the present-day many architects are influenced by the idea of this house. This home was constructed at New Canaan that is Connecticut in the year 1949 and this is a simple home that is covered with glass walls along with a frame of iron.
Read More: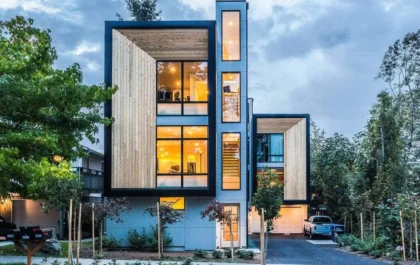 27+ Stylish & Modern Townhouse Designs for Urban Living.
The townhouse's first impression is normally too small, too compact, too narrower, and the list is endless. Well, let us…