Today, simply having a beautiful home is not enough. To enhance the curb appeal of your property, having a beautiful outdoors is as important as your indoors. This is where landscaping rises to the occasion.

Landscaping not only improves the aesthetic appeal of your property but also its market value. Plus, it also encompasses a lot of functionality, be it a pond or a patio, a fire pit, or a fountain. Landscaping covers it all.

Before finalizing your landscaping designs, take a look at this guide to understand the different types of landscaping you can go for.
Common Landscaping Services
Want a glimpse of what you can incorporate in your landscape design to make it grab all the eyeballs? Here are some common landscaping services that can help you achieve your vision.
Landscaping Services
Let's take a detailed view of the different types of landscaping services you can opt for:
1. Landscape Design
Imagine owning a lush green outdoor space that looks straight out of a dream. The power of landscape designing is what brings this to life. Based on the requirements, landscaping professionals create a design that complements your space and your personality. And then, from picking the perfect plants to using functional hardscaping elements, there are a lot of little details that complete the picture. If you want to make your outdoor space attractive then you can see landscaping costs here.
2. Land Grading
Grading forms the foundation of a good and long-lasting landscape design. Through land grading, you can achieve the proper leveling and drainage of land. Besides, issues such as water pooling or erosion can be tackled smoothly. The outcome? A healthy and happy outdoor environment.
3. Mulching
Want a practical tool that enhances the visual appeal of your garden while adding to the functionality? Mulching protects the moisture content, cuts down on the weeds, and regulates soil temperatures. The best part? You can experiment with different mulch types and color options to create an environment that matches your taste.
4. Planting Flower Beds
What's better than extravagant flower beds to beautify and add grandeur to your otherwise simple outdoor space? You can opt for a vibrant arrangement of flowers, ranging from roses to sunflowers. This creates a breathtaking focal point that enhances your outdoor space considerably.
5. Planting Trees and Bushes
Looking forward to setting up a natural sanctuary within your comfort zone? Go ahead with some nice trees and bushes that gel well with the climate and soil type. What's the best part? You get a wholesome package of shade, privacy, greenery, and natural charm.
Lawn Care Services
Lawn care services help in creating a beautiful lawn design. It includes:
1. Drainage Installation
As soothing an element as it is, water can wreak havoc on your landscape design. This is where proper drainage installation comes to the rescue. Want to know how? Drainage installation directs excessive water away from your outdoor spaces, preventing issues such as flooding and soil erosion.
2. Sod Installation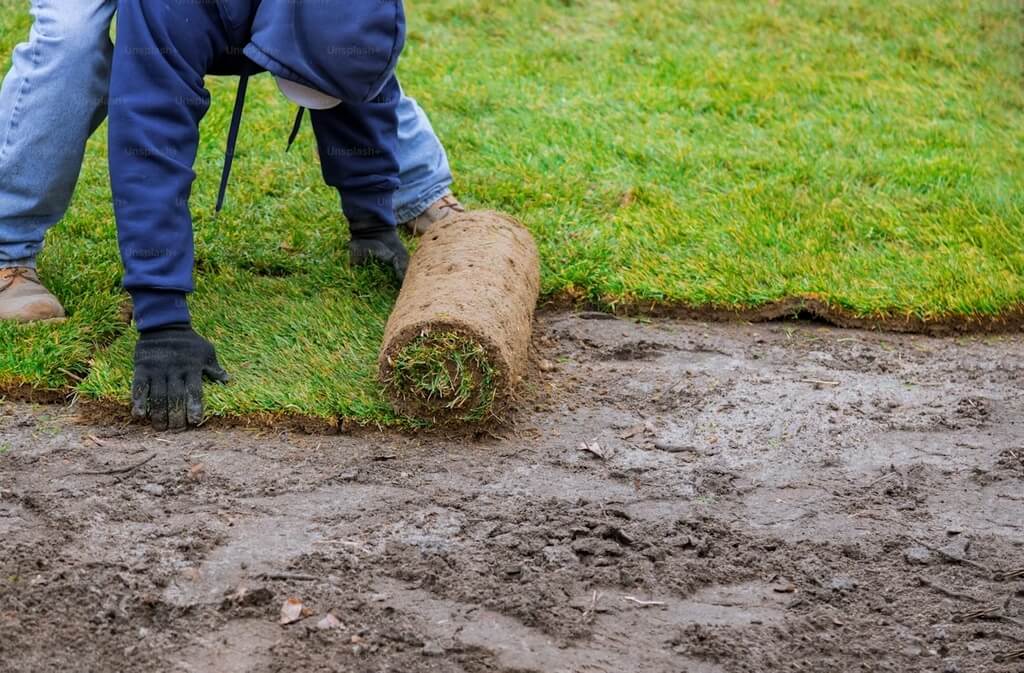 Want yourself a beautiful lawn minus the wait? Sod installation is your perfect option. Save yourself a lot of time and the hassle of creating an outdoor space from scratch. Besides, you can maintain your green space easily and relish a convenient landscaping idea.
3. Sprinkler System Installation
Maintaining a healthy and beautiful outdoor oasis requires a lot of effort, and consistent watering is one of those. No more worrying about who will water the yard. A sprinkler system installation makes the process automated, quick, and hassle-free.
Hardscaping Services
Hardscaping services will give your lawn a new life. Let's take a look at a few of the hardscaping elements that help beautify your space:
1. Decks
The goodness of relaxation, entertainment, and connection to nature combined in a single element, decks are an amazing outdoor feature. From basking in the sun to hosting lavish dinners, you can utilize this space for endless purposes.
2. Fencing
Synonymous with functionality and practicality, fencing makes your outdoor space seem like a safe sanctuary. Besides, if you pick the right fencing option, you can create a garden design that is both private and pristine. You can see landscaping prices.
3. Fire Pits
We have all come across fire pits in movies, and needless to say, they make for the most amazing setting. From rustic to contemporary, there are various fire pit designs to experiment with for your garden area.
4. Gazebos
How about setting up a nice seating amidst the natural charm of your landscaping design? Gazebos are free-standing structures that serve as an amazing spot for hosting gatherings and creating an interactive space.
5. Landscape Curbing or Edging
What's an extravagant landscape design without those extra details? Landscape curbing or edging gives your outdoor spaces an added finish while accentuating the other features. Besides, these also help in creating soft boundaries for flower beds.
6. Landscape Lighting
Transform your outdoor arena into a beautifully-lit wonderland with some well-placed lighting fixtures. You can incorporate fairy lights, decorative lanterns, or even huge chandeliers, depending on the vibe of your space.
7. Outdoor Kitchens
Outdoor kitchens have gained a newfound popularity in the landscaping realm. After all, what's the harm in channeling your culinary skills beyond the usual boundaries of an indoor kitchen? With some added appliances, comfy seating, and a barbecue setup, you can add that extra magic.
8. Pathways
Guiding you through the trails of your garden area, pathways are an integral addition to any landscaping design. These can be created out of different materials, depending on your aesthetic and functional requirements for your space.
9. Patios
Be it hosting parties or engrossing yourself in a good book; patios are just the space to unwind and relax. Inculcate some green plants or infuse a soothing water feature and let the additional elements do the talking.
10. Pergolas
Want an outdoor element that is shade and style combined? Get yourself a good pergola design. This is one element that can add a hint of architectural interest within a lush green natural environment.
11. Ponds
Do you love yourself a soothing waterbody but not the maintenance hassles that it brings along? Embrace some aquatic grace with a small yet serene pond. Use rustic stones and rocks to complete the overall setting of your landscaping design.
12. Retaining Walls
Aesthetics don't have to make you compromise on safety. The hardscape element that resonates with this notion? Retaining walls. These control soil erosion effectively while infusing a distinct character to your landscape oasis.
13. Water Fountains/Waterfalls
Water fountains and waterfalls are usually a favorite feature in every landscape design. The sound of flowing water makes fountains calming, while the visual appeal adds a sense of luxury. And the best part? There is a tailored option for every budget.
Commercial and Residential Landscaping Services
There are many styles of landscaping services depending on the type of properties, namely commercial and residential properties. Let us understand how different is the landscaping scenario between these.
| | | |
| --- | --- | --- |
| Aspect | Commercial Landscape Services | Residential Landscape Services |
| Planning | More focused on beautification and creating attractive outdoor spaces. Planning may not prioritize functional use. | Focuses on creating spaces that homeowners can actively use for various purposes, including play areas, sit-outs, and relaxation. |
| Designing | Tends to be lavish and grand, with a focus on aesthetics. Larger water features like fountains and ponds and elements can be incorporated. | Emphasizes elements that require less maintenance, keeping the focus on functionality and cost-effectiveness like green wall or patio. |
| Elements | Involves larger elements like fountains, waterfalls, and expensive planters. | Includes elements like play areas, jogging tracks, and smaller gazebos. |
| Area Required | The required area varies depending on the project's scale and budget, with a potential for larger spaces. | Depends on the available area and budget, with a focus on utilizing space efficiently for homeowners' needs. |
| Cost | Typically involves higher costs due to the use of larger and more ornate elements. Maintenance costs are higher. | Prioritizes cost-effectiveness, with a focus on elements that require less maintenance. Budget constraints may be a concern for homeowners. |
| Functional vs. Aesthetic Use | Commercial spaces often prioritize aesthetics and may not require elements for functional use. | Residential landscapes are designed to serve various functional purposes, such as play areas, meditation spaces, and relaxation areas. |
Benefits of Landscaping
We're all aware of the aesthetic finesse that landscape brings into the picture. But that isn't all. Here are all the benefits of landscaping that go way beyond the mere visual appeal and make it a great investment.
Energy Efficiency
Green isn't a mere color; it's a lifestyle. Smartly placed trees and shade-providing plants cut down on the need for air conditioning. Thereby, this results in less energy usage, which in turn means a lower electricity bill.
Reduces Air Pollution
The plants are not just a means of adding to the visual appeal. They also enrich your lifestyle and health by cleansing the air around you. All that green goodness clubbed with freshness sounds amazing, doesn't it?
Improves Water Quality
Plants are a savior. This stands true in more facets than one. Landscaping using native plants can tackle rainwater filtration and runoff pollution efficiently. Plus, you get to contribute to improving water quality on a macro level.
FAQs
What is the purpose of landscaping?
The purpose of landscaping is to create an ambient atmosphere around the people living in or visiting the property.
What are the 5 basic elements of landscape?
The five basic elements of landscaping are line, form, texture, color, and scale. A balance of these can create a beautiful artistry.
Conclusion
Landscaping is no longer restricted to larger areas of people with bigger budgets. Several landscaping companies today offer a plethora of landscaping services that are not heavy on the pockets and can even accommodate smaller spaces. Give your house or commercial property a facelift with beautiful landscaping designs.
Explore Further