Minecraft is one of the most popular games right now! Known as an amazing open-world platform, Minecraft is for those people who love creativity and out-of-the-box thinking. Here gamers can interact freely with anything and everything they might find. Let's see minecraft treehouse.

If you love exploration and constructing new buildings, you'll surely love this game. From its deep caves to the highest peaks, there is so much to do in the Minecraft world. You can literally build, deconstruct and reconstruct various types of structures.

Over time and the upgrading versions, Minecraft has a wide variety of different house design blueprints for others to use. And specifically, if we talk about what Minecraft players are loving these days is the tree houses. So whether you're looking for new Minecraft house ideas to sharpen your building skills or you're a beginner, this guide will help you.

Today in this blog, we've gathered up some of the best minecraft tree house ideas. From simple tree house minecraft designs and giant minecraft treehouses to double-story cool Minecraft treehouses, we've got everything on the list. So whether you're a beginner or this is your hundred-time building a project, you'll definitely find new inspiration on the list.
Here are some top 11+ best minecraft treehouse ideas
Constructing Treehouses in Minecraft is such a fun and enjoyable thing to do. However, even though they look pretty easy to build, it is actually quite tricky to construct. But that's the real fun, right? Who likes to build simple structures when you can make giant structures!
Another great thing about treehouses is that they don't have specific rules or requirements. You can construct teh one according to skills. For example, if you love challenging design, you can go with the desert treehouse, or if you're just a beginner, a jungle treehouse will be a great place to start.
Here is the list of the top ten treehouse Minecraft ideas:
1. Simple Treehouse
Let's start with the simple one!
If you're one of those players who doesn't want to spend countless hours building their base, this treehouse idea will be perfect for you. You can use this house as shelter to stay at night or to escape enemies.
So, enter the Minecraft world and kick off your adventures with this building idea. This true house tutorial is from Nuec, which he created in the Survival mode. It features Survival elements like crafting stations, a bed, and some barrels and chests. All of these things are carefully placed inside a wooden structure.
Watch the tutorial and look at the above image for reference and create a simple treehouse. In the video, the creator has also specified the number of materials you need to complete the entire structure.
2. Survival Treehouse
This treehouse was created by Blue Bit. Even though it looks small, it has everything from the bedroom to workspace and even a storage space. It also features a small farm where you can grow vegetation.
To build this structure, you also have to pay attention to the design instead of completely relying on an existing tree as the primary foundation. This is one of those Minecraft house ideas that interesting twist to the regular structure. So just find the perfect spot and start building your Minecraft survival treehouse!
3. Jungle Treehouse
Why spend so much time and materials in setting up a base when you can literally start your treehouse with a simple platform. Look at the above treehouse, isn't it look simple but stylish at the same time!
Do you love to stay in the middle of a jungle? If yes, build this jungle house Minecraft version and live your dream!
Follow this video tutorial by Mr Mirror and get all tricks and create a Minecraft jungle house. It features a wooden base that you can literally build on any jungle tree. For convenience, take Jungle wood in its different variations as your primary resource. This way, you can save time gathering resources and utilize that time to do other things!
This Minecraft treehouse jungle version is perfect for beginners as it is easy to construct and also it requires less material. That's why many players prefer to build this easy jungle house. Start with a small house with a little balcony. This will add an aesthetic factor to the space while being functional with the jungle surroundings.
4. Modern Treehouse
You may build treehouses in the past, but have you ever tried this type of modern house? This is a Minecraft modern treehouse built by 6tenstudio.
This is a perfect option for those who like to build modern Minecraft homes. Here the builder has picked the classic white concrete alongside the wood. Use clever block placement and wide windows to get the contemporary and minimalistic feel.
Another fascinating element in this Minecraft house is the elevator. Yes, this treehouse has a functional elevator that you can use with just a push button. Watch the full video and learn how to build a Minecraft treehouse.
5. Cottagecore Treehouse
If you're a newbie to Minecraft, you probably have not heard about this, but if you're a regular player, you're surely familiar with the cottagecore trend. In the Minecraft community, this is a popular trend in which people convert their world into the perfect fairy fantasy.
If you already have an amazing Minecraft treehouse idea in your mind, you can watch this tutorial by LubovLC. In this project, the creator built a massive treehouse next to an ocean shore filled with Vines, Leaves, and Lanterns. The Player used the jungle trees as the foundation for the platforms and stairs. You can also learn how to build a fairy bridge in this video and use the idea to connect your base to the mainland.
Here's the tip for you: to construct this massive project, first gather all teh basic and required materials and resources.
6. Natural Treehouse
There is no perfect place other than a jungle biome to explore your creativity and build an amazing Minecraft treehouse design. You can also expand your base to other trees nearby.
Here's a video by Don4lex, where the player has created a unique Minecraft cool treehouse design by combining several types of Wood and Stone blocks. You can also construct a similar kind of aesthetically pleasing home by using a Jungle tree as the primary base.
Another benefit of doing this is that you will get more space to store all your goods, and in the future, if you want to expand your base vertically or horizontally, you can do it. And of course, the spectacular views that you'll get from the top of the treehouse are unexplainable in words!
7. Futuristic Style Treehouse
Do you want to build something out of the box? Try this Minecraft house design! This is a futuristic style treehouse which is created by YouTuber "TSMC." Just at first glance, we can say that it looks straight out of a science fiction movie.
Want to build this high-tech treehouse?
Here's how you can do it. These types of homes feature pod-like buildings which have multiple levels. You can also try this type of structure that spreads over the entire tree.
There are two major benefits of doing this: first, it will give you plenty of storage and living space, and secondly, it looks quite stylish and modern. A perfect option for those who love to create different and unique home designs.
8. Spiraling Treehouse
This wonderful treehouse is built by popular Minecraft creative YouTuber DiddiHD. You can learn how to build a treehouse with an epic spiral design.
Constructed in an open jungle, this treehouse has incredibly high in height. A fascinating thing about this project is its design. It allows extra space for building at the bottom of the tree while the multiple buildings at the top are still accessible.
With this treehouse design, you can actually use the entire tree and create multiple hanging buildings.
9. Small Treehouse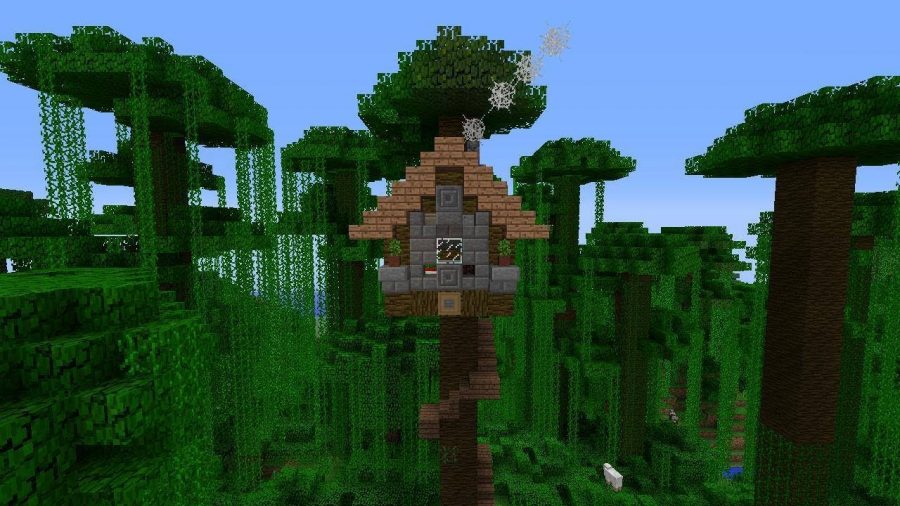 Another Minecraft house design for beginners is this tiny treehouse idea! This Minecraft treehouse small sizes look really cute and adorable.
We highly recommend this jungle small treehouse if you want to experience the real jungle feel. When you spend your time in this place surrounded by thick, lush trees, you'll literally feel that you're in a jungle.
Even though it's a small house, it's still strong and sturdy and will keep you safe from wild animals, intruders, and enemies. You can sharpen your building skills with this project and improve your gameplay. This jungle small treehouse will be your safe place. You'll literally forget the world while sitting in your small but comfortable home.
10. Spruce Treehouse
Last but not least, the Minecraft treehouse idea is this distinctive house design! This treehouse is built on the spruce or spawning. There are two ways to start this construction: first, find spawning naturally in your world or grow one yourself.
These trees are the perfect spot to construct all types of cool Minecraft treehouse ideas. You can grow Spruce sapling in a 2×2 square to become a gigantic tree. For reference, you can watch this video tutorial by Spudetti.
Don't forget to grow another tree on top of the first one to achieve a good height. Also, if you're making this treehouse in survival mode, use Scaffoldings and wear some armour.
11. House in the Woods
12. Starter Base House
Here are some more Minecraft treehouse ideas and inspiration for you:
Conclusion
Now you know how to build a treehouse in Minecraft. Treehouses are a great option to explore for both experts and beginners as new ones can learn easy structures, and the professionals can sharpen their building skills.
You can take inspiration from the above Minecraft treehouse ideas and use your creativity to build something unique and different. Start with small treehouses, and still you face any difficulty, you can also watch the tutorials.
Another tip for you is to collect all the required materials in advance so that while building, you'll not run out of blocks.
So, this is all about Minecraft treehouse. I hope this blog on Minecraft treehouse designs has given you some new ideas for the next Minecraft project. If you find this blog helpful, don't forget to share it with all the Minecraft fans so that they can also get on the Minecraft treehouse adventure!
In Case you Missed it: