Living in a mansion with all the luxuries known to man is a dream for everyone. Modern mansions are the peak of elite abodes. They host a variety of lavish options to choose from.
These luxury mansions have their worths inching millions. From a mere $1 million to a whopping $1 billion, only a few fortunate people get to be their residents. But we can get a glimpse into the lavish lifestyle of these modern mansions.
1. Antilia
Price: $1-2 billion
Location: Mumbai, India
Architect: Perkins & Will
Owned by Mukesh Ambani, an Indian business tycoon and Asia's richest person, this ultimate modern mansion is a spectacle to behold. Located in Mumbai, India, the 27-story skyscraper towers a whopping 570 feet (173 m.) with 400,000 sq. ft. of interior space.
While no two floors are alike in their layout, the shape of this luxury modern mansion relies on Vastu – a traditional Indian system of architecture that acts as an ancient guide to a prosperous home. While the private house is a residential abode for the Ambani couple and their three children, it tops all the mansions worldwide.
2. Palazzo di Amore
Price: $195 million
Location: Beverly Hills, California, USA
Architect: Bob Ray Offenhauser
Spanning 53,000 sq. ft. of living space and known as the most expensive residential complex in the United States, this luxurious residence is the most significant modern mansion in the world. The famous megamansion architect Bob Ray Offenhauser designed this mansion in Beverly Hills, California.
With a stellar design that has beaten every other mansion in the US to the top of all modern mansions, this modern mansion emanates grandeur. It houses 12 bedrooms, more than 25 bathrooms, a 10,000-bottle wine cellar, a tennis court, a ballroom, and a bowling alley to cozy up the house's residents.
3. 301 North Carolwood Drive
Price: $150 million
Location: Los Angeles, USA
Architect: Unknown
Ranking as the twelfth most enormous mansion in LA, 301 North Carolwood Drive spreads over a stunning 38,000 sq. ft. Defying all villas, this luxury modern mansion contains ten bedrooms, 20 baths, and a tree-lined hiking trail. Its lush grounds can house about 50 vehicles.
With an impressive 5,300 sq. ft. master suite that includes a private, heated, and covered patio, the modern mansion has elements comprising Club Mon Reve, an enormous entertainment pad, a stunning theater complex, and an exemplary wine room.
4. La Fin
Price: $139 million
Location: Los Angeles, USA
Architect: Joseph Eglanoff
La Fin Bel Air is a luxury modern mansion opening up to view the extravagant city. This 40,000 sq. ft. palatial mansion showcases 12 bedrooms, 18 bathrooms, a sub-zero Vodka tasting room, and other outrageous luxury amenities.
Clad in handcrafted lacquered Italian Oak, the grand main suite of this luxury modern mansion houses a stunning marble fireplace imported from Portugal. An enormous entertaining room with ridiculously high ceilings and a 44 ft. chandelier is suspended over the grand spiral staircase, setting it apart from the other mansions.
5. The Xanadu 2.0
Price: $131 Million
Location: Washington, USA
Architect: B. C. Jackson and Cutler-Anderson Architects
Owned by American billionaire business magnate Bill Gates, The Xanadu 2.0 rests on a 66,000 sq. ft. large parcel of land. The mansion is an ode to Citizen Kane's mansion and infuses technology at its design's core.
Half a million wood logs were believed to be used in the complete construction. This Pacific lodge-style architectural wonder houses only seven bedrooms and 24 bathrooms, with the lighting inside the room monitored by high-tech sensor systems. This luxury modern mansion is also environmentally friendly by using earth-sheltering and thick foliage surrounding it.
6. Mega House
Price: $127 million
Location: Ukraine
Architect: Yakusha Studio
Dubbed House of 2000, Yakusha Studio designed this mansion by creating a stark construct between the interiors and exteriors. Unlike other modern mansions, this one has a glass and concrete exterior and warm and cozy interiors. Including dark-colored glass, blocky modern shapes and designs, the mansion spreads across 21,000 sq. ft.
The mansion houses a two-story living room and four kids' bedrooms. Wood, glass, living plants, ceramic tiles, and playful colors are the core design experiences of this mansion.
7. The One
Price: $126 million
Location: Los Angeles, USA
Architect: Paul McClean
Film producer turned real estate developer Nile Niami dreamed of building the biggest mansion in the world. With a previous worth of $500 million, the 105,000 sq. ft. megamansion is perched atop a towering hill, offering scenic views of the whole city, unlike the other modern mansions in the Bel-Air area.
Housing 21 bedrooms with a 5,000 sq. ft. main bedroom, 30 cars garage, four swimming pools, an Imax style theater, a 4-lane bowling alley, a hair salon, and an 8,500 sq. ft. nightclub, the 10,000 sq. ft roof deck completes the 'castle on a hill' vibe.
8. UNICA
Price: $78 million
Location: Los Angeles, USA
Architect: Unknown
Looking more like a resort than a mansion, this striking Bel-Air estate is a visual. While the architectural style is Spanish with a touch of Italy, this haven is the textbook definition of a luxury modern mansion.
Setting itself apart from all the others, UNICA has multiple deck levels with a bird-eye view of the 75-foot-long infinity pool. Housing 21 bathrooms and eight wet bars, the estate is spread across 41,000 sq. ft. The custom limestone flooring and Antolini precious stone surfaces from Verona, Italy, adorn this magnificent modern mansion.
9. Kenny G's Former Megamansion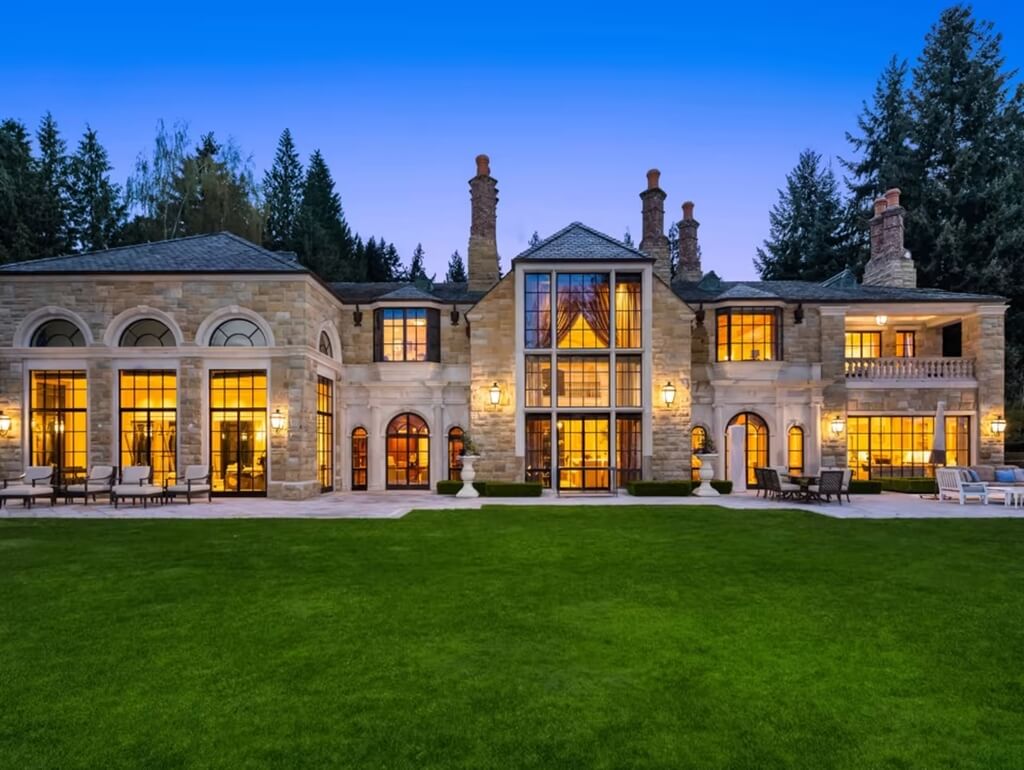 Price: $70 million
Location: Seattle, USA
Architect: Richard Landry
The 12,000 sq. ft. trophy home is a masterpiece by the 'King of the Megamansion,' Richard Landry. This dramatic enclave sits on the coastline of Lake Washington in Hunts Point. It's very close to major cities like Seattle and Bellevue.
It has a myriad of high ceilings that are matched with wide-plank wooden floors. This is beautifully executed with Palladian windows across a dining room. The living room showcases huge two-story windows and a crafted fireplace. The primary suite is a plush bedroom along with four others in line.
10. Costa del Sol Mansion
Price: $59 million
Location: Marbella, Spain
Architect: Unknown
While modern mansions are a spectacle, this 43,000 sq. ft. property boasts stunning sea views and showcases stone mosaics on the exterior floors. The beachfront modern mansion sits on a plot of 96,875 sq. ft. and has 12 bedrooms, 19 bathrooms, a private gym, and an indoor heated swimming pool spread across two floors.
The Costa del Sol also houses an outdoor swimming pool with fountains filling the garden and a separate area to accommodate guests.
11. Orum Residence
Price: $56 million
Location: Los Angeles, USA
Architect: SPF Architects
One of the most splendid modern mansions of the world, Orum is located on a Bel Air hilltop. A three-level home spread across 18,800 sq. ft., the modern mansion is designed to float above its surroundings subtly.
Its first floor is camouflaged within the hill, and this luxury modern mansion rises two stories above the ground level. Programmatically, the mansion has been split into three groups with three wings, each giving a panoramic 360-degree view of the city.
12. The Brentwood Oasis
Price: $45 million
Location: Los Angeles, USA
Architect: Ramtin Ray Nosrati
This modern mansion takes the meaning of extravagance and luxury and redefines it. With 54,885 sq. ft. of outdoor space and 17,997 sq. ft. of indoor space, it houses seven bedrooms and 12 bathrooms. The primary suite is attached to a 20 ft. long balcony for leisure and relaxation.
The backyard is home to lush greenery, while other amenities include an open-shelf wine cellar, a movie theater, a stimulator to play virtual golf, and a spa with a dedicated massage room. The luxury of this mansion meets no bounds, and its use of premium quality materials is exemplary.
13. 1201 Laurel Way
Price: $36 million
Location: Beverly Hills, USA
Architect: Michael Palumbo & Marck Whipple
While it may look like one of the typical mansions, this one showcases its beauty from afar. Surrounded by water, like a moat defending a kingdom, the entire structure seems enveloped by water.
Apart from the spectacular exterior, the interiors are mesmerizing to look at, as well. The 11,200 sq. ft. mansion has six bedrooms and 11 baths, with its interiors in black and white contrast, making it the peak of the luxury modern mansion trope. The highlight is the three-level cascading garden and several outdoor lounges.
14. Villa Enso
Price: $37.5 million
Location: Malaga, Spain
Architect: Unknown
This megamansion hosts the most incredible open sea views. Spread over 68,910 sq. ft., the mansion hosts ten bedrooms and six additional staff bedrooms to service the property. The main suite showcases a private wing with a Japanese garden.
With a total built size of 35,241 sq. ft., this modern mansion is spread across three levels comprising saunas, a massage room, an ice room, two showrooms, and an indoor heated swimming pool for relaxation and entertainment. With the living room towering up to the double-height ceiling, the entertainment area extends its wings to a champagne room, numerous bars, a high-end cinema, and a sports area.
15. Villa Olympus
Price: $31 million
Location: Marbella, Spain
Architect: ARK Architects
Spread across 50,310 sq. ft. land, this villa is one of the most stunning modern mansions in Marbella, Spain. This mansion has a mountain, sea, garden, swimming pool, and views of rural life.
Home to 8 bedrooms and ten bathrooms, the luxurious mansion is nestled in a private gated community. This pristine mansion invites you to the enormous living room featuring extraordinary architectural elements. Furnished and decorated to perfection, the living room leads to an additional TV area and a state-of-the-art kitchen with a Piano bar on the right.
16. 5462 Stonebridge Drive
Price: $32 million
Location: British Columbia, Canada
Architect: B C Jackson
This private residence has a feature unseen and unbuilt in any of the modern mansions in the world. Stonebridge Drive features an astounding suspended infinity pool, which cantilevers 40 ft over the edge of a rocky cliff.
The mansion depicts the shape and contours of the landscape with breathtaking views of the valley and the world-famous ski resort of Whistler and Blackcomb.
17. Vegas Modern 001
Price: $28 million
Location: Las Vegas, USA
Architect: Blue Heron Homes
This experimental modern mansion is what you get when you ask for a distinctive, custom home on the edge of the Mojave Desert. Extravagant, risky, and excessive, Vegas Modern 001 is no competition to any other in the world.
It showcases distinct feats of engineering and design. The luxury modern mansion spreads across 15,000 sq. ft.
18. 296 Gray Head Mansion
Price: $24million
Location: Colorado, USA
Architect: Poss Architecture
This private residence spread across 35 acres, outshining all modern mansions. The Gray Head Mansion houses ten bathrooms and six bedrooms in a stunning 11,825 sq. ft area. This architectural masterpiece sits on a point featuring thrilling views of Telluride's most dramatic peaks.
19. 9945 Beverly Grove Drive
Price: $21 million
Location: Beverly Hills, USA
Architect: Shelly and Avi Osadon
This Beverly Hills modern mansion showcases the most luxurious architecture. Beverly Grove Drive covers a floor space of 15,500 sq. ft. The main highlight is the 36 ft. high ceiling suspending an ultra-glamorous chandelier.
It features six bedrooms, ten bathrooms, and a lavish outdoor space with an infinity pool and entertainment area. The poolside area also has a 12-person spa, a magnificent fireplace, and an irresistible bar, offering the cityscape's sparkling night-time.
20. 5685 Anchorage Terrace
Price: $17.5 million
Location: Queensland, Australia
Architect: Unknown
Situated in Queensland, Australia, this is one of the most high-profile modern mansions in the city. Spreading across 24,000 sq. ft., it houses several luxury amenities. With the curvilinear shape of the mansion, the balconies offer breathtaking views of the neighborhood. It houses luxury amenities like an enormous home theater, a 12-car underground garage, and five bedrooms with seven bathrooms.
21. 2966 Sunridge Court
Price: $14 million
Location: British Columbia, Canada
Architect: Unknown
It may be less expensive than the other mansions, but it still has a worth of $14 million. This 8,050 sq. ft. of space houses a stunning five-bedroom, six-bathroom, and four-car garage.
22. Jellyfish House
Price: $12 million
Location: Marbella, Spain
Architect: Wiel Arets Architects
Situated on the Mediterranean coast of Spain, the house's pool cantilevers from its roof and offers views of the beach and the sea. The mansion organizes itself around two paths of circulation. The stairs intertwine and traverse the four levels of the modern estate.
23. Alegre House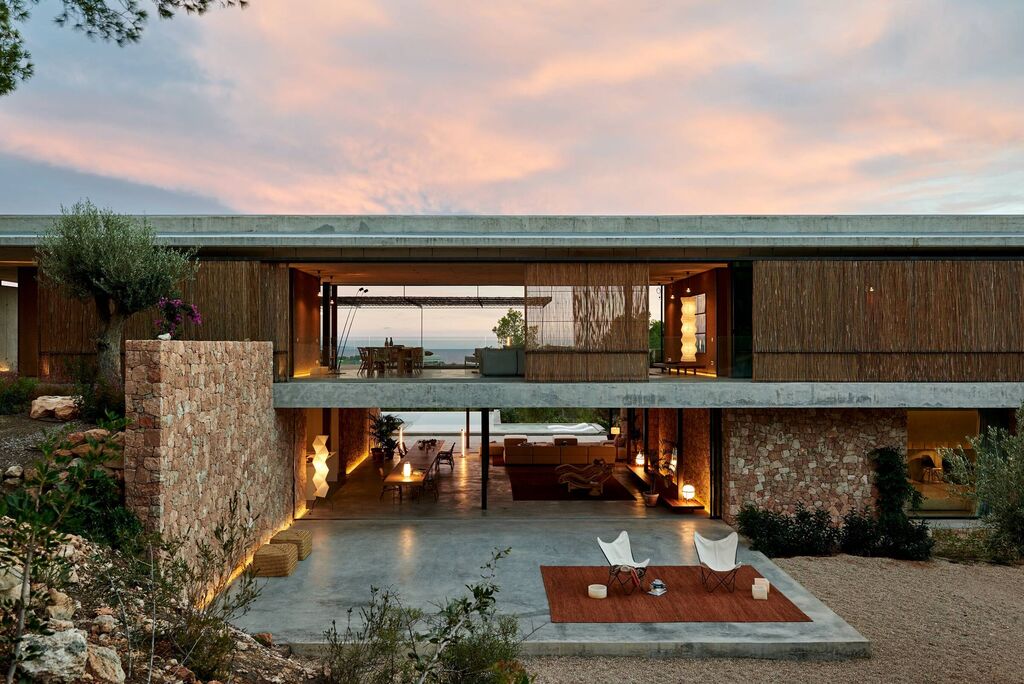 Price: $12 million
Location: Ibiza, Spain
Architect: Jorge Vida
This modern mansion aims to achieve perfect harmony by integrating the outdoors and indoors. The use of warm colors contrasted with white characterizes the interiors of this house. The ground floor is a common activity area comprising the exotic stone of Ibiza and local wood, while private spaces sit across the upper floor.
24. Kelapa House
Price: $10 million
Location: Samui Island, Thailand
Architect: Architects 49 (Phuket) Limited
Spread across 30,140 sq. ft., the design of this modern mansion offers an indulgent experience of the surrounding islands' white sandy beach, crystal clear water, and overlapping shadow beneath the coconut tree.
25. Bigwood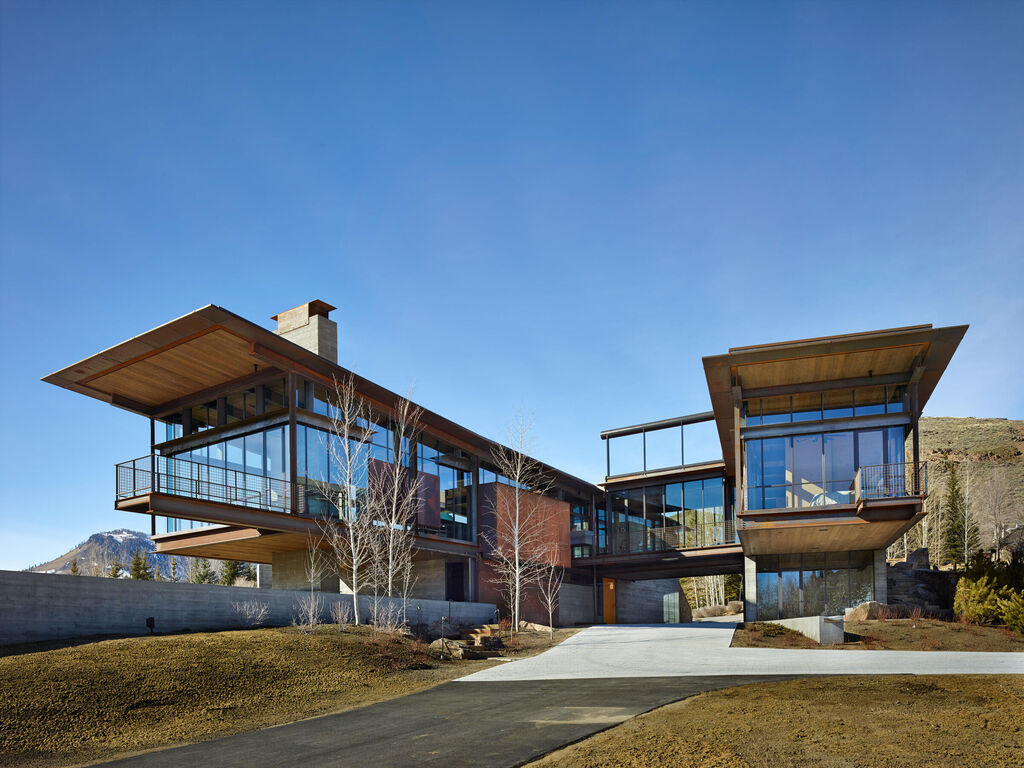 Price: $6.8 million
Location: Idaho, USA
Architect: Olson Kundig
The Bigwood draws inspiration from the neighboring high desert landscape. This 6500 sq. ft. modern mansion balances the mountain views, offering a sense of refuge and intimacy. With gigantic windows unlike any other, this mansion welcomes the outdoors at every turn.
The patios under the cantilevers offer shaded recreational space for the summers while putting the building above the snow line in the winters. Supported by see-through masts, a steel and glass bridge connects the wings.
26. Bridge House
Price: $6.35 million
Location: Malibu, California, USA
Architect: Sorensen Architects
27. Asa House
Price: $5.9 million
Location: Rio de Janeiro, Brazil
Architect: Bernardes Arquitera
28. Mirador Residence
Price: $5.9 million
Location: Karjat, India
Architect: SHROFFLEoN
29. Harrow Mansion
Price: $5.5 million
Location: Johannesburg, South Africa
Architect: Summerun Property Group
30. The Ficus House
Location: Singapore
Price: $3.6 million
Architect: Guz Architects
31. California Meadow House
Price: $1.2 million
Location: Woodside, USA
Architect: Olson Kundig
32. CWN House
Price: $1.2 million
Location: Sao Paulo, Brazil
Architect: Bernardes Arquitectura
FAQs
What is the biggest modern mansion in the world?
Antilia Residence, located in Mumbai, India, is the biggest modern mansion in the world. It belongs to Mukesh Ambani, Asia's richest man.
Which celebrity has the biggest mansion?
Bill Gates has the biggest mansion in the world. The Xanadu 2.0 has technology at the core of its design and is also environmentally friendly. 
Who owns the biggest house in Bel-Air?
Richard Saghian, the founder of Fashion Nova, owns the biggest house in BelAir called "The One." This megamansion is LA's largest residence.
Explore Further:-
Saili Sawantt
Saili, once an architect, has seamlessly transitioned into the world of writing. With a background in architectural writing, content strategy, and curation, she now brings a unique perspective to fashion. For the past three years, Saili has collaborated with various multimedia publication houses, design firms, studios, organizations, luxury brands, and educational institutions. Beyond her professional endeavors, Saili is an avid reader and an adventurous traveler, channeling her experiences into her work.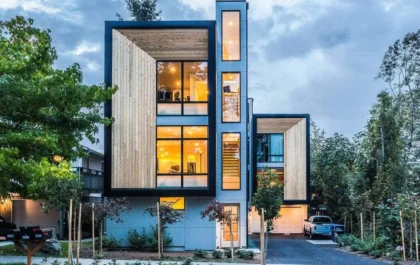 27+ Stylish & Modern Townhouse Designs for Urban Living.
The townhouse's first impression is normally too small, too compact, too narrower, and the list is endless. Well, let us…