Outdoor kitchens are all the rage these days, and homeowners everywhere are looking to incorporate these spaces into their properties. However, designing a kitchen can be a daunting task for those less experienced with home design.
There are a few different factors that go into a modern outdoor kitchen design, whether that's appliance selection, countertops, or dining areas. Every decision will impact the overall feel and atmosphere. Let's go through these factors below.
If you're looking for more design ideas, check out this article by Caesarstone.
Research Types of Outdoor Kitchens with Modern Designs
Source: thespruce.com
There are all kinds of modern outdoor kitchen ideas to choose from in terms of design, and which style works for a homeowner will depend on the layout of their outdoor space, how often they plan to use their outdoor kitchen, and of course, their personal tastes.
Therefore, an important first step to designing an outdoor kitchen modern style is to do some research on the many different themes and layouts available, along with what is feasible budget-wise.
Also, consider how much time will be spent cooking outside. Those who wish to use their modern outdoor kitchen year-round may want more stationery appliances, while those who will use the kitchen seasonally or casually may want cookware that can be moved around.
What Classifies a Kitchen Design as 'Modern?'.
Source: deslaurier.com
If homeowners want to lean into the contemporary style for their outdoor kitchen, modern elements with simplistic, geometric designs and minimal decor pieces are ideal.
For example, a modern-style food preparation space generally features flat, sleek surfaces. A more muted colour scheme is generally opted for, such as pairing white walls with light grey kitchen cabinets.
Accurately Measure the Outdoor Space
Source:shadefxcanopies.com
Another important step is for homeowners to go over the layout of their outdoor space and measure the area where they plan to incorporate their kitchen build.
This will help them to decide which appliances they'd like to prioritize for this space and those that they can do without.
Decide Between Stationary or Mobile Kitchen Hardware
Source: coasterfurniture.com
When designing a modern outdoor kitchen, one major consideration is whether this build is going to be permanent or mobile.
For instance, those who live in a rental may not be able to include a custom platform or built-in appliances in their design, and are better off focusing on purchasing cookware, workspaces, and furniture that can be moved around.
Barbeques, portable ovens, rolling islands, and lightweight furniture are all great choices for this type of design!
However, those who own their home have much more freedom with their layout. They could include some really interesting elements, such as an industrial wear grilling station, a covered patio, or even a wood-burning oven for baking bread and pizza.
That said, if a homeowner is planning a much more intricate build, they may benefit from enlisting the help of a contractor or someone who is experienced with these types of projects.
Create a Supply Budget

Source: insider.com
When setting a budget for a modern outdoor kitchen project, it's a good idea to leave a decent amount of wiggle room in case costs increase throughout the duration of the build.
For instance, if the kitchen design is more heavy-duty, homeowners may end up paying more than they initially thought for permits, plumbing and electrical installation, expensive power tools, etc.
Therefore, new home DIY-ers should get a price quote from a contractor or another local expert before beginning work to get a better idea of how much the overall project will cost.
Adjust the Design to the Local Climate
Source: brightspotcdn.com
It's important to remember one key factor to designing a modern outdoor kitchen: it's outside, meaning all of the appliances, tiling, and seating are at the mercy of the elements.
So, when deciding on the layout for an outdoor kitchen, it's important for homeowners to design around their local climate.
For instance, those who live in a warmer coastal region will likely be able to have a more expansive outdoor kitchen.
However, those who live in an area susceptible to various weather conditions will want to be careful where in their yard they decide to place their kitchen.
Avoiding areas that are windy or too exposed to the sun will help reduce the exposure of their modern outdoor kitchen to the unpredictability of the weather.
As well, investing in appliance covers, building an awning over the kitchen, and/or implementing removable patio covers are all great ways to prevent any further damage!
Make It Compatible with the Indoor Kitchen
Source: luxesource.com
When making the plan for their outdoor kitchen, it's a good idea for homeowners to see how they can incorporate items from their indoor kitchen. After all, there's no need to purchase a whole new set of dishware or utensils if they're already available inside!
Realistically, most people will use their indoor kitchen most of the time, especially if they live in an area where the weather prevents them from cooking outside year-round. Therefore, purchasing doubles of appliances and kitchenware they already own may not be cost-effective if they remain unused for the majority of the time.
So, those looking to save money with their modern outdoor kitchen project can simplify their plans by seeing which items in their house are compatible.
Consider Cooking Styles and Preferences
Source: nyt.com
One of the most important decisions when designing an outdoor kitchen is choosing which items are essential and which can be left out.
What a person decides to include and exclude really comes down to their personal cooking style. Those who love grilling will no doubt prioritize the purchase of a barbeque, while others may be more drawn to an outdoor oven and stove!
Another factor they need to consider is the actual time spent cooking food outside: will they use the modern outdoor kitchen for everything, or will some of the cooking and prep work take place inside?
Knowing what they'll use their outdoor appliances for and what they'll use inside will help determine which items to purchase specifically for their outdoor kitchen and which items they can do without.
Final Thoughts
Source: thespruce.com
Overall, when designing a modern outdoor kitchen, consider all the above factors before finalizing your design. Account for how often your outdoor kitchen will be used, create a supply budget, and make sure to integrate a cohesive style that will catch the eye!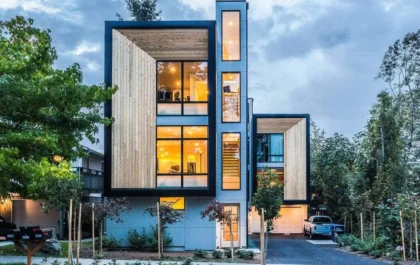 27+ Stylish & Modern Townhouse Designs for Urban Living.
The townhouse's first impression is normally too small, too compact, too narrower, and the list is endless. Well, let us…