When it comes to HOME, we always tend to think about a comfortable and relaxing place. For some people, along with these things, a house is a place to show off their luxuriousness, abundance, and wealth. Most of us, soothe and security that we feel about a place matters the most, but for the richest people on earth, their 'home' is way more than just modesty and utility to the most expensive house in the world.
Imagine living in the most expensive house in the world that is three times the size of your existing house. This property has all the decorative & fancy details and stately amenities like private pools, theatre rooms, and amazing outdoor space. Wouldn't that be crazy and amazing?
Yes, there are many palatial, expensive houses on this planet that have crazy rich value and posh amenities. They're usually owned by the Top Billionaires of the world. Because only these people can spend most of their money, afford unimaginable luxuries and flaunt their wealth on these houses.
Are you excited to know about these mind-blowing fancy houses? From huge mansions to luxurious palaces, there are many buildings present on this planet that are worth thousands of millions. In this blog, we've gathered the top 10 most expensive house in the world. Let's start with the list.
The World's Most Expensive Houses!
Here's the list of the top ten most valuable homes on this planet. But there is a twist: the list is in descending order. So, keep on reading till the end, to finally find out which is the richest and expensive house in the world!
10. Palazzo di Amore
Location:

Los Angeles, California

Value:

$129 million

Current Owner:

Jeff Greene

Architect:

Bob Ray Offenhauser

Area:

25 Acre
With an estimated value of around 129 million dollars, there is no surprise that Palazzo di Amore is one of the most expensive homes in the world. Located in Beverly Hills, California, this house is owned by American real estate entrepreneur Jeff Greene.
This beautiful property that genuinely looks like a holiday resort comes with many lavish things such as 12 bedrooms, 23 bathrooms, tennis courts, a huge swimming pool with waterfalls. Not only this, but this house also has a gigantic garage that can accommodate 27 cars, and a private movie theatre, a ballroom with a revolving dance floor!
9. 18-19 Kensington Gardens
Location:

London, England

Value:

$128 million

Current Owner:

Lakshmi Mittal

Architect:

Sir Charles Berry, Grissel & Peto

Area:

55,000 Square feet

Year:

1846
Do you know about the most expensive street in Britain? Yes, 18-19 Kensington Gardens is situated in a tree-lined avenue half a mile long in the heart of the city's embassy land, which is also known as "Billionaire's Row."
Owned by India's richest man, Lakshmi Mittal, the owner of the largest steel manufacturing company in the world: ArcelorMittal. This property is pretty near to Kensington Palace, where Prince William and Catherine, who is Duchess of Cambridge, live.
The home features 12 bedrooms, large Turkish baths, an indoor pool, and parking for 20 cars. The house's current value is approximately £97million ($128 million). Who wouldn't want to live in this modern house?
8. Ellison Estate
Location:

Woodside, California

Value:

$200 million

Current Owner:

Larry Ellison

Architect:

Willian Wurster

Area:

8000 Square foot

Year:

2014
This gigantic and expensive building is the home of the co-founder of Oracle and one of the world's richest men, Larry Ellison. Designed by the architect Paul Driscoll and Zen Buddist, the main design is inspired by a Japanese Emperors' palace.
Spread across an area of 23-acre, it has 10 buildings, a man-man lake, koi pond, tea house, and relaxing bathhouse. There are beautiful trees like maples, blossoms, redwoods, and oaks all around the Ellison Estate grounds.
7. Four Fairfield Pond
Location:

Sagaponack, New York

Current Owner:

Ira Rennert

Value:

$248 million

Architect:

Perkins and Will

Area:

64,000

Square Foot

Year:

2003
There is no surprise that this property is owned by a billionaire! After all, only they can afford these types of homes, right? American billionaire Ira Rennert lives in Four Fairfield Pond. He is the owner of the Renco Group, which is a holding company with investments in auto manufacturing and smelting.
You'll be amazed to know that Four Fairfield Pond is currently the most expensive house in New York City! Located at the oceanside that faces the Atlantic Ocean, this property has a French-manor style that looks sophisticated and glamorous.
The estimated cost of this house in 2021 is around 248 Million American dollars. This extravagant mansion features 29 bedrooms, a basketball court, 39 bathrooms, a 91-foot dining room, bowling alley, squash courts, a 100-car garage, three swimming pools, and a tennis court.
6. The Odeon Tower Penthouse
Location:

La Rousse/ Saint Roman, Monaco, France

Value:

$330 million

Current Owner:

SCI Odeon, subsidiary of Groupe Marzocco

Architect:

Alexandre Giraldi

Area:

35,673 1square foot
The next on the list is The Odeon Tower. It is actually not a house but a double-skyscraper. Situated in the Principality of Monaco, this skyscraper has 259 residences in which 62 are for-sale private luxury residences, including 2 Sky Duplex apartments and 1 Sky Penthouse. What else do we need?
With an estimated cost of $330 million, the Odeon Tower Penthouse is the perfect space for millionaires. The whole structure was designed by architect Alexandre Giraldi and developed by Groupe Mazococo.
5. Les Palais Bulles
Location:

Cannes, France

Value:

$390 million

Current Owner:

Pierre Cardin

Architect:

Antti Lovag

Area:

1200 square meters
Les Palais Bulles, also known as "Bubble Palace," is one of the most expensive house in the world. Designed by a Hungarian architect Antti Lovag, this beautiful home is located in Theoule-Sur-Mer, Cannes.
Les Palais Bulles was built from 1975 to 1989 and originally it was constructed for the French industrialist Pierre Bernard. Later it was bought by Pierre Cardin as a holiday home.
The entire structure is built in a total area of 1200 square meters, including 10 bedrooms, a reception hall, various swimming pools, a 500-sear open-air amphitheater, a panoramic lounge, and waterfalls in extensive landscaped grounds.
You'll be surprised to know that on the demand of owners, each bedroom has been decorated by a specific artist, including Patrice Breteau, Jerome Tisserand, Daniel You, Francois Chauvin, and Gerard Cloarec.
4. Villa Les Cedres
Location:

Saint-Jean-Cap-Ferrat, France

Value:

$450 million

Current Owner:

Rinat Akhmetov

Area:

18,000-square-foot
The next expensive house on our list is the Villa Les Cedres. It was built-in 1830 on 35 acres of gardens for Belgium's King Leopold II in 1904. This 18,000 square feet residence consists of 14 posh bedrooms, an Olympic size swimming pool, and a stable enough to fit 50 horses.
This grand house is priced at a whopping $450 million, and it has everything that you'll never have ever imagined. For example, it has a fancy wood-paneled library holding 3,000 books on flora and naturalism (including a 1640 edition of a botanical codex), a bronze statue of Athena, a chandelier-lit ballroom, and a human-made pond with Amazonian lily pads.
3. Villa Leopolda
Location:

Villefranche-sur-Mer, France

Value:

$750 million

Current Owner:

Mikhail Prokhorov

Architect:

Ogden Codman Jr.

Area:

400 Square meters
Occupying around 50 acres worth of land, Villa Leopolda is the third most expensive house in the world. The current value of this stunning property is around 750 million dollars!!
Designed by an American architect Ogden Codman Jr, this palace was constructed from 1929 to 1931. It was originally owned by Belgium King Leopold II. This property has 11 bedrooms, a helipad, 14 bathrooms, an outdoor kitchen, a commercial greenhouse, and an amazing swimming pool.
2. Buckingham Palace
Location:

London, England

Value:

$2.9 billion

Current Owner:

Queen Elizabeth II

Architect:

John Nash, William Winde, Aston Webb, Thomas Cubitt, Edward Blore

Area:

829,000 Square Feet
The second World's most expensive house is Buckingham Palace! Yes, this is the home of the Queen of England. Originally this palace was known as Buckingham House which is the administrative headquarters and London residence of the monarch of the UK.
Located in the City of Westminster, currently, it is owned by the Royal family of Britain. It is built in an area of 828,000 square feet approximately, in which the garden alone covers more than 40 acres. That's why it is London's largest private garden!
This royal building has a value of $2.9 billion, and it has many splendid facilities, including 775 rooms, 78 bathrooms with 19 staterooms,, and 92 offices.
Until 2010, Buckingham Palace was the world's most expensive house, but now this position is grabbed by a home in India. Do you want to know about that home? Keep reading!
1. Antilia
Location:

Mumbai, India

Current Owner:

Mukesh Ambani

Value:

$2.2 billion
So, the Most Expensive, Most Luxurious, and the most lavishing home on the earth..is…(Drum Rolls Please!)… ANTILIA!!
Located in Altamount Road in Mumbai, India, Antilia is the residential property of Mukesh Ambani and his family. If you don't know who he is, he is an Indian billionaire businessman and the chairman, managing director, and largest shareholder of Reliance Industries Ltd. (RIL).
Antilla is a 27-story private skyscraper, which was designed and constructed by Perkins and Will, the US architecture firm, and Hirsch Bedner Associates. The construction was started in 2006, and it got completed in 2010.
Do you know that the name "Antilia" is name after a mythical island in the Atlantic Ocean?
The building covers a total area of 400,000 square feet, and it is 173 meters tall. This incredible structure has mind-boggling things such as a 168-car garage, a temple, a ballroom, terrace gardens, an 80-seater theater, a salon, an ice-cream room, a yoga studio, a health spa, one floor for car storage, and a service station for cars.
The list does not end here; there are many more things, including:
3 roof-top helicopter pads.

9 high-speed elevators.

A steel and glass structure.

2-story health center containing an indoor swimming pool and jacuzzi.

6 of the total floors are a family residence dedicate to his family.

Houses for the 600 staff.

An entire floor is dedicate to the servicing of his cars.

50-seat home theatre with a wine room, snack bar, and entertainment space.

Dance studio.

6-story parking, accommodating a maximum of 168 cars.
This extraordinary home has a value of around $3 billion. That's why Antilia is one of the most elaborate and largest private houses in the world, and also it is the most valuable private residence in the world.
Conclusion!
So how do you feel after reading about these mind-blowing, luxurious, and costly buildings? Living in these buildings will be like the fulfillment of our dreams.
I hope you love this blog on the most expensive house in the world and if you do, please share it with your friends and family so that they'll also know about the wonderful and incredible architecture around the globe.
Also Read
Himadri Shakya
Himadri Shakya is an enthusiastic Content Writer and Editor. She loves to create creative, engaging, and SEO-friendly content. Through her extensive research skills and practice, she has been generating high-quality and informative articles, and blog posts for over 4 years.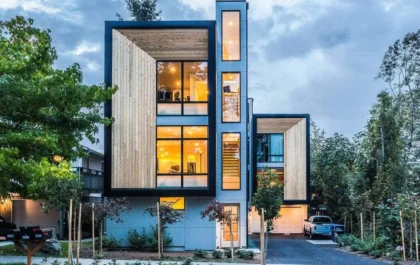 27+ Stylish & Modern Townhouse Designs for Urban Living.
The townhouse's first impression is normally too small, too compact, too narrower, and the list is endless. Well, let us…