Every person's dream to get settled in life involves building a house that will have state-of-art amenities. Wouldn't it be fascinating to explore the most expensive houses in the US and learn more about their style?
Luxury layouts include spacious outdoor spaces, indoor patios for private dining or courtyards, and vast swimming pools for relaxation. Millennials around the world are exploring various ways to make their luxurious mansions stand out uniquely. In recent times, if someone is planning to own a property or a built structure it will cost a fortune.
And yes, with great investment comes a huge responsibility to make wise decisions in planning and building a house.
If you are someone who is looking for inspiration or someone who loves to explore luxurious designs, you're in the right place.
Here's a List of the 15 Most Expensive Houses in the US That Will Leave You Awestruck
1. Most Expensive House in the USA: Massive Bel Air Mansion
Source: brightspotcdn.com
One of the leading trades this year is in LA which involved the sale of a Bel Air property for $70 million. It is currently considered one of the most expensive houses in the US. The house has a living area of over 33,000 sq ft, which is fairly large. There are several amenities inside the house, including a gym, a theater, a music studio, a sauna, a hammam, and an indoor pool.
While the exterior span features a roomy sports court, a vast pool with a cascade, and a split staircase leading toward the lawn area. These facilities are on a property measuring about 1.6 acres that looks out over the Bel Air Golf Club. Let's see the most expensive celebrity homes.
Fun Fact: This luxurious mansion is owned by Canadian pop singer Abel Tesfaye who is well-known as The Weekend.
2. Miami Beach Mansion, Florida
Source: optimole.com
The enormous 10,114 square-foot paradise pad is completely furnished and on more than half an acre of land with views of Biscayne Bay. The contemporary, all-white home features 11 bedrooms and ‌15 bathrooms, including a main suite with a walk-in closet and a gorgeous balcony.
Designed in a secluded site, this beach house completely pulls off a paradise experience with ample outdoor spaces and pools.
3. Massive Mansion @Oceanfront Palm Beach, Florida
Source: redd.it
The five-bedroom house is one of the most expensive house in the USA for sale right now in the elite South Florida neighborhood, which is home to wealthy homeowners like billionaire hedge-fund manager Ken Griffin, designer Tommy Hilfiger, actor Sylvester Stallone, and Tommy Hilfiger actor.
According to an earlier listing, renowned architect Maurice Fatio, who was influenced by centuries-old Mediterranean architecture, created the three-story home.
4. Patrick Dovigi's Most Expensive House in the US
Source: mansionglobal.com
The mansion, which sits on roughly 412 acres at the foot of Aspen's Red Mountain, was finished in 2006 and is constructed of wood, glass, and stone. The property has a heated outdoor pool and a garage, and The Wall Street Journal stated in 2009 that it overlooks downtown, Aspen.
The property has a six-bedroom house along with a spa, a living area outside, a pool, and quarters for the caretaker.
Fun Fact: Patrick Dovigi, a former professional hockey player from Canada who is now an entrepreneur, is the buyer of this mansion. Mr. Dovigi owns green For Life Environmental, a Canadian provider of environmental services and trash management president and CEO.
5. Bellagio Estate Mansion, Los Angeles
Source: brightspotcdn.com
This private mansion has been restored to its previous state of beauty and modernized with a trendy flair. It skillfully combines elegant contemporary designs, custom furniture, and traditional European architecture.
The beautiful entry revealed A wonderfully vivid interior that easily embodies the California way of indoor-outdoor living with a country club vibe. With floor-to-ceiling pocket doors leading to terraces with views of the 16th hole green, the opulent family room and kitchen are also lavish spaces. You can also check the most beautiful houses in the world.
Fun Fact: Most of the house's systems are controlled by iPads located throughout, including lights, alarms, pools, fountains, AC, heating, music, and TV.
6. Bel-Air Mega Mansion, Los Angeles
Source: robbreport.com
The estate is in a magnificent location, perched high above the bustling city below on a tall hilltop. The 21-bedroom home caters to practically any passion or interest. On the underground level, there is a 30-vehicle garage for car enthusiasts, equipped with two turntables for displaying your most enviable brands.
Besides a four-lane bowling alley, a hair salon, and a juice bar, the third floor boasts its gym and lap pool for those who choose to stay active.
7. The Carolwood Estate in Holmby Hills, Los Angeles
Source: leadingestates.com
The Carolwood is housed in Walt Disney's $90 million Los Angeles mega-mansion and is situated in Holmby Hills. The former Walt Disney property has 4 acres and a 2001-built home with 8 bedrooms and 17 bathrooms that spans three levels and has a total square footage of 35,000 square feet—a very accommodating amount for people who enjoy hosting friends.
According to reports, future buyers will be greeted with a vast array of exquisite, first-rate amenities, including a grand pool with a pool house, a movie room, and many more.
Fun Fact: The mantels, which date to the nineteenth century, are made of the finest marble, and crown molding hugging the corners throughout the estate gives it an elegant, polished appearance.
8. Most Expensive House in the US: Jan Koum Mansion, Malibu, California
Source: brightspotcdn.com
The late country musician Kenny Rogers constructed a funicular that descends to the ocean on the clifftop property. The resort, which is perched atop a cliff, includes a funicular that descends to the water. It has five bedrooms and is situated on about 3 acres.
It has vaulted ceilings, herringbone floors, and floor-to-ceiling windows that open into the gardens. It features a recording studio and a dancing studio. A three-bedroom guesthouse, a pool, a waterfall, a koi pond, a sports court, and a guardhouse are all located on the property.
9. Manalapan Home, Florida
Source: rdcpix.com
In all the Palm Beaches, this 15-acre ocean-to-lake estate is unparalleled for its beauty, solitude, facilities, and sheer size. It is the only direct oceanfront residence for about a mile, perched atop a dune with 360-degree views, and is only a short distance from Worth Avenue.
South Ocean Boulevard divides the property, like many estates in the neighborhood, but the road is almost undetectable thanks to a network of tunnels, one of which is a furnished 15-foot-wide gallery. With a 12-bedroom main house, two four-bedroom coastal cottages, the seven-bedroom Mango House, and other opulent facilities, the estate is a true family complex.
10. Ernst Langner Palm Beach Mansion, Florida
Source: media.bizj.us
The second most expensive house in the US close on the island was the ocean-to-lake mansion owned by German entrepreneur and philanthropist Dr. Ernst Langner that sold for about $110 million. The 1.14-acre property has 175 feet of coastline and is located directly north of the Palm Beach Country Club, hidden behind the bend of the coastal road.
This year saw the completion of the two-bedroom guesthouse and five-bedroom main house. The house has a total interior and outside living area of around 18,000 square feet, including a partial basement.
11. Most Expensive House in the US: The Jala Penthouse, New York
Source: tn-cloud.net
Based inside the iconic Crown Building on Fifth Avenue and 57th Street, will combine the building's original 1920s design with contemporary furnishings and hotel-style facilities. The attentive service for which the company is renowned is something else you can anticipate.
The Jala penthouse, which occupies the entire 20th story, has huge windows that provide unmatched views of the neighboring Central Park. The huge apartment, which measures just over 6,700 square feet, has four bedrooms, five bathrooms, two powder rooms, a butler's pantry, a formal dining room, and a large living room.
12. Penthouse @ Central Park Tower, New York
Source: cityrealty.com
The Central Park Club in the skyscraper, with its incredible selection of amenities, guarantees a lifestyle unlike any other. Each area, which is spread across three double-height stories, offers a distinctive experience that is enhanced by five-star service.
The layout includes living and entertaining areas in the corners of the homes to take advantage of the various panoramas and cityscape views. Each home elegantly accommodates both large and small groups because of its generous proportions, glass walls, and high ceilings.
Pro Tip: The highest residential tower that we will ever witness results from over ten years of planning and collaboration between two leading global experts. With the sun moving across the building, the elegant façade reflects an array of colors and light.
13. Marc Andreessen's Malibu Mansion
Source: mercurynews.com
Renowned architect Scott Mitchell designed the renovated compound, which has thirteen structures distributed over the property. The property includes a 10,000-square-foot main home, two guesthouses, two converted barns into a car collector's dream garage, a detached screening room, a cabana by the pool, caretaker's quarters, and several additional unidentified buildings.
The interiors of the buildings are distinctly contemporary, yet to avoid an austere atmosphere, warm colors, and plush materials have been used.
14. Paradise Cove Beach House, California
Source: homedsgn.com
An architectural marvel, this Paradise Cove beach home is situated on one of Malibu's most popular beaches. This Steven Ehrlich-designed four-bedroom, five-bathroom, double-gated, multi-level home underwent major renovations by interior designer Michael Lee.
Suitable characteristics of the house include green roofs, an internal open-air sculpture garden, gray water irrigation, rainwater retention, solar, passive heating and cooling systems, and locally sourced materials.
15. Most Expensive House in the US: Equestrian Estate, New York
Source: robbreport.com
The house, which is listed for the highest money as Sunnyfield Farm, is in Bedford, a picturesque village about 35 miles outside of New York City. According to the selling company Sotheby's International Realty, the property contains a variety of barns with stables for about 70 horses, among other comprehensive equine facilities. A Grand Prix field, indoor and outdoor riding rings, and over 100 acres of paddocks are all present.
The home borders the roughly 75-acre Guard Hill Preserve and the Bedford Riding Lanes local trail network. A four-bedroom house, a guest cottage, and three little servant bungalows are also included on the site.
Also Read: Biggest House in the World: Exploring the World's Biggest Mansion
Top 5 Extravagant Ideas for Your Home
Although, the elements that are listed below are not the only way to spiral up the style of your house. It depends on the overall theme and layout.
These are a few ways that millionaires have implemented in their expensive homes.
1. A Cozy Sunroom
If you want to extend your living and entertaining space with a sunroom, make sure it's a cozy spot that you and your visitors will appreciate. Choose a sizable, cushioned sectional for comfortable furniture that offers many seats and encourages conversation. This is a well-known space that can spotted in most of the expensive houses in the US.
2. Pool Pavilion
A pool pavilion is nothing more than a structure next to your pool that offers a place to unwind and take in the shade. A lovely pavilion is one of the best ways to enhance your backyard pool. Most of the expensive house in America will include this kind of space for the entire family to enjoy their backyard.
3. Vast Landscapes
Although beautiful stone will make it feel more unique, you don't need to use highly expensive materials to design a luxury patio landscape. However, the secret to making it feel opulent is to make sure the greenery around is tasteful, sophisticated, and well-maintained.
4. Wine Cellar
Luxury wine cellars aren't just accessible to the wealthy and well-known. They're becoming more and more well-liked as a trend in most of the expensive houses in the US. A wine cellar is a special place where you can store your wine in the ideal settings for future enjoyment.
5. Extensive Foyer
Mirrors are the best entryway purchase if you're going to splurge on anything. An opulent appearance can be quickly achieved with a strategically placed mirror. Nothing invigorates a space like a fresh bunch of flowers; they look lovely and keep your foyer smelling good.
Takeaways:
According to how most expensive houses in the US were built and designed, it is clear how a house influences a person's life and gives them a new identity. This is why millennials are spending time and money to craft a home that truly shows their personality.
Inspired by these most expensive houses in America, it can be an effortless process to design our dream homes.
FAQs: About Most Expensive House in the United States
1. Who Owns the Most Expensive House in the US?
Oracle co-founder Larry Ellison, topped the list in 2022 by purchasing Netscape co-founder Jim Clark's 16-acre property in Manalapan, Florida, for $173 million. Ellison was one of the billionaires undeterred by the economy last year.
2. Which Is America's Largest Household?
At a startling 175,000 square feet, the Biltmore Estate in Asheville, North Carolina, holds the title of largest residence in the United States. The home, which includes 35 bedrooms, 43 baths, and 65 fireplaces, was constructed for the Vanderbilt family, who made their fortune in the railroad industry.
3. What Is the Beverly Hillbillies Mansion in the US Known For?
A Chateau-style mansion in Bel-Air, California is called The Chartwell Mansion. It was constructed in 1933, but it gained fame for housing the Clampett family in the 1960s sitcom Beverly Hillbillies.
4. Which Is the Most Expensive Neighborhood in America?
According to the Cost of Living Index, San Francisco has the highest median home value among the country's top 11 most costly cities, with an astounding average home price of $1.5 million.
5. What Is the Worth of Clampet Mansion, California?
About $150 million is thought to be involved. After over two years, the mansion has found a new owner. The Beverly Hillbillies' home, which served as the show's backdrop, just sold for over $150 million, making it the most expensive home sale in California history.
More from The Architecturesstyle
For more information about the latest architectural development, keep coming to Architecturesstyle.
Also, do follow us on our Instagram page, Architecturesstyleideas, to get daily updates.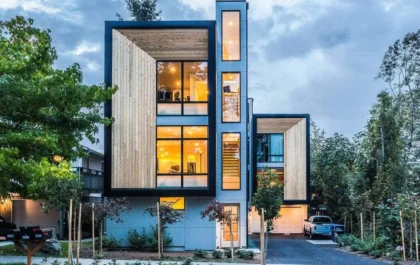 27+ Stylish & Modern Townhouse Designs for Urban Living.
The townhouse's first impression is normally too small, too compact, too narrower, and the list is endless. Well, let us…