Project Specifications:-
Architects: AMO

Photographs: Benoit Florençon

Principal Designers:Ellen van Loon, Samir Bantal, Giulio Margheri

Design Team: Alexandru Tintea, Yushang Zhang., Lina Jaidi, Natalie Konopelski, Giada Zuan, Valerio di Festa, Camille Filbien, Claudio Araya.

Chandeliers : De Studio

Local Architect: Barbarito Bancel Architectes

Client: Off-White

City: Paris

Country: France

Year: 2021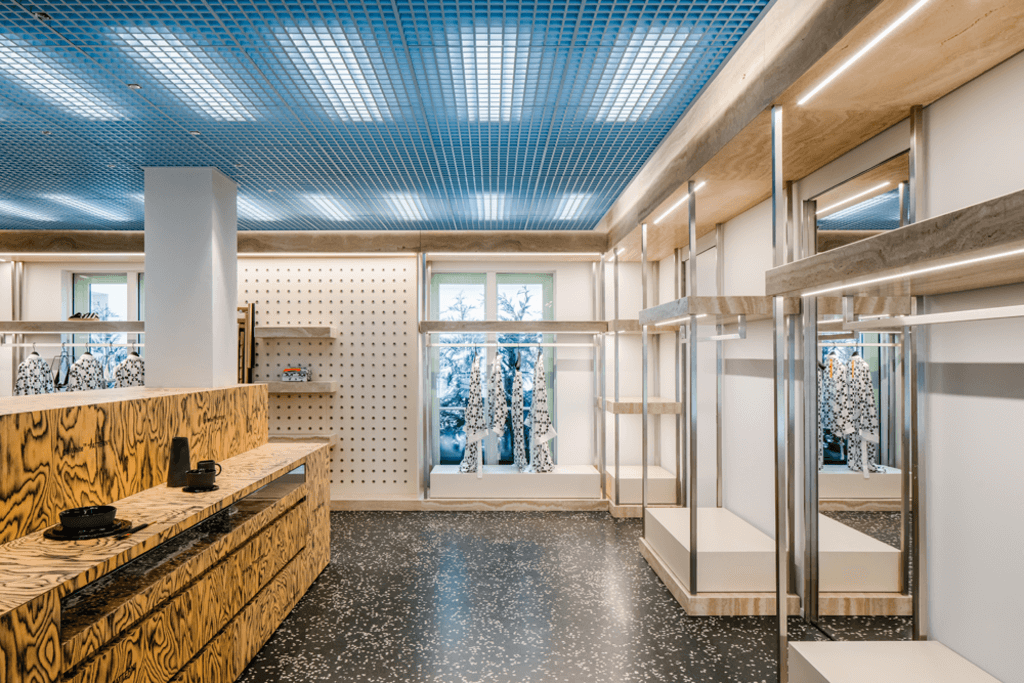 The newest flagship store of Virgil Abloh's own brand Off-White is located in a 19th-century building in Paris. It is a collaboration between the two designers – Abloh and AMO. AMO is the research arm of OMA where they strove to blend the world of streetwear and high fashion, a contrast indeed. It is ideated to be a place more than just a retail store.
The project was headed by the designer's Ellen van Loon (Partner at OMA), Samir Bantal (Director at AMO), and Giulio Margheri (Architect at OMA).
The collaboration between AMO and OMA dates back to 2018 when the former helped design Abloh's exhibition at the Museum of Contemporary Art Chicago. This, in turn, led AMO to design an Off-White store in Miami, and then continued in Paris. The concept behind this was in reference to pop culture with design as a core.
'Working with AMO is a synergistic process,' says Virgil Abloh, 'The way we ideate is similar – nothing is off-limits – and the outcome at off-white Paris is greater than I could have ever imagined.'
The store is located in a 19th-century building which is placed at the intersection of Rue du Mont Thabo and Rue de Castiglione in Paris. It curates a unique experience of the Parisina traditional elegance with the industrial rawness merged into a high-street retail experience for the user group.
The store's distinctive identity to capture diverse narratives in design is curated by creating a three-story experience. This takes the user through a courtyard, a display gallery, and a flea market that gradually reveals the brand's story.
The entrance on Rue du Mont Thabor takes the user to a completely different store in the Parisian Style. Light blue walls complemented by a black terrazzo floor, with AMO's freestanding furniture all around the store, showcases Off-White's Brand partnerships in an aesthetic way.
Under the arches of the store's main entrance, there is a semi-circular vestibule made of corrugated glass that leads to a courtyard which is a reinterpretation of the traditional Parisian architecture.
Model – AMO
Bantal has worked closely on this store with Abloh, where he states that for the Paris store, he had cited the boutique Colette as an example to create the indoor atmosphere. He says, "The Colette store was almost a much more informal form of a cultural institute. It was the place where every hip hop artist, skate artist, graffiti artist would go to in Paris."
"Where do streetwear end and high fashion begin? Over twenty years ago, Sarah Andelman's Colette was the predecessor of modern experiential retail, one of the first concept stores where street style met luxury.
Fast forward to 2021, a couple of blocks away from where Colette sat, the new off-white store in Paris represents the brand's multifaceted identity as a cultural channel broadcasting style, media, and fashion, humbly saluting Colette and drawing from its irreplaceable legacy," says Ellen van Loon and Samir Bantal.
AMO
The Off-White store is located only a few blocks away from Colette where it stood until the year 2007. The core idea was to build a sense of multifunction and a digitalized environment to give a one-of-a-kind retail experience.
Samir Bantal, Director at AMO says that the clientele in the Off-White store is more of a following than just calling them as a customer base. Therefore, it was a challenge to design this store with a clientele that strong.
"[His fans] know him as a DJ, as an artist, as a fashion designer, like Louis Vuitton, as the guy that used to work with Kanye for 13 years. So how do you grasp all of that and those multiple kinds of identities in a store? The idea there was to make the store transformable," explains Samir Bantal.
Design Program
AMO
The shop is a three-story retail experience with a ground floor courtyard that displays the women's collection and also hosts large events like fashion shows for the store. The walls f this courtyard are clad in traditional Parisian elegant material – White Travertine.
This in turn induces a calm and slow retail experience for the customers rather than keeping them paced. It helps them in creating an intuitive and introspective experience that adds value to their retail ambiance.
The second floor has a gift shop which includes home decor goods, clothes, etc. It is a mezzanine with a low ceiling and small windows along with various exhibition halls. The upper floor or the third floor includes the flea market, which has the means collection.
This space can also be used for intimate and small events like concerts or parties. It has a high ceiling and big windows along with metal clothing racks and wooden tables all designed by AMO. This floor includes several display elements that are designed in-house by AMO like the white travertine shelving systems, that echo the brand's versatility by projecting its usage within the store.
Final Thought
The entire decor is set to resemble the city's famed flea markets through its various traditional elements that go back in time. It creates a luminous space and a clear area for an elevated shopping experience. There is also a contrasting combination of colors as well as textures all over the store to create abstract spaces that resemble the aesthetic of Paris.
In a digital age, Bantal hopes that the store's successful launch assures a grand affair, especially in a digital age like now.
"The whole ground floor was a kind of mini club, almost like the boiler room type of experience where the audience was outside listening in while they could see the DJ perform. The whole street was taken over by young skateboarders, doing wheelies and whatever, while listening to what was happening inside the store."
Discover More: