Parc De La Villette
Official Project Name:

Parc de la Villette

Location:

Paris, France

Architect:

Bernard Tschumi Architects

Year:

1984 to 1987

Area:

5,445,000 sq. feet
With the vast 55.5 hectares (137 acres) area, The Parc de la Villette is the third-largest park in Paris. Located in the city's northeastern edge, it is probably one of the last remaining large sites in the city. Let's know some interesting facts and things about this great park.
Designed by Bernard Tschumi, Parc de la Villette is the first-ever significant landscape design that emphasizes deconstructionist philosophy. The park was constructed to participate in a competition, and obviously, the 1985 Architect Progressive Architecture Award was won by Bernard Tschumi.
The park is situated between the Metro stations Porte de Pantin and Porte de la Villette in the north corner of the most romantic city in the world, "Paris."
3,000 m² of ecological gardens and 35 hectares of greenery, this park is one of the biggest and loveliest green spaces in Paris. It is a multi-disciplinary arts and culture venue that includes the prestigious Conservatoire de Paris, Cité des Sciences et de l'Industrie (City of Science and Industry, Europe's largest science museum), and three major concert venues.
Do you know that every year more than 10 million people visit this place? Pretty impressive, right? Here you'll not only see the traditional arts, but here there are also many forms of art and culture as well as scientific and educational activities, and leisure and games.
History
The whole park is designed by a French architect of Swiss origin, Bernard Tschumi. He built this incredible structure in partnership with Colin Fournier from 1984 to 1987. This site had previously been Parisian abattoirs (slaughterhouses) and the national wholesale meat market. Also, there were two canals: the Ourcq Canal and St. Denisrun Canal in the site. The Ourcq canal supplied water to the city of Paris, and the second canal St. Denis was used for transporting cargo and freight.
During an international competition held in 1982-83, Tschumi designed this park and won the competition. He was chosen from over 470 entries, which also includes the other top architects: OMA/Rem Koolhaas, Zaha Hadid, and Jean Nouvel.
The other parts of the site, such as museums, concert halls, and theatres, were also designed by several noted contemporary architects, including Adrien Fainsilber, Jean-Paul Morel, Christian de Portzamparc, Philippe Chaix, and Gérard Chamayou.
About Architect: Bernard Tschumi
Bernard Tschumi was born in Lausanne, Switzerland, in 1944.he is known for holding numerous awards for his great architectural work, such as The Legion d'Honneur (1986), The French Grand Prix National d'Architecture (1996) and The American Architecture Award (1999).
He also won the international design competition for the Parc de la Villette, organized by the French Government in 1982. President Francois Mitterand commissioned the whole project as a part of "Les Grands Projets de L'Etat à Paris."
This project won the award due to its unique architecture and new strategy of urban organization. La Villette has immediately become known as an unprecedented type of park because it is based on "Culture" rather than "Nature."
Overall Design of Parc De La Villette
Bernard Tschumi laid down three geometries: points, lines, and curves. Tschumi didn't like the old idea of a 'park'; he wanted to design "the largest discontinuous building in the world." The steel pavilions are inspired by Russian Constructivist art, and all are painted red. But that's not the only amazing part; the most dramatic curved feature in the park is the Cinematic Promenade.
Along with this, there are many themed areas such as Fog Garden (by Alain Pélisier), a Dragon Garden, a Mirror Garden (by Tschumi), and Alexandre Chemetoff's Bamboo Garden. Besides this, later over the 15 years, he also includes the design and construction of over 25 buildings, landscaped gardens, covered walkways, and bridges.
Music Center For Music Lovers!
Philharmonie de Paris is a perfect destination for all music lovers. Designed by the Jean Nouvel, this extravagant aluminum 'mountain' has a 2,400-seater auditorium, 6 rehearsal rooms, 10 recording studios, workshops, exhibition spaces, a learning center, VIP areas, a café, and a restaurant with a panoramic view.
Another extraordinary place that you'll find in Parc de la Villette is the legendary Zénith de Paris. It is one of the city's most prominent concert halls, and it has hosted shows like Radiohead, Bryan Adams, Chinese Man, The XX, and other top-named French and international bands.
If you're looking for a decent place to have a drink or snack before a concert, then Trabendo is an excellent option. It has a more laid-back venue with bold interior design and rock, electro, and hip-hop vibes that will set your mood. 
Fun Activities All Year Around
If you love to do outdoor activities, this park has a lot to offer. From festivals and trade shows to exhibitions and concerts, the Parc de la Villette hosts a range of various fun events such as Festival, 100%, l'été du canal, Days Off, Comic-Con Paris, the Salon du Fantastique, Oktoberfest, and many more. Don't miss out!
Another yearly fun event is Paris Plages. In summer, for this event, artificial beaches are installed around the Bassin de la Villette. So you'll surely enjoy a lot here with your family and friends at these wonderful beaches. You can also do adventurous water activities like water-skiing and swimming.
Shopping With a Twist
Who doesn't like to shop on this planet? Everybody does, right! But here in Villette, you will have a slightly different shopping experience (in a good way!). Recently there have been many shopping centers open in the complex, which is full of happy vibes and thrills for visitors.
Activities like a wind tunnel for indoor skydiving (iFLY PARIS), a space-themed virtual reality theme park (Yoo Moov Stations), and a 4DX cinema will give you extraordinary experiences.
To Sum UP!
The Villette is a site that hosts many fun events and activities. In short, it will be an enjoyable place for you and your family. From late-night concerts of famous bands to the summery beach moments, don't miss anything! There's always something going on in Parc De La Villette for kids and even for grown-ups.
Bernard Tschumi and other architects have done a brilliant job. It is a place that beautifully connects the past, present, and future. So, if you haven't yet been to this place, we highly recommend it.
For More Information: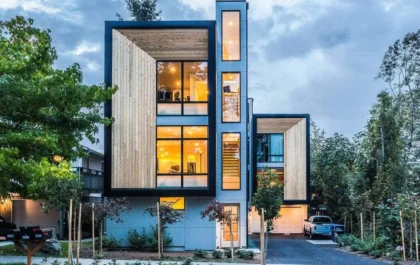 27+ Stylish & Modern Townhouse Designs for Urban Living.
The townhouse's first impression is normally too small, too compact, too narrower, and the list is endless. Well, let us…